10 Minute Mason Jar Flower Arrangement
How to Make a Mason Jar Flower Arrangement
It's very funny where inspiration comes from. I was busy puttering putting things away, and always stack things together before making a trip to the basement. I was putting away some daisies from an old wreath and tossed them into this washed out spaghetti sauce jar I had on the counter. When it was time to put them away I thought that looks super cute. I quickly designed a free printable and ten minutes I had this mason jar craft flower arrangement.
Do you have a home with lots of stairs, ours has all kinds of stairs, its five levels if you include the basement, so I make little bundles of things in a specific spot and put the stuff away when I am moving to another floor. I actually love having stairs, it is harder to put things away, but it seems to me stuff doesn't spread around like it did in our ranch style home. Do you think it makes any difference?
But I digress, lets get back to making this easy peasy flower arrangement using an jar.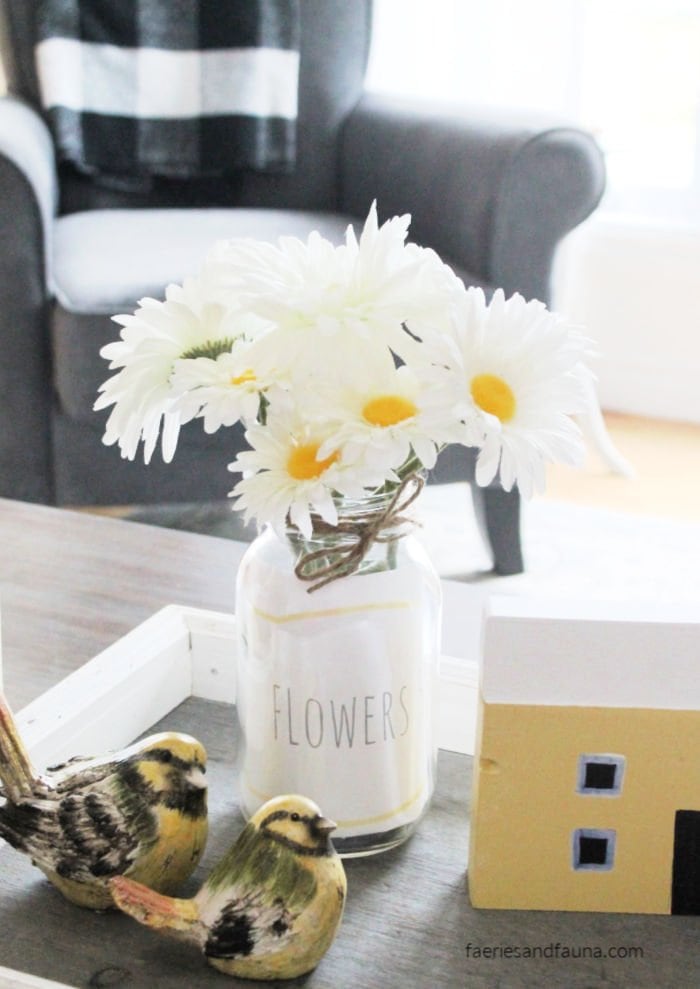 Supplies for making a Mason Jar Flower Arrangement
A clear class jar of any type
Faux daisies, my favorite are the gerbera daisies
This free printable flower label
Twine and scissors
Start by printing out the free printable label. I kept is simple with a vintage look.
Using the jar as a guide lay the paper down and fold it over so that it fits within the widest part of your jar.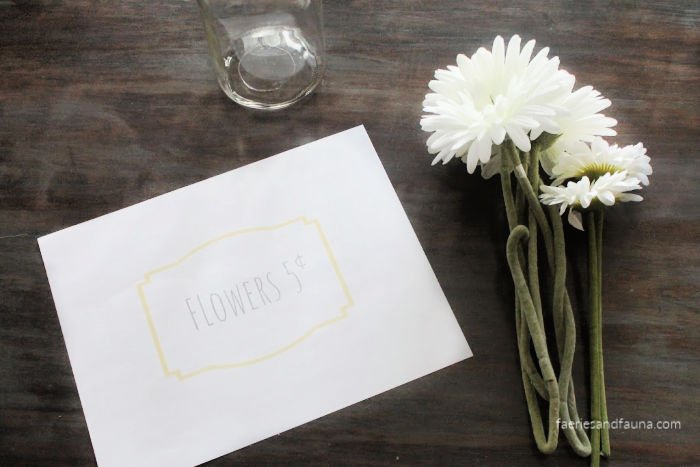 Insert the label into the jar and push it outwards so that its up against the glass of the mason jar.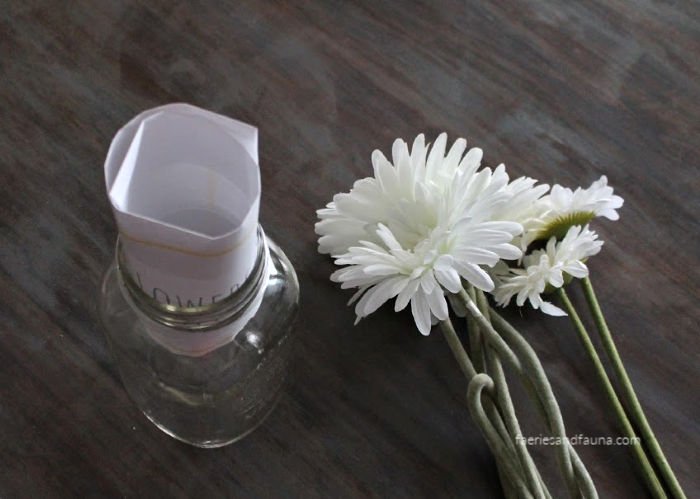 Tying a Twine Ribbon on the Jar
The great thing about using a jar is its got the ridges that hold the screw on lid in place. This works perfect keeping the twine in place. Cut about a three foot length of twine. Hold aabout a 8″ length in your right hand, place it against the jar, and wrap the remaining twine around the jar until you have about a 8″ of twine left on the other side. Tie it into a simple bow.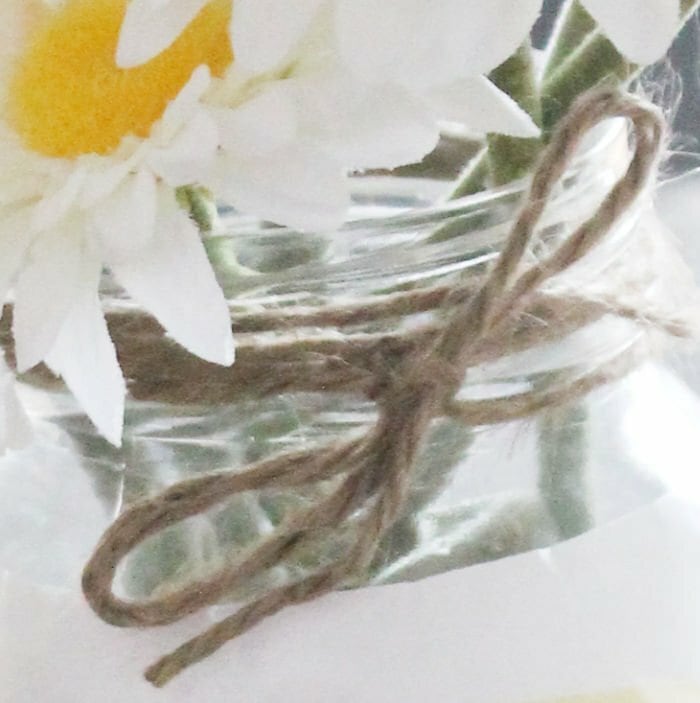 Adding the Flowers
Trim your daisies so the back ones are 12 inches long and the shorter front ones are 10 inches long. To arrange my daisies I gathered the daisies in my hand. Tall daisies first in the back shorter daisies in the front. Then I just popped them in the jar. This super casual arrangement suited the super easy craft project.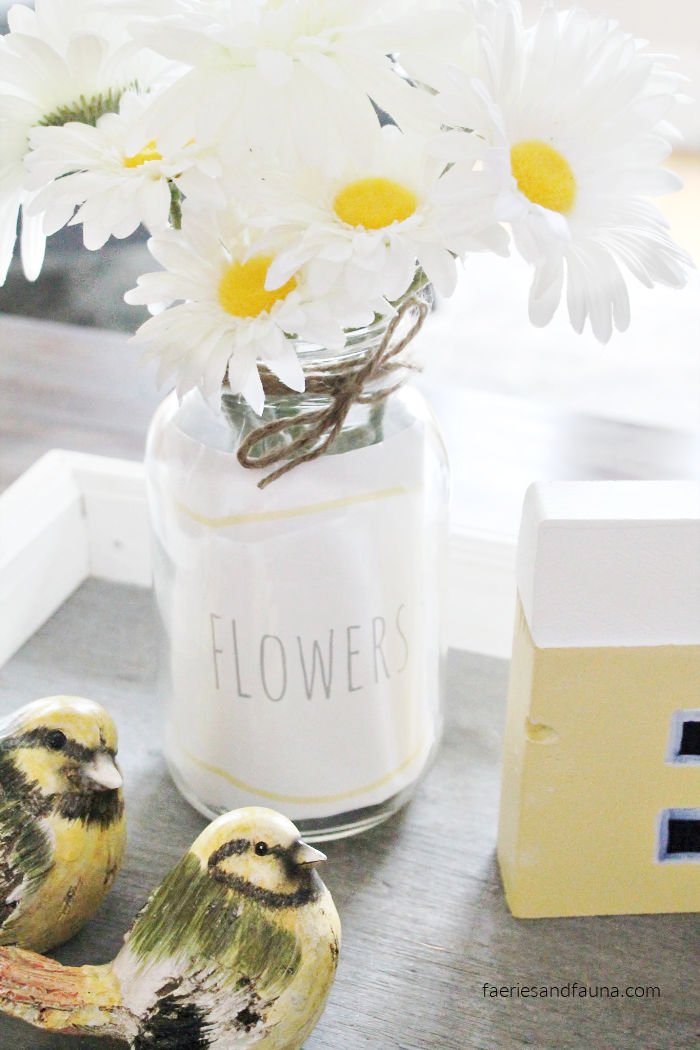 Dandelion Bouquet Idea for Families
I think this would make a fun activity to do with children. Dandelions would very much suit this simple jar vase, using the dandelions would be free, and a great family activity for a warm day. I know this grandma would be thrilled.