Beswick Thoroughbred Figurine and Farmhouse Decor
I really enjoy the easy going vibe of farmhouse decor, its so bright, airy and comfortable. I wrote before about how much I like the farmhouse trend, but instead of totally converting to farmhouse decor I prefer to incorporate pepperings of it into my home.
Herman loves horse racing, especially the thoroughbreds themselves. It is because of his love of thoroughbreds that I have personalized the farmhouse style with more horses than cows, chickens, sheep or pigs.
We tease Herman about the cost of having his horses, so this saying is very comical for us. The Beswick horse is the only one I have so far. It is a much loved mother's day gift. If you don't know about vintage Beswick antique figurines I have included a small write up and link at the end of the posting.
The chalkboard is purchased from the Carvel General Store in Alberta. I added the Shakespearean verse using Microsoft Word and the font is Carolin.
To add the chalk to the chalkboard.
Design the saying and font to fit the chalkboard.
Once designed print it out normally.
Place the printed side on a window to make the lettering easier to see.
Trace the back side of the print with chalk.
Once this is done, place the paper chalk side down on the chalkboard.
Carefully and thoroughly rub the lettering to transfer enough of the chalk to the board.
Remove the paper, follow the outline and fill in the design using chalk.
This vignette tells a meaningful story for us, it incorporates Herman's love of horses with my love of feminine vintage. The galvanized chalkboard is both modern and farmhouse.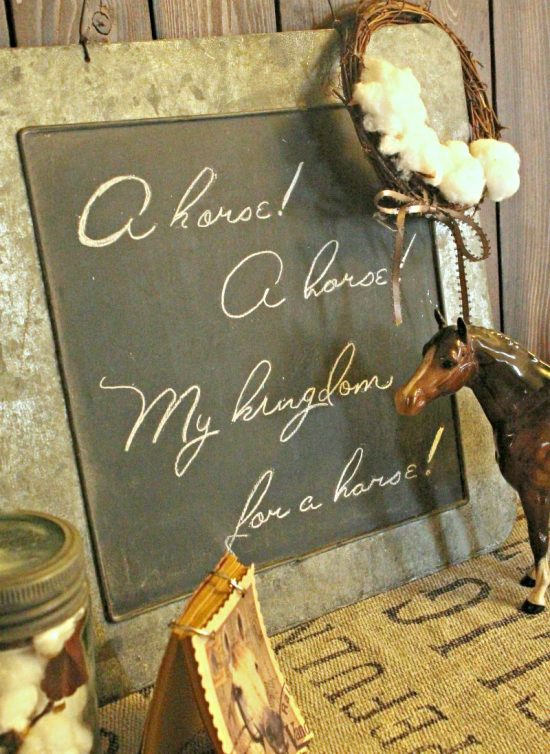 Beswick pottery was primarily known for making high quality porcelain farm animals and Beatrix Potter characters. I am going to focus on the history of the farm animal figures.
Beswick pottery was started in 1892, by James Wright Beswick and his sons John and Gilbert. When James Wright Beswick died in 1921 , it was taken over by his grandson John Ewart Beswick who expanded the company. In 1934 the company introduced a line of high fired bone china and produced high quality figurines, such a famous race horses.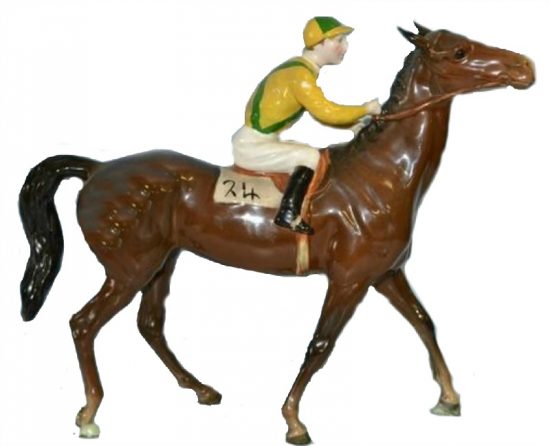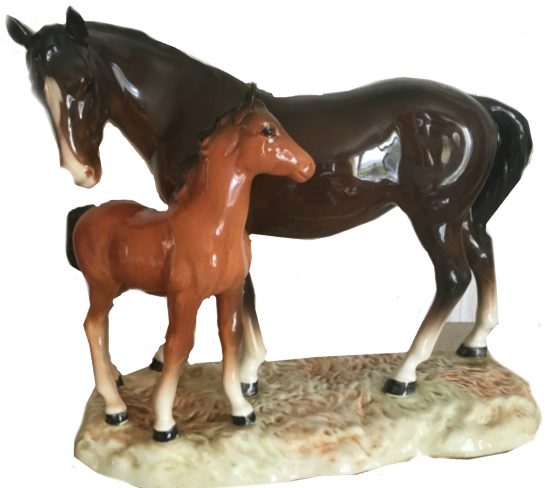 The business was sold to Doulton & Co in 1969. Doulton replaced the Beswick label with their own in 1989. Doulton stopped producing Beswick product lines in 2002.
Darlington Crystal purchased the right to the Beswick name and product design right, and produce figurines using some of the original production molds.
They are very collectible and I expect their demand ( and unfortunately cost) will increase during the farmhouse trend.
You can find more information here.
Ten acres, with a small home and five thoroughbreds would be a kingdom to us.
.