Bling on the Holidays DIY Sparkly Snow Tree Picks
Snow Crystals, Nature's Bling
When I heard about the Bling on the Holidays blog hop, I jumped at the opportunity to join in. Don't you just love anything that sparkles and glitters and Christmas is the time you can really bring go over the top adding bling and sparkle. This is my contribution please remember to check out all the other great Bling on the Holiday posts links at the bottom of my post.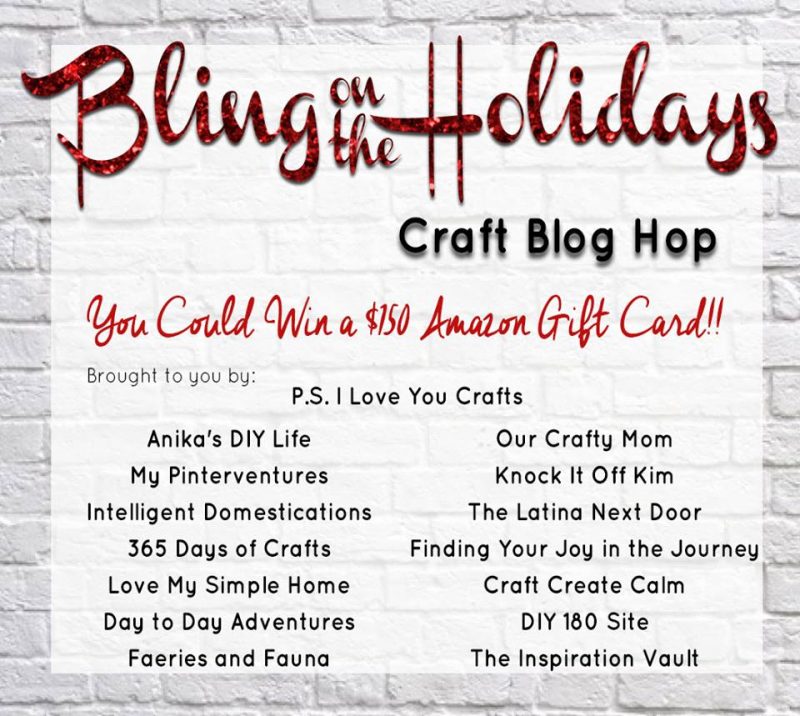 a
I live in Northern Canada and the snow and extreme cold are not only the harshest parts of a Canadian winter, they are the stunningly most beautiful. Extreme cold dries snow out and makes it very fluffy and light. When the sun or moonlight catches the snow it flashes with a million little diamond crystals, absolutely magnificent. This type of sparkling snow was my inspiration for my Christmas tree update.
If your interested this is the link to the article about different types of snow. CBC article on Edmonton snow. They named the sparkly snow types Hollywood snow and Sparkly snow, I certainly agree.
Bling your Tree with DIY Flocked Picks
Our downstairs tree is a prelit artificial green tree and only three years old. It's not ready to be replaced with a very expensive flocked tree, not this year anyways. There were several articles on flocking a tree but I chose to not to risk it. Adding flocking to a tree pick and then piling on blingy sparkle to place inside the tree boughs. The tree picks are much easier to store and the "snow" won't all come off during storage.
a
a
I am very glad I didn't try and flock my whole tree, as I had a couple of failures to start with. For the first one I purchased and grated Ivory soap. The grated ivory method was pretty easy to do actually, but I could not get rid of the overpowering soap smell. Even Hubs was asking me to please toss it. Ivory is a decent hand soap, but I don't recommend it on a tree. After two other disasters including one that suggested painting glue on your tree, I finally came up with my own method.
Add Bling to Picks Tutorial
To do this you will need:
At least 15 artificial green tree picks, leftovers from previous years work just fine.
Something to cover your counter with, parchment, tin foil or wax paper.
Two cans of spray on snow.
Three small bags of powdered artificial snow.
Large jar of iridescent white glitter. (white will work, but certainly not silver)
Method:
Cover your counter with parchment paper, tin foil, or wax paper.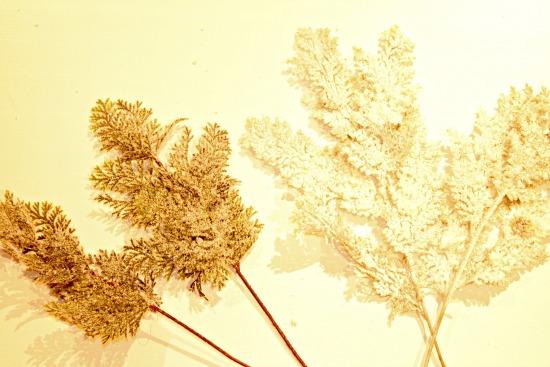 a
Spray each pick liberally with the spray can snow. Let dry an hour or so. The picture above illustrates the before and after of the first spraying.
Once dry, respray with more spray-on snow. Totally cover the tree pick with lots of snow, bury it in the snow, just like my driveway in a month or so.
Pat the snow down and let dry for a couple hours.
Lift the pick out of the snow and let the excess drop off. (Use the left over snow on the next pick.)
aaaaaaaaaaaaaaaaaaaaaaaaaaaaaaaaaaaaaaaaaaaaaaaaaaaaaaaaaaaaaaaaaaaaaaaaaaaaaaaaaaaaaaaaaaaaaaaaaaaaaaaaaaaaaaaaaaaaaaaaaaaaaaaaaaaaaaaaaaaaaaaaaaaaaaaaaaaa
a
Place your pick on a new sheet of parchment paper and spray it with a little spray on adhesive, sprinkle it with lots of white sparkles and let dry.
(Once dry reuse the leftover sparkles on the next pick.)
I set aside one kitchen counter and did these four at a time each evening.
a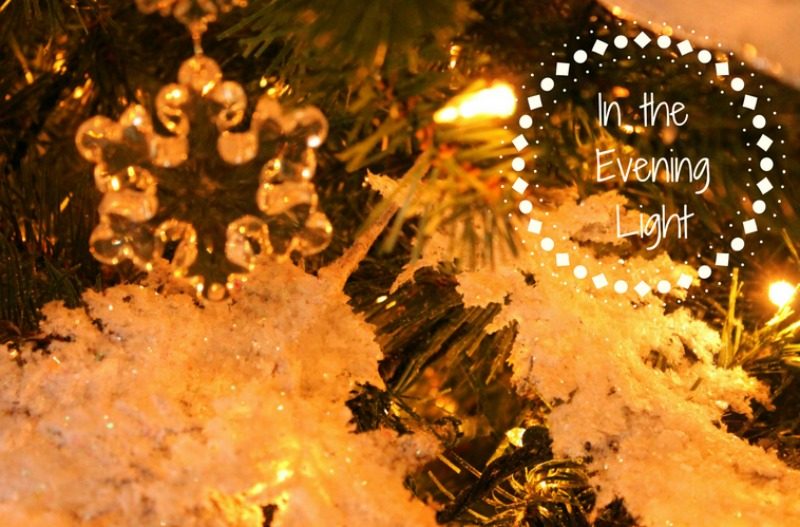 a
I staggered the picks throughout my tree and then decorated as usual. I think they blend into the tree really nicely, I will add more next year. I am going to store these ones between bits of waxed paper in a dress box.
Add Bling throughout the House
I have bling scattered throughout the rest of my home, in beaded cushions, an iridescent nativity scene, jeweled candlesticks. My tree skirt is glass beaded, as is the glass table runner. I place the vignettes near a mirror, it instantly gives your vignettes twice the sparkle. Reflecting light sparkles and brightens a room. It is my long term favorite.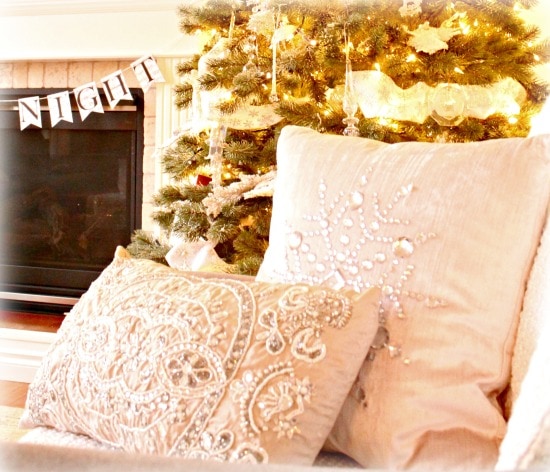 The winter days are already very short here, it has been dull and grey for more than a week. The bright joyous sparkles brighten up our mood and the atmosphere of our home. White and sparkly is a very joyous combination.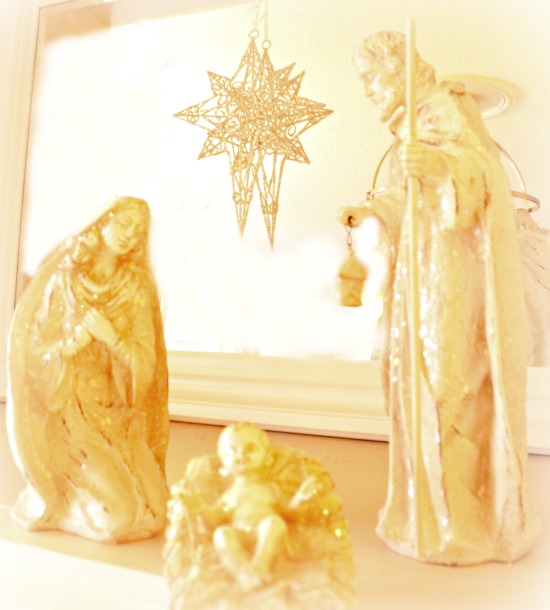 Blessings, thank you for stopping by and stop by the other posts. What a terrific way to spend a morning.
Blog Hop List
P.S. I Love You Crafts – Our First Christmas Together Ornament

Anika's DIY Life – LED Christmas Tree Wall Decor

My Pinterventures – Baking Soda Gingerbread Ornaments

Intelligent Domestications – Poinsettia Christmas Wreath

365 Days of Crafts – Handmade Christmas Cards

Love My Simple Home – Chicken Wire Christmas Tree

Day to Day Adventures – Glitter Letters for Christmas Decorations

Faeries and Fauna – Christmas Cushion and White Glitter Christmas Tree

Our Crafty Mom – Glittered Mason Jar Light

Knock It Off Kim – Holiday Napkin Rings

The Latina Next Door – DIY Christmas Ornament

Finding Your Joy in the Journey – Christmas Letters with a Little Bling

Craft Create Calm – Gingerbread House

DIY 180 Site – Vintage Christmas Bulb Wreath

The Inspiration Vault – Sparkly Snowflake Decor