DIY Bathroom Display Organizer
DIY Table Riser and Organizer for the Vanity
Welcome to another Farmhouse Hens collaboration. This month we are doing furniture makeovers. Make sure to check out the other Farmhouse Hens posts linked at the bottom of my post. I am sure you will be inspired and enjoy what they have created for us. I am sharing how I upcycled an old rickety plant stand into this pretty DIY table riser for a bathroom or vanity. Its such a nice place to organize some of my pretty bathroom stuff so it stand out.
This DIY bathroom display organizer is the hardest project I have ever tried to name. It's not really a tray, it's too small to be a cabinet, but it is useful for grouping items together and useful to add some height to the little vanity mirror you see in the background.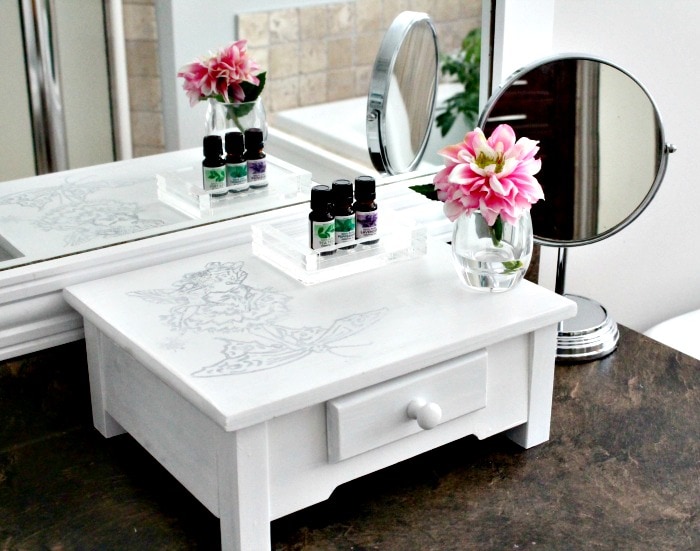 This particular project started with an error. I don't have a good perspective on the size of an item. I swear they totally change size in the drive home from the store. This is but one of a lifetime of examples.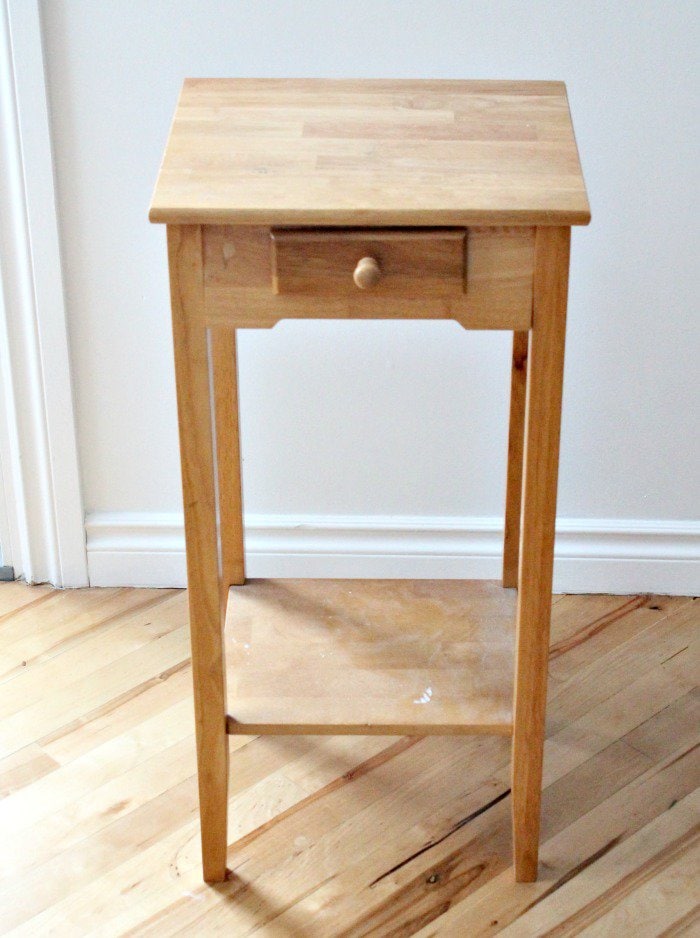 I thought it would make a nice display table for the front porch, but it is much too small and rickety. It was only $5.00 but I was determined to use it, so it's been in the junk corner of the garage for almost a year. I think maybe it was designed to be a plant stand for a fern or something, or perhaps a telephone table, I don't know what it was suppose to be.
You certainly could try and use it as a coffee station wooden tray. Unfortunately our coffee pot is too tall and it there isn't enough room between the upper and lower cabinets. It was really too bad because that little drawer is so perfect for teaspoons.
This little DIY table riser finally found a place in the bathroom on the vanity end of our bathroom counter. I put all the little hygiene implements in the little drawer and added a fairy to work her miracles.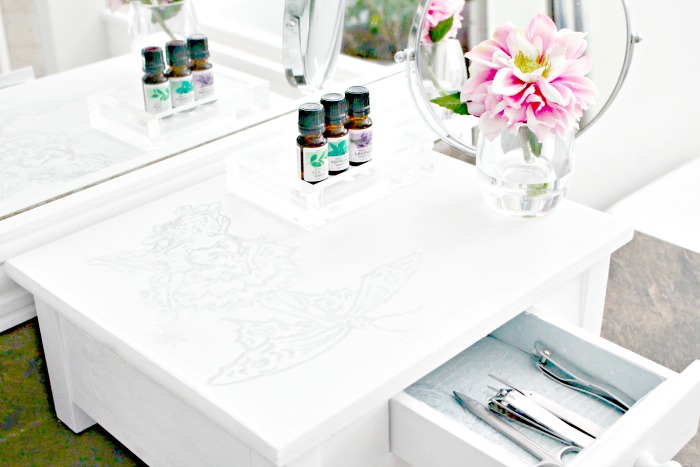 How to Make a DIY Table Riser from an Old Plant Stand
It was pretty dirty from being in the garage and very rickety. The first step is dismantling and then cleaning all the parts. The slots and hardware made it very easy to recognize how to reassemble it.
Secondly cut all the legs off so they are an inch longer than the body of the tiny cabinet.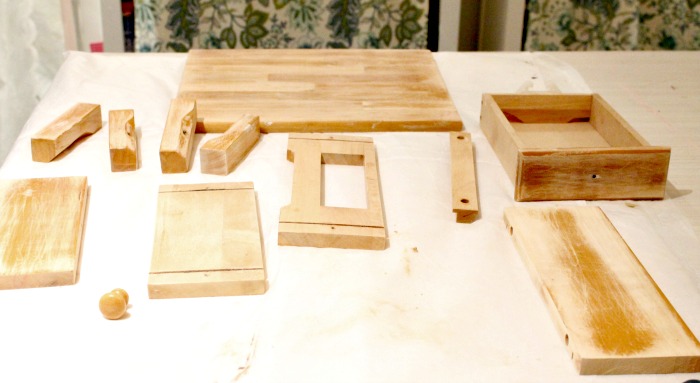 Sand all the parts of with 150 grit sandpaper to remove the shine.
Paint with chalkboard or latex. I used matte latex.
Apply a primer and then two layers of white paint. Let dry between coats.
Add any graphic you like. My graphic came from The Graphics Fairy, I found two different feminine graphics I really liked. The vintage butterfly graphic you see in the pictures and a vintage beauty ad graphic.
Once you have a graphic chosen and printed use carbon tracing paper to transfer the image to the surface. Place the transfer paper carbon side down against the wood, put the image on top and using a pen outline all the lines on the graphic. If you use a red pen you may find it easier to see the areas you have outlined as you work along.
Once finished, remove the carbon and the graphic pattern. Using a tiny paint brush and silver/ grey paint, paint over all the carbon markings. Let dry thoroughly but its best to leave it overnight. (I found this part very enjoyable and quiet. I drank two cups of coffee during the process and it took about two hours to finish.)
The next day, remove all the carbon marks by rubbing them off with a high-quality eraser. (the white kind)
To soften the look of the painted graphic, do a third dry coat of white paint. Using a very little bit of paint and a soft hand, dry brush a slight layer of paint over the top surface. Have a damp cloth nearby in case you put on too much paint and need to remove the excess.
As mine is for the bathroom I lightly sprayed it with a semi-gloss poly.j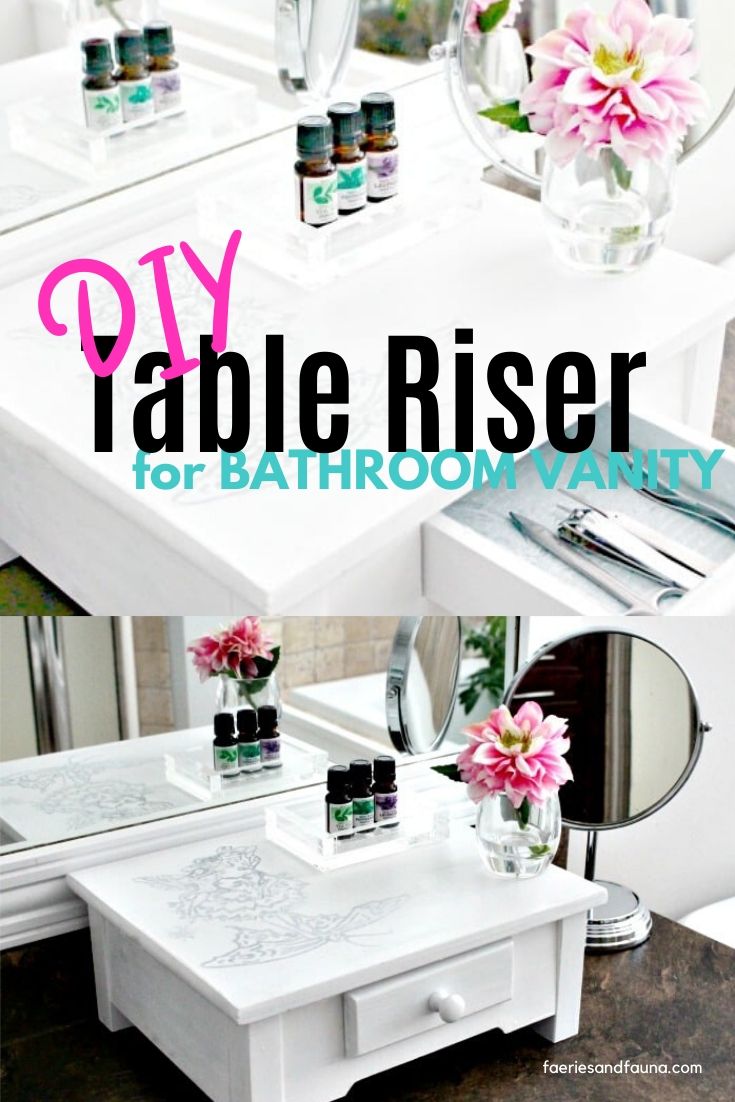 f
I love how it looks with the fairy graphic on the side with room for a flower and the oils. You could place pretty perfume bottles or your hair brushes on the top. Or maybe two or three apothecary jars.
The Farmhouse Hens
This is always very exciting for me to share what the Hens have created. Grab a coffee, wine or dessert and Enjoy!
Adventures in DIY, woodworking, home remodeling and more
Stephanie at Abbotts at Home! Blog | Facebook | Instagram | Pinterest | Twitter
Tarah at Grandma's House DIY! Blog | Facebook | Instagram | Pinterest | Twitter
Sam at Raggedy Bits! Blog | Facebook | Instagram | Pinterest | Twitter
Michelle at Our Crafty Mom! Blog | Facebook | Instagram | Pinterest | Twitter
Denise at My Thrifty House! Blog | Facebook | Instagram | Pinterest | Twitter