DIY Farmhouse Kitchen Decor Vintage Rolling Pin Upcycle
DIY Farmhouse Kitchen Decor Idea
Do you love vintage items that are feminine? Things like old sifters, cookie cutters, rolling pins, wooden spoons, vintage mason jars etc? I have been in love with that stuff forever. Always one of my favorite things to snag at a garage sale or antique show. It always makes me feel connected to the pioneer women who endured lots to get us to where we are today. Its romantic and in my head I know, but old vintage items always make me feel connected. But like most things you collect for the love of them, there comes a time when you wonder what to do with it. I have an old vintage rolling pin I actually purchased new 40 years ago. Eek! This rolling pin helped me raise my boys so I aattached to it, just not as attached as I am to the glorious glass vintage rolling pin my mother raised me with.
My Vintage Rolling Pin Before
As I now always use my mothers glass rolling pin, my old rolling pin sat in a drawer unused for several years. It even passed the konmari purge of a year ago because yes I do actually love it.
My stove is the typical stainless steel with the ugly masculine black knobs and even uglier black glass top. The top over was so bare. I decided to upcycle my vintage rolling pin into a kitchen farmhouse decor.

Supplies for Upcycling a Vintage Rolling Pin
[one-half-first]
A rolling pin
Small amounts of latex paint
Coordinating ribbon
[/one-half-first]
[one-half]
Free Say Grace Printable or your own design
Carbon Paper
Pencil, Sharpie Pen
[/one-half]
Grab an old rolling pin, for whatever reason thrift stores seem to have lots of them for cheap. Paint the roller white and the handles a coordinating colour you love in your kitchen. I used two coats of left over latex paint I already had.
Let dry well between coats. As this is a small piece I did not sand between coats.
Say Grace Printable
You can put any saying you like on your rolling pin, I thought of several, like Grampa rocks & Grama rolls, just keep rollin along, Eat, Lea's kitchen, but I finally decided on Say Grace.
I am not overly fond of cutesy sayings all over our home, but I have a really bad habit of forgetting to say grace. and I thought this was a nice way to remind myself to be thankful. I have popped the Say Grace pattern into the Pretty DIY Home Library for you.
Print out the free pattern printable. Place a small piece of carbon paper over the rolling pin and gently trace out the letters.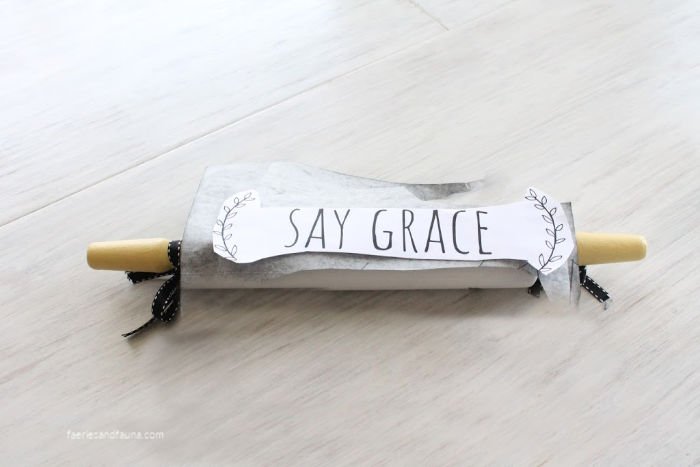 Once you have the letter pattern transferred go over the outline with a fine tip black sharpie pen. So easy.
Hanging the Rolling Pin
Our backsplash is tile and I refuse to drill holes into it. Thankfully over our stove and very likely yours there is a stove hood with a fan and grate. I cut a three foot long piece of my ever handy fishing line. Tied it into a loop. Fit the fishing line underneath the fan grate so it stayed in place. I then wrapped the twine around each end of my rolling pin in the space between the rolling portion and the handle. When it was close to the height I wanted it making sure it had equal wraps and the pin was level.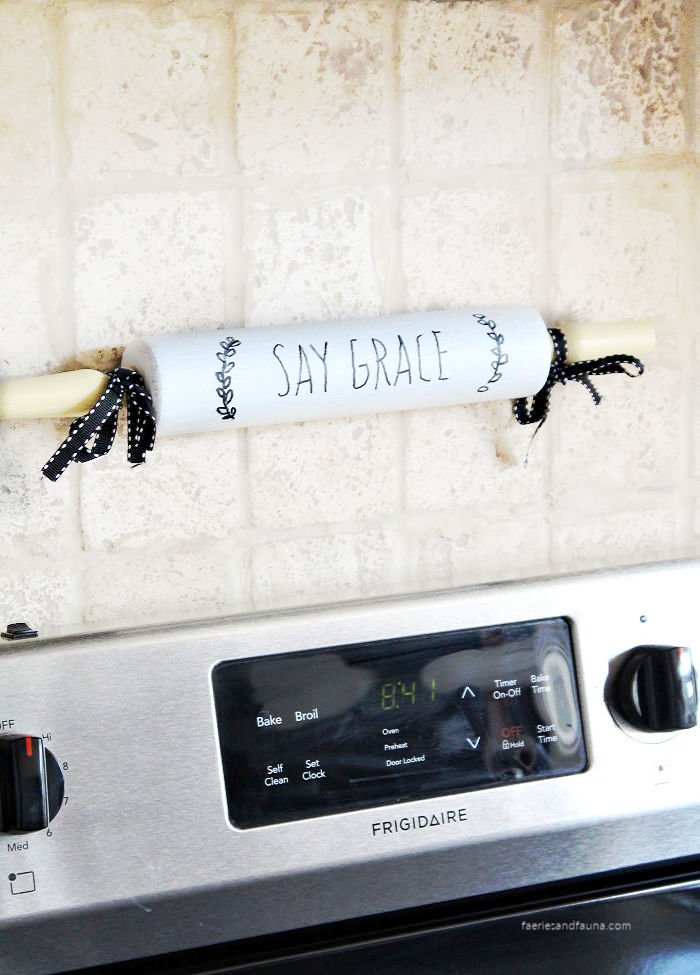 Like this idea? Pin it for Later!