DIY Spring Couch Cushions
Two Very Different Cushions for Spring Decor
Today I am sharing two very different cushions,  one is appliqued and the other is embroidered.  The DIY cushion covers are sewn by the same method.  Both will bring the feel of Spring to your home.
Appliqued Bunny Couch Cushion
You can purchase an oblong shaped plain fabric cushion or make your own cushion cover. If you want to make your own cushion cover here is my  tutorial.  It is a very simple tutorial with no pattern, zippers or buttons.  I make all my couch cushions by this method including the plain blush pink toss cushion in the picture below.
a
Adding the Applique
Use the Bunny Cushion Template  and cotton material of your choice.  I used coordinating material from kitchen towels I had just made.   You don't need much material, the fabric quarters at Walmart, Joann's or Fabricland (in Canada) is more than enough.  Instead of buying, I suggest you look through some old baby clothes, blouses or fabric scraps for a little piece of pretty material.
You will need a small piece of wonder-under interfacing.
Layer the interfacing and the fabric, cover with the template and cut out.
Remove the paper from the interfacing.
Realign just the interfacing and the material rabbit shape.
Place on the cushion cover, interface down and iron into place.
a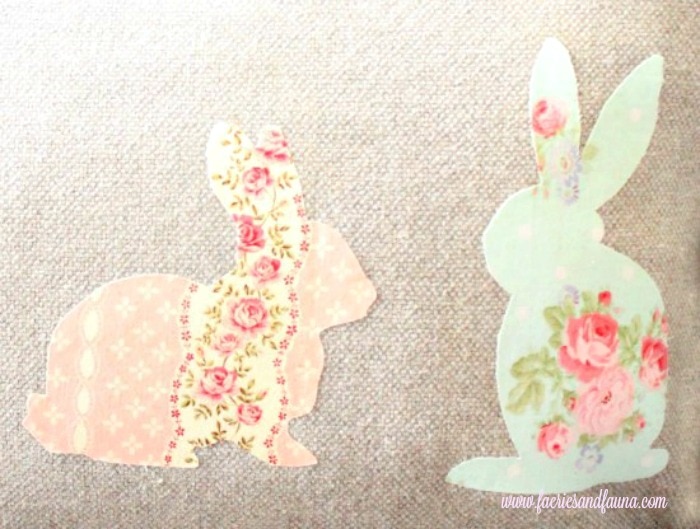 a
Optional.   Add an applique stitch or zig zag stitch around the outside edge.
Repeat for the other rabbit.
Floral Couch Cushion for Spring
If you prefer you can purchase a premade cushion cover for this project.  I made my own very simple envelope cushion cover,  you can find the tutorial here.
a
a


Crocheting Flowers

Crochet  8 small flowers in crochet cotton with a size 5 hook.

With pink crochet cotton.

Make a magic circle.

Round 1 –   Crochet 15 sc in the circle.

Round 2  –  With a slip stitch change to a white thread, 1 sc in each stitch around.

Round 3   –  Sl st in the first stitch, ch 2, in the next stitch start your petal *sc, 2hdc, 1dc, 2hdc, sc,* ch 2 skip 1 stitch sc in the next stitch, repeat.  You will have six petals.  Tie off.

Once you have the flowers ready.  Stitch them to the bottom half of your cushion cover in various places.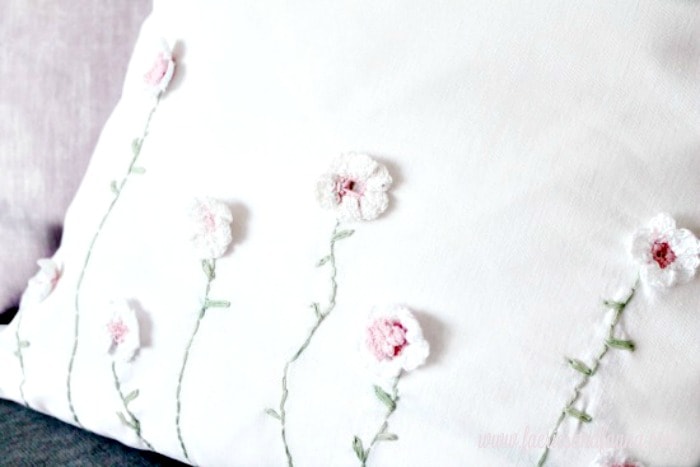 Stitching the Stems
Using green crochet cotton thread a needle and tie a knot at the end.  This will give you double thread thickness.
Create the stems using a super easy split stitch.
Make a small stitch about ¼ inch long. Bring your needle up through the center of the stitch you just made, come up from the underside of the fabric between the two threads. Come down again like you did with your first stitch, and repeat.
It really is super easy, I found a good video from  Sorchas art if you need more direction on the split stitch.
Occasionally as you go along place in a leaf using a single lazy daisy stitch.
a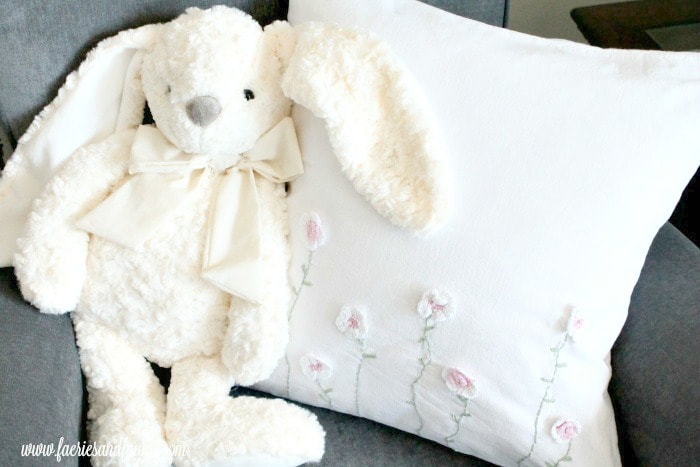 a
I made this cushion in small steps over the course of a week.  Sewing the cushion one day. Crocheting the flowers and attaching them another.  Finally finishing with the stems.   Doing it in little bits makes this cushion really easy to do and its rather special looking I think.
Please let me know if you make one.  I would love to hear your feedback.