Easy DIY Farmhouse Wall Art
Simple and Easy DIY Farmhouse Wall Art
One of the easiest ways to make DIY interior decor is using towels. Towels work very well for applique, banners, cushions, and in today's post an easy DIY farmhouse wall art project. This towel was in my craft room for almost a year waiting for me to make this simple sign. I purchased in on holidays in Charleston and instantly knew it would be a simple piece of artwork for this bedroom.
This post is my twist on this month's International Bloggers Club topic, Iron. My first inclination was to bow out as I was drawing a blank, but then Michelle from A Crafty Mix suggested I could use an iron instead, I was all set. I had just finished making this art a week or so ago and had chosen to attach it using stitch fix and an iron.
If you don't know about the Int'l bloggers, we are a group of bloggers from around the world who gather once each month to post on a general topic. If you have not been to Faeries and Fauna before I am a DIY blogger from Western Canada in a city called Edmonton. The rest of the Int'l bloggers posts are listed at after the Farmhouse artwork tutorial. Check them out as its fun to see everyone's interpretation of the general theme.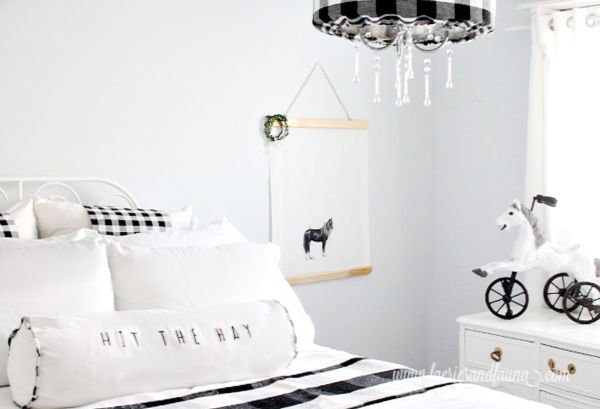 This bedroom is full of DIY projects so this little piece of wall art fits right in. Super easy to make it takes less than an hour to put together, and as the towel came from my vacation it's a nice keepsake.
To make your own you will need the following supplies. Including a towel with a fun themed motif. This towel came with this beautiful equine motif, it was instant love.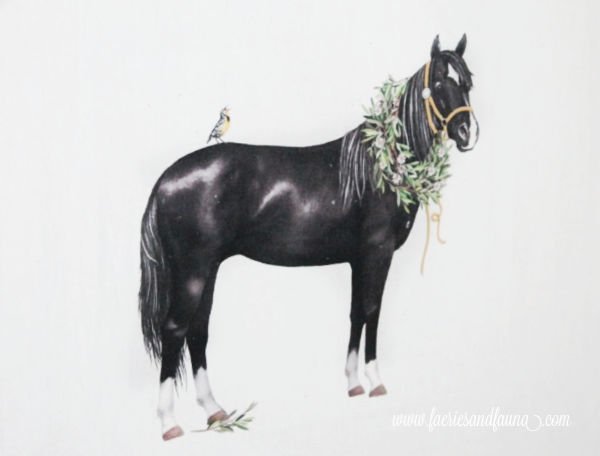 [one-half-first]Kitchen towel with a fun motif
Two pieces of 1 by 2 lumber wider than the towel
Two small screws in eyelets, and screwdriver
120 grit sandpaper[/one-half-first]
[one-half]
Clear poly (optional)
One package iron on stitch fix (I buy IKEA) and an iron.
Two feet of cording[/one-half]
Preparing the Towel
Thankfully a towel comes pre-hemmed on all sides, but the artwork will hang better with a wider seam. To create the two wide side seams, fold the two sides of the towel over one inch. Iron a crisp seam, add a long length of stitch fix along the edge of both seams. Iron well and let cool.
Preparing the Wood Frame Hangar
Measure the width of your towel. Mine is 23″
Cut two pieces of 1 x6 the width of the towel, and sand smooth with the 220 grit sandpaper. Especially the two cut ends.
Apply polyurethane and all sides, letting dry. This is optional, but I liked the little bit of shine and depth it added to the plain wood.
Once the wood is dry. Measure 4 inches from each end and twist in the eyelets. This was hard on my old hands, so I used a screwdriver to tighten the eyelets into place.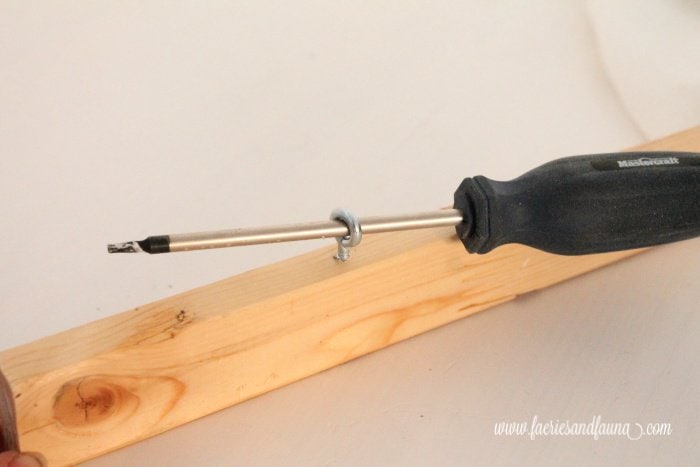 Attaching the Towel to the Frame
I wasn't sure if this would work but gave it a try and it worked really well. You could use hot glue, but I hate burning my fingers with the stuff, and this was super easy to use.
Place two long strips the full length and width of the back of your wood frame.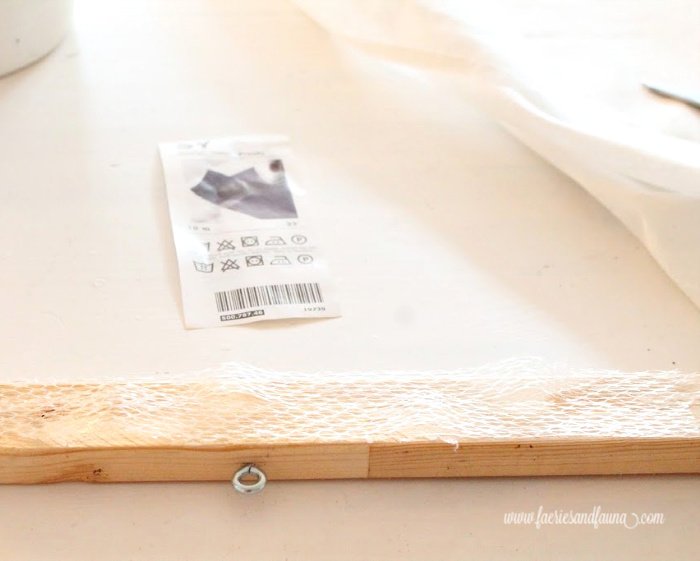 Cover the wood with the side of the towel you want showing, and iron into place really well. Let cool.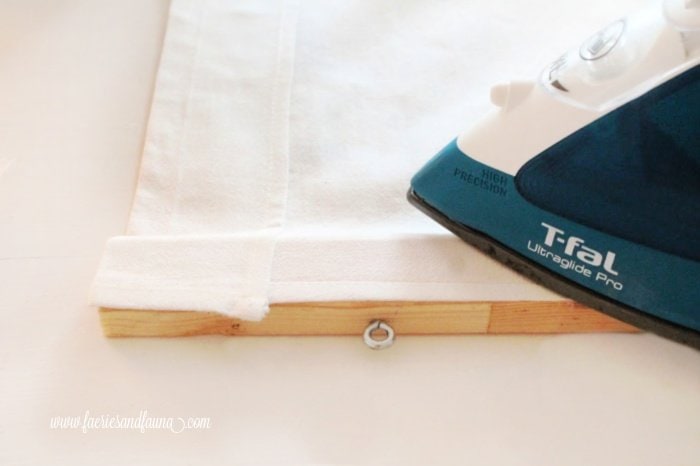 Hang the artwork using string, twine, leather shoelaces or piping cord like I did.
I love how light, bright and minimalist this simple piece of art turned out. It works very well in the bedroom.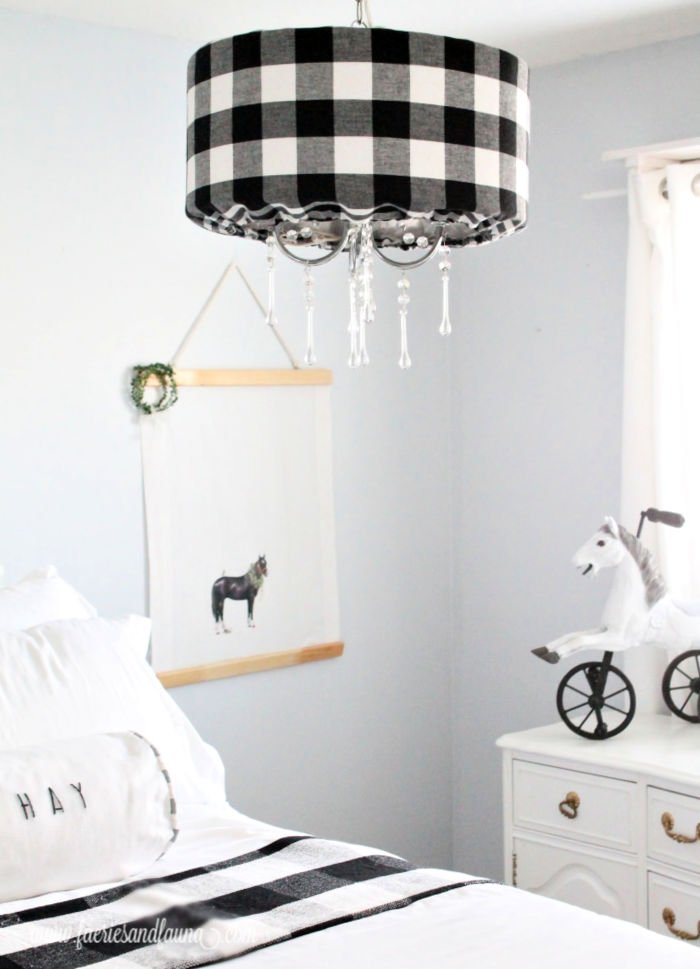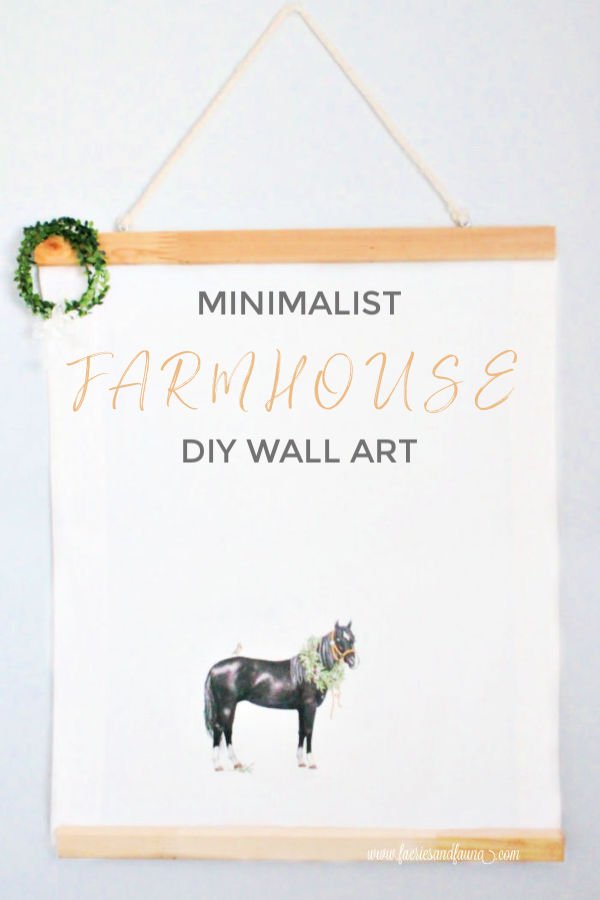 I am hoping you enjoy my fabulous blogging friends interpretations as much as I do. I would love to hear your thoughts on it.
You are invited to the Inlinkz link party!