Easy Sew Scented Fabric Pouch Craft
Tutorials for an Easy Fabric Pouch
This little DIY fabric pouch is so easy to put together you can make it without sewing. Personally I sew things like this, but I realize that not everyone has a sewing machine. The sewn bag is a little more durable but the non sewn one will work for you. In this particular post I am showing the sewn version. Here is the link to the no sew fabric pouch if you don't want to sew.
Sewing a DIY Fabric Pouch
This easy pouch is so cute and whips up in a few minutes. Hang it where ever you want a little fresh scent or a pretty pop of colour. Hang one on a door knob, closet knob, ladder, hook or even the back of a chair are great choices.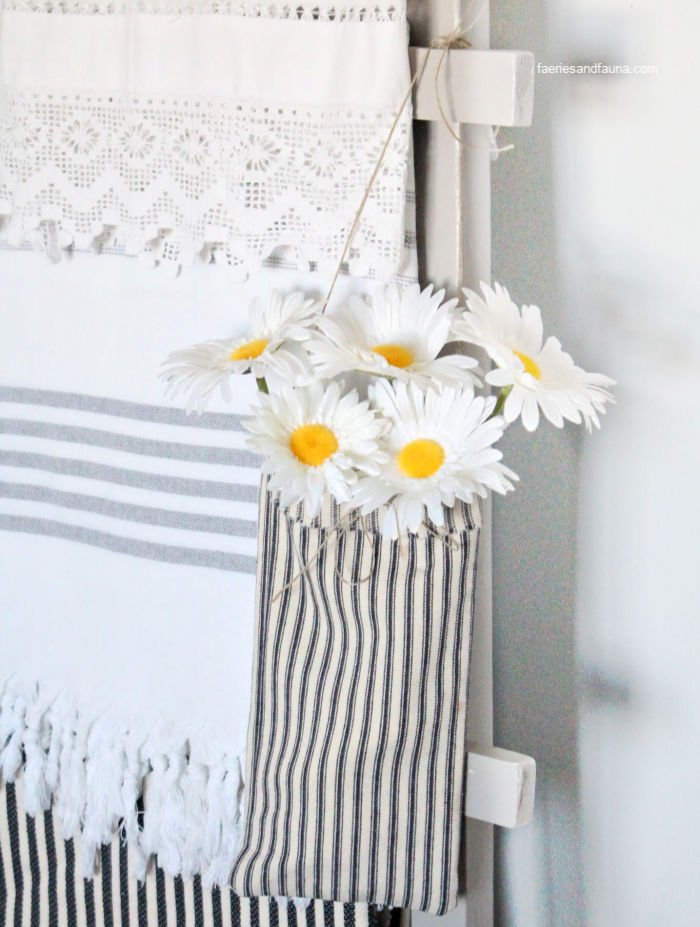 Supplies to Make a Scented Fabric Pouch
To make one of your own you will need.
A square foot of scrap fabric
Large eyed needle
Small strong cord, like jewelry cord.
Cotton balls, and essential oil
A few Faux Flowers
Cut two pieces of fabric 6″ by 12″. Iron your fabric smooth. Let start by making hems at the top of each piece of fabric.
Lay the first piece of fabric good side down, fold over top 1/2″. Press to make acrease.
Cut a small piece of twine 36″ long, and lay it across the seam.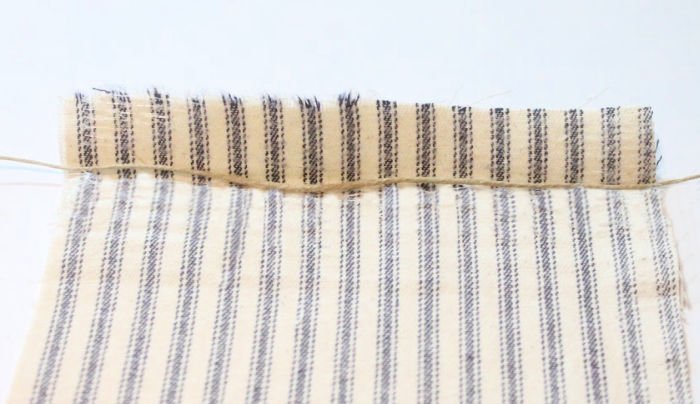 Sew to create a hem, making sure not to attach the small twine.
Lay the second piece good side up. Fold over top 1 1/2″ press to crease, but do not sew a hem.
Place the two pieces of fabric good sides together, pin in place along three sides leaving the folded hem side open.
Because the top of the fabric pieces are aligned unevenly , it causes uneven edges at the bottom seam. Trim the fabric with scissors so they match.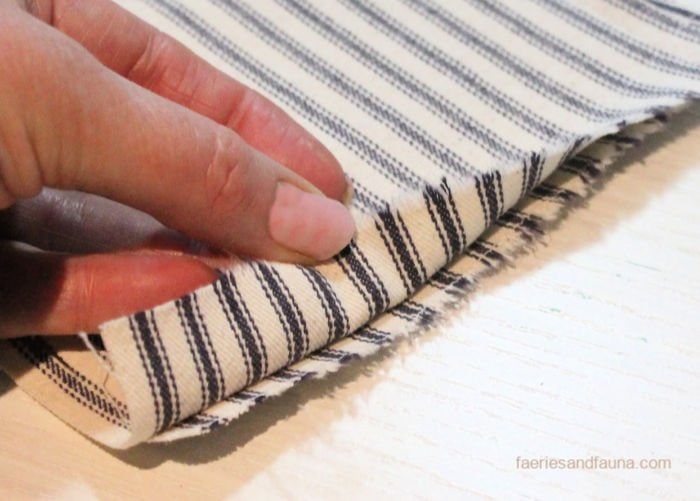 Sewing the Fabric Together
Start sewing 1/4″ from the bottom of the folded hem. This gives the bag a little bit of a shabby look and bends the front over a little bit.
Sew a half inch seam along all three edges, starting and ending 1/4 from the seam.
Turn right side out and press.
Take a large eyed needle and thread it with the small twine. Push the needle down through the fabric, it maybe a bit tough to pull through the fabric. Just twist and pull on the needle, the fabric fibres will loosen allowing the twine to bit through. Push the needle up 1/4 inch from the first and pull the needle through again.
Tie a knot and then a bow.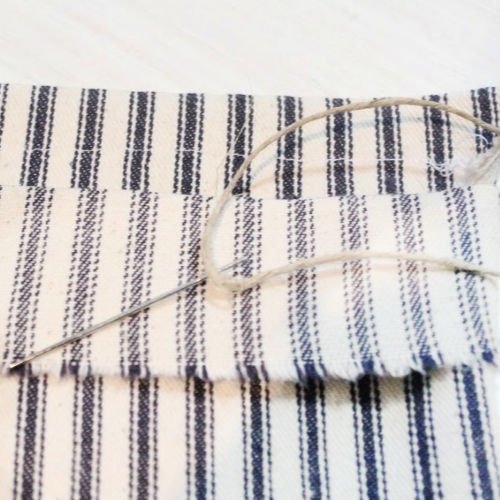 Adding Flowers and Scent
To hold the back of the fabric pouch cut a piece of cardboard or foam board and place inside the pouch.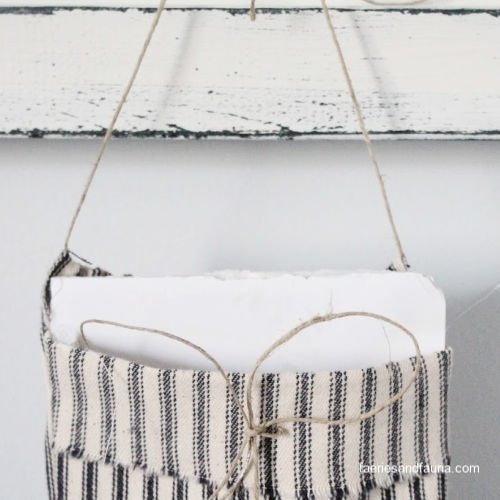 To add scent take four cotton balls, add a favorite essential oil and placed them in the bag. Then add some dollar store faux gerbera daisies.
Hang your pouch where you like and tie the hanging twine as long as you like.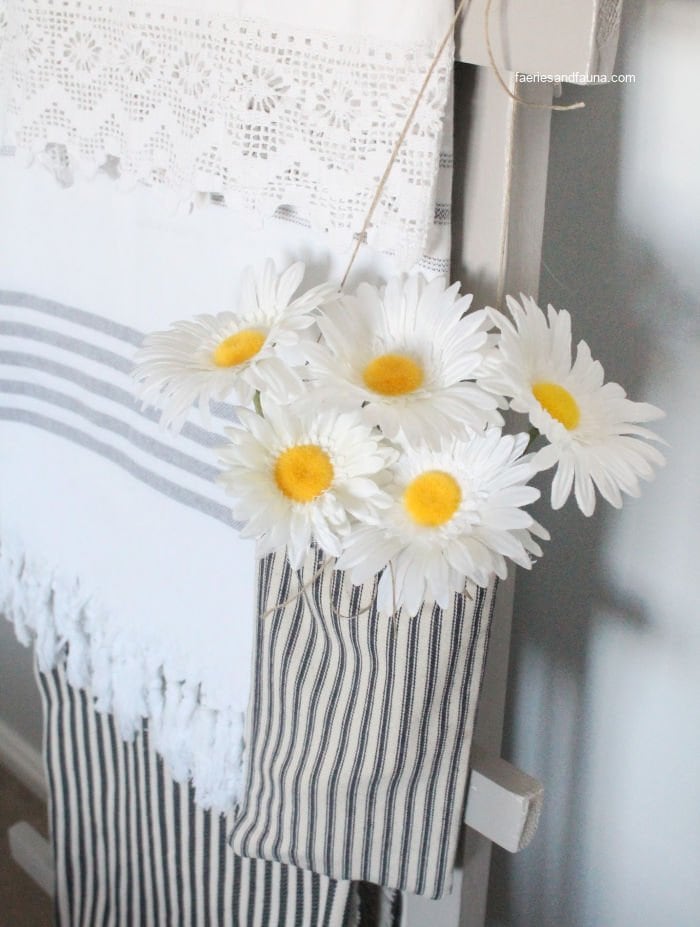 This fabric pouch is made to decorate a little shelf in our guest room year around. The lavender essential oils are really nice in the room.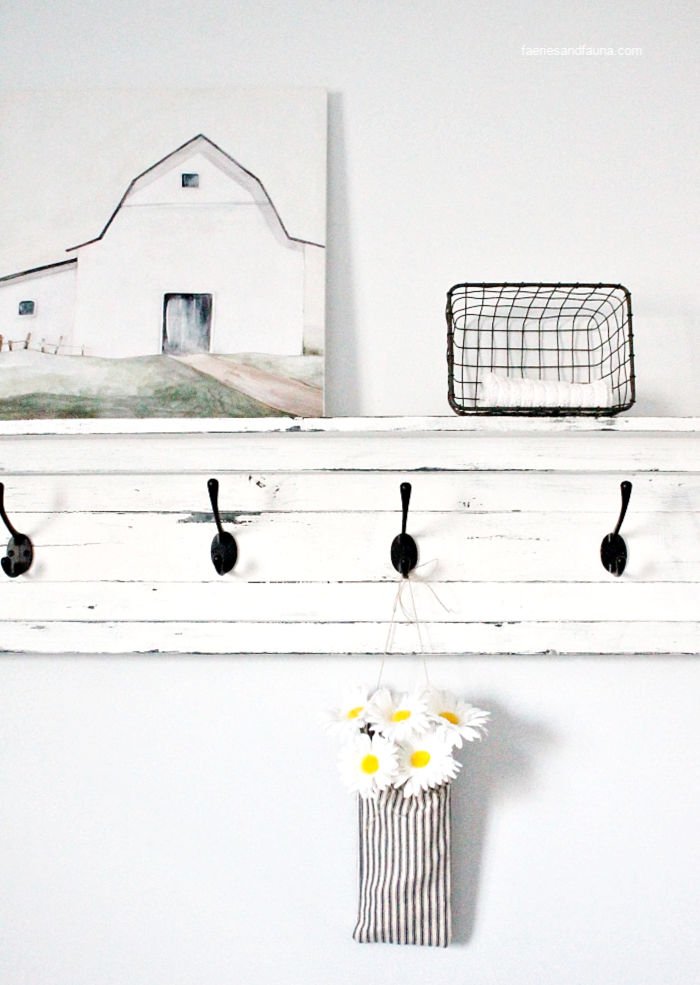 These little fabric pouches are so handy to scenting a room. I need to make more in different styles for the bathrooms. Maybe add the scented cotton and fill the bag with little soaps. Not sure at this point. Please comment and let me know any other fillers you can think of for the little scented pouches.