This is my first home tour, first one of any type ever. I really want to thank Debbie from Chathamhillonthelake and Karen from Dragonflyandlilypads for organizing the fall home tour and allowing me to participate.
When planning the post, I decided to have the tour follow the path of visitors who stop by. This is my tiny loved front porch, if you look carefully you will see our always on guard Great Pyrenees waiting to bark, leap, jump and say hello.
a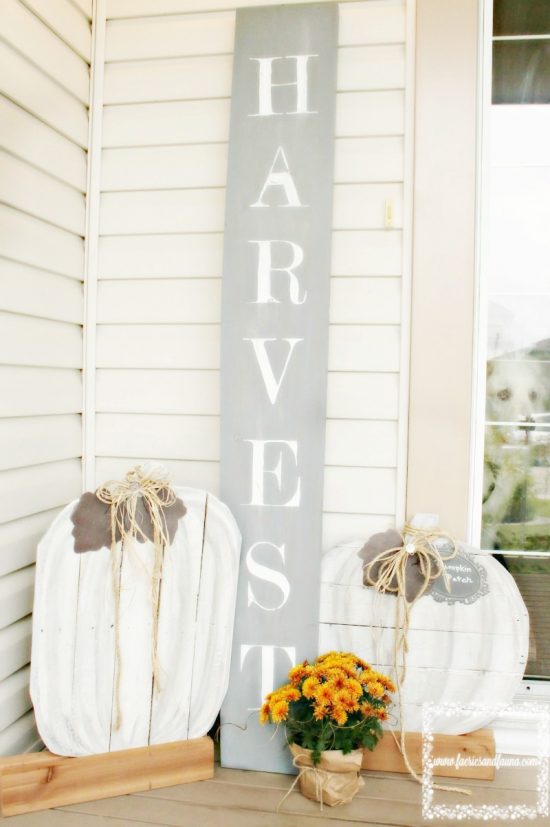 a
Our porch is small, but its the first one I have ever had and I love it. I change it for every season. We made the pumpkins and the Harvest sign ourselves. There is decor on both sides of the front door sometime I add small lanterns to the stairs, but any more could become a tripping hazard.
Starting last year I began transitioning from traditional fall colours to neutral fall colours, you will see little pops of colour throughout my decor. as I still want to use what is usable. On the porch I just added the orange Mums.
a

a
The little owl is a dollar store find. Next year he will be painted and added to some sort of floral arrangement I am sure. This year though I liked him as a welcome mascot and put him in service just as he was.
I try to keep our home as bright as possible, all kinds of natural light. I like whites, metals soft grey and mirrors. I like how they reflect the light, reduce shadow and generally brighten the room. The mirror and the decorations are a couple of years old now. The little leaf tray serves to gather whatever we have in our hands coming in. I often mix different metallics in my decor arrangements. I used a copper pumpkin, silver leaf tray and gold candle sticks in this one.
a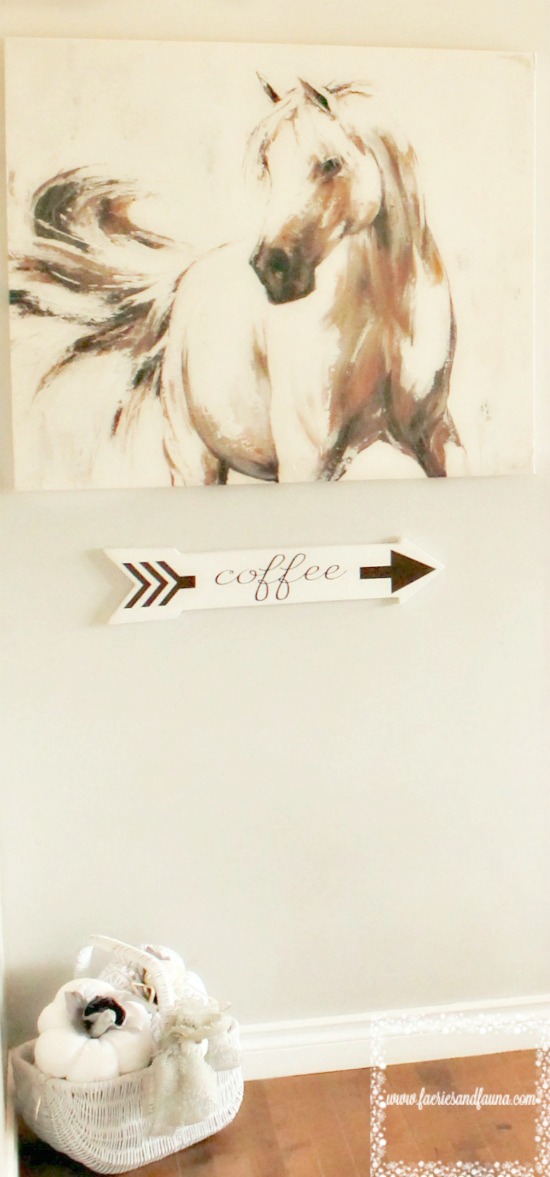 a
Please come on in coffee is this way!
aaaaaaaaaaaaaaaaaaaaaaaaaaaaaaaaaaaaaaaaaaaaaa
a
The main floor has one large multipurpose room. It's where I spend most of my waking hours. The shortest days of winter here have only about six hours of daylight. When we were house hunting as soon as I saw all those huge bright windows I knew we had found our new home.
a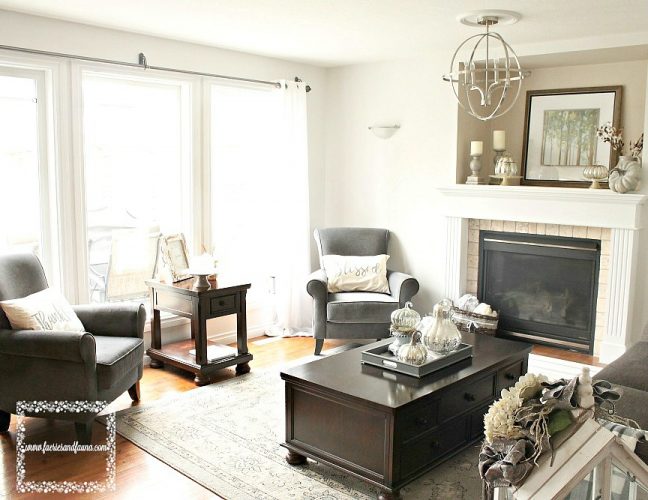 There is a very nice deck out the back of the house, but by fall I tend to avoid it. I prefer the warm indoors and fireplace.
There are two baskets of thick throws beside the fireplace, I use them all.
I made the thankful, blessed and pumpkin cushions this year.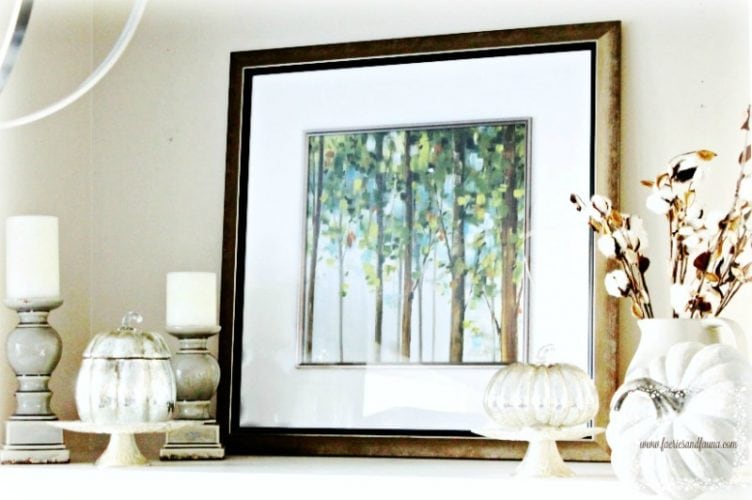 Here is another example of mixed metallics. The gold frame of the artwork with the silvery cake plates and metallic glass pumpkins. I got this painting three years ago at Home Sense. I keep it stored away most of the year so every fall it's like getting something new.
a
a
Herman made me this sofa table two years ago, I often have this big mirror above the fireplace but we moved it here for fall. I made the stuffed pumpkins and to give the items behind the couch extra height I covered some old books with material and tied them closed with ribbon.
aaaaaaaaaaaaaaaaaaaa
aaaaaaaaaaaaaa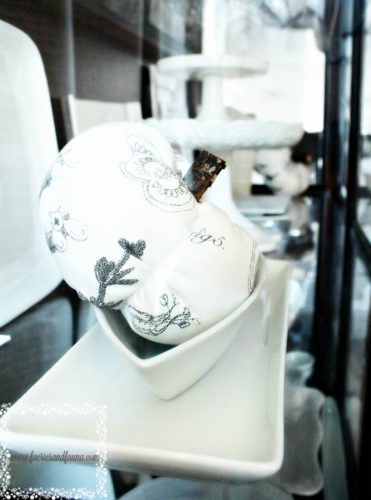 No fancy table settings this year Thankfully I am not doing the big dinner this year. I just added little bits of fall decor to the dining area including these stuffed pumpkins that I placed inside the china cabinet.
aaaaaaaaaaaaaaaaaaaaaaaaaaaaaaaaaaaaaaaaaaaaaaaaaaaaaaaaaaaaaaaaaaaaaaaaaaaaaaaaaaaaaaaaaaaaaaaaaaaaaaaaaaaaaaaaaaaaaaaaaaaaaaaaaaaaaaaaaaaaaaaaaaaaaaaaaaaaaaaaaaaaaaaaaaaaaaaaaaaaa
aaaaaaaaaaaaaaaaaaaaaaaaaaaaaaaaaaaaaaaaaaaaaaaaaaaaaaaaaaaaaaaaaaaaaaaaaaaaaaaaaaaaaaaa
The table is where most of the living happens around here, the wood chairs are showing age so I added some padding and sewed the chair covers. I like the white of course, but if I had to do them again I would choose a darker colour. It's just too much washing, ironing and starching.
a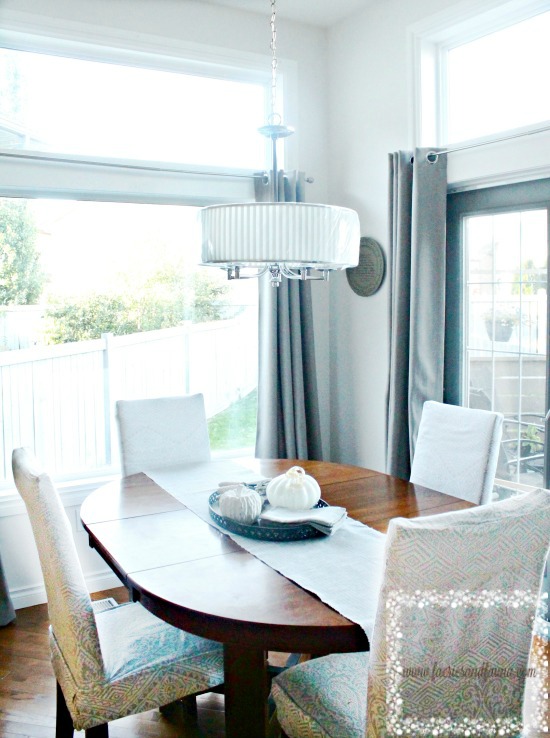 a
I like bare counters, I usually keep my 25 year old Kitchenaid mixer on the counter, one coffee maker and one focal point decor item.
a

This fall its this three tier stand.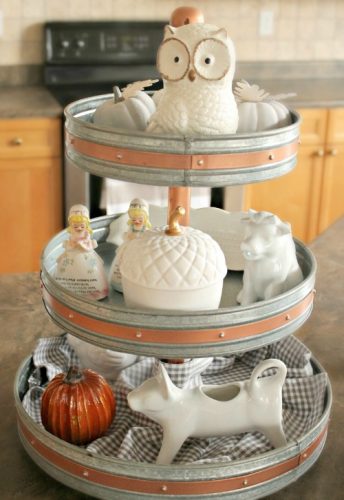 a
Because of the farmhouse trend I added a coffee tray area to one of the counter tops this year. I am going to keep it out for fall, but doubt it will be a permanent fixture. I do love those glass enamel looking mugs though.
a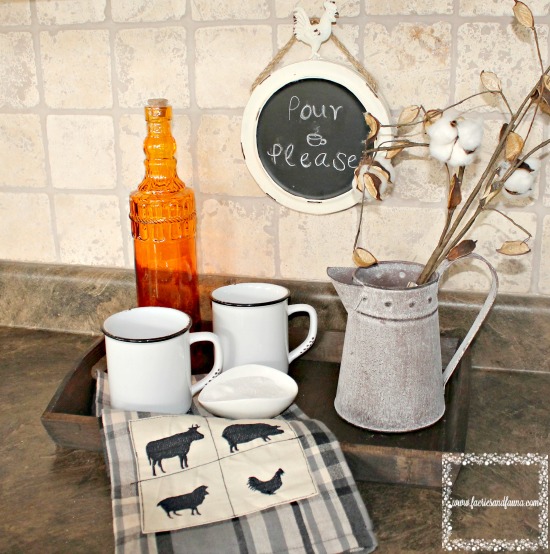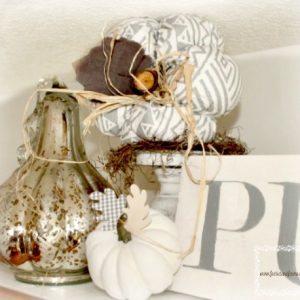 I much prefer cupboards that go right to the ceiling, but you have to love what you have sometimes. This type of cupboard gives me loads of room for seasonal decor. This season it's a pumpkin patch. I made the pumpkin patch sign, the stuffed pumpkins and the little mini chalk paint pumpkins. The remaining glass pumpkins are a gathered collection.
aaaaaaaaaaaaaaaaaaaaaaaaaaaaaaaaaaaaaaaaaaaaaaaaaaaaaaaaaaaaaaaaaaaaaaaaaaaaaaaaaaaaaaaaaaaaa
I considered ending the tour at this point. Our home is two storey and most guests never see upstairs. On the top floor we have the bedrooms of course and Herman's large man cave. He has his big television up there so it's not used very often.
It is a masculine room and we own a plush blue high back lazyboy couch that Herman loves to prove it. Its cozy and casual and because it's basically Herman's domain I don't add alot of decorative touches in this room.
Herman owns and loves his thoroughbred race horses, its his passion, so horses are always reflected in the decor of this room.
a
I am making the cotton bolls stems. The vase will slowly get fuller as I finish off more.
This little bowl of sweater pumpkins are nestled on top of a wooden tray Herman made. It's rustic with a slatted bottom, I left the pumpkins plain without any embellishments. No ribbons, no lace, no sparkly anything.
a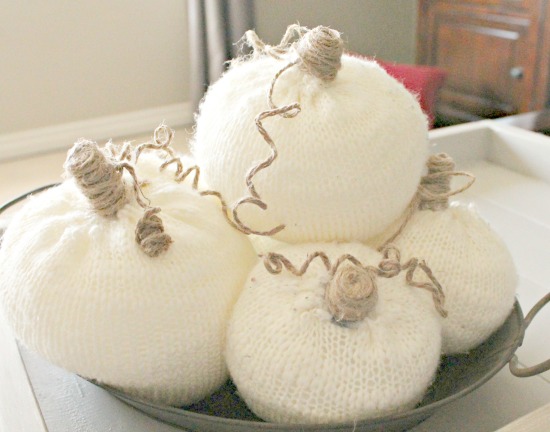 I finish this room with big fuzzy cushions on the floor and throws.
I hope you enjoyed your walk through. Thank you for stopping by.
Leanna
Today we hope you stop by at:
September 22
We invite you to visit:
September 23
Open the Doors to these lovely homes!
Chat Conversation End
Type a message…