Fall Vignette Showcase and link up

a


Fall Vignettes Showcase at Of Faeries and Fauna

I am very excited to be co-hosting this tour with Pam from the Mommacan blog and Debbie from Chathamhillonthelake.

Please link up your vignettes, we will choose our features and share the blogger love on all our social media platforms. Here is my contribution.
Cotton Boll Vignettes
Vignettes are alot of fun to put together, pick one or two colours, gather an odd number of items and place it together. Sometimes I group them using a tray, or a cloth, or table top. I am not sure why I stick to odd numbered items, but to me groupings look more balanced that way.
Adding a single vignette to a front foyer, the mantel or a kitchen table will make the house seem more seasonal.
We style our home for fall using neutral colours and metals finishes. I saw my first cotton boll last winter, instant love. Unfortunately cotton bolls are unfortunately difficult to find in Edmonton.
One local gift store had four sprigs for sale, I took a deep breath and paid their asking price. For the rest I had to find a way to make some. I wish I had time to make more, for now these will just have to do.
I placed the largest bouquet on the fireplace mantel in the main living room.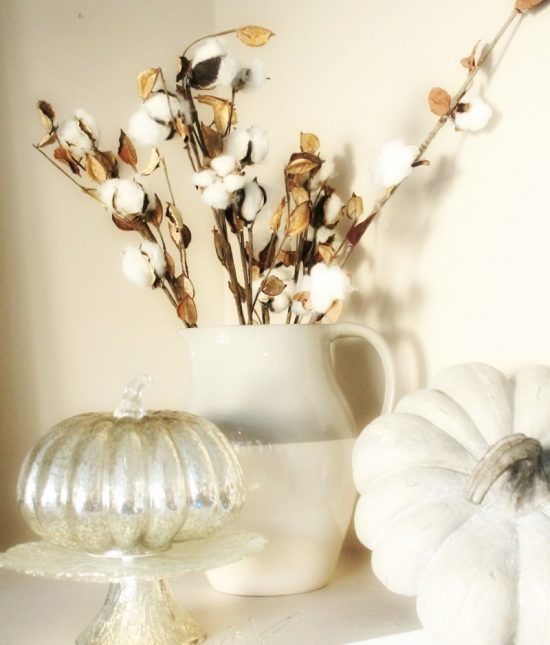 Herman built me a drawer box for the front foyer table. I painted the box and "gathered" various little items including a basket, some nuts, a miniature pumpkin and the cotton bolls that I put in the box. I finished the burlap ribbon with a cotton boll.
The little coffee station sits on our kitchen counter, with a couple cotton bolls in a small pot.
This is the last vignette I will be sharing today. It's a celebration of thoroughbred horses which are a big thing at our house. The little cotton boll wreath sits on the sign like a off angled halo. This particular vignette will receive more cotton boll stems as I get them made.
We decorate for fall much more than I use to. With the boys grown my fall decor has replaced the Halloween decor. Thanks for stopping by, I hope I gave you some ideas, and convinced you that you don't have to decorate everything to make the house seasonal.
Now its your turn. I look forward to all your ideas and decor solutions.