Small Storage Shelf
I don't think of myself as a treasure hunter because I often spend a whole day searching and buy nothing. I have learnt to look in the off season area, the 70% off section, and damaged sections in the hopes of seeing something. I recommend it and if you see something that appeals, grab it if the price is very good. At the very least you end up with a project.
It's true you can end up with a huge hoard of uncompleted junk and particularly with the off season stuff you end up with a storage nightmare, but in small amounts I think we can all find a little spot for our assorted "treasures".
I came across a damaged frame at the store in the discount section. It looked simple to fix so I snagged it up. Herman replaced one strip of the wood for me. I am using it to replace the clear glass perfume bottle tray that was sitting on the counter.
a
a
I gave the shelf a quick paint job in grey and then white chalk paint. I sanded the paint so the grey would come through and reattached the baskets.
a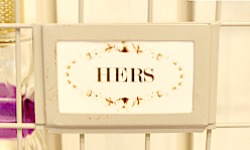 The baskets came with two little label frames. Using some cotton boll clip art I created His and Hers labels .
aa
Perfume bottles can be fairly heavy and the glass bottles can break. Because of this the shelf has to be attached to the studs in the wall and not just the gyproc. (Fairly common problem I know) Of course, the one and only wall stud was located right in the middle of the shelf racks.
Herman removed the two hanging brackets that were originally on the rack. He then reattached the screws and wrapped a wire across the back of the rack and pulled it tight. He was then able to hang it in the middle.
a

I purchased the little picture frame to use with a farmhouse printable in the guest room. Once I got home I kept the frame filler because I enjoy the motivation saying. It seems very fitting for a new blogger.
Happy Hunting