Free Printable Gnome Valentines Bag Toppers for Kids
Adorable Gnome Valentine Treat Bags for Kids
These free printable Valentine bag toppers for kids are perfect for a classroom party. You can add chocolate heart or Valentine themed store bought candy, or you can make a special homemade Valentine treat. I just love how these Valentine Gnome treat bags turned out with the little not so grumpy Gnomes sharing the love with their Valentines.
There are two kinds of Printable Valentines bag toppers to choose from, each free printable comes with four Valentine bag toppers.
Gnome Valentine Bag Toppers Tutorial
These are so easy to make, with a little help, your children should be able to make these up for their classmates on their own.
To make the Gnome Valentine theme bags you will need.
Dollar store Valentine themed gift bags, or regular clear plastic bags.
Store bought Valentine themed candy, or homemade treats
The Gnome Valentine treat bag topper in blue that says "Gnomebody is as sweet as you Valentine"
The Gnome Valentine treat bag topper in pink that says "Gnomebody melts me like you do Valentine"
Stapler, and scissors.
Print out one sheet of the free Valentine printable topper for each four treat bags.
Cut the paper in four, if your little ones are giving these out to their friends I am sure they can cut these out themselves.
Fold each bag topper in half.
Place whatever Valentines day treat you like in the bag.
Fold the top of the bag over to seal it well
Place the Gnome Valentine treat bag topper over the top and staple in place.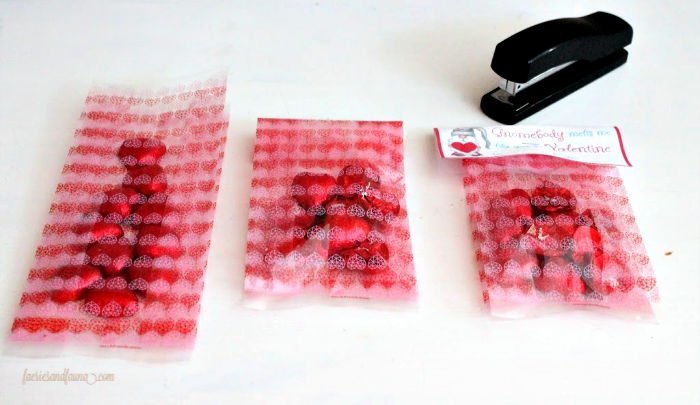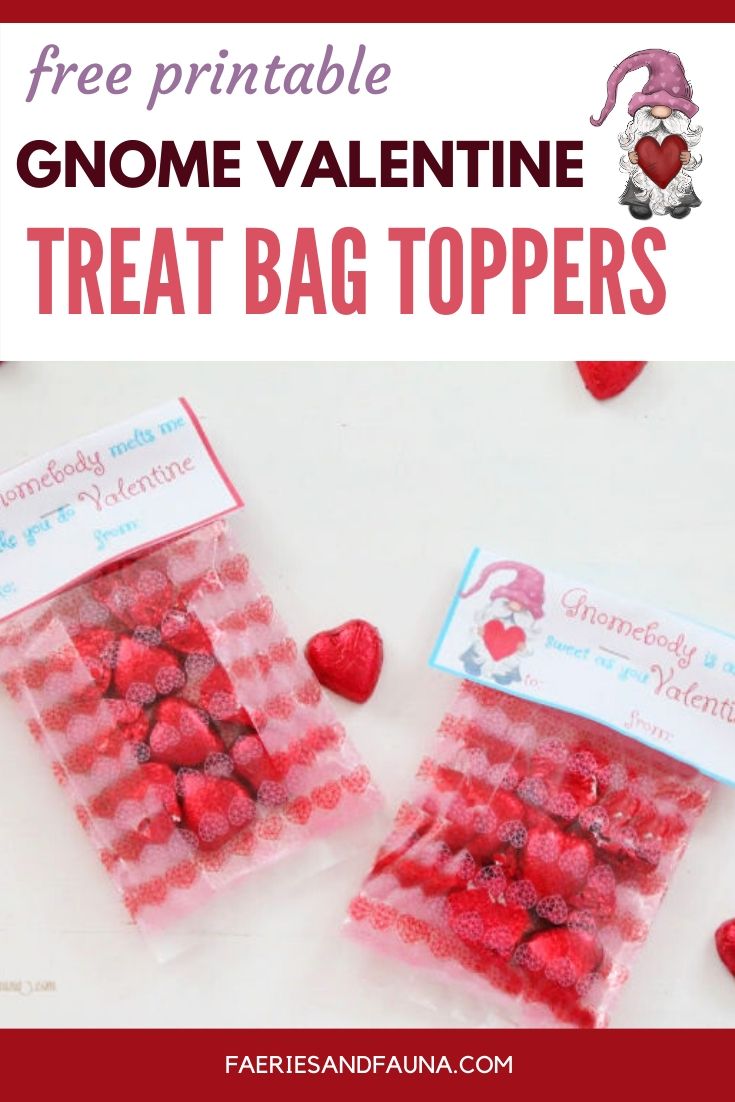 In Canada Valentines Day arrives right after Christmas and in the middle of saving for a Winter getaway. Which in our home we try to celebrate at cheaply as possible. Free printables are one of the best ways to add some fun and love at an affordable price. I have lots of them on the blog.