Use What You Have Front Porch Makeover
This is the first house I ever had with a porch of any kind. Our porch is rather small but I adore decorating it to welcome people. Like the rest of the house I change it to match the seasons and my updates aren't always big or a significant amount of work. These are all super easy ideas and Hubs in the picture is glad none of it was on his honey please list.
Paint the Door a New Trendy Colour
The first place I start is by choosing a colour palette. I began by checking out the Benjamin Moore webpage and found a gorgeous soft sky blue. My second choice was inspired by beautiful bright pink Gerbara daisies.
By now I am sure you all know that painting your front door is a super easy, high impact project. Our door really needs replacing but the way our puppy behaves its not a wise investment. The door is painted with with Benjamin Moore's Breathe of Fresh Air and its a gorgeous soft shade of blue. For the cost of one litre of paint, its well worth the price.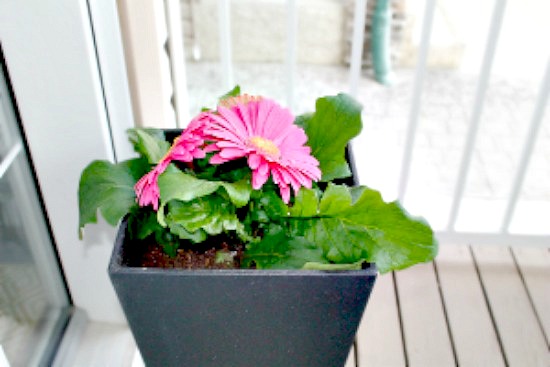 Repaint Accessories to Match
The watering can was light lavender and the little wire basket was black. Both received a quick spray paint makeover in hot pink to match the gerbera daisies.
The watering can by the front door reminds me to water everything and the little basket holds a bunch of dog toys.
Are you as bad at remembering to water flowers as I am? I notice things like weeds, but honestly I need the plants to wilt before I remember to water them. Poor things, I sure hope the bright pink watering can helps.
DIY Hello Sign
The hello sign a simple stencil done on a DIY wood frame. Here is the tutorial for the simple wood backdrop if you need to make one from lumber.
a
a
Stain or paint the sign base in white. Using a simple letter stencil I traced the letters onto the sign, I then filled it in using a Sharpie pen. An another easy idea is using dollar store precut wood letters.
I used the Silhouette and cardstock to cut out the hot pink hummingbirds (Silhouette Design Store – View Design #33007: hummingbirds). Again I traced the out hummingbirds and filled it in with some bright pink latex paints.
To protect the vinyl I did not attach a hanger. Instead I suspended the little sign from the front door lamp using clear strong fishing wire.
DIY Lantern Makeover
The final project is a lantern that I first painted to match the door. It's a large wood lantern and a few years old. Its still holding together, but this is its last summer I think. Poor thing is just worn out from being outside. Its a cheerful little lantern though and gave it some flare by hiding a small light in the top that I attached with unglamourous duct tape.
Here is the be real part of the front porch. I chose to quickly dye the inside of a mason jar hot pink to match the flowers,. There are numerous super easy tutorials online I thought it would take a few minutes. It was honestly an awful process, never again. Four hours and 12 jar attempts later I decided to cover the runs on the top of the jar with a pretty ribbon added some flowers and thought one jar is good enough.
I need to go grab another jar and filled it with water I have coloured with food colouring. I do love the light idea though.
My little porch may not be perfect but for the cost of one litre of paint, and the flowers I am in love.