Quick Ways to Update Existing Glassware
Craft inspiration can come from various sourced, part of our homes screaming for a makeover, something you stumble across while shopping, an advertisement for a new craft product and of course Pinterest. Then there are the materials laying around that need to get used or discarded. These DIY farmhouse style flower vase ideas are inspired by a nice selection of various glassware I have cluttering up the storage areas.
These vases were super fast and super inexpensive to complete. These three vases took me under an hour to update and cost about $7.00 because I couldn't find any rope in the garage.
Making Stand Alone Rope Accents
Create difference sized rope tubes for your particular vases. Be very cautious not to get any glue on your vases or glassware.
You will need any container you like, jute rope, needle, thread, and a hot glue gun.
Using the vase as a guide, wrap the vase with jute rope. Sew, (or if braver than me, glue) the rope as you wrap. Make sure to place the dabs of hot glue between the layers of rope winding around the vase, and not against the vase itself. Once you have the rope wrapped as high as you'd like, let the glue cool and remove from the vase.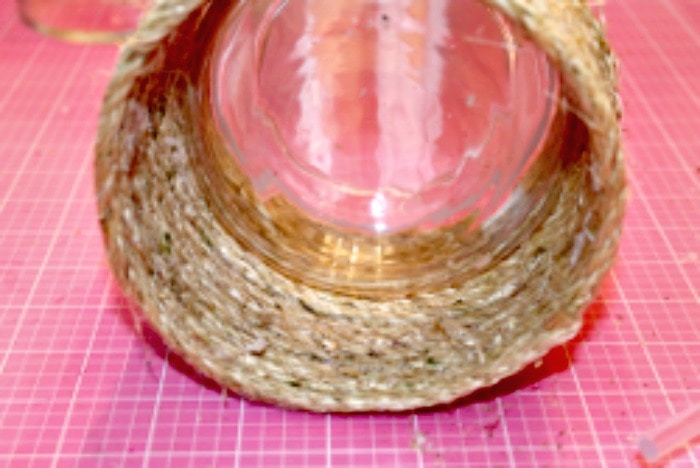 Now apply lots of glue, until the formed rope is able to stand and hold together. Carefully reintroduce the vase back into the vase and then add your flowers etc.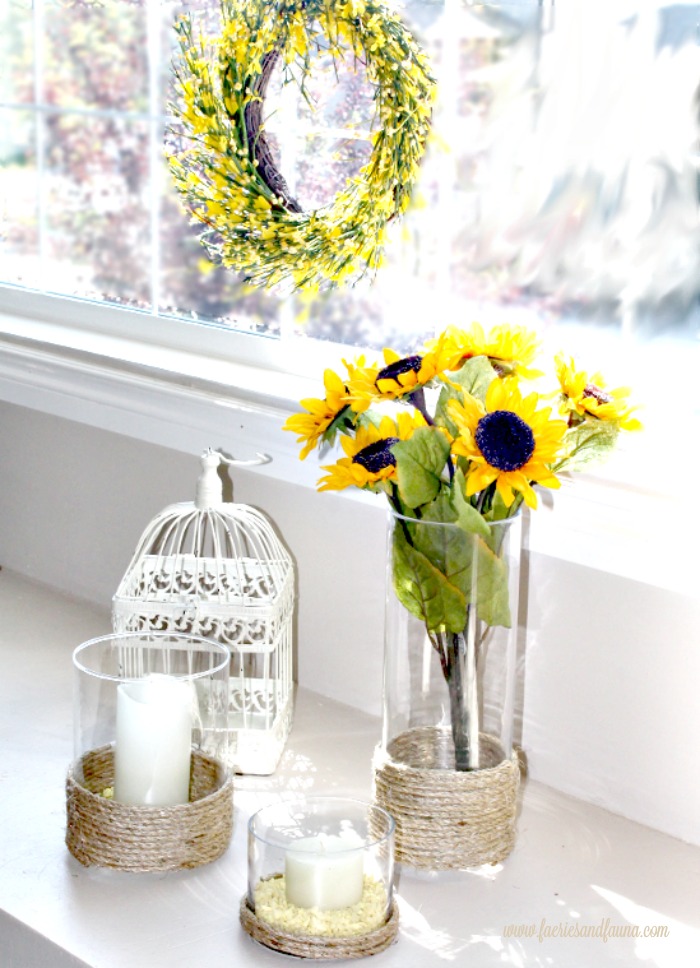 Then carefully add the vase and of course any decorations. It took less than an hour to update three different size vases. What I most appreciated about this little craft project is that the rope is easily removable so I can reuse the vases for sparkly Christmas decor again.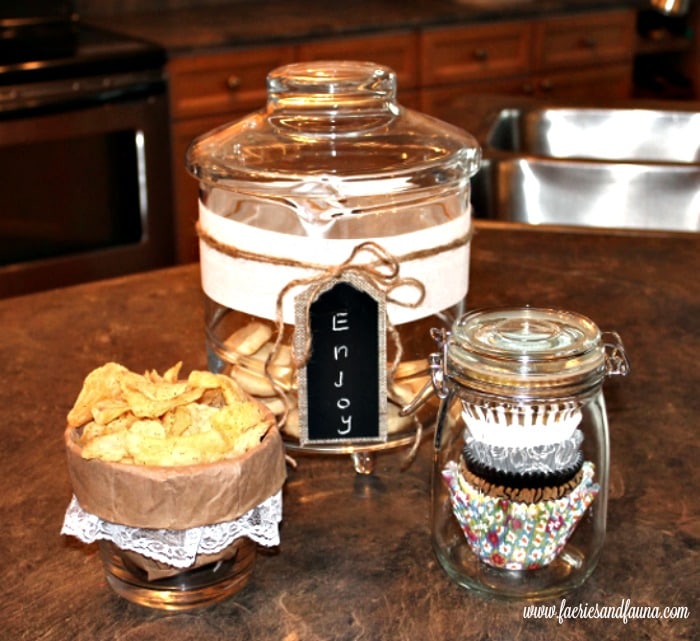 Brown Paper Bag Tidbit Craft
Here is a super simple ten-minute craft project idea. I often see the 10-minute craft projects online. Nothing I make ever takes just ten minutes, but this one is pretty darn fast, being free was an added bonus.
These little rustic and lace containers are very cute sitting side table will all kinds of little nibblies in them.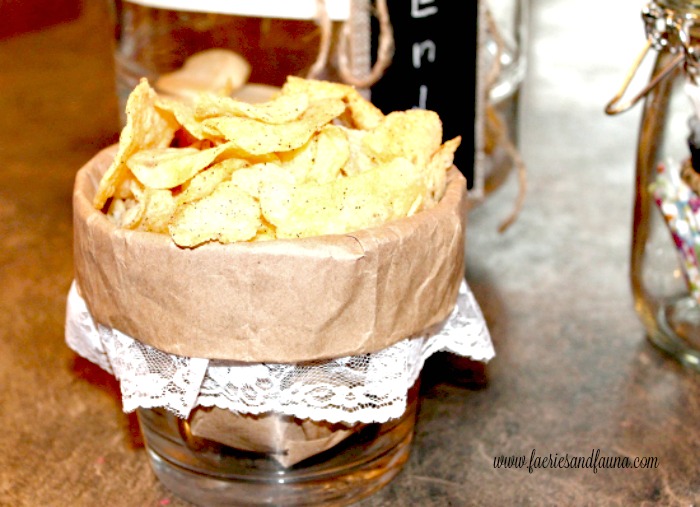 Like the other quick farmhouse updates, this isn't a permanent change.
To make the brown bag makeover, you will need, a container, elastics, a lunch paper and any material you like for ruffling.
Take four or more elastics and place over the top of the jar. This creates a ridge that prevents the lace from slipping.
Gather the lace with long basting stitches, place around the bowl, pull until snug, and tie.
Cut off the top of a brown paper lunch bag and roll the top over twice to make a nice edge. Place the bag into the bowl, making sure to cover the lace edge.
Add whatever items that appeal.
If you have miss matched bowls that don't look right together, this little craft is an easy fix. Or plastic dishes with these paper inserts for a picnic. I think they are adorable and have used them a few times since first publishing this post.
Happy Summer