Gnome Scroll Valentines Craft for Kids and Families
Valentine's Day Craft for Kids and Families
This gnome Valentines craft for kids was hard to name. Young teens can do it on their own, younger kids will need some help to get started. This gnome colouring project is perfect if you kids already have a scroll art board. If not they are easy to make and I have included links for two different scroll roll tutorials at the end of the post.
Valentines can be as difficult for both singles, and people on strict budgets. For many years I was in both categories, so I like to write Valentine posts that are more loving than romantic. This Gnome Valentine's day craft for kids, can be made by the whole family as an activity, or as a gift from kids. If you don't want to do it on scroll art, I think its would make a really fun Giant Valentines card using a construction poster board from the dollar store.
DIY Gnome Valentine Craft Tutorial
Supplies
The supplies depends on what you choose to draw it on. I suggest a 24″ wide paper scroll with hangar (see related posts for tutorials), or a large piece of construction poster board from the dollar store.
Carbon paper
Pencil crayons and an eraser
Scotch tape
Print and Transfer the Gnome Pattern
The full sized gnome pattern prints out on four letter sized sheets. Once printed just line them up and tape to attach.
Once you have the outline printed transfer it to the paper scroll using carbon paper. I attached my pattern using scotch tape at the two top corners. That way I could move the carbon paper as needed without having to realign the pattern. Trace the outline with a pencil, and carefully remove the tape once done. I think older children could do this portion on their own, by following the tutorial. Little ones may need help doing the tracing.
This is what the traced out outline looks like.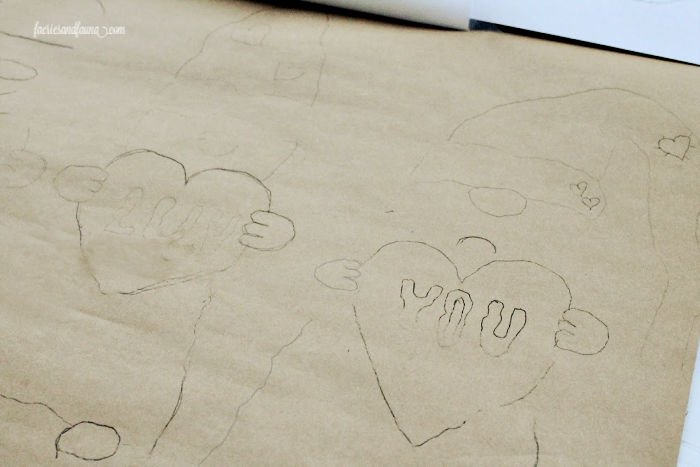 Colour in the Gnomes
Start by outlining and then colour the gnomes in bright cheerful colours. Colour in everything but the whiskers.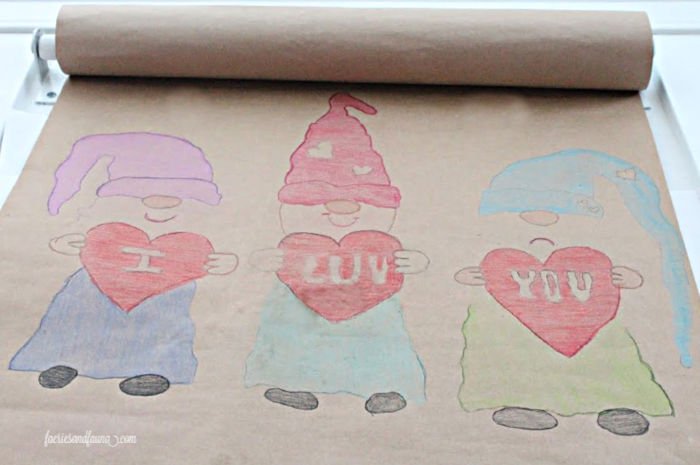 To do the whiskers repeatedly draw the whiskers in a pattern so that you see little lines. I chose to not add whiskers to my central gnome, but you can add them if you like. I place whiskers around the nose to the top of the valentine, and then around the bottom of the valentines.
Shading the Gnomes
Using a lightly darker crayon colour a half inch shadow around the outside of the gnome. Then add some white crayon in the middle.
Outlining the Gnomes
The final step using using a white crayon, colour around the outline of the heart on your gnomes. This helps them to stand out.
You can then decorate them anyway you like. Give them patches on their clothes, or valentines if you like.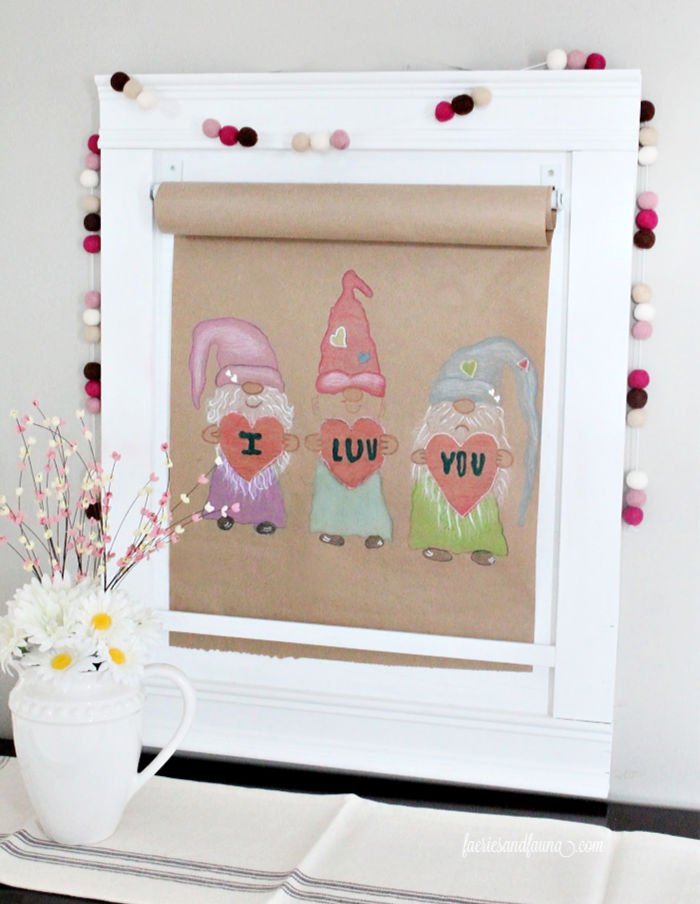 Related Posts
Paper scroll are is a wonderful inexpensive way to add casual art to your decor. Its especially suited to Farmhouse style and Kids play areas. Here are two tutorials for how to make a scroll sign holder. The first one the large wood one I used for my Valentines Gnome craft, the second one is a simple hung version.
DIY Wooden Farmhouse Paper Scroll Holder Tutorial