Easy Halloween Diorama Apothecary Jars
Halloween dioramas are so fun to design and make. If your like making your own personalized DIY Halloween decorations your going to enjoy this easy Halloween craft idea. The inside Halloween decorations can be made with whatever miniatures your like, purchased, dollar store or handmade. For my Halloween dioramas I chose apothecary jars instead of pumpkins with two traditional Halloween themes.
Making these Halloween Dioramas takes about 10 minutes, it makes a fun DIY Halloween Decoration that doesn't take up much room. I love that they are easily movable and because each piece is so small I was able to make a variety of setting.
Which was followed by several hours trying to reduce the glare in the photos. The photos still don't do the dioramas justice, but they are nice enough to give you the idea. The jars are nice and shiny which is wonderful for making them pretty but for photos that's another story.
I am sharing two different Halloween themed ideas today, a Haunted House and a Grave Yard. You could do a pumpkin patch with candy pumpkins, or tissue paper ghosts hanging from a tree, or a monster scene, or witches around a cauldrons. These dioramas are so much fun.
Haunted House Halloween Diorama
These little-haunted houses are easy to find, I saw them at Home Sense, Michaels and even the dollar store. I chose this one for the glitter. The tree is a Halloween pick from Michaels and the little cat on the pumpkin is from Michaels miniature Halloween displays.
The jar, the mini lights, and the branches were from my stash. This miniature haunted house cost $6.00 from Michael's on sale.
These Halloween Apothecary Jars only take a few minutes to put together, and shopping for the little characters is a fun Halloween themed activity that doesn't contain sugar.
Before going shopping make sure to measure the size of your apothecary jar including the opening. This is especially helpful when you find a large piece like a haunted tree, or this haunted house.
Fill the bottom of your jar with filler. I used some dollar store super chunky grey yarn. If making a candy themed one, the dollar store has purple cotton candy. Just stuff it inside and push around until the bottom is flat enough to hold your ornaments level.
To add fairy lights, tape the battery pack to the back of the haunted house, secure with tape. Place the house inside the jar, take a little bit of wool camouflage the battery back on the back of the house.
Poke the Halloween branch sprig behind the house and wrap it with lights. Add in any remaining ornaments.
Graveyard Halloween Apothecary Jar
The Halloween graveyard ornaments are quite tiny and topple easily, especially the tiny gravestones. To work around this build a simple base. Cut a round piece of paper and then wrap your wool gluing it to the paper base as you work. Once the entire paper is covered, trim off the excess wool and place the wool covered paper base into the bottom of your jar. Taking this extra step stabilized the soft wool base making it much easier to arrange the small ornaments.
All of these little Halloween graveyard ornaments came from Michaels. There was a sale on but I suggest doing some shopping around to see if your dollar store has any. The Canadian dollar stores don't have much Halloween inventory in stock yet.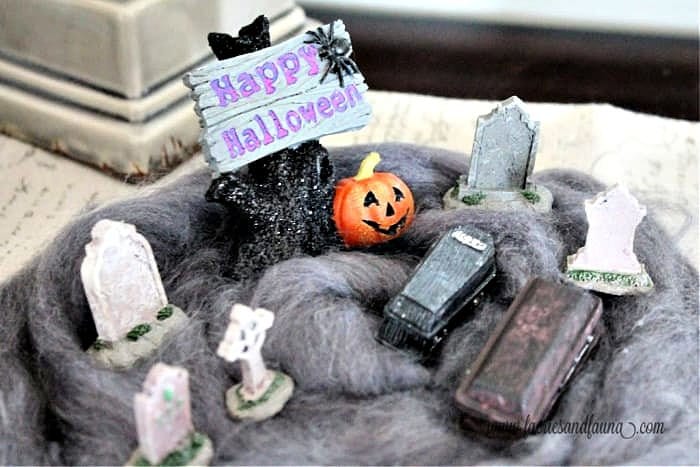 Once you know how you're going to arrange your little ornaments, place them in your jar.
The little graveyard would be so much fun to shock and scare people in an office setting. I don't think they would expect it inside a pretty jar.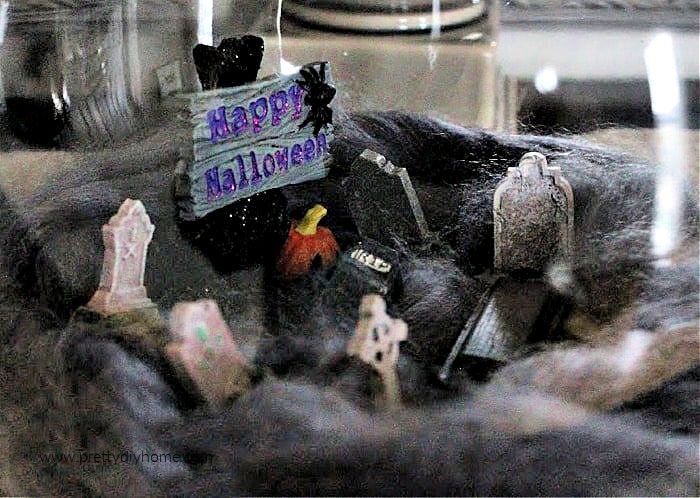 I am hopeful you can see that the jars are pretty and sparkly, especially with the little star lights.
Here is another Halloween post for you. These apothecary jars are great for the front entrance, but how about these Front Porch Ghosts made using flowerpots?
Have you ever considered making anything like this for Halloween?
I would love it if you have, please let me know what you created.
Happy Halloween
Leanna