Halloween Chili and Cornbread
Happy Halloween Cauldron Chili
I am excited to be participating in this chili blog hop with all these great bloggers. Americans are known for their chili, I cannot wait to try some of these recipes.  Chili is such a versatile dish,  winter in a steamy bowl like this recipe or in summer on salad.  This Halloween cauldron chili is my addition to the hop,  all the other chili recipe are linked below my post.
a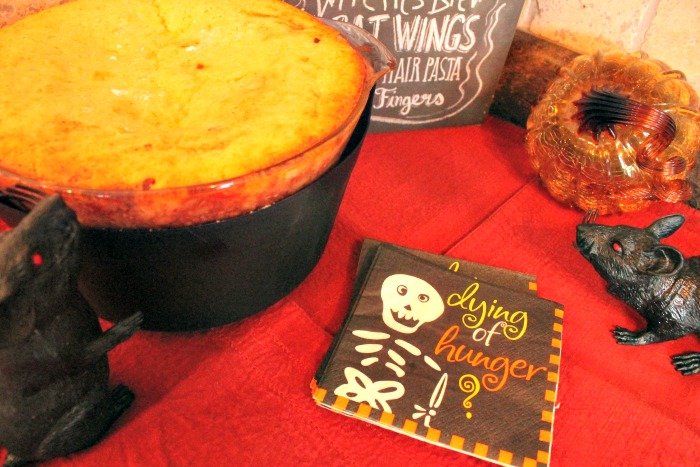 Chili is so quick, goes into a slow cooker and can be ready really quickly when families are busy getting ready for trick and treating.
f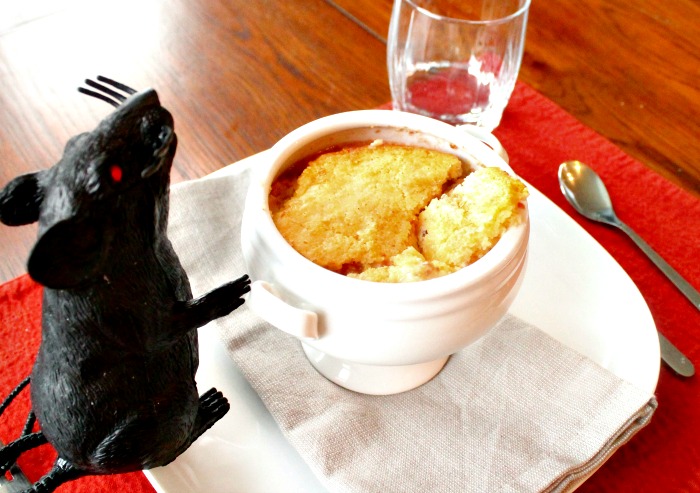 a
Every year on Halloween night I make some sort of casserole and give it a disgusting name.   For Halloween this cornbread topped chili could become Ground Worm Stew,  Cat Brain Mash, or Killer Leftover Pie.
When the boys were all home it was fun to do, as they had to eat before they went out for treats. The kids laughed but were never really sure what was actually in their dinner.  I loved doing this.
 So now that my story telling is out of the way.  We'd love to have you for dinner.
Hub's Chili Recipe
[wc_row]
[wc_column size="one-half" position="first"]
1 1/2 pounds lean hamburger
2 cans brown beans
2 cans kidney beans
2 cans mushrooms
[/wc_column]
[wc_column size="one-half" position="last"]
1 large can tomatoes
6 green onions
1 green pepper
2 tbsp chili pepper flakes
[/wc_column]
[/wc_row]
In a large pan brown  the hamburger.
Place the cooked hamburger and all the remaining ingredients into a slow cooker. Cook on low heat for at least five hours.
l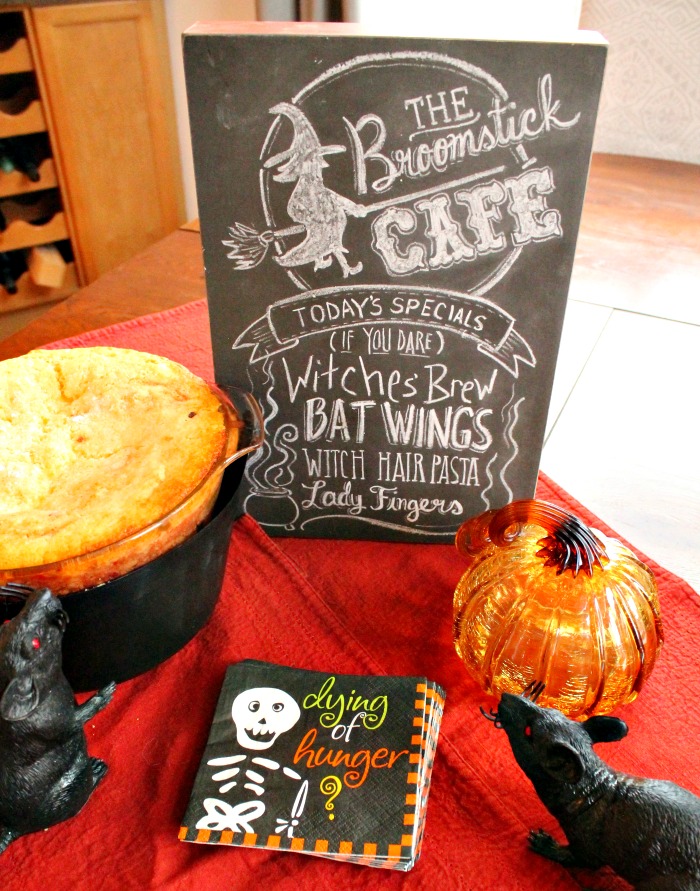 l
Once the chili is cooked place in a baking dish.
Cornbread Topping
Make the cornbread  (I use the recipe from Purity Cornmeal)
You will need:
[wc_row][wc_column size="one-half" position="first"]
3/4 cup cornmeal
1 1/4 cup milk
1 cup flour
1/3 cup sugar
[/wc_column][wc_column size="one-half" position="last"]
1 tbsp baking powder
1/2 tsp salt
1 egg
1/4 cup oil
[/wc_column][/wc_row]
Measure out cornmeal into bowl, top with milk, stir and set aside to soften.
In second bowl add all your dry ingredients and mix thoroughly.  Make a well in the center.
Add the egg and oil to the cornmeal mixture, mix thoroughly.  Once mixed  pour it into the dry ingredients and mix until blended.
Pour on top of the chili and bake at 375 F, for 20-30 minutes until top is cold brown.  It makes a nice crust and the bread soaks up the chili juices.
Serve it in an old beat up pot, add Halloween decor that's fast and easy.    I added dollar store rats, (these ones are over ten years old) plastic spiders (not in my house), or a big plastic hatchet stuck in the cornbread would be fun.
a
a


Have a great Halloween.

Take a look at this wide variety of chili recipes from my blogging buddies.  We have turkey, traditional , bean less, chicken, 15 minute, and even chili with chocolate.  I cannot wait to try some of these different versions.