Hocus Pocus Halloween Decor Makeover
Halloween Decor Makeover
I bet you didn't expect to see a Halloween decor makeover post, to be honest, it wasn't meant to be one.
Have you ever had a project that just seemed to develop into a very spoiled two-year-old, that you just can't seem to influence?  That's how this project was.  I would have given up, but this craft is meant to accompany a real corn broom I always use every Halloween.
The broom is stored in the same place every year.  It wasn't there.  Hubs is at camp working 12-hour night shifts, so I didn't want to wake him up to ask.  I knew the broom was here someplace, so I put the broom issue aside and went looking for a backdrop for the Hocus Pocus wording I had planned.
My idea of sparkly mirror tiles was too expensive but I found some cheap locker mirrors that I painted black so they matched.  I left them to dry quite content with the progress.
Hubs said it was exactly where it's supposed to be, just secured and hidden.  Sure enough, it was there. I should have taken the hint, but I am persistent if nothing else.   The broom was too short, so I rearranged them on a grid and needed to go get more supplies to hang them properly.
While at the store I found this hocus pocus sign already done. It was 40% off, and I learned they give 10% discount to seniors… Yeah!  There was only one left it was flawed with missing paint and horrible orange inch spots on the background.   so I spoke to the manager and got another 10% off.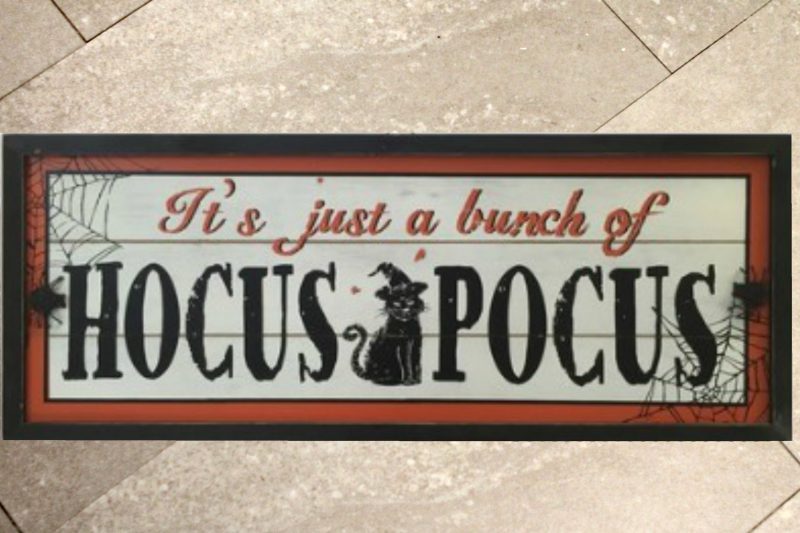 Anyone want some dollar store locker mirrors…..
Supplies
The sign is adorable but too dark for my taste. so I used the supplies I had for the earlier hocus pocus mirror idea and revamped it.
Acrylic paint in your preferred colours (black, purple, cream)
White chalk paint for the frame
Purple and/or black acrylic glitter paint (optional)
Small and tiny artist brushes
Halloween Decor Makeover
To update it I just chose my own colours and used the original as the pattern.     The background was painted a soft cream.  The frame was given two coats of linen white chalk paint.  Make sure to paint in the vertical notches, they weren't painted on the original Halloween sign, and try and avoid the stamped letters.
Repainting Hocus Pocus Lettering on Halloween Decor Sign
Paint the Hocus Pocus lettering using black on every second letter.  The black letters only took one coat to fill in, add shine and smooth the look of the lettering.
Paint the other letters purple.   The purple glitter paint did not cover the black stamp adequately so paint it first with purple paint.  Repeat the coats letting the paint dry between each coat until no black shows through.  This Halloween sign took three coats of purple paint.  For a subtle sparkle, once the black is covered add two coats of acrylic purple glitter paint.
Repainting the Script Font on Halloween Decor Sign
The orange stamped lettering on this portion of the sign was very hard to cover.  With a very small brush paint over the orange section of the lettering only with purple paint.  Letting dry between coats.

Notice that there is a black shadow on the script font.  After the orange portion of the lettering is redone, with a very fine paintbrush cover the black shadowing.  Keep a damp cloth nearby so you can wipe off errors if needed.
The black at and the spider webs were left as they are.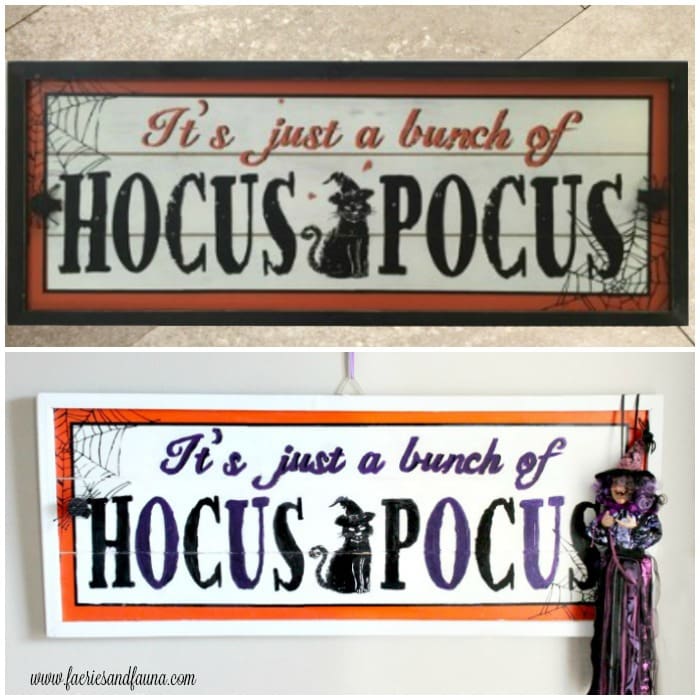 For those of you who read Faeries and Fauna regularly, I think you will notice how the second picture is much more my style.  It's clean and pretty and bright.   So easy and you can make one to suit your home decor ideas as well.
Instead of suspending everything from the broom I created this simple front entry vignette.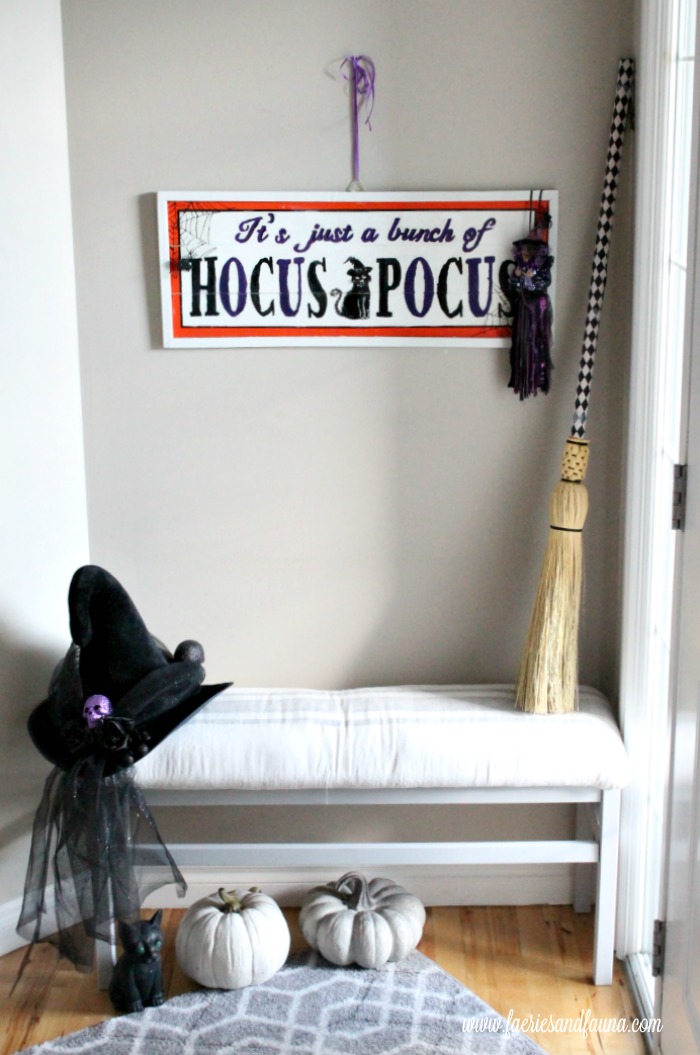 Pin this Idea to Find Later

Have you ever had a project go sideways on you, or consider buying something new to customize to suit your tastes?  I would love to know if this post inspires you to look at some of your decor and see if you can do your own Halloween decor makeover.
On a related post, I created a Cat Halloween Countdown sign, using a DIY frame and plywood.  You could do an easy makeover by painting over an existing piece of artwork that you no longer want.
Happy Halloween
Leanna