Hummingbird Cakes in a Jar
A classic hummingbird cake recipe is the base for these super moist hummingbird cakes in a jar. The mashed bananas make this cake so moist and adding the optional layers of Skor bit add a sweet bit of caramel flavour kids of course love. it so moist and the option Skor topping adds texture. You can even freeze them and place them in your cooler to keep other foods cold and thaw on the way to your picnic.
For smaller families, a large cake is often too large and such a shame to let it dry out unused. One modern idea that works very well is either baking or serving the cakes in mason jars. For this hummingbird cake recipe instead of creating a large cake, the cake is layered into 8 mason jars and frozen in either large or small single portions.
I admit these servings with three layer are rather large single portions but Hubs loves it. If you prefer, you can make two layers and serve the hummingbird cake in smaller 250 ml jars.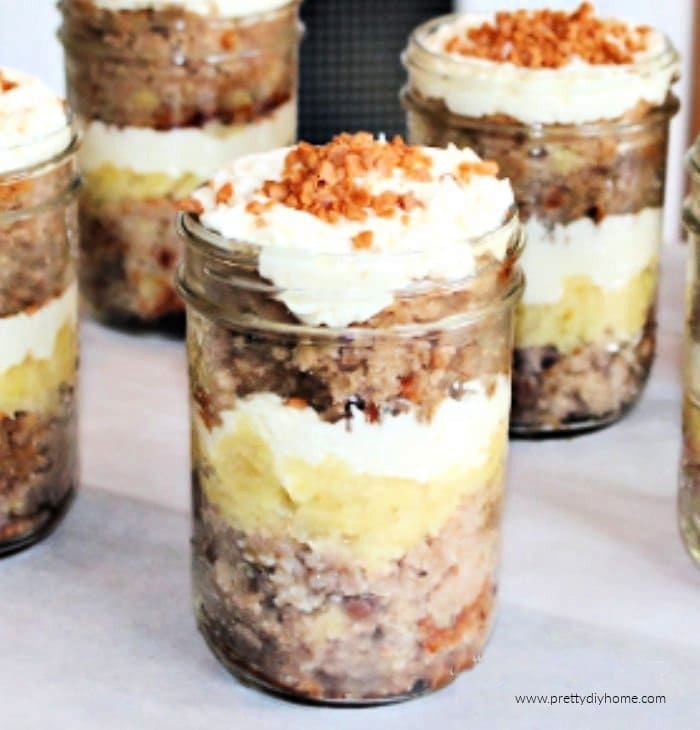 Hummingbird Cake Recipe Ingredients
Hummingbird Cake Ingredients
3 cups all purpose flour
2 cups white sugar
1 tsp salt
1 tsp soda
2 tsp cinnamon
3 eggs
1 1/2 tsp vanilla extract
1 1/2 cups vegetable oil
4 large bananas (2 cups mashed)
1 cup crushed pineapple (drained) save the rest of the can
1 cup crushed pecans
1 cup shredded coconut (optional)
Cream Cheese Icing Ingredients
8 oz cream cheese
1/2 cup butter
3 cups icing (confectioners) sugar
1 tsp vanilla
Third Layer Ingredients
1/2 cup Skor bits
Preheat oven to 350. Prepare 13 by 9-inch pan with butter and flour, set aside. Grab 3 different mixing bowls.
Hummingbird Cake Instructions
Place all the dry ingredients flour, sugar, salt, soda and cinnamon in a large mixing bowl.
Blend together and make a well in the middle.
In a medium mixing bowl mix the wet ingredients, eggs, vanilla and vegetable oil. Set aside. (You don't want to mix it together with the dry ingredients as it would start to raise the batter too soon.)
In a separate medium bowl, mash the bananas. Then add the crushed pineapple, pecans and if using coconut. Stir together.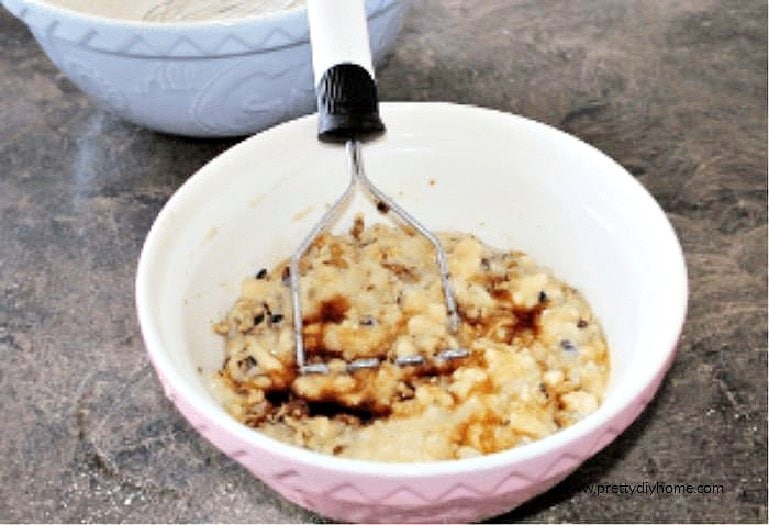 Now we can combine the three sets of ingredients. Begin by mixing the banana mixture into the wet ingredients. Blend well.
Once you have the banana and wet ingredients mixed together, pour into the well of the large bowl of dry ingredients. Stir until just mixed and pour into prepared pan.
Bake at 350 for 25-30 minutes, until light brown. Let cool.
I layered my hummingbird cake with cream cheese icing, but whipped cream or ice cream would be amazing as well.
Cream Cheese Icing Instructions
In a standing mixer or large mixing bowl. Add the cream cream cheese and butter.
Beat together on high until very pale yellow in colour.
Add the icing sugar and vanilla. Start the mixer on low (reduces the mess). When the icing sugar is combined into the butter, turn the mixer back on high whip until very fluffy. About 10 minutes.
Placing the Cake into Jars
You will need 8 wide mouth 500 ml (pint) mason jars or smaller 250 ml (1/2 pint) mason jars.
1/2 cup praline (Skor) bits
Remaining drained pineapple (1 cup)
Using a large round cutter cut the cake into circles, place 1 layer in each of the jars.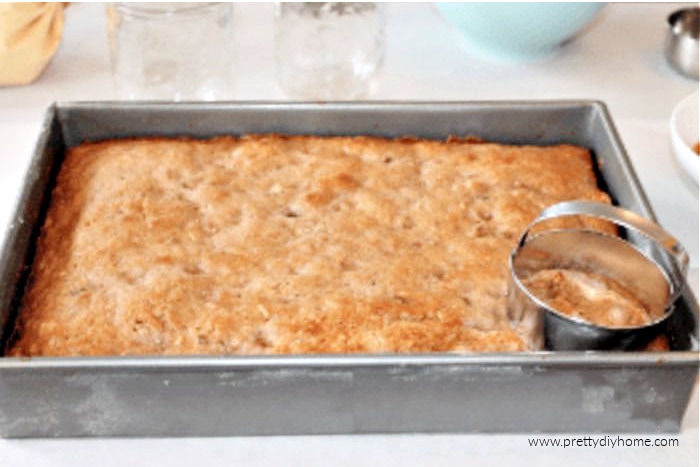 Layer with 1 tbsp pineapple, then the icing and 1 tsp praline (Skor) bits.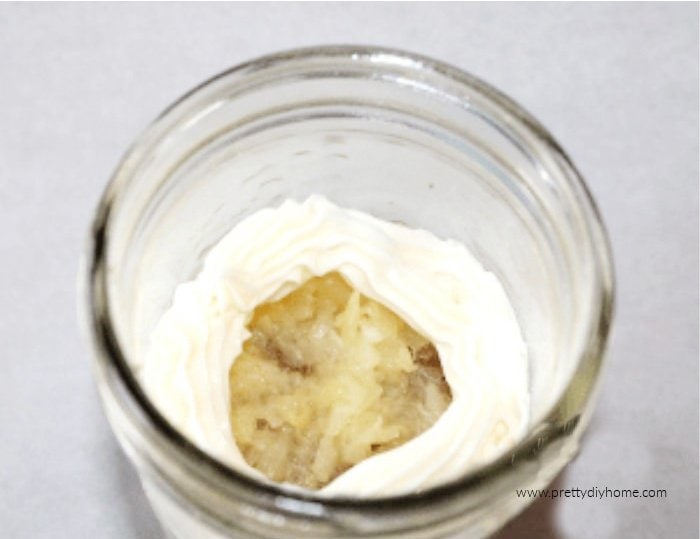 Repeat with a second layer.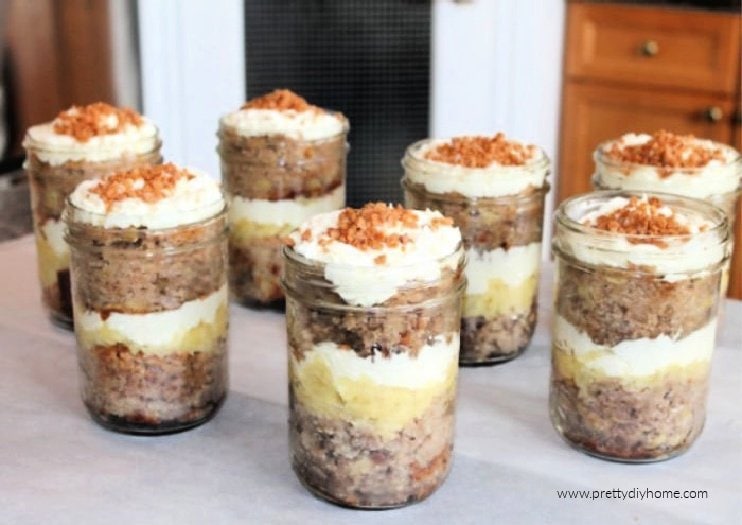 The hummingbird cake in a jar can be served right away, or frozen for later. As it has cream cheese icing its best to store the jars of cake into the fridge until ready to serve.
Freezing Hummingbird Cake
Hummingbird cake freezes very well, and it so handy when frozen in the jars. Cover the top of the open jar with plastic wrap, then add the metal jar lids and close with the ring. Place in the freezer for up to 3 months. To serve let thaw in the fridge. for several hours.
Want to try this Amazing Cake Recipe? Pin it for later!
Hummingbird Cake Recipe Served in Individual Servings.
A large hummingbird cake dessert layered with cream cheese icing, pineapple, and Skor bits. A delicious and moist cake recipe that is easy to freeze and carry.
Print Recipe
Ingredients
3

cups

all purpose flour

2

cups

white sugar

1

tsp

salt

1

tsp

baking soda

2

tsp

cinnamon

3

eggs

1 ½

tsp

vanilla

1 ½

cups

oil

4

large

bananas

mashed

1

cup

crushed pineapple

20 oz can – save the rest

1

cup

chopped pecans

1

cup

shredded coconut

(optional)
Cream Cheese Icing
8

oz

cream cheese

½

cup

butter

3

cups

icing sugar

2

tsp

vanilla
Instructions
Preheat the oven until 350F. Grease and flour the inside of a 9 by 13 inch pan.

In a large bowl mix together the flour, sugar, salt, soda, and cinnamon. Make a well in the center.

in a second bowl mix together the eggs, vanilla and oil.

Mash the bananas,and pineapple together. mix in the pecans.

Mix the banana mixture into the oil mixture. Blend well.

Add the banana oil mixture into the well of the dry ingredients. Stir until just blended. Pour into the butter and floured pan.

Bake at 350 for 25-30 minutes, until light brown. Let cool.
Cream Cheese Icing
Place the cream cheese and the butter together. Mix until it becomes very well mixed and a light yellow. Add the icing sugar and vanilla and mix on high until light and fluffly
Other Cake Recipes to Try
Tomato Soup Cake
Another classic cake recipe, with a unique name. Tomato soup cake is a really delicious spice cake recipe with load of texture from nuts. So good with brown sugar icing.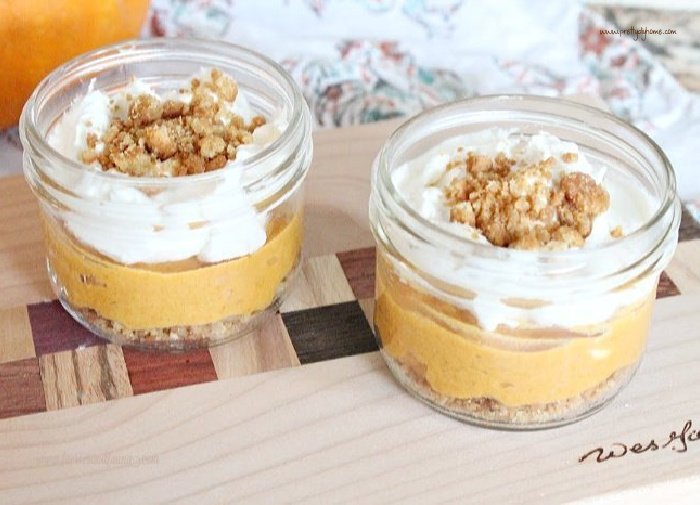 No Bake Pumpkin Cheesecake in a Jar
This is a no bake pumpkin cheesecake in a jar, but its served in a jar and I wanted to share how the hummingbird cake could be served in smaller glass jars.