Light up your Valentine's Day Wreath
Valentine's Decorating
When he's home hubs and I are just the two of us most of the time.  I think we're complacent but Valentine's isn't  a big thing for us.  I get flowers, he gets some chocolates a couple of extra desserts and we share a bottle of wine.  Although its super toned down around here I still decided to make this little Valentines heart wreath.
a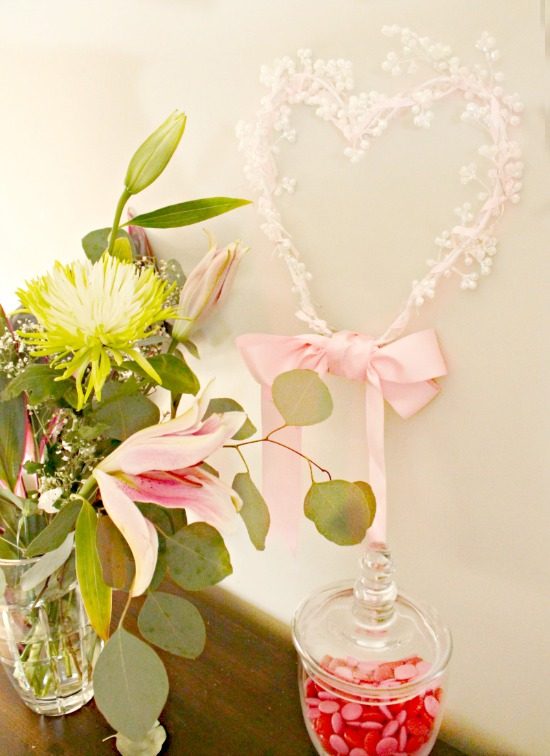 That said I love looking at all the Valentine's Day decoration ideas, the lace, the pinks, the cutest cupids, the Victorian styling all of it.    Pink is my favourite colour always has been, so checking out Valentine's posts is a very good time.
This little craft was made from stuff I already had.  With Spring decor season on the way, I chose to be very frugal for Valentine's and not buy anything special for it.  I had to fight off the dust bunnies in the storage room but I think it's pretty awesome considering I made it from what I had on hand.
.a
a


Supplies for the Valentine Wreath

This is what you will need to make one of your own.

A white coat hanger (dollar store)

White bling branches (christmas decor)

Pink ribbon, narrow and wide (dollar store)

Battery operated lights

This is so simple to make, I am sure when you saw it you knew exactly what I did to create it.
Tutorial
Cut a coat hanger or other wire you have and shape into a heart.
Wrap whatever bling you have around the heart frame.  I used some white bling swags for Christmas, but old beaded necklaces or dollar store beads or ribbon could be used as well.
My Christmas bling was white so I chose the pink ribbon for Valentines.
Place the battery pack for the lights at the bottom of the heart frame.  Attach it using tape. I used white electrical tape.
Wrap the wide ribbon around the battery pack to cover it, make sure that the battery pack switch is still accessible.  Finally tie the ribbon into a pretty bow.
A
Tweek it if necessary  Make sure all of the hangar is covered, even out the ribbon ends.  Check it for symmetry.
I hung this valentine on my bedroom mirror using a little suction cup.  Unfortunately, I was not able to get a nice picture in that room.   The winter days here have lengthened to almost 9 hours but the bedroom is still too dull for photographs.   I  think these pictures give you the general idea though.  The wreath is very pretty at night.
Enjoy the day.