June Tracking Sheets to Measure Progress
These monthly blogging sheets are included in the Faerie Insiders Library. They are designed to be efficient and celebratory with cute or pretty seasonal images. There is one for each month.
[wc_divider style="solid" line="single" margin_top="" margin_bottom="" class=""][/wc_divider]
In this post I am not offering blogging advice, or goal setting advice. What am I offering is pretty tracking sheets that will encourage you to track your blog social media statistics on a month by month basis.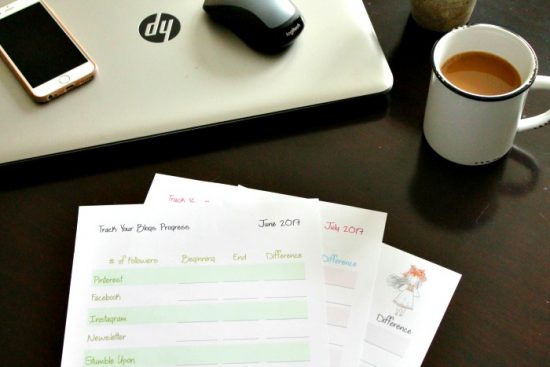 The Faerie Insiders Library
To thank the Insiders for following Faeries and Fauna I have made pretty tracking sheets in various forms and colours for each month from April thru December 2017.
Each tracking sheet is styled differently. The collage above shows a few of the different styles. I would love for you to join the Insider's but if you don't want to yet I understand. For readers who aren't ready to join April's tracking sheet is linked. Feel free to use it as a template to create you own tracker.
Setting Goals and Recording Achievements
These sheets really help me to plan my social media goals for the next month. Not giving advice, but I always focus a bit more energy on my blogs highest performing social media, and my lowest performing. Like most bloggers I am spread too thin and I do find that the ones I focus on do better than the ones I don't.
At the end of each month I jot down the current monthly statistics. Its how I congratulate myself on how much the blog is growing. It also keeps me from focusing on the numbers too much.
These little sheets are my attempt to make the numbers a little more celebratory, we can always do better, that will never change, but we can stop and give ourselves an atta girl and mark down our achievements on pretty paper.
I hope you enjoy these and find them helpful.