Not Scary Halloween Decoration – Pink Ghost & Printable
A Not Scary Halloween Ghost- Perfect for Little Girls
Halloween is so much fun, but it can be macabre and kind of sad almost. It can be so much fun to scare the begeezus out of someone, all in good fun. But, as a Grandparent of little ones we are at the cute Halloween stage, like this not scary Halloween decoration of a little pink ghost..
This little ghost craft idea is for the munchkin who is kind of scared about Halloween. Maybe they have an older wiser sibling "educating" them, or snuck a peek at a Halloween thriller, but for whatever reason some kids are intimidated by all the ghosts, and gobliny stuff. Hopefully, this pretty little ghost friend can help make them feel brave. Not all ghosts are scary after all and this little girl ghost proves it.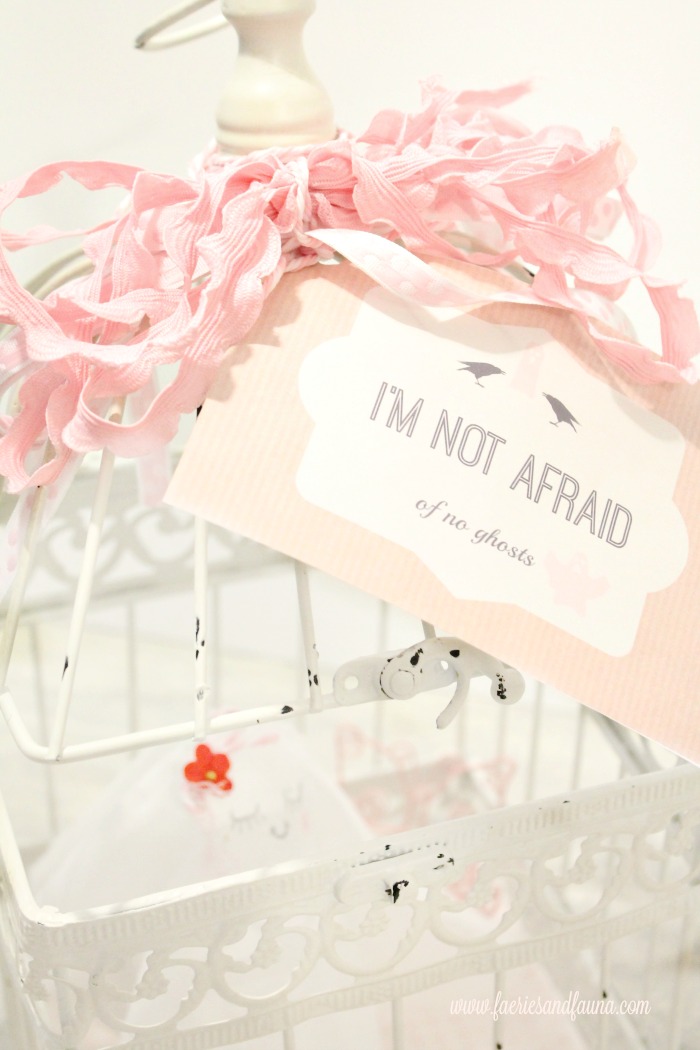 You can make this ghost for next to nothing and then place it in a Spring decor cage as I did. If you don't have a cage, you can do the same thing using a large jar.
Not Scary Halloween Ghost Craft Tutorial
Supplies
[wc_row]
[wc_column size="one-half" position="first"]
White pipe cleaners
Skewers, or sticks.
Block of florist foam
A scrap of white fabric
Fabric stiffener
Pencil
[/wc_column]
[wc_column size="one-half" position="last"]
Pink ribbons
Fairy furniture
Decorative cage or large jar.
[/wc_column]
[/wc_row]
Making the Halloween Ghost Frame
You will need several white pipe cleaners. start by rolling one into a round ball shape. Repeat with several more continuing to increase the size of the ball. Once it's about an inch across your done.
Take three skewers or sticks and insert them into the head made from the pipe cleaners. These will hold the ghost up in your cage.
Create the arm shapes more pipe cleaners. These aren't fancy, they function to hold the fabric outwards, the important thing is that they are tightly wrapped on the skewers so they can't slide.
Using a piece of foam stand up your frame.
Using a small dinner plate cut as a template draw a circle on the fabric. Cut it out.
Dip the fabric into a couple of teaspoons of fabric stiffener. Remove the access and drape the fabric over the frame.
Shape the fabric so that you have a nice space for drawing the face. Let the fabric dry and stiffen overnight.
Draw a simple smiling face with eyelashes. Place dabs of pink blush on her cheeks.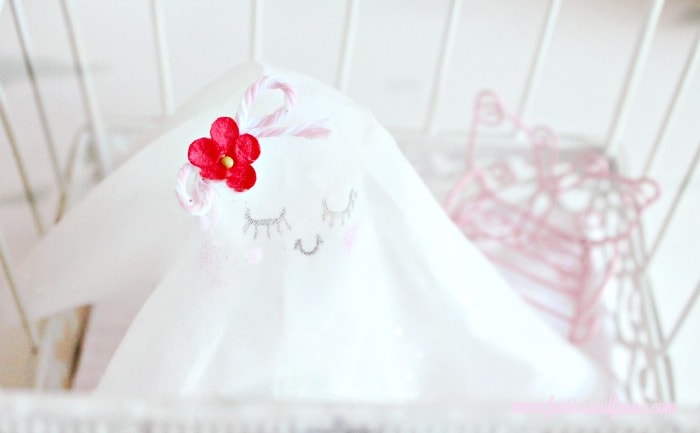 Look at what type of embellishments you have on hand, and make a simple bow or button arrangement on the top of the head. This ghost has bakers twine and a scrapbooking flower. but anything small and pretty works.
Optional step- spray the ghost with spray-on adhesive and sprinkle it with glitter. I added glitter to this ghost, but only because I had some on hand. Personally, I wouldn't purchase that glue and glitter.
Preparing the Ghost Cage
Use whatever you have on hand to make a simple decoration in the bottom of your cage. I used fabric ironed to the same size as the bottom and then took a fairy garden chair I have leftover from my Spring fairy garden. You can also use folded paper and paint a rock pink with flowers for a chair.
Cut the skewers on the bottom of the ghost frame so that your ghost is about five inches tall, then place your ghost into the cage.
As a final touch print out the, I am not afraid of ghosts printable, hole punch a corner and tie it to the top of the cage. I used several ribbons and tied them into a simple ribbon.
For the remaining Halloween posts, I am going to be using traditional purples and oranges. I thought the pink made this little girl ghost less scary.
Thanks. Leanna