Old Wood Toolbox Makeover into DIY Craft Room Organizer
Today's post is part of the Farmhouse Hens collaboration this month we are all doing furniture makeovers.  I saved an old toolbox makeover I have been finishing since Spring.  The other Farmhouse Hens Chas, Michelle and Tarah's posts are linked up after mine.  Enjoy!
A DIY Craft Room Organizer Makeover with Lots of Lovely Drawers
This particular craft room organizer comes with a lesson. Whenever your buying something, especially if you love it, make sure you bring it out in the light before purchasing.  I saw this old clunky wood chest like thing in the back of an old dark barn.  The drawers didn't open but I figured it was just stuck from being damp in the barn.  I planned it to be my outdoor summer project to just happily sand and strip out in the sunshine, so I didn't tackle opening the drawers until May.  That's when I found this.  Every single drawer was as dirty as this once I got it open.  The black layers were maybe old oil, mixed with years of dust and grime.  Not sure exactly but oh wow what a mess.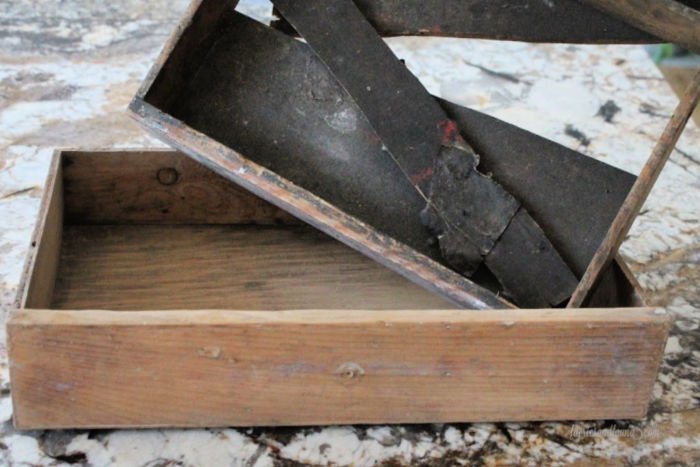 My laptop went boom this last week so I lost a bunch of the photos for this post, including the original before photo.  I back up my PC on Google Drive, but didn't bother with the little laptop.  Ugh!  Another lesson for Leanna.
The above picture shows the stripped outside and inside of a drawer, and the original condition of another drawer. I took this picture with my phone to share with Hubs up north and the amount of work I had gotten myself into by not checking the drawers properly.
I started with several buckets of hot water, dish soap and a scrub brush.  It took a couple days to get it anywhere near ready for sanding.  I started with 80 grit on the interior of the drawers, and then 120, and 150 grit on all the surfaces.
While sanding several of the drawers fell apart. Using wood glue and clamps I added glue to all the broken drawer corners, set them into place, held them with the clamps and let them dry overnight. As their are ten drawers and I had two large clamps it took 5 days to get them all done.  Which was fine with me as I knew this labour of love would take awhile and was in no rush.
Once the drawers were all clean and put together,  I filled in knicks and crannies with wood putty as much as possible and then sanded everything with 120 and 150 grit sandpaper.  This is the craft room organizer before refinishing.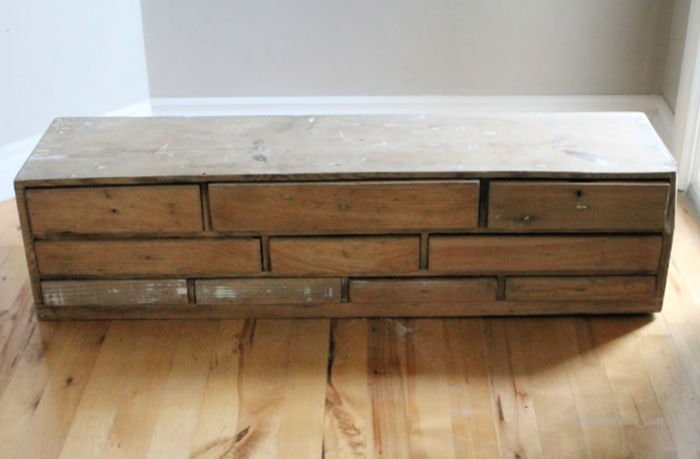 Making the Drawers Slide
When you look at the little craft organizer you can see that the wood have warped over time, especially the top.  There may be a way to straighten it, but not that I know of, it doesn't really matter as its going in my craft room and really just needs to be clean and functional.  To make the drawers slide properly I wrapped 80 grit sandpaper around a paint stick and sanded all the openings where the drawers slide in.  Sanding all four sides of each drawer opening made the openings a little bit larger and a whole lot cleaner and smoother.  Once the drawer would slide into its perspective opening I quit sanding with 80 grit paper, and gave all the surfaces a quick sanding with 120 grit sandpaper.
Refinishing the Craft Organizer
How I love all those wonderful little drawers. Every surface of every drawer was given a coat of primer and let dry.  Then each surface was sanded with 150 grit sandpaper.  The outside surfaces were all painted with two coats of white latex paint.  I used some leftover Benjamin Moore Bright White paint, but any white paint you have on hand works.  Each coat of paint was sanded with 150 grit sandpaper giving extra attention to the outside portions of the drawers.  I just know that paint is going to cause jamming when I try and slide the drawers.
Once all the paint was dry I used some beeswax to help the drawers slide smoothly.  I just applied it by hand and then used a soft cloth to polish it.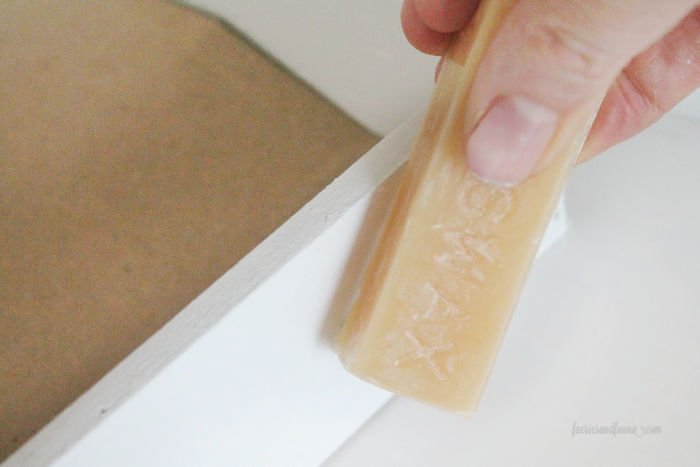 Adding the Drawer Hardware
The toolbox originally came with all sorts of odd and ends of different drawer pull handles,  some where even plain bolts with nuts on the end.  Unfortunately ten nice new cabinet pulls would cost way to much for the $20 craft organizer.  I went to Habitat for Humanity and bought ten cheap plastic drawer pulls that match.
A plain white craft room organizer with plain white plastic pulls was a little too utilitarian for me, so I gave the pulls a quick makeover using the Prima knob transfers I will be selling on the blog after Christmas.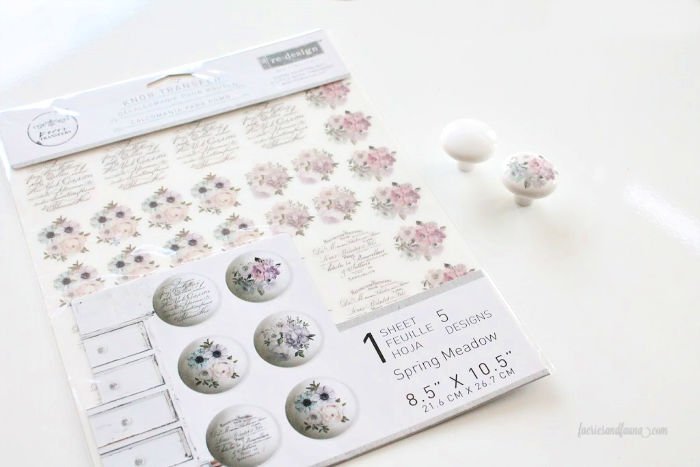 You cut out the transfers place them over the door pull, rub the transfer on for 15 seconds or so and it transfers.  That is all it takes.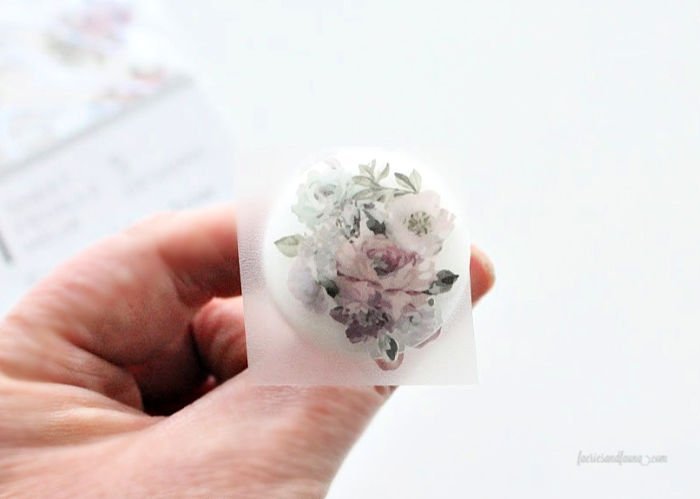 Once that was done I gave it a quick coating with mod podge, let dry and then attached them.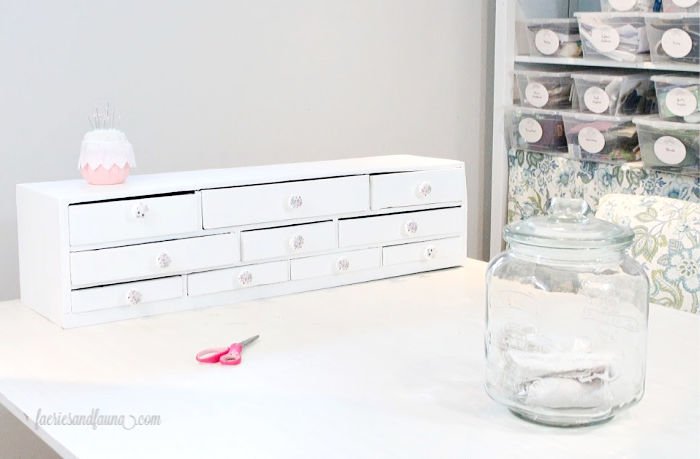 My basement craftroom is furnished with lots of made over furniture for cheap.  Here is my pink chalk painted desk, my printer cabinet, a vintage secretary , my craft room shelves,  and a peg board organizer that are also in this room.  This little craft organizer fits right in sitting on the end of my large DIY craft table.  I think this is the first time the craft table hasn't been covered in some sort of craft or other in several months.  Its great to have it clean!
Lining the Drawers
This old ugly duckling toolbox is so close to being a pretty swan now.  Its clean and has pretty feminine nobs, and its so bright and fresh with its white coat of paint.  To fancy up the inside of the drawers I made some DIY lunch bag drawer liners with labels and lined the drawers with them.  I will post how to make the drawer liners later this week.  The labels are blank so I can write in whatever is suppose to be in the drawer.  Not sure what exactly will be in them yet.  So many great possibilities from stamps to Prima supplies.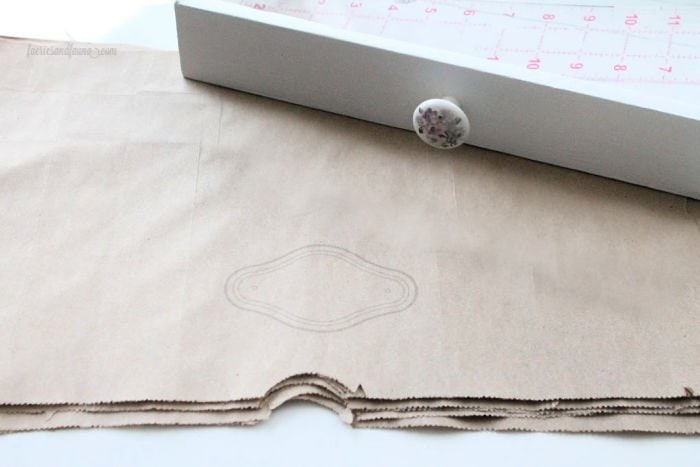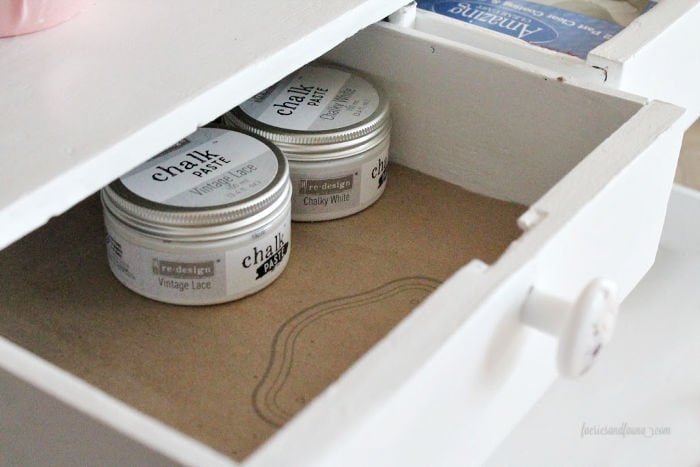 In the end I am still glad I bought this craft room organizer, while putting in the hours of fixing it up over the last few months I so fell in love with it.  The transformation is amazing to me, and this hardworking old toolbox is going to be warm and clean, and out in the light where I can see her and use her.  If I had seen the horrible state of the inside of the drawers I would not have bought it, but now that she is all pretty and finished I am glad I did.
What can I say, all women love storage and crafters love it most of all.
---
---
Leanna at Faeries and Fauna! Blog / Facebook / Instagram / Pinterest / Twitter
---
Tarah at Grandma's House DIY! Blog / Facebook / Instagram / Pinterest / Twitter
---
Chas at Chas' Crazy Creations! Blog / Facebook, Pinterest, Twitter, Instagram, Linkedin, YouTube
---
Michelle at Our Crafty Mom! Blog / Facebook / Instagram / Pinterest / Twitter
---
Like this idea?  Pin for Later