Organizing Craft Room Shelves
Organizing Craft Room Shelves
Those of you who read my blog regularly know I am constantly battling with clutter and too much stuff. Today I am sharing my craft room shelves and some hacks and tips I am using for my craft room organization.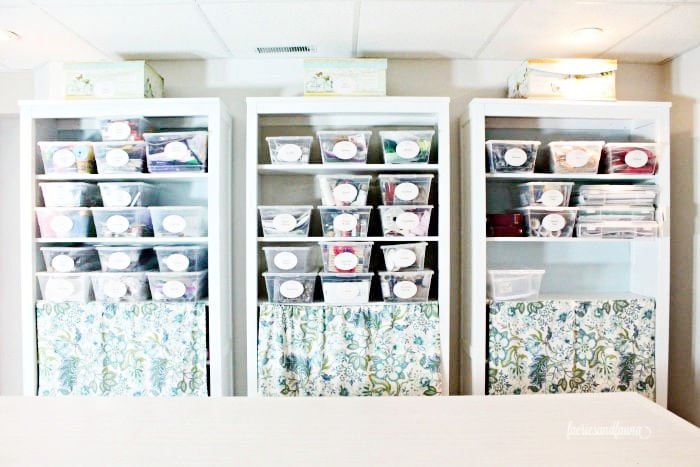 The shelves are all from Ikea two of them are several years old and bless IKEA they kept the Hemnes shelves the same style, so we recently purchased the third one.
One of the shelves was dark espresso so I painted all three shelves to match. The back of each shelf was painted with Breath of Fresh Air and the sides with White Dove both from Benjamin Moore. The espresso shelves needed three coats and happy Lea the white ones only needed one coat.
Purge Before you Sort
That sounds pretty ridiculous coming from a woman with three shelves of craft stuff, but as a DIY blogger I use so much of this stuff all the time. If you have any half completed projects, but them in a bin. Give yourself one month to start them again. After a month if you haven't started on them donate or toss them. I tossed out quite a bit of stuff that I stored half done and even more leftover tidbits from past projects. Free space has more value to me because I need to be able to find what I already have. I even have one open shelf.
Choose Containers
What kind of containers you use is a personal choice. I have quite a few wooden boxes but they don't have lids. Then pretty boxes with lids (some are on top of the shelves.) I like that they are pretty but its really hard to get enough of them that match.
Finally I decided on plain clear plastic dollar store containers in two sizes. They are inexpensive enough that I could afford them. They are clear which makes them a little less pretty but I can see whats inside (and I can afford them). They are light and don't add much weight when I am pulling them on and off the shelves.
Take a look at your craft stash and estimate how many containers you need. I recommend getting a few extra. If you need them great and if you don't its nice to have them handy for new supplies.
a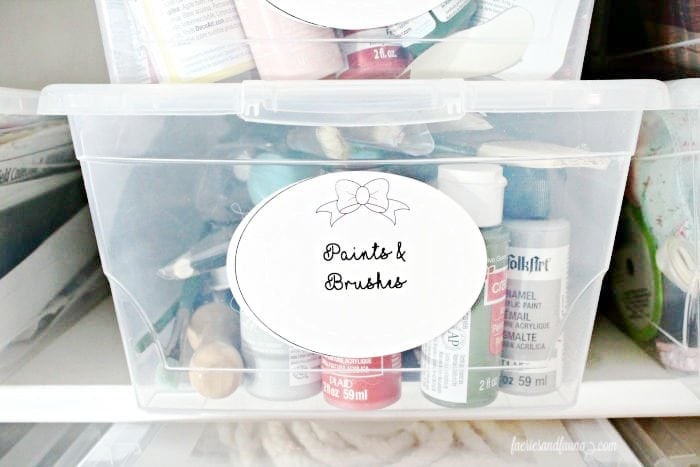 Label The Containers
I am including this label pattern. It is a Word document and the labels are Avery 24489 labels. Admittedly my label design is a bit girlish to match my craft room theme. If you don't like them, designing your own is easy. Alternatively chalkboard labels work very well and I still use them in my pantry.
Here are some of the label categories that I am using.
[one-half-first]
Chalk Supplies
Craft Tools
Crochet
Dark Ribbon
Embroidery
Fall
Feathers
Felting
Buttons & Beads
Florals
Girls Craft Paper
Girls Crayons
[/one-half-first]
[one-half]
Girls Colouring
Glue Gun
Greenery
Halloween
Light Ribbon
Paints
Paint & Brushes
Rope, Wood, Burlap
Sewing
Silhouette Vinyl
Silhouette Tools
[/one-half]
The girls categories are for boxes that I stash the children supplies in, play dough, googly eyes, craft glue, sparkles, crayons etc. The girls love this room we spend hours down here together.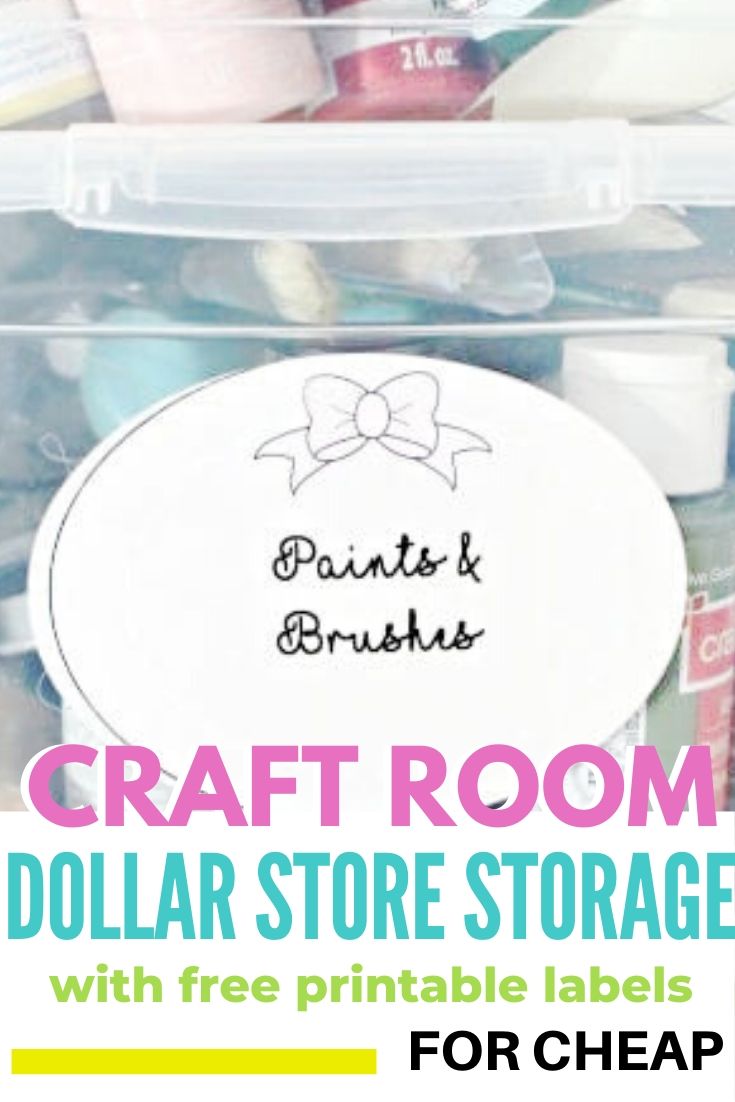 The Curtained Shelves
Some things you just have to hide. things like a bright red tool box that is from Hubs high school years but I haven't painted yet, a box of extension cords, a collection of paint cans and photo props.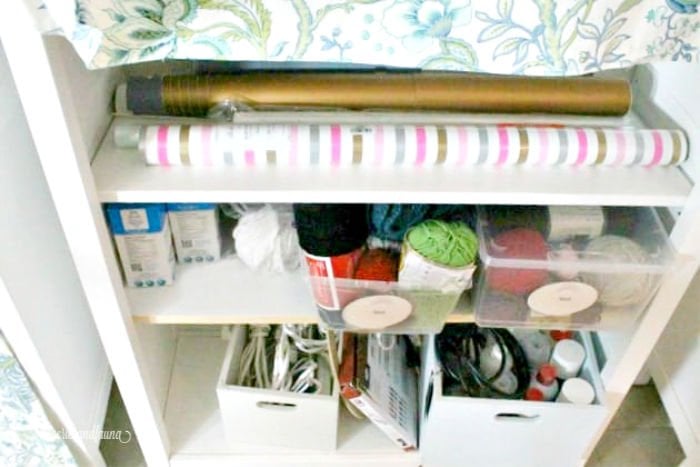 a
My solution is to keep the stuff sorted and hidden behind some yid curtains. I love this fabric and had sewn some chairs covers and curtains for the basement with it. The Fabricland stores in Edmonton had ran out of it but I stumbled across more of it in a Joanns in Auburn, WA. Pinch me I was so surprised.
Sewing the Curtains
Sewing the curtains is super easy the bookcase is 37 inches wide so cut your fabric about 55 inches to leave a tiny bit of gathering. Measure from your shelves deciding how many you want to cover. Mine are 43 inches long and then add 4 inches for the top and bottom seams.
Hang your little curtain net expanding wire rod at the height you want on the book shelf. Here is an example from Amazon Canada.
Side Hems
Make sure to start with the side hems or you will close the slot for the rod. With the good side down fold the sides over half an inch, fold it once more to hide the fabric edge. Press, pin and then sew along the edge. Do this on both sides of the fabric.
Top Seams
The top of the curtain will have two seems to make a slot for a little curtain wire coil cable rod. Fold your material over half an inch and press.
a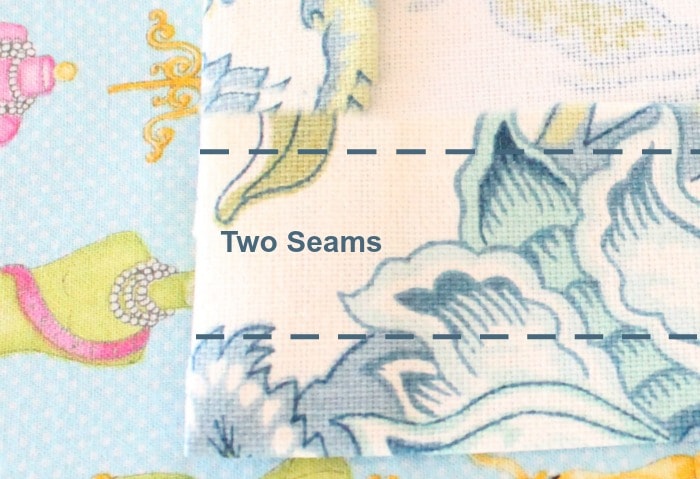 a
a
Fold the material over another inch and a half. Sew one seam at the edge and the second seam 1/2 inch from the top, this gives you a little frill on top of the curtain and a slot to feed the tiny curtain rod through.)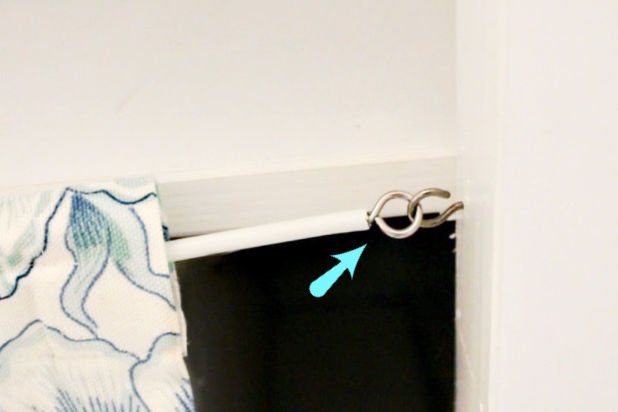 Bottom Hem
For the bottom hem, double check the length you need for your curtain. Measure from the top of your material on both sides. Fold the bottom of the material over to the correct length and press the bottom. Then tuck in the cut edge of the material into the seam and press.
a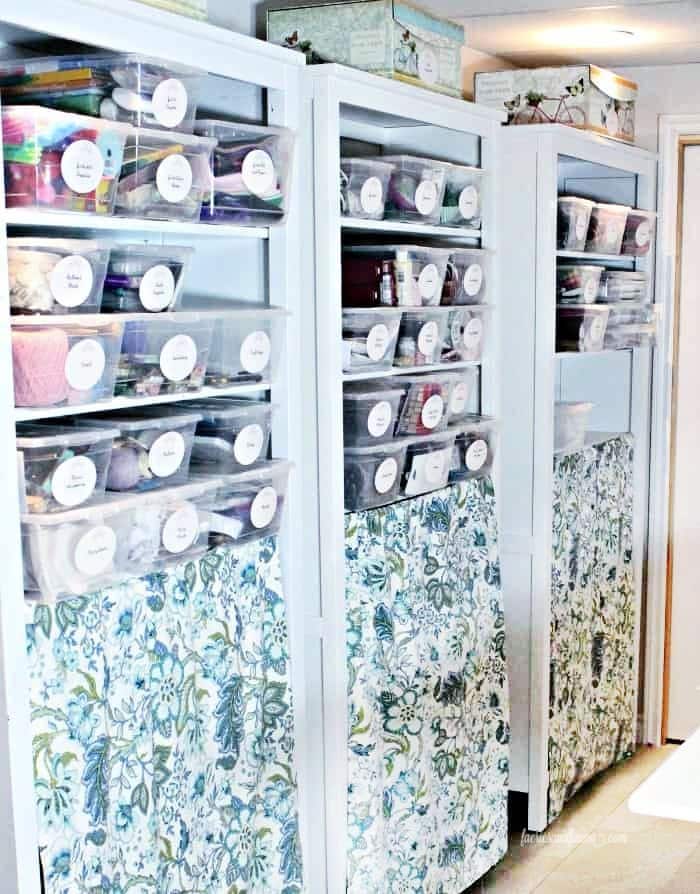 Hang the curtain on your wire rods and start filling the shelves with your craft stash.
Hubs has a large utility light which I am using until I get photography lights. I apologize for the glare, but these lights certainly brighten the room up until we replace them.
Please pin my post or share with a friend. It helps my blog grow.
Happy Crafting