Fairy Huts an Inexpensive Kids Craft Idea
This fairy hut kids craft idea is fun and inexpensive to make. These examples are made using castoffs from some of my craft projects. If you don't have them few dollar store flower stems, some bits of fabric and pretty paper will do the trick.
My granddaughters love to craft with me, so I keep a stash of projects to make with them. Sometimes its a pre-done dollar store craft kit but other times like today I make up a craft kit using items on hand and store them in a zip lock bag until the girls visit.
For these fairy huts, I precut paper, odds of ribbon and tore apart some dollar store flowers. I then stuck them in a bag along with a quick note of directions to nudge my memory when I go to use them. Here are the supplies I used.
Paper rolls left over from tulle, fabric scraps, mini calla lilies (dollar store), craft paper hot glue and gorilla glue.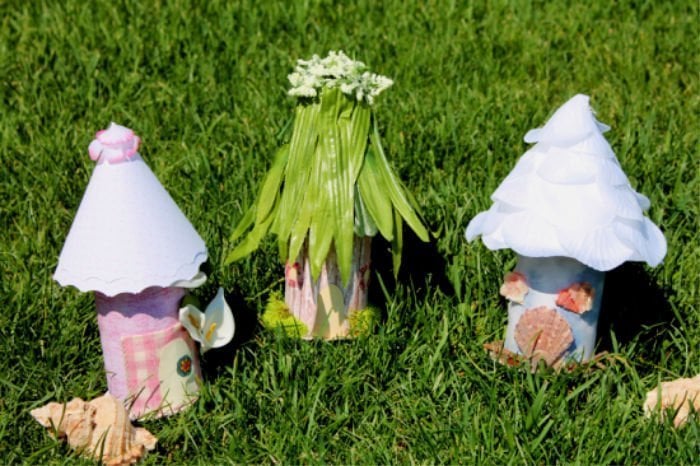 How to make the Fairy Huts for Kids
All of the huts are made with the same basic pattern and process, you will need either a paper tube, preferably tulle tubes because they have little stands on the bottom, or plastic cups, small leftover yogurt containers could also work.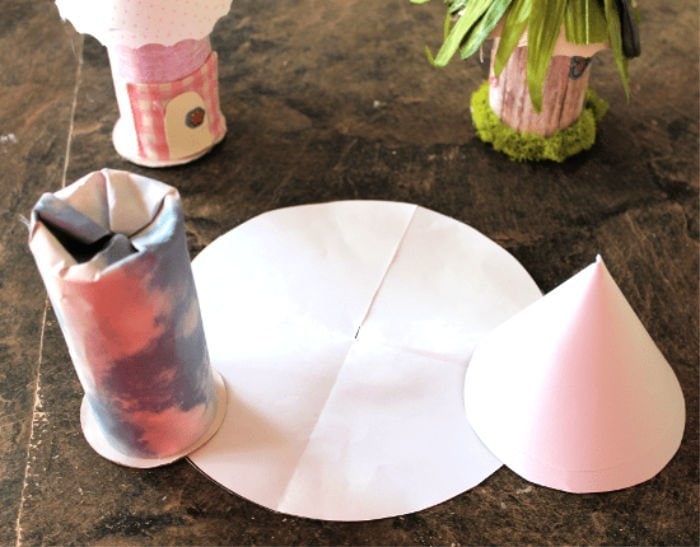 I use card stock or construction paper.
Cut the paper in a circle and then make a slit to the middle. Twist the paper around each other until the dome forms. I tried using felt but it would be rather fiddly for little hands I think. Tape or glue the dome cone to hold its shape.
Cut the wallpaper for the paper roll to size leaving a 1/2 " overlap. Glue the entire back surface with fabric glue, apply to the paper roll.
Fold the top of the wallpaper it provides a surface for the dome roof to adhere to.
Apply glue to the top surface and the upper edge of the paper tube.
Attach the dome to the roll.
Attach any accessories you have available to decorate your huts.
Thatched Cottage Fairy Hut
The dollar store flowers had long green leaves, perfect for making a bright green thatched roof for our fairy hut.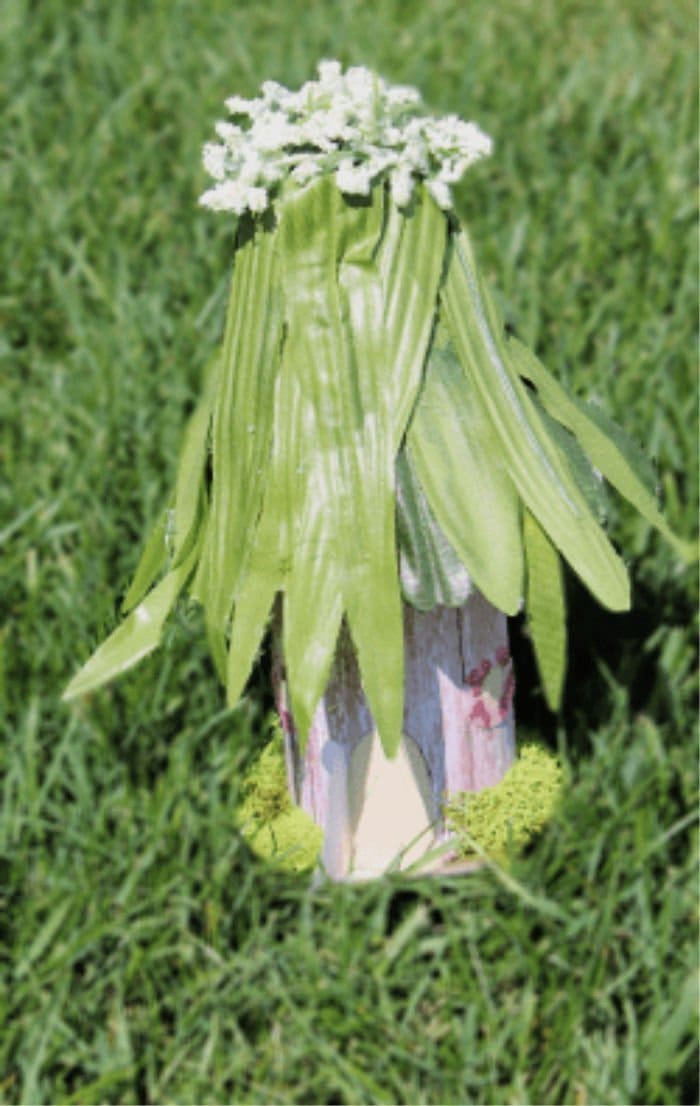 Paint the paper roll yellow.
Cut an open door and windows, using tape strength the door hinge.
Cover the roof with long leaves starting at the bottom and working your way towards the top.
Cover the different ends with a tiny floral bouquet to add a focal point.
Finish the windows with ribbon, and the bottom with moss.
If you have boys joining in, you could use twigs, call them gnome huts, follow the same process and use moss to decorate it with.
Fancy Flower Fairy Hut
What little fairy wouldn't want to hang out in this hut? Not all faeries have wings, so this fairy uses a calla lily vine to climb down from her upper window.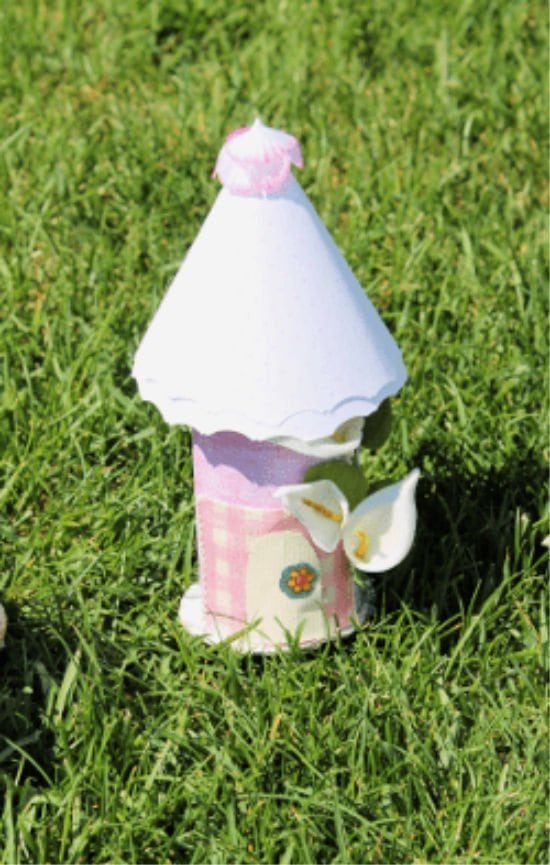 Wallpaper the roll.
Cut the paper dome with special sheers creating a border, or add a pretty lace border.
Build a door frame with pretty ribbon, cut out door and windows from paper and glue in front of the ribbon.
Add a sticker or button for a doorknob.
Build an escape vine using florals.
Fairy Cabin for the Beach
If you happen to have some shells available use them for a simple fairy hut with a beach theme.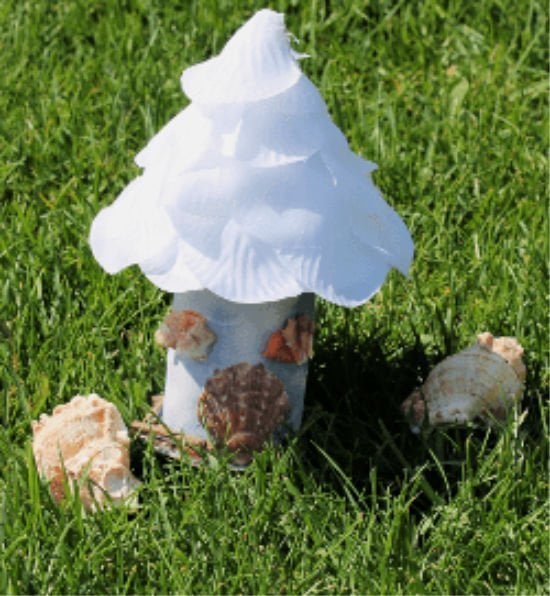 I had some pretty sky blue paper in my stash.
Cover the top with cheap flower petals, or cut out from fabric.
clamshell shell for the door using glue.
Arch broken bits of shell into little windows, glue together and attach.
Cover the bottom with little sticks to symbolize driftwood.
Add assorted shells for the beach.
Some Other ideas:
You can use shells from nuts to cover the roof, peanut shells, walnut shells, or painted cut up thick cardboard to resemble shingles.
Make a northern hut using icy blues and glitter, cover the dome with cotton balls.
Cover the paper roll with sticks of all types, gather bark to do the dome roof or vice versa.
Wrap bits of small rope around the paper roll. Cover the top with cut up strips of blue felt with scalloped wave like edging.
Have fun.
Leanna