Pink Halloween Candy Buffet
On a typical Halloween we are lucky and get close to 200 trick or treaters. Unfortunately talking to neighbours this year most people are keeping their children home. I know my granddaughters aren't going out, and their school parties are cancelled. We can still have loads of fun with Halloween, but its going to have to look very different. I will visit my nearest neighbours with goody bags of chocolate bars and I am going to have a small party for my munchkins, with a few Halloween party ideas and Halloween cartoons.
Although fun I am not a big fan of the macabre side of Halloween. The easiest way I could think of to have a Halloween theme that was too young for my granddaughters was to throw a Pink Halloween. Its very easy to wipe out the gruesome aspects of Halloween and replace it with something softer and prettier, all we need to do is add pink and sparkles.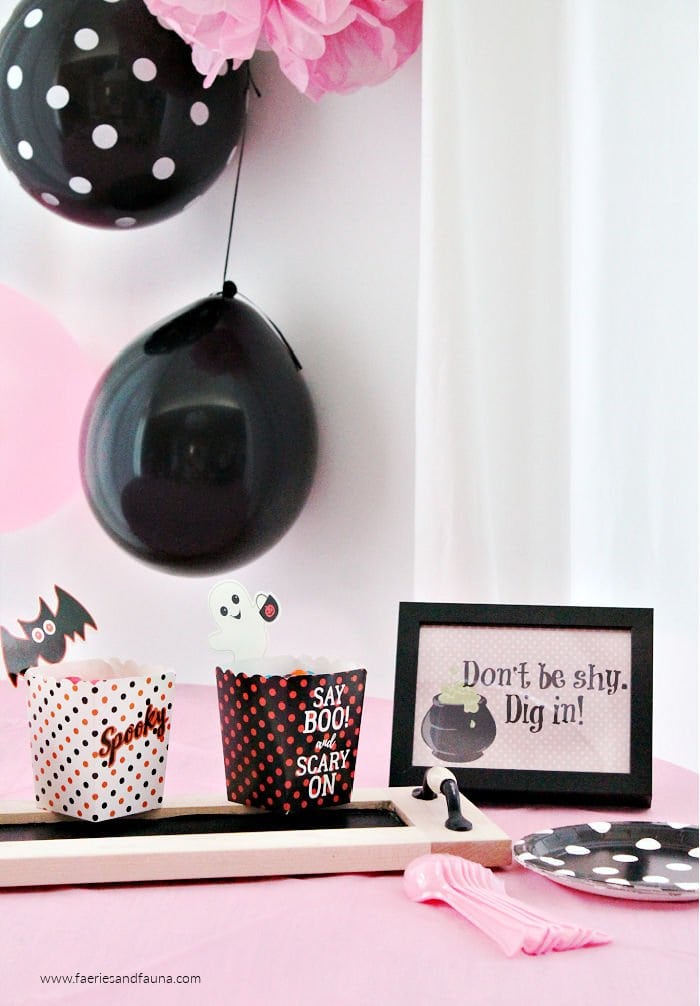 We can still have fangs, skeletons, cats, witches, and poison without being scary or ugly, and its so much fun to do it. Softening up your Halloween party and adding pink to your theme is not only nicer for children, it will stand out from the garish gruesome run of the mill Halloween party ideas. You can even use it for a Halloween birthday party theme.
How to Display the Halloween Candy Buffet
For this Candy Buffet you will need:
Halloween themed candy in an assortment of colours.
Small unbreakable candy containers.
Long tray, chalkboard or cutting board.
The two free Halloween printables, and black frames.
Use a different container for each type of candy. I found Halloween snack boxes at the dollar store. I couldn't find any mini black cauldrons, which would have made the coloured candy stand out. I considered mason jars, but didn't want to use anything breakable. You can use anything fun you like, just make sure they match.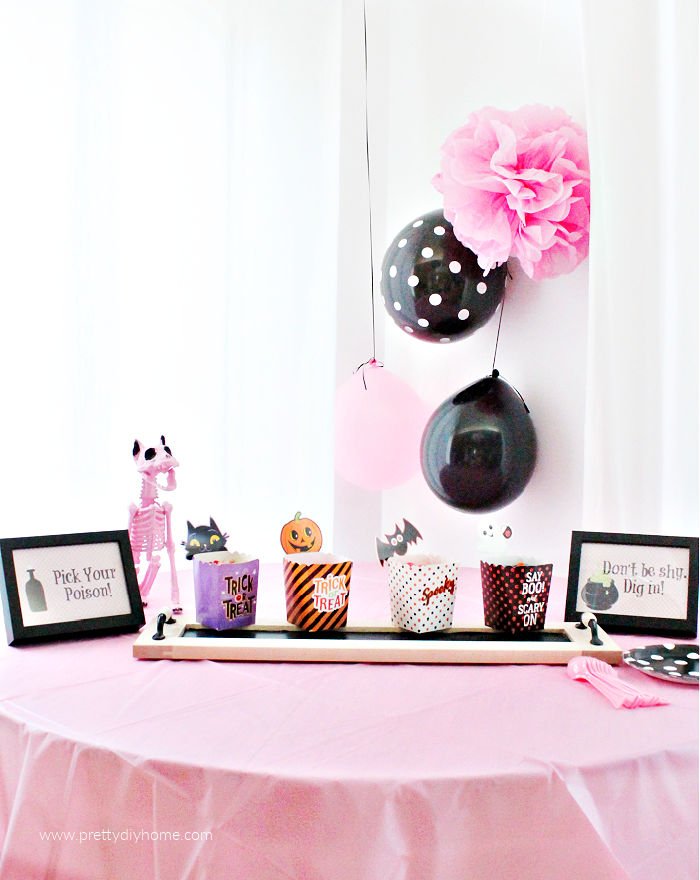 Add a fun label to each bowl, some ideas are ghost poop, vampire fangs, spider eyes , spider legs (pretzels), spiders, spider eggs (smarties), pumpkin teeth (candy corn), rat guts (gummy worms). I used my $3 DIY chalkboard server, as my little boxes are colourful. If using plain containers I would lay the labels down in front of each bowl.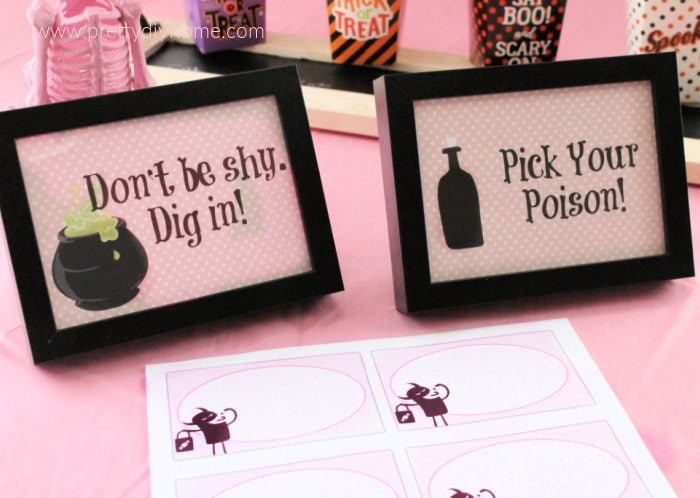 Or softer ideas like kitten whiskers (shoestring licorice), witch wishes (pink candy), ghost dreams (white gum balls), Bones (yogurt pretzels). The little monster goblin labels are blank so you can place in any names you choose.
Making the Halloween Signs
The Halloween printables are designed to fit two five by 7 frames. I bought mine at IKEA but black dollar store frames will work as well.
The printables come on one sheet so you just cut them out and pop into the frames.
Add some dollar store pink and black table ware, and matching balloons.
Some Other Halloween Party Ideas
Between now and Halloween I will share a Black Cat Cake, some Halloween themed sandwiches, black cat magic wands, how to make those pink sparkly cats in the pictures, and some more easy printables you can use as table scatters. .Right now I need to go see what Halloween cartoons are available. Happy Halloween.