A Very Easy Cookie Recipe, One Dough lots of Flavours
This recipe is perfect for families, these Add Anything Cookies can easily be made into chocolate chip cookies, peanut butter cookies, raisin cookie etc. Its the perfect recipe for lunches, everyone can have their favorite with very little extra work for the baker. This is one of my favorite recipes to make for bake sales and it was a standard recipe for feeding football teams or fixing the boy's school lunches.
a
Most drop cookies have the same basic recipe with a little variation added into the dough at the end. I bet you can list the basic ingredients of cookie dough, but I will share them with the measurements and method. This recipe is large, it makes 4 dozen large cookies into four varieties. You can easily half it and make only 2 varieties.
Add Anything Cookie Dough Recipe
1 pound butter
1 cup white sugar
1 cup brown sugar
2 eggs
1 tsp vanilla
4 cups flour
1 1/2 tsp soda
1/2 tsp salt
Place butter in bowl and beat on high until its light and fluffy, about 3 minutes.
Add white sugar and brown sugar beating very well after each addition.
Add eggs one at a time and beat well after each egg.
Add vanilla, and you guessed it, beat well.
In a separate bowl mix together the flour, soda, and salt.
Combine the dry ingredients into the butter mixture.
Your basic dough is now done.
On to the yummy fun part.

Add Anything Cookie Variations
Take about two cups of the cookie dough and place in a bowl (the used flour bowl works fine and no extra dishes), add up to 1 1/2 cups of goodies of your choice. (This is a general guide, I guess the amount of the dough, I take what looks like about 1/4 of the recipe and place it in a separate bowl. Then add the measured 1 1/2 cup variations.)
a
Each variation makes a dozen big cookies. You can do them as a drop cookie. These ones have caramel chips and crushed pretzels. Mix well, scoop out onto a parchment lined cookie sheet and bake for about 7-10 minutes at 350 degrees.
These are Caramel Pretzel cookies made with caramel chips and pretzels.
a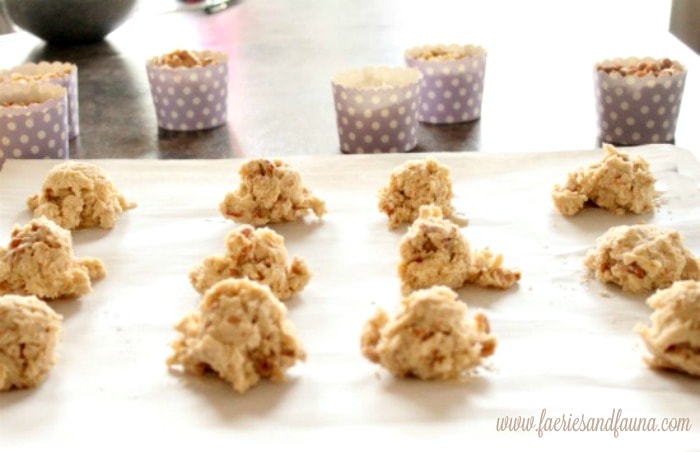 a
Or you can roll them. The following cookies are peanut butter, with peanuts and coconut. (Reader input on the peanut butter addition. When adding peanut butter if the dough appears too soft to you, add a bit more flour.)
a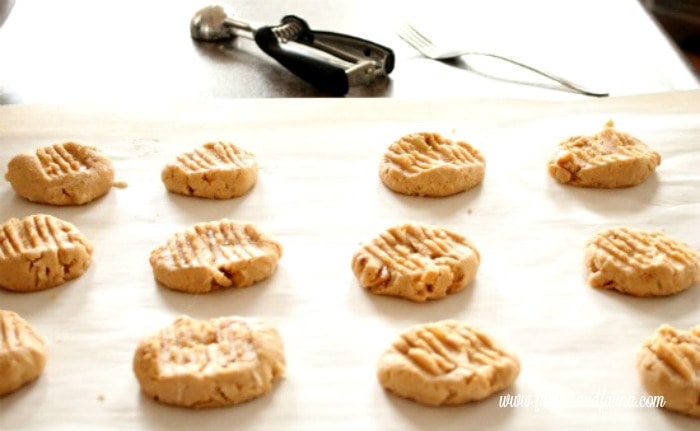 a
There are endless variations, your kids may enjoy picking out some flavours to add.
Some Other Suggestions
For a simple sugar cookie, leave the dough plain, roll into balls and then roll in sugar.
1/2 cup chocolate chips, 1/2 cup pretzels, 1/2 up Skor pieces
1/2 cup peanut butter, 1/2 cup coconut, 1/2 cup peanuts
1/2 cup chocolate chips, 1/2 cup raisins, 1/2 cup Rice Krispies
1/2 cup Skor bits, 1/2 cup cornflakes cereal
1/2 cup chocolate chips, 1/2 cup raisins, 1/2 walnuts or pecans
1/2 cup crushed pretzels, 1/2 cup Skor pieces
1/2 cup caramel chips, 1/2 cup crushed pretzels
1/2 cup peanut butter chips, 1/2 chocolate chips
1/2 cup dried cranberries, 1/2 coconut, roll into balls and then into sugar
The varieties are endless, use what you have. This recipe was very helpful when I had a bunch of boys coming after football practice, or when I had to figure out weekly lunches on a budget. Make the dough and toss in whatever you have in the cupboard.
The serving tray holds four variations; Caramel Pretzel Cookies, Chocolate Chip Raisin and Walnut Cookies, Peanut Butter and Coconut Cookies and Peanut Butter Coconut cookies with Whole Peanuts.
a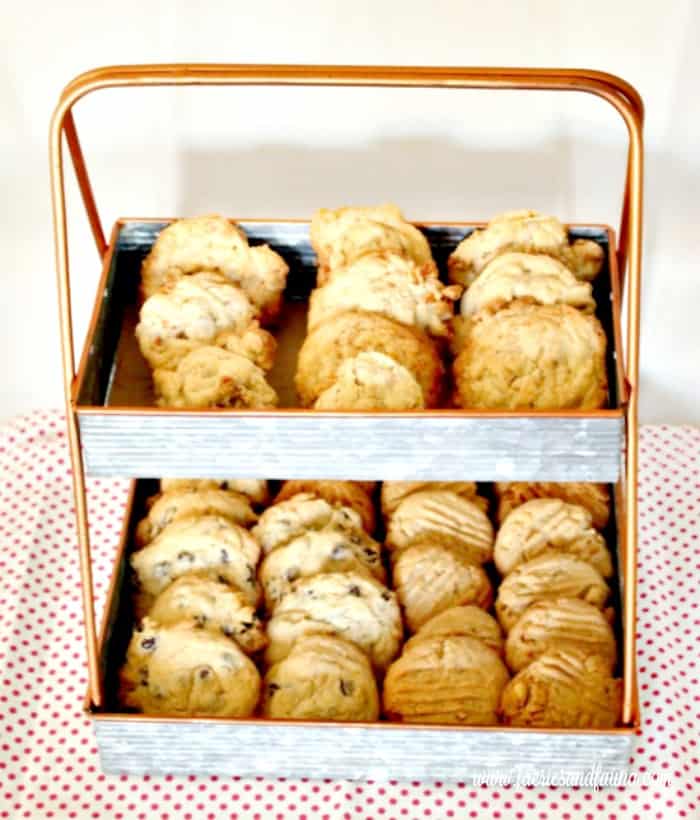 eeee
My days of making school lunches are over. These cookies are being packed up and taken to treat the hard working grooms who look after Hubs horses.