You will often see either dill pickled carrots or dill pickled bean recipes online. I have always made them together as Dill Pickled Carrots and Bean for no other reason than that's how I learned to make them 40 plus years ago. This dilled pickled carrot and bean recipe is classic, tasty, and uses the simplest of ingredients. Its also pretty in the jar, and gives you two kinds of pickles when serving.
Canning Pickles of Any Kind
Canning foods has two basic categories, high acid and low acid. Pickles are high acid so there is no need to use a pressure canner. Pickles are incredibly easy to make. I promise, if you can boil water you can make homemade pickles. The thing to watch out for is safety and cleanliness.
Sterilizing Jars and Lids
There are four ways to sterilize jars, in the oven, dishwasher, microwave and stove top. The method I choose depends on how many jars I need to sterilize. This recipe makes six pint jars of pickles so I suggest simply boiling the jars on the stove top to sterilize them.
Wash and rinse your jars. Take a very large pot, and fill it with hot ( not boiling) water. Place the jars open side up into the pot. Fill the pot with enough water to cover the jars plus an inch. If you have room you can place your rings and lids in the same pot, if not place them in a second pot and boil like the jars.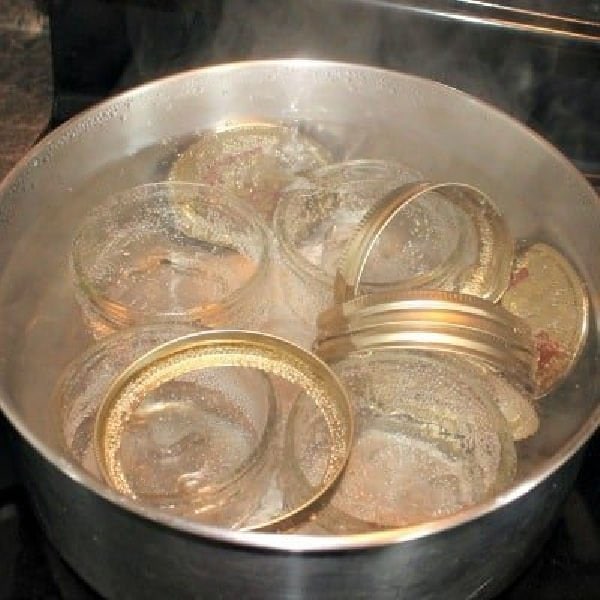 Bring the water to a boil and let boil ten minutes. Once boiling turn the stove down but make sure the water keeps simmering.
Remove your jars one at a time as you need them, be cautious as the jars are hot. I use rubber ended tongs and a pot holder.
Prepping the Veggies
While your jars are boiling, prepare the carrots and beans. Besides wanting sterile jars you want your hands, counter, sink etc as clean as possible. If using large carrots you need to peel them and cut them into fingers. Wash well in clear water and set aside.
I purchased fresh baby carrots from a local market garden. For fresh baby carrots you need to trim off the top and any root that may be left. As the carrots skins are thin I don't peel them, instead I use a vegetable or pot scrubbers and scrub the skins really well. Rinse and wash and set aside.
You will want two sprigs of dill for each jar.
Make the Dill Pickling Brine
This recipe makes enough for six pints. The ingredients are very simple.
2 pounds baby carrots
Bunch of Dill
Brine Ingredients
4 cups pickling vinegar
2 cups water
2 pounds green beans
2/3 cup pickling salt
2 cups white sugar
Place all the ingredients in a large pot over medium high heat. Stir to dissolve the salt and sugar. Cook until boiling, them turn down and let simmer while filling your jars.
Don't substitute the vinegar or the salt for normal table vinegar or salt. Pickling vinegar is more acidic and pickling salt is purer then table salt. Table salt will change the colour of your pickles and will cloud the brine.
Filling the Jars
Place one sprig of dill in the bottom of the jar. Place the jar on its side and then fill it with alternating layers of carrots and then beans. (it makes the pickle layers prettier) If any piece of carrot or bean reaches into where the jar rings are, trim it shorter.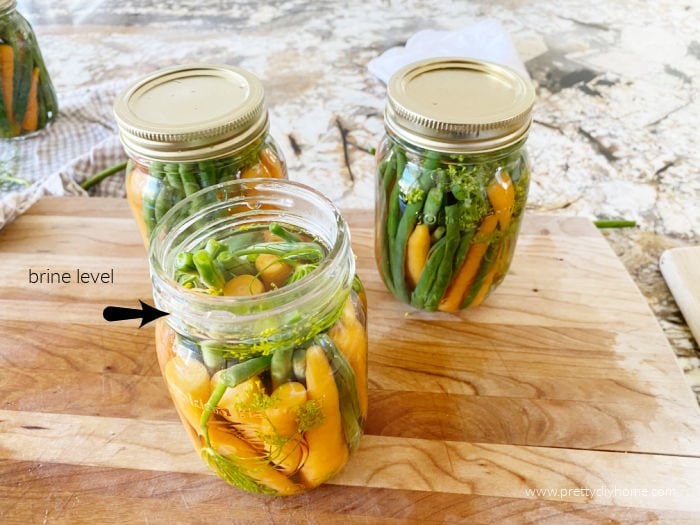 Once full, turn the jar right side up and place in more carrots or beans wherever you can. Then add a second sprig of dill.
Fill the jar with hot brine. Make sure the brine level is half an inch from the top of the jar. Quickly place a hot lid on top of the jar and then add the ring. Tighten and set aside.
Repeat the process with the next jar.
Sealing Jars
Don't touch the jars while cooling. As the jars cool you will hear them "pop". Once the jars are cool, push on the lids to test if they are sealed. If the lids push down they aren't sealed. This can happen for lots of reasons, maybe the jar wasn't hot enough, or their isn't quite enough brine etc. If a jar doesn't seal, I simple store it in the fridge instead of the cupboard.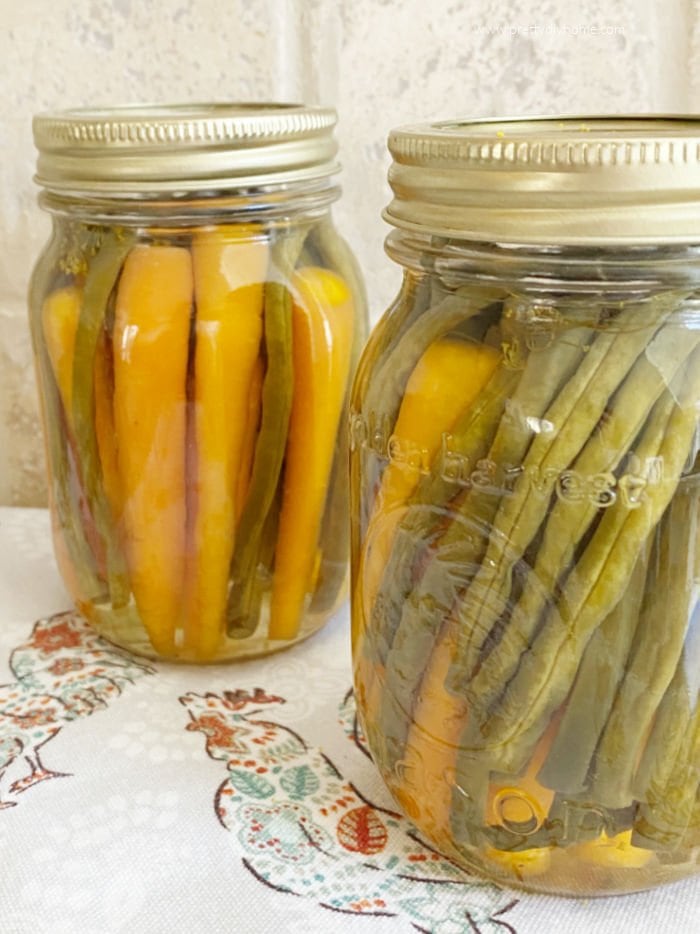 Let the pickles age, I don't suggest using them for about six weeks.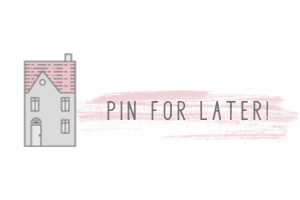 When sharing anything on Pretty DIY Home, I try and remain positive, my blog is about a pretty home after all. That said every once in awhile I feel the need to share my feelings or a story.
In Canada we have a few huge food suppliers, and it can be very hard and very expensive to buy local fresh homemade food. If you do find it, its called "organic" and the price is doubled. Alternatively we have less expensive foods that are imported from areas with questionable cleaning practices. I refuse to eat pickles that are made with brine from an area that likely has poor water quality. The freshest pickles are made at home where you know exactly what went into them.
Let me know your thoughts, am I being too fussy?
| | |
| --- | --- |
| | |
Sterilize 6 pint jars, lids and rings.

Prep the carrots and beans.

In a large pot, add the pickling vinegar, water, pickling salt and sugar. Stir to dissolve the sugar and salt. Cook over medium high until boiling. Reduce temperature and let simmer while filling the jars.

Take a hot sterilized jar, add a sprig of dill, then alternating layers of carrots and beans.

Fill the jar until about 1/2 inch from the top. Place a lid and ring on top. Tighten the ring and let cool.

Repeat with the remaining carrots, beans and jars.
If you find the a jar does not seal correctly, store it in the fridge instead of the cupboard. Let the pickles stand for about six weeks before using.