Series Door Printable and Fairy Story for February
Faye's Fairy Story
Here is the February instalment of Faye's fairy stories If you haven't met Faye yet you can learn all about her and catch up on her first fairy story in here.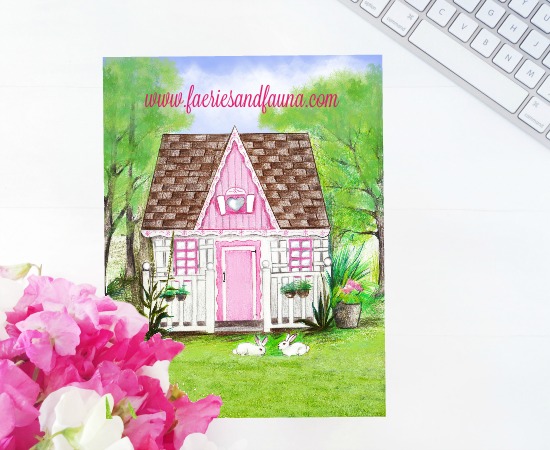 a
February is a special month for Faye, she has a birthday and deals with some issues with her older brother.
The artist created this picture based on my concept of the perfect she shed. Faye is a little too young to have a she shed, so I gave her a playhouse instead.
I recently created an Opt-in Library called the Faerie Insider's Library. This library page holds Faye stories. Each month I will add a new letter sized printable of a door, with a corresponding child's story that you can frame or place in a binder.
If you have already joined the Faerie Insiders by following the blog, remember you can find the Faerie Insider's page in the About Me and Contact Menu (add your password)
The following is an excerpt from this month's story. The full e-book is on the Faerie Insider's Library page along with the full sized printable.
Faye's Birthday Story
Faye was in her room making a Valentine poster with all the pretty Valentines she got at school, Faye loved all her cards, some of her friends had even given her two. Mom had shared pink glitter glue, pink and white buttons and paper doilies so Faye could make a poster for her wall. It was a quiet morning and Faye liked the house quiet.
Faye had three older brothers. Matt who moved away to play music on the radio in the city. Garth who was away at college until Easter and Kevin was six years older and had just started high school.
Faye wished Kevin was away at school. Kevin was always having his big loud friends over; they ate all the good stuff and hogged the family room. To avoid them Faye stayed upstairs and mostly played in her room.
Just then Kevin burst into her room, brushed his hands across her desk sending some Valentines to the floor. Kevin teased her that Valentines was for girls and then ran down the stairs. Faye lost it and yelled, "Well boys are Stupid."
[wc_divider style="solid" line="single" margin_top="" margin_bottom="" class=""][/wc_divider]
If you shared last month's story with any little ones in your life. Please let me know if they enjoyed the story. It makes me really happy to think of munchkins giggling about the dog January or the rabbits.
Enjoy!