Shabby Chic Upcycled Cabinet
Upcycled Vintage Cabinet with Chalk Paint
Today's post is a shabby chic cabinet makeover. When we saw it Hubs and I both knew we wanted it. It has such gorgeous lines but was in really rough shape. The second I saw it I knew it was going to become a printer cabinet for the office, hubs thought it was gorgeous and was surprised to hear he had no woodworking to do on it.
a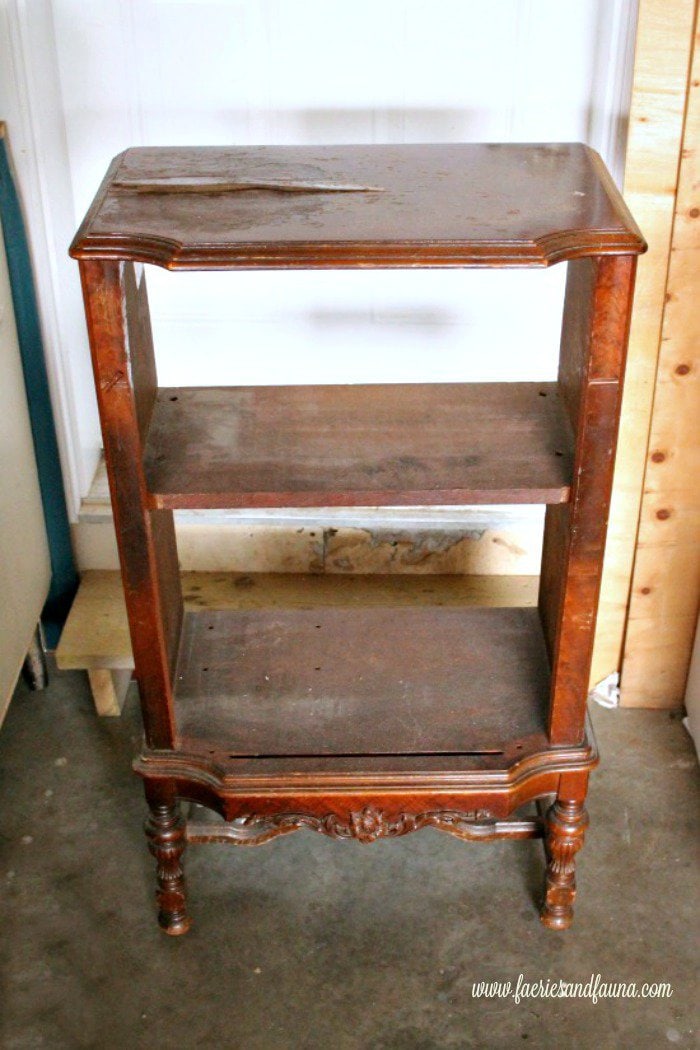 a
This little cabinet has lots of issues. I don't know what it was originally. The back is gone and the top is only attached to one corner. There are holes on the shelves and I don't think it ever had doors. It also has a broken veneer top with parts missing.
Having no back on the cabinet makes it perfect for a printer. The cabinet needs stabilizing as its very shaky. Instead of adding a full panel on the back I attached a 1 by 2 across the back attaching it with small nails. Then the screws that hold the shelves in place were tightened.
Once the shelves were tightened and the cabinet stabilized I took off the top, applied glue and reattached it to the cabinet with its original screws.
Remove the Veneer
Because the veneer was in such bad shape I decided to paint the cabinet and simply remove the veneer. To remove the veneer I soaked a towel in water and placed it on the top. I left it overnight and then used a paint scraper to lift the veneer. The veneer on the cabinet was pretty tough it took three days for me to soak all the veneer off, but it worked.
aa

Paint the Cabinet
For this cabinet, I followed the instruction on the chalk paint and did not sand it first. The cabinet was washed with soap, water, and vinegar and left to dry.
Then I added two coats of blush pink chalk paint letting it dry between coats.
aa
Waxing the Cabinet
This cabinet won't see much wear and tear. It will have ornaments placed on it and the occasional heat from the printer is in use, but it won't ever see a coffee cup or regular wear and tear.
To seal the paint I first applied two coats of clear chalk paint wax with a chalk wax brush and then polished it with a soft cloth. I put on two coats. Once all the surfaced were waxed I added a little dark wax into the grooves of the legs and of course that beautiful scroll.
a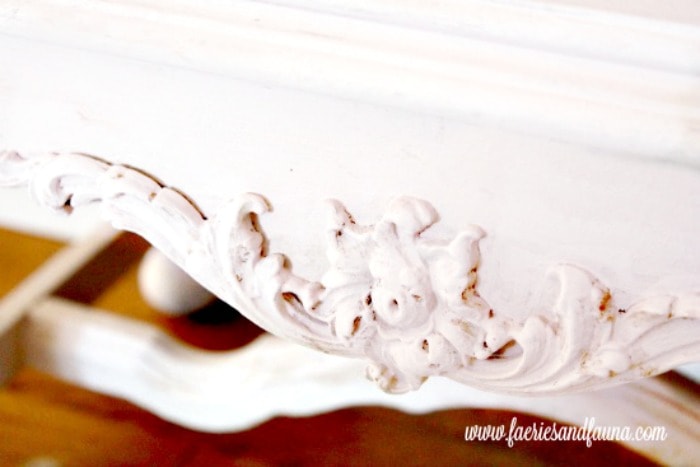 a
This is the first time I tried using dark wax. I rubbed it in with a brush and then used a soft cloth to buff it. It's really fun to play with this stuff, my first choice is always to go light and bright. This time I broke away from my usual style. What do you think, is it dark enough?
a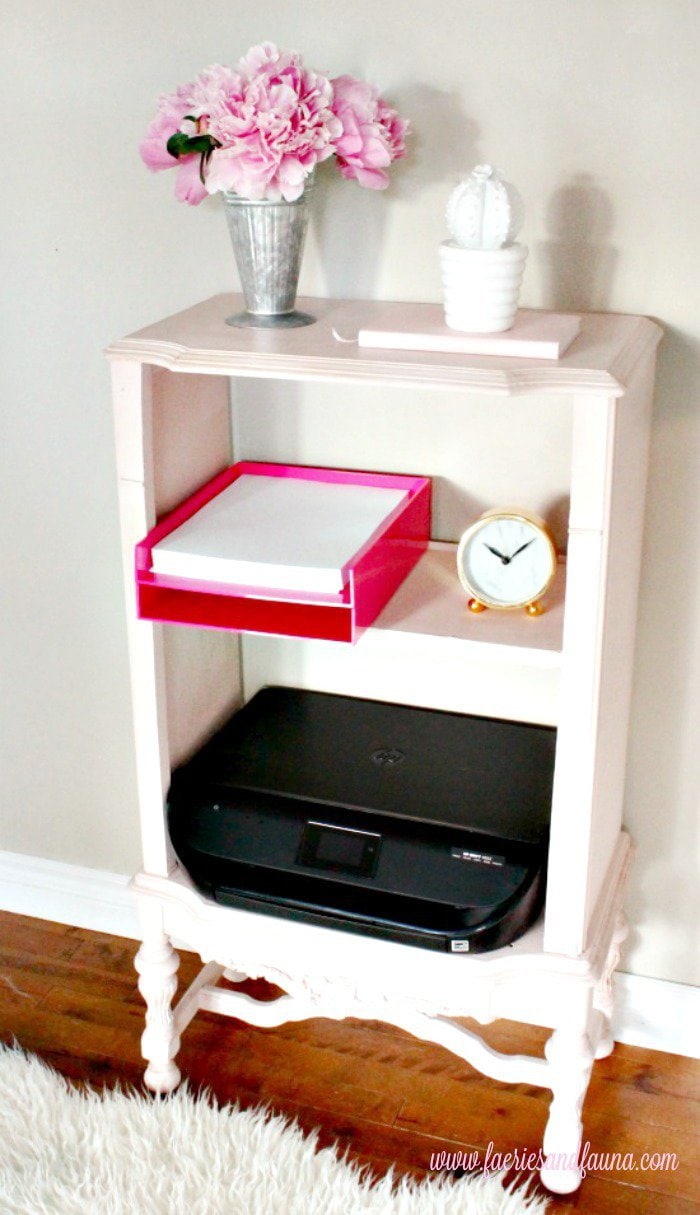 The two shelves on this cabinet are the perfect height for the printer and the paper tray. This will be placed downstairs beside my feminine chalk painted desk.
Office and Craft Room Update
The downstairs office and craft room are progressing very slowly. A photography friend assessed my lighting and said I need a full lighting kit nothing else will help. I went to get a recommended lighting kit from Amazon and they can't send it due to a shipping restriction. Go figure. I will sort it out and then finally take some pictures downstairs.
The heating needs to be reconfigured downstairs it's freezing down there. If the vents aren't reconfigured I have to get a plugin heater. Hubs really doesn't want an electric heater because of fire hazard and the high cost of hydro. We have to sort it out because when I sit down there I shiver from the cold.
I have a few other projects going on in the craft room I cannot wait to get it all put together, clean it and start using it fulltime.
Anyone ever figure out how to paint a printer Pink?