Simple DIY Table Refinishing
Wood Kitchen Table Refinishing
We love our current table and chairs its wood and about ten years old now.  Everyone in our family is big and heavy except for the children so we knew a strong set was necessary. Surprisingly this table stood up to its workload very well except for the finish.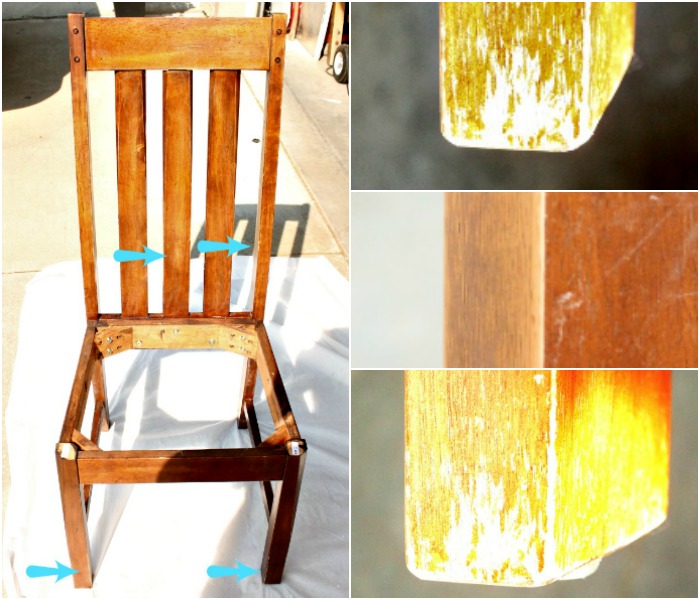 In addition to these wear marks the set had several scratches but no dents of any kind. Unlike the solid farmhouse table this solid table collapses and the best feature is this fold way leaf that allows us to convert the table from sitting four to six people.
My mother had seen this kind of folding leaf before but its not common in modern tables. I just could not bring myself to replace it and I am not sure if its veneer or not so I was scared to sand it too much.
For the last two years I camouflaged some of the damage with various chair covers.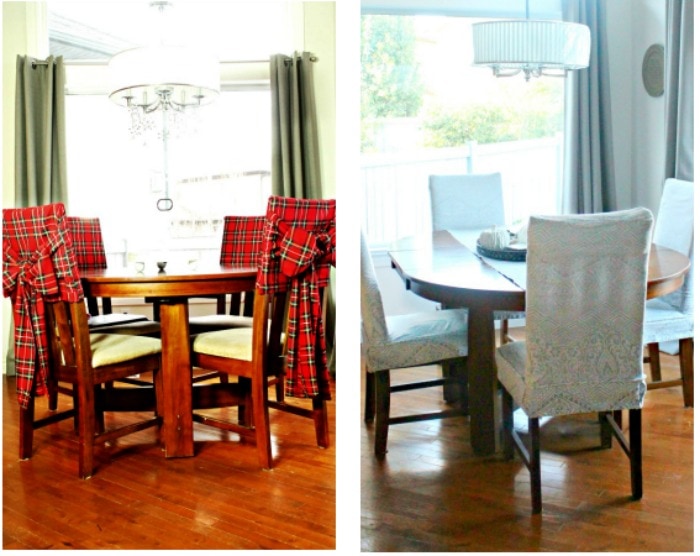 The covers were both good work arounds but we finally decided to restain the table set darker to match our family room furniture.  This is how it turned out and we are both excited and relieved.  It's so dark and shiny, my son came to visit and thought it was a new set.
Tutorial
We started by doing lots of research on Pinterest for ways to refinish that did not require too much sanding or painting.  Several different blogs recommended using Minwax Polyshades on both wood furniture and cabinets.  They said it required minimum sanding and turned out well.  We took a deep breath and started.  This website from polyshades was the manual we used
How to Refinish Wood or Change Colour.    I highly recommend reading  Polyshades post before purchasing your stain or beginning this project.   Of Faeries and Fauna's post is not professional advice.  If you decide to refinish your wood table do so knowing the risks.  We were very cautious doing our table knowing full well we may fail and need to replace the set.
We set aside four days to refinish our table set.   The work involved isn't that strenuous but you do need to be patient and careful.  We didn't want to rush this project and chance making a mistake and we let each coat dry overnight.
This is the careful steps we took to redo our table set.
Supplies
Minwax PolyShades in a darker colour than original.  We chose Antique Walnut.
Good quality, clean, tapered natural bristle paintbrush
220 and 2000 grit sandpaper
Paint thinner and rags
Start by removing the seat covers and washing all the wood surfaces. Let dry thoroughly.
Sand all surfaces lightly by hand with 220 grit sandpaper until the shiny surface is gone.
Remove all the dust with a damp cloth and let dry.
First coat of stain.  Apply according to
Before you begin to apply the stain make sure the PolyShades is well stirred, stir it thoroughly to statr and every 10 minutes after to assure that the color remains evenly distributed throughout the polyurethane.
With a natural bristled brush dip the very end ½ inch of the bristles into the stain.
Apply the stain in thin coats.
Apply the stain in the direction of the wood grain in long even strokes.
When you start with a freshly dipped brush first put the brush a few inches from the stained area because it does cause a mark, then blend into the already stained area.
Use the tip of your brush to even out the stain as you work along.  Thin coats are better than thick coats.
Once you walk away thinking its good enough, don't do any touch ups.
We let the first coat dry overnight before starting the next coat.
Once the first coat was dry we sanded it lightly with 2000 grit sandpaper and wiped the dust off with a slightly damp cloth.
Apply the second coat or even a third coat by the same method.
We left our table sit unused for a couple of weeks.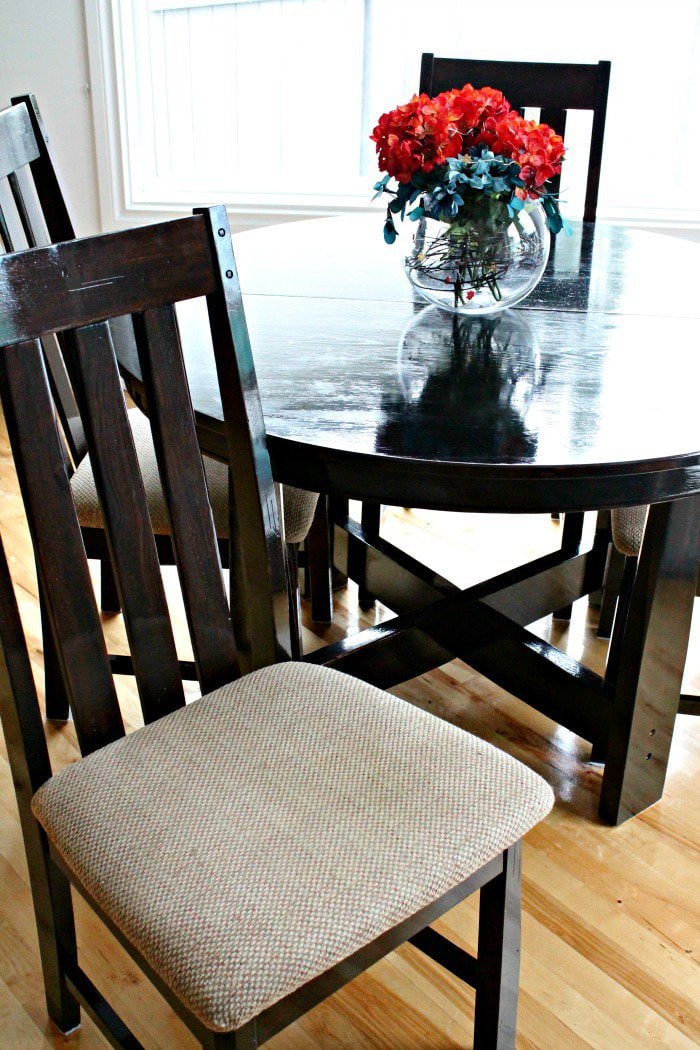 Final Recommendations
This product is really perfect for veneered finishes where you are hesitant to sand.  The final finish looks like the more modern solid stain finishes.  There is minimal amounts of grain showing through.
Personally we are thrilled with our redone table and chairs.  We don't need to lose the furniture we love, or pay the extra money for a new one.  This project was a perfect win win for us.
If you like this post please pin it.   Thanks bunches.