Trip to Sister's Rustic Treasures Near Rimby Alberta – Vintage Heaven
I am absolutely absorbed with reading blogs. All the ideas, the talent and positive creativity, I could spend hours reading. Sadly I cannot say the same about shopping in Northern Alberta. I have a terrible time trying to find what I envision, I feel isolated away from the good stuff up here sometimes. I have to scour around to find items, at least I use to……
My brother came for a two week visit, I had been asking Herman to check out some country stores within a couple hours of Edmonton with me and the men wanted to take a drive to see the ripened farmers fields. We decided to combine both activities and I am very glad we did.
We ended up going to Sisters Roadside Treasures near Rimby Alberta. We were welcomed by one of the six sisters who owns the store. She patiently listened to me talk about my new blog, my dreams of store ownership and my love of feminine vintage items. Never having met me she was amazingly gracious and kind. She even gave me permission to take and use some photos of her treasures on my blog.
I am very attracted to vintage items, especially feminine vintage items. I see the history of women in old scrub boards, enamel water ladles, tatted lace, old mixing bowls, tea cups….. I went with a budget of $40 to see what I could find. I purchased a couple hundred dollars worth of stuff and sadly had to leave a lot of treasures behind. You just cannot have everything. This is certainly going to be one of my go to spots.
This store is surrounded by huge farms. You could smell the alfalfa and canola fields on the wind. It's very aptly named, a little treasure out in the middle of farm country.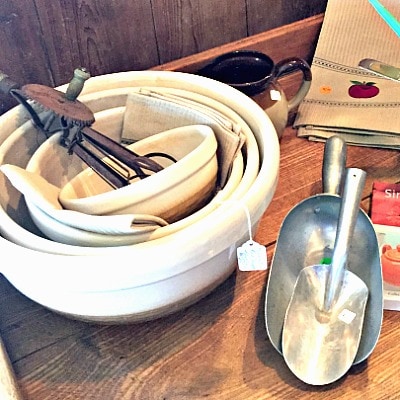 When I was little my Mom let me use her old hand mixer, I sprayed ingredients much less with it then the hand held electric mixer. It was fun but tiring.
This old hand mixer made me think about the love and extra effort Mom's put into making goodies like homemade marshmallows years ago.
Like the caption says, I have no idea what these are but they should be my new fall planters. I did not see the chicken in the first picture until I was home (oh well).
Tatting amazes me, so delicate and feminine. I may need to return to purchase one and frame it. I hope the creator made them outside in sunlight, the tatting knots are so tiny and fine.
I remember these as a preschooler. Mom would have a wash day and warn me not to touch the ringer. I of course wanted to more than anything. She would fold the jeans "just so" put them through the wringer then hang them to dry. She liked the creases the wringer put in the jeans. I also remember her saying she preferred using her old wringer washer. Although it wasn't automatic, she could wash clothes until she felt they were clean and they used less water. I won't be trading it my LG front loaders anytime soon, but I enjoy the memories.
I did not purchase any of the items pictured, I did replace on Christmas item that disappeared during a move and has taken me 13 years to replace. I will be posting it in the winter.
Herman and my brother Jim patiently let me wander for a couple hours. I think they could sense my excitement and enjoyed listening to my banter with the owner.
It was the perfect summer morning.