An Easy Valentines Craft Printable Banner
Free Happy Valentines Day Printable Banner
For us we're post Christmas cost, and hording money for a vacation so Valentines is all about affordable. Valentines decorations are usually homemade, and occasionally from the dollar store. If my granddaughters drop by we do some sort of easy Valentines craft. This year their easy Valentines craft project is a super sweet print and cut Happy Valentines Banner with pink polka dot background.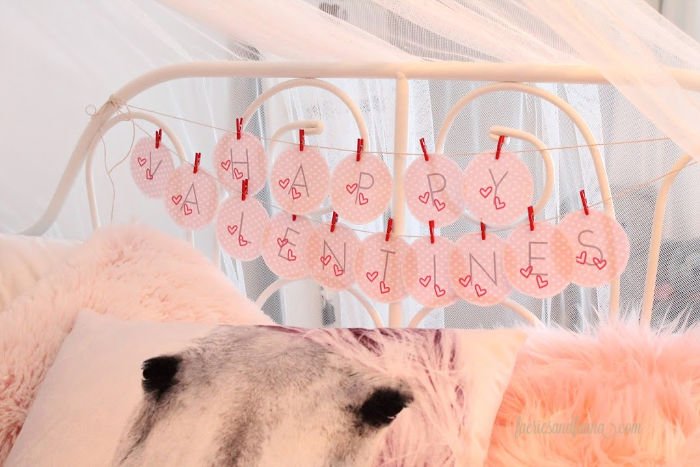 Free printable valentines decorations are the best way to decorate and craft for Valentines, especially if its last minute. Just print, cut and hang. Today I am sharing one I created in pretty pink polka dots with a small touch of farmhouse style using twine and miniature clothes pins.
How to make the Free Printable Happy Valentines Day Banner
This Valentine craft is so easy to make, and you only need a couple of supplies.
Free printable Happy Valentines Banner
Scissors, twine and mini clothespins
Decide how long you want your banner to be and cut two pieces of twine accordingly. Cut the first one two feet longer, and the second one three feet longer than the width of the banner. You want will need the extra twine to swag the banner. Its also super handy to have extra twine if you want to tie pretty bows on the end of your banner.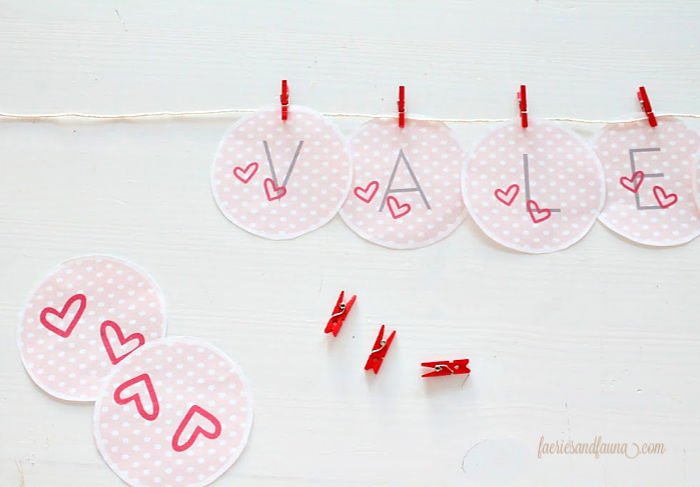 Here how to put it together.
Print and cut all the Valentines Day printables.
I tried attaching the letters to the twine first, but had to remove all the letters and rehanging them directly on the twine. It will be easier for you if you hang your twine swags where you want them first.
Once you have the twine swagged the way you like, hang the Happy Valentines letters on the swags using tiny clothespins.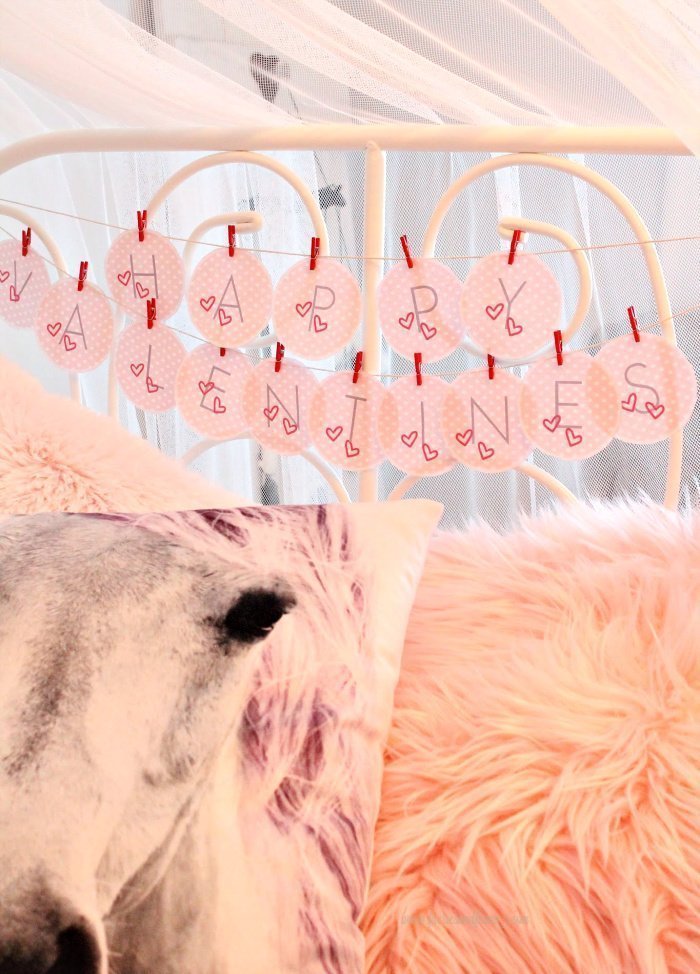 .My Valentines banner is tied to the headboard of my granddaughters guest room it would be pretty hanging on a window. My two eldest granddaughters are ten this year and absolutely love the over the top pink tween room decor.
You can also use the extra little Valentine printables and create a single long banner it depends where you want to hang it.
I love the farmhouse feel of the miniature clothespins, and they make it very easy to adjust the width of the banner. If you don't have miniature clothes pins, you could easily hole punch the Valentine printable, use ribbon and tie little bows along the banner to add pretty interest. Either way this craft will take less than half an hour. How last minute is that!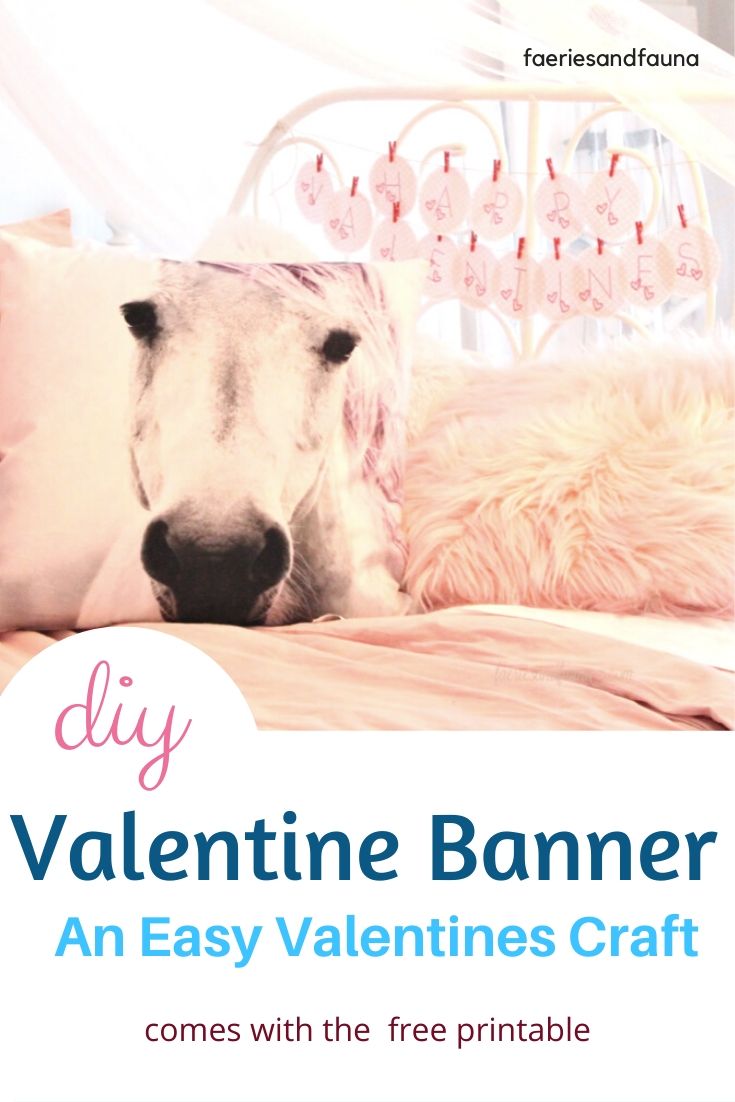 I know this Happy Valentine banner is very girlish, but I love pink and Valentines is a perfect excuse to use it. I hope you love it as much as I do.

Here is another free printable Valentines idea for you. Its designed for families, to share simple inexpensive gift coupons to one another. There are a variety of ideas from chores to Valentines activities. Nothing costing very much and there are several to choose from.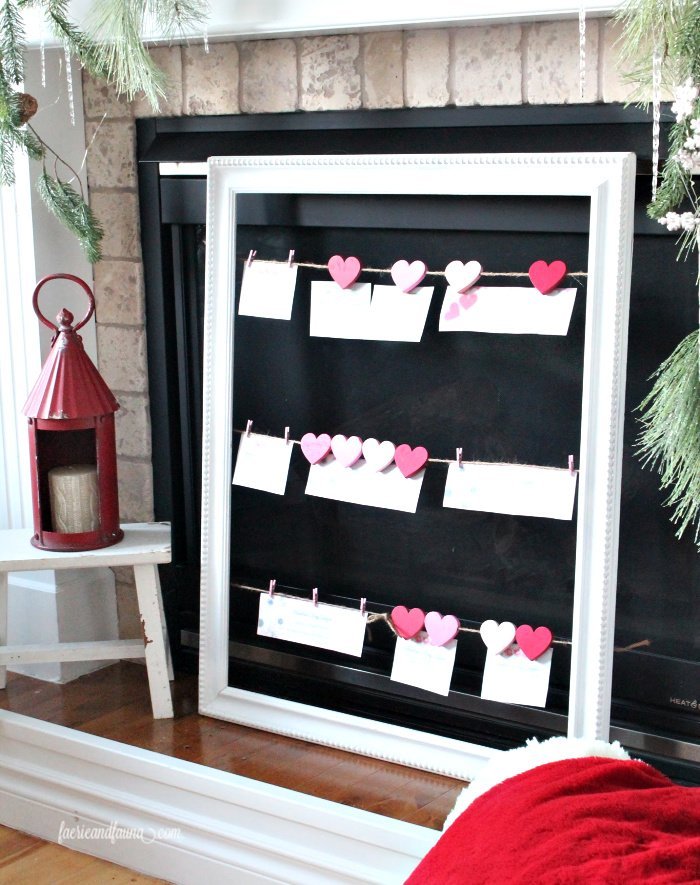 Valentine Printable Coupons for the Entire Family
These little Galentine bouquets make nice place settings or small gifts for girlfriends. The wrappers have printed with loving french sayings. Its a little pricier than my other two ideas, but still less than 4 bucks each to put together. Hope you love them.