Fun Valentine's Day Gift for Him
This Valentines Gift for Him has me very excited. I cannot wait to share it with Hubs, and I am really hopeful you will love this Valentine's day gift idea. Hubs always looks forward to a dessert, but this year I came up with the best way to surprise him. This year I am giving him a bouquet of man flowers, otherwise known as fun Valentines basket for him with beer..
t
Instead of giving him a case of the usual brand of beer he likes, add a thoughtful touch by getting him an new assortment of craft beers to try? Hubs cringes at the thought of anything very romantic. Its too foo-foo for him so I grabbed some beer with some fun masculine names like Rig Pig and Hammer Head. I know he will love trying them.
The Funny Valentine Printable
For the man flower bouquet idea I created a printable funny Valentine's card that shows a bouquet of beer.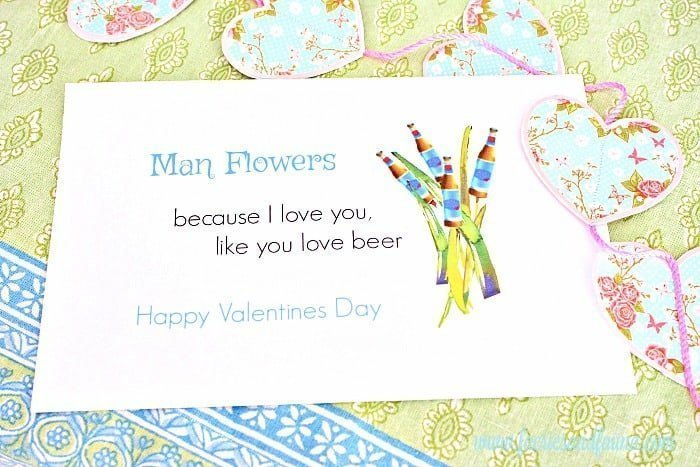 Here is the Valentine's Day card if you would like to print one. To add it to the bucket I rolled it into a scroll and tied it with a simple burlap tie.
Update: I created a second funny dark printable Valentine card you may prefer.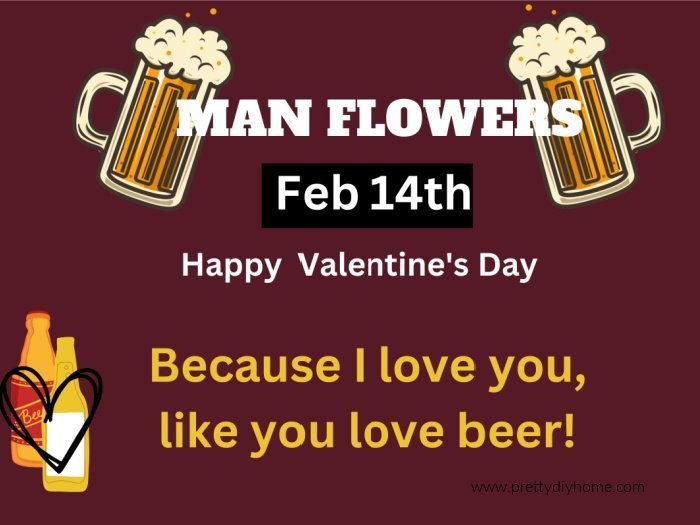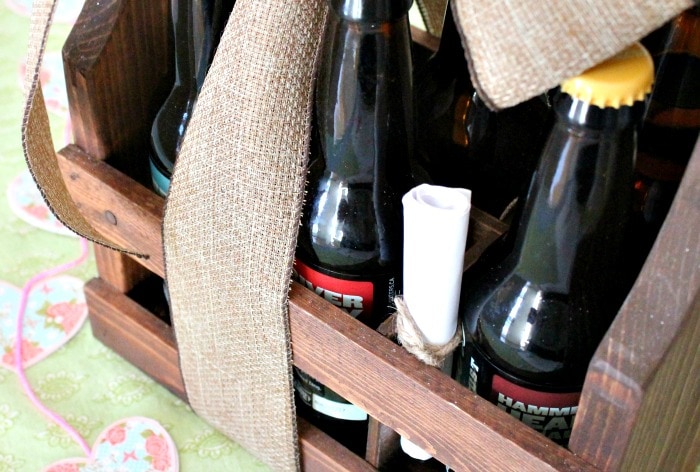 Small Valentine's Day Gift for Him
Depending on how much your guy loves beer. Here is a small six pack with a wood carrying case he can keep. I found this one at a local gift store as an organizer but it works perfectly as a beer carrier. The plain burlap ribbon finishes it off, and the scroll Valentine is tucked in neatly. Nothing too much to shop for, this basket is more thoughtful than it is expensive. Perfect for a Valentines gift for a boyfriend you may not have known too long.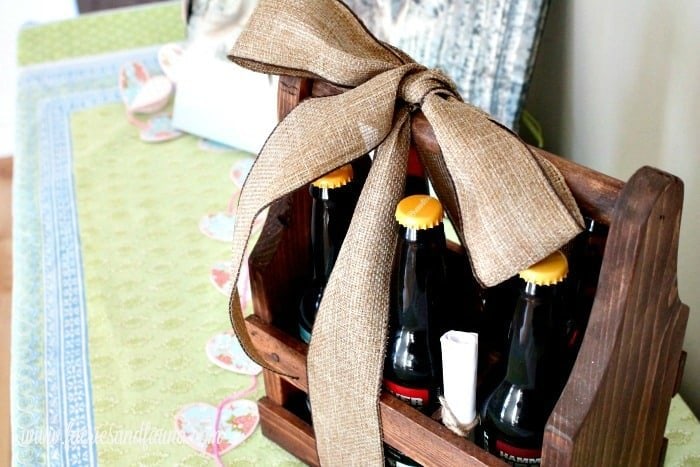 Larger Valentines Day Gift for Him
This larger version starts with an ice bucket. Then the craft beers and the best favorite snacks for good measure. I tried some newer snacks he will love instead of his everyday choices.
g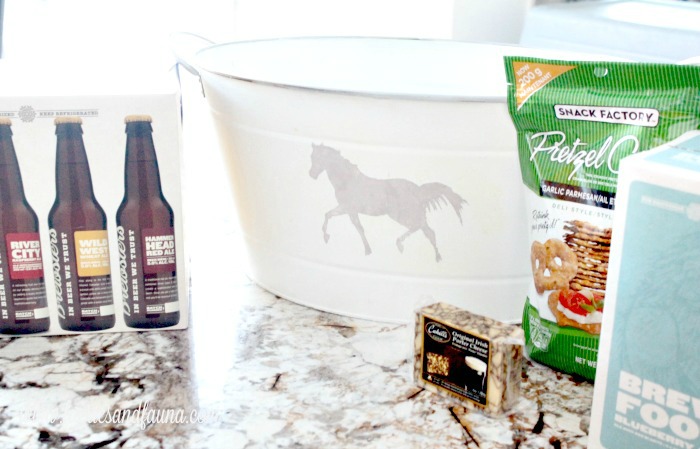 Wrapping the Valentine's Day Gift
To prevent breakage wrap each beer in tissue paper. Place the beer in the center, gather the tissue up so that it tuffs at the top. Place in the bucket and repeat.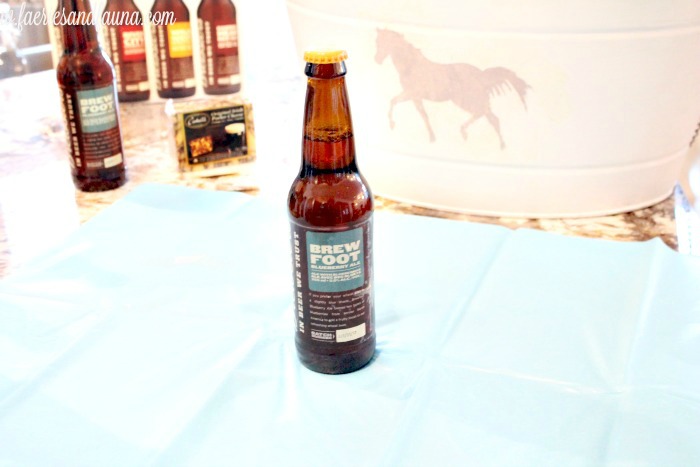 Once the bucket is full, I fluffed the tops of the paper to resemble flowers with the beer caps as centers. Of course, I chose blue his favorite colour and the banner is included to make the picture prettier.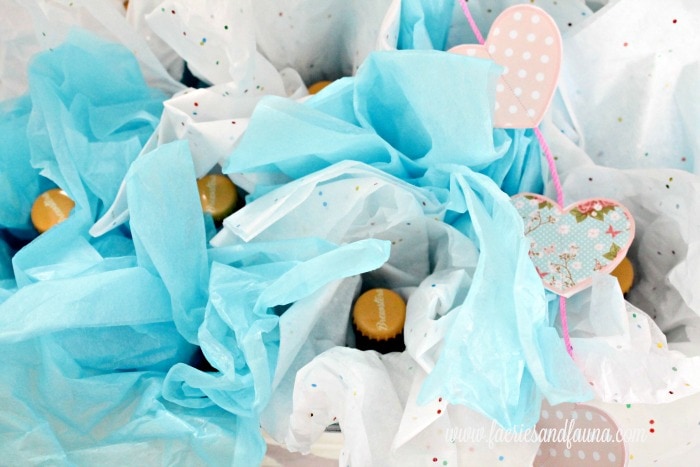 Which Valentines Day gift idea do you think your man would like best, the more masculine wood six-pack, or the much larger Valentines basket for him?
Simplest Manflower Idea
Finally if your short on time, or the man in you life is very no foo foo, you can just print and cut out the dark brown Valentine printable and tape it to the side of a case of beer. I think this simplest idea would work for most men, especially if they aren't "Valentines inclined".
Like this Idea? Pin for Later
Other Valentines Ideas for Him
Usually I do not purchase anything for Hubs instead I create some sort of special Valentine's themed dessert. Here are some Valentines recipe ideas you may want to make for him.
Chocolate Cake for Valentine's
This special Valentine's Day dessert starts with a chocolate cake mix. Then you make the best strawberry icing, and decorate with funny Valentines bracelet candy.