DIY Farmhouse Lantern Makeover
A DIY Lantern Makeover in a Farmhouse Style
Starting at Home Sense I found a cute and inexpensive plain galvanized lantern for cheap.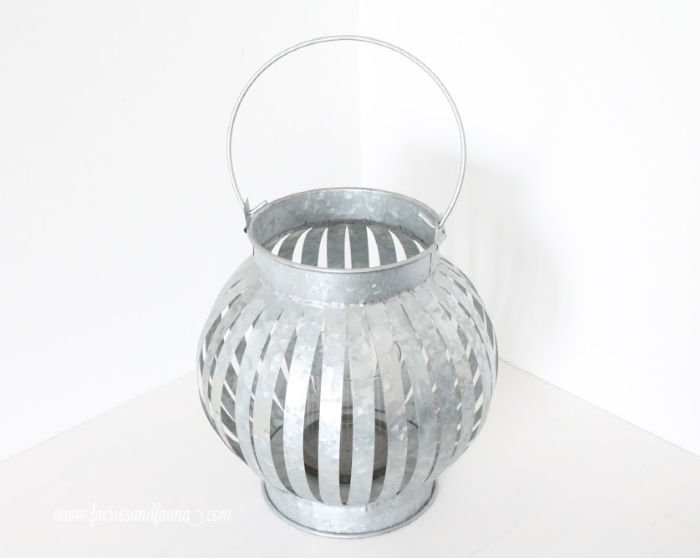 I am instantly attracted to anything galvanized because the price is usually reasonable. I liked this lantern as it is, and I could dress it up with other decor elements like mini lights maybe, but I had this idea.
Farmhouse Lantern Makeover Tutorial
Besides a lantern, you will need
[one-half-first]White paint iI used milk paint
Polyacrylic or polyurethane
Clips or clamps
Gorilla glue
Birch veneer[/one-half-first]
[one-half]Paint brush
Clean cloth
Exacto knife,
Yardstick / straight edge [/one-half]

Painting the Farmhouse Lantern
Paint the portions of the lantern you want to be white. Let dry.
Once your first coat of paint is totally dry. Take a slightly damp clean cloth and very lightly distress portions of your lantern so a hint of the galvanized metal shines through.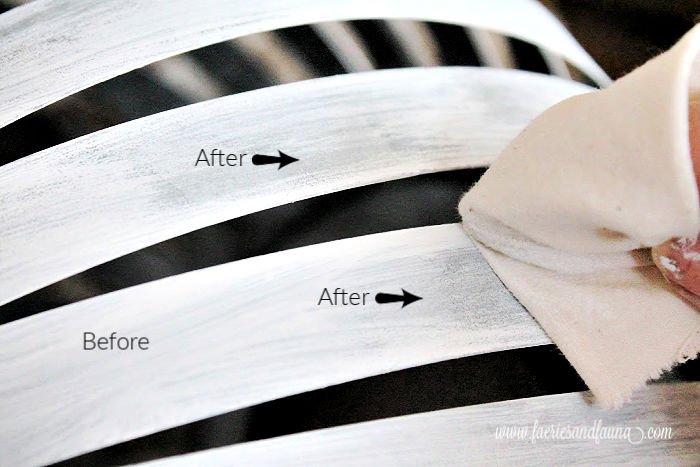 Once you have distressed the lantern, add a very light second coat of paint in specific areas. Dip the very tip of your paintbrush into the paint, then remove most of it onto a dry cloth or paper towel. Dry brush the paint onto any areas of the lantern you like.
Doing the two layers this way gives you four different levels of paint, from white through to galvanized. Let the paint dry, but it only takes a few minutes.
Adding Veneer Embellishments
The veneer is surprisingly easy to cut. The wood is so thin you can cut it with an Exacto knife, and trim it with scissors.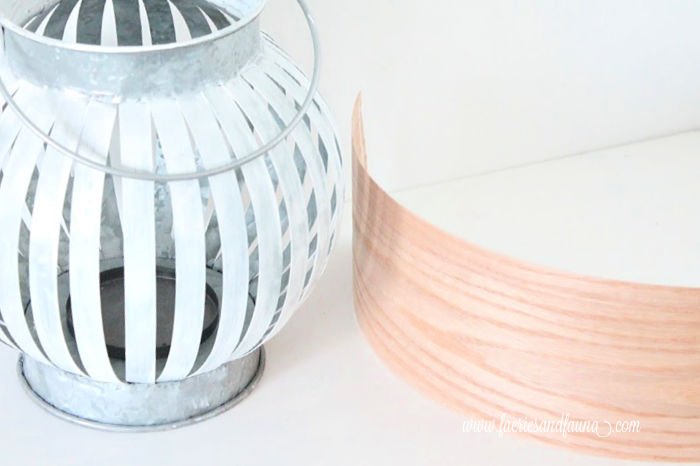 Measure the surface of the lantern where you want to apply the veneer, my example is 1 3/8 inches high, and 23-inch length around the circumference on the top plus an extra inch for final fitting.
The commercial edge of the veneer is clean and crisp, so start with that edging. For the second edging use any long straight edge and mark the measurements with a pencil.
Then cut along the pencil marks with an Exacto knife.
Attaching the Veneer
You will need good quality glue like clear gorilla glue or E5000 to attach the veneer to the lantern.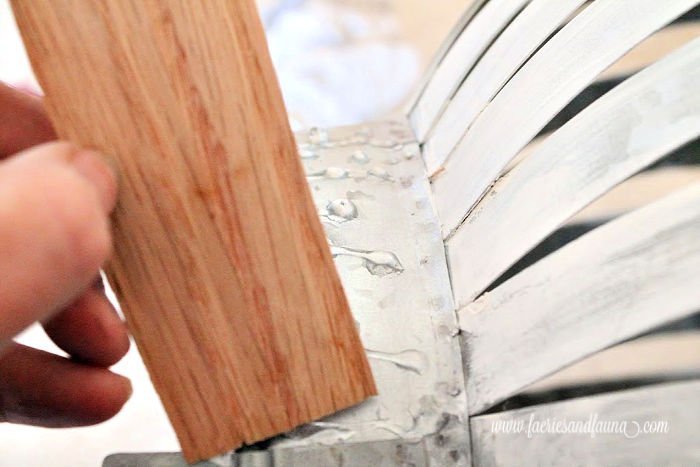 Apply glue on the metal and attach one edge, hold in place with a clamp.
Continue adding glue and working your way around the lantern, clamping it as you work.
You may get some splinters along the cut edge as you curve the wood, Don't worry about them, we will fix and trim them later.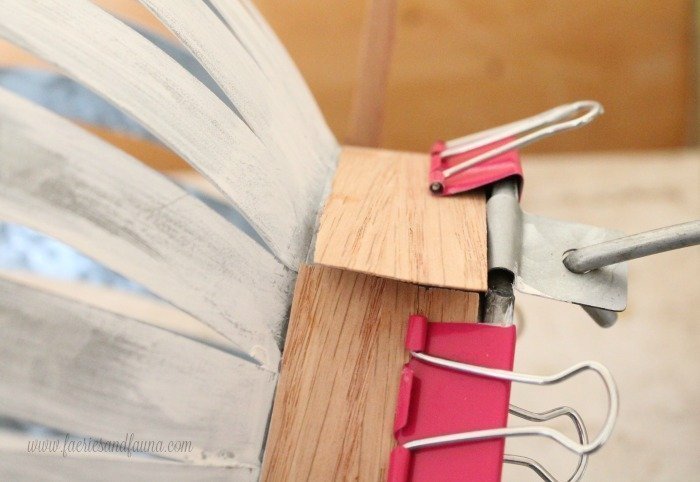 Once you have all the wood glued in place, match up the two ends. If you have to fit them together I suggest cutting it with a pair of scissors. The wood isn't hard to cut.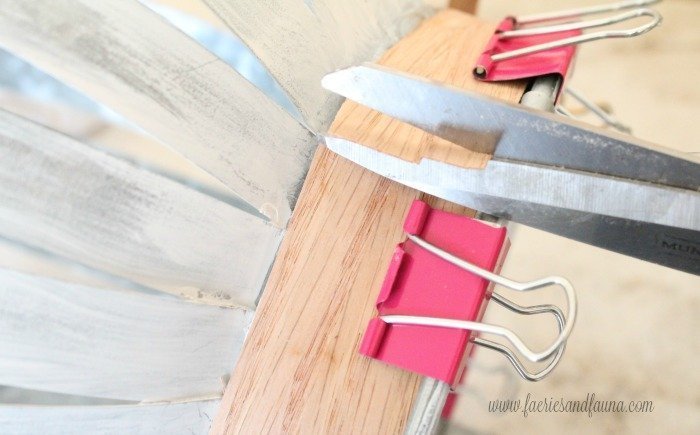 Fixing Splinters
If you have splintering on the veneer as you wrap it, fit the splinter back into place with a little extra glue. Use a clamp to hold it in place while it dries.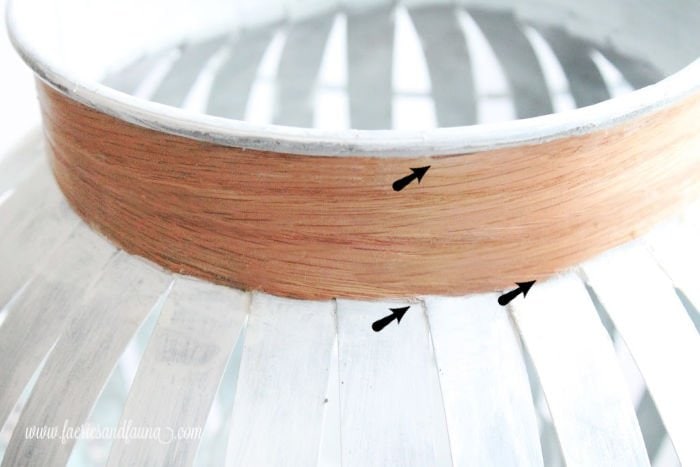 Finishing the Lantern
Using 220 grit sandpaper and light touch sand off any glue residue from the veneer.
As a final touch, I sprayed on one coat of polyurethane.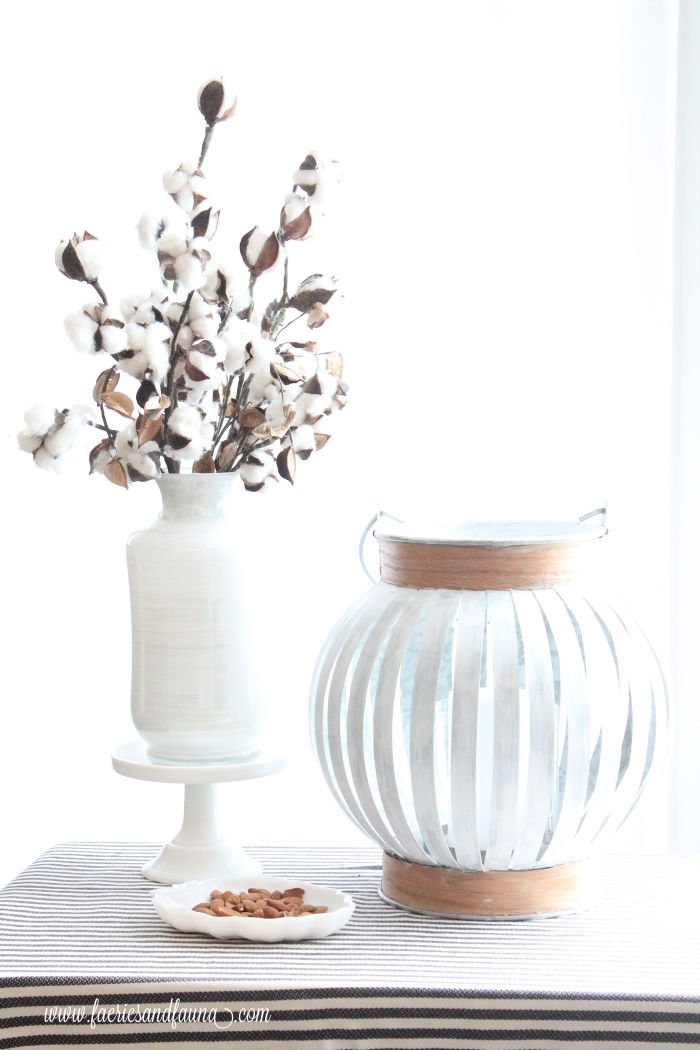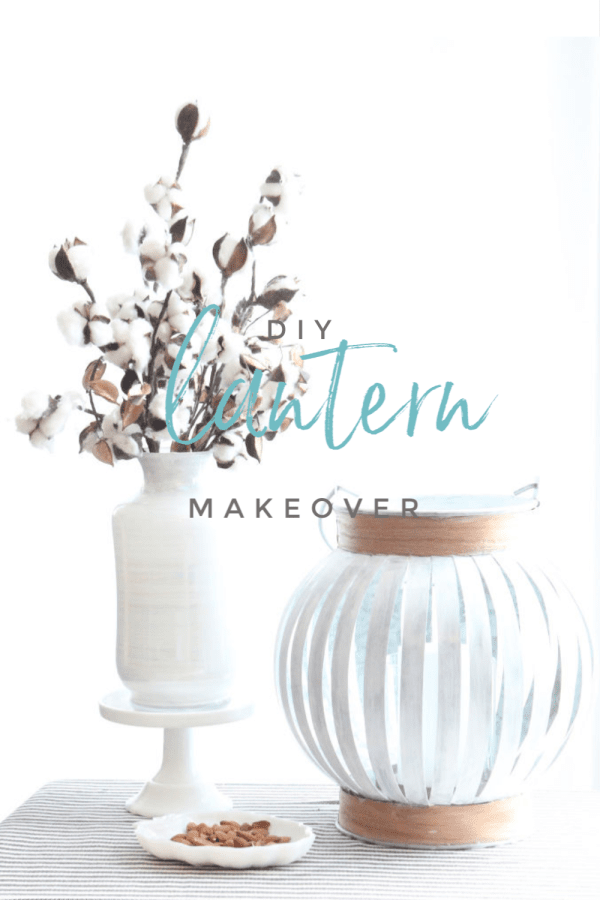 It's a simple little addition to our family room but I love how neutral it is, and the generic farmhouse style is going to make it a very handy addition to any of my seasonal decor ideas.

One of the best things about farmhouse decor is how easily it lends itself to DIY.