Hummingbird Cake a Classic Southern Recipe
This traditional hummingbird cake recipe is the base for these super moist hummingbird cakes in a jar. The mashed bananas make it so moist and the option Skor topping adds texture. You can even freeze them and place them in your cooler to keep other foods cold and thaw on the way to your picnic.
For smaller families, a large cake is often too large and such a shame to let it dry out unused. One modern idea that works very well is either baking or serving the cakes in mason jars. For this hummingbird cake recipe instead of creating a large cake, this cake is layered into 8 mason jars and froze it in single portions.
I admit rather large single portions but Hubs loves it. If you prefer, you can make two layers and serve them in smaller 250 ml jars.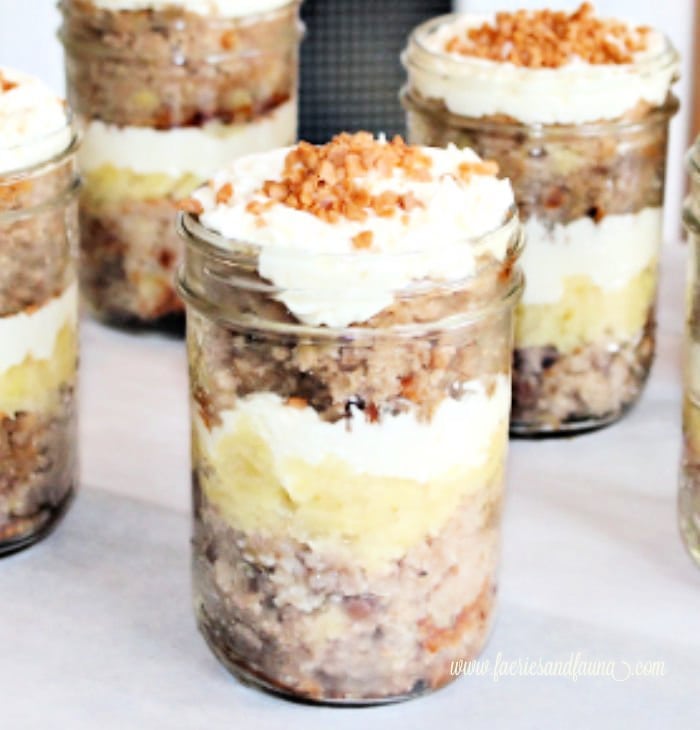 Hummingbird Cake Recipe
Start by mixing the cake batter and baking the hummingbird cake.
Preheat oven to 350. Prepare 13 by 9-inch pan with butter and flour, set aside.
To make the cake:
In a large bowl add all the dry ingredients:
3 c flour aa 1 tsp soda
2 c sugar aa2 tsp cinnamon
1 tsp salt
Blend together and make a well in the middle.
In a second bowl mix the wet ingredients.
3 eggs
1 1/2 tsp vanilla
1 1/2 cups oil
In a separate bowl, mash bananas, stir in pineapple, and the pecans.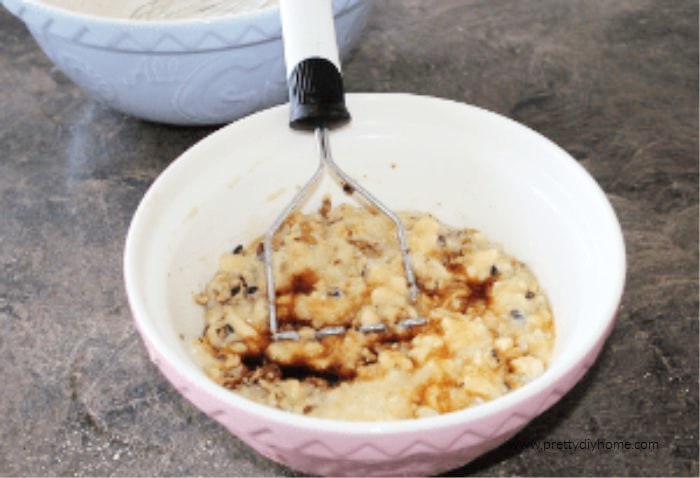 4 large bananas (2 cups mashed)
1 cup crushed pineapple (20 oz can drained save the rest)
1 cup crushed pecans
1 cup coconut (optional) My eldest loathes coconut so if he is home, I don't add it.
Mix the banana mixture into the wet ingredients. Blend well.
Add the banana mixture to the dry ingredients. Stir until just mixed and pour into prepared pan.
Bake at 350 for 25-30 minutes, until light brown. Let cool.
I layered my cake with cream cheese icing, but whipped cream or ice cream will work too.
Cream Cheese Icing Recipe
In a stand mixer cream together:
8 oz cream cheese 1/2 cup butter
Beat until very pale yellow.
Add
3 cups icing sugar 2 tsp vanilla
Start the mixer on low (or face the mess). When combined turn the mixer back on high, push down the sides occasionally and whip until very fluffy. About 10 minutes.
Assemble into Jars
You will need 8 wide mouth 500 ml (pint) mason jars.
1/2 cup praline (Skor) bits
Remaining drained pineapple (1 cup)
Using a large round cutter cut the cake into circles, place 1 layer in each of the jars.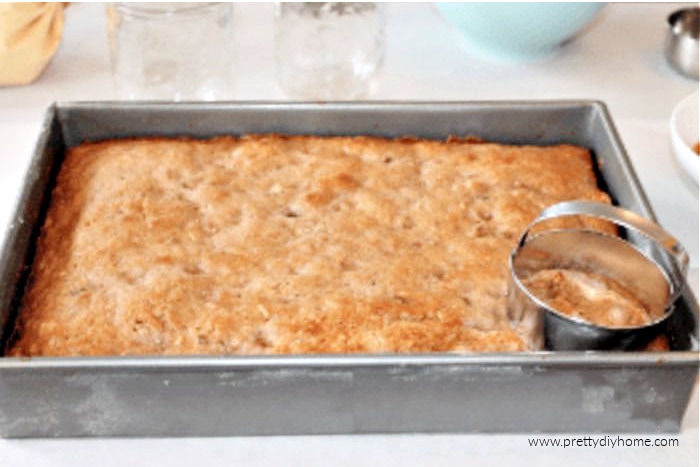 Layer with 1 tbsp pineapple, then the icing and 1 tsp praline (Skor) bits.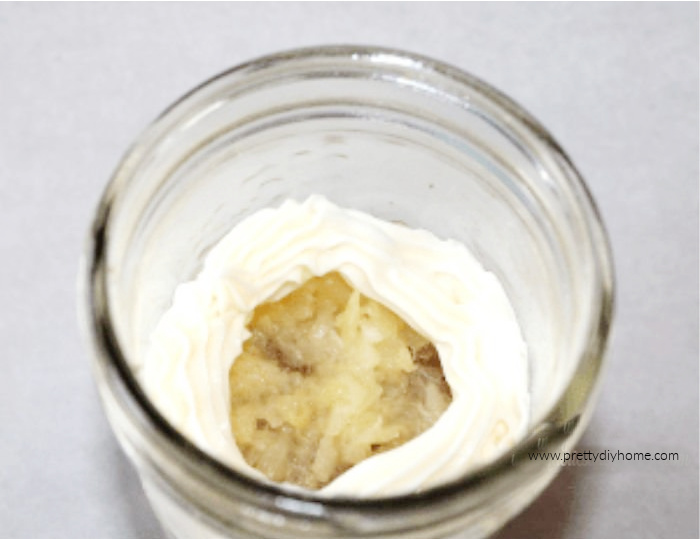 Repeat with a second layer.
Serve right away, or cover with plastic wrap then the jars lid and metal seal. Pop in the freezer.
To serve let thaw in the fridge. for several hours.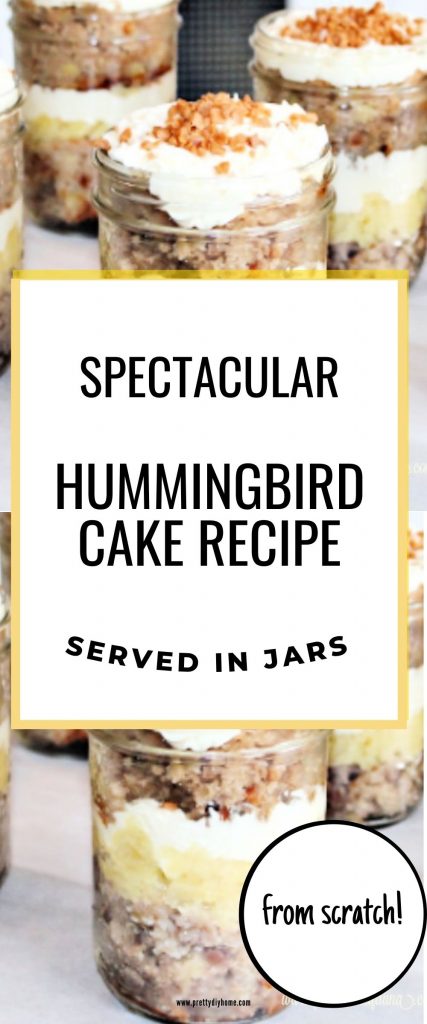 Preheat the oven until 350F. Grease and flour the inside of a 9 by 13 inch pan.

In a large bowl mix together the flour, sugar, salt, soda, and cinnamon. Make a well in the center.

in a second bowl mix together the eggs, vanilla and oil.

Mash the bananas,and pineapple together. mix in the pecans.

Mix the banana mixture into the oil mixture. Blend well.

Add the banana oil mixture into the well of the dry ingredients. Stir until just blended. Pour into the butter and floured pan.

Bake at 350 for 25-30 minutes, until light brown. Let cool.
Place the cream cheese and the butter together. Mix until it becomes very well mixed and a light yellow. Add the icing sugar and vanilla and mix on high until light and fluffly