DIY Cake Stand Upcycle
This DIY cake stand upcycle project inspiration came from a gift I shared with my daughter in law. Our taste is identical which makes her super fun to shop for, but sometimes I'd rather keep the gift for myself. Case in point is this pretty DIY cake stand I bought from the Interior Frugalista. As you can see its gorgeous, and one of a kind. I did manage to gift it to my daughter in law, but remained inspired.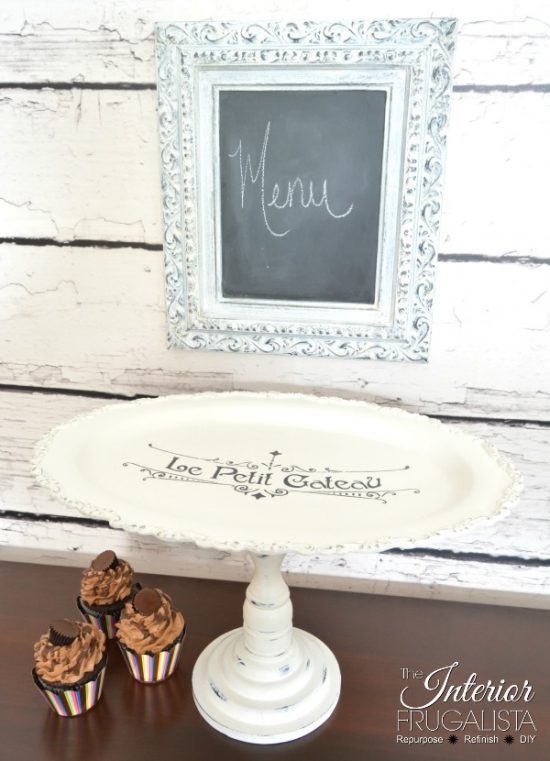 I kept the idea in mind and soon find this little candle holder with cherubs and instantly knew I found the piece I needed to make my own cake stand. Then I needed to find a top portion.
My first attempt at upcyling this large candlestick was spraying a dollar store metal bowl. The bowl idea failed terribly the paint somehow wrinkled really badly. Maybe the paint was too cold or faulty, I have no idea what it did wrong. Toss the white paint and metal bowl and start over.
The candle holder hit the storage shelf for a couple more months until I bought a thrift store silver platter that had seen its better days. I promise I followed Marie's advise and made sure it wasn't sterling silver using a magnet. It wasn't magnetic so it wasn't stirling.
Starting over I bought gorgeous metallic pink spray paint even the name Champagne Mist says "girl".
Two light coats of this paint leaving four hours between coats worked very well. So glad there was no paint run as I had no ability to sand this intricate candle holder. After the fiasco of the first attempt I was thankful it went on so well.
I didn't think the entire cake stand would look good in metallic pink, so I spray painted the silver tray with rustoleum chalk white paint I had on hand. Leaving it to dry well between coats.
Putting the Cake Stand Together
I am not sure if the little cherub stand is a type of plastic or plaster, either way I was scared to drill into it in case the inside was hollow and it cracked. Taking the safer route I glued a little piece of wood into the center and then glued the plate to the wood and to the outer sides.
After applying the glue, I placed the painted silver tray on top. I then added several cans of food on top for weight and let it the glue dry overnight.
It's not as lovely and high as the cake plate I gave to my girl, but it will add a different height to any dessert table set up.
To use this stand for food I will always place a small protective pad between the cake plate and this cake plate stand. Doing it this way I used it and was able to wash it off without any problem.
I will always have to take extra precautions with it. None the less I love it and it's one of a kind.
This is one of those no downside projects, you get a one of a kind plate exactly the way your want it. You can build them outside of the manufacturer's typical height specifications. They are really inexpensive to put together and you put an item back into service again.
I hope you like the idea and make one of your own.