Strawberry Cupcake Recipe Decorated for Children
Strawberry Cupcake Recipe Decorated with Cotton Candy Nests
This strawberry cupcake recipe is delicious for adults when served plain. A simple white cupcake, filled with fresh strawberries and topped with all natural strawberry buttercream icing. They are pretty with the simple soft pink strawberry icing piped in a swirl on top. I confess I ate one before I decorated the rest with the candy nests as I am very allergic to the cotton candy. I promise these strawberry cupcakes taste great plain. But for kids, we are going to add some fun.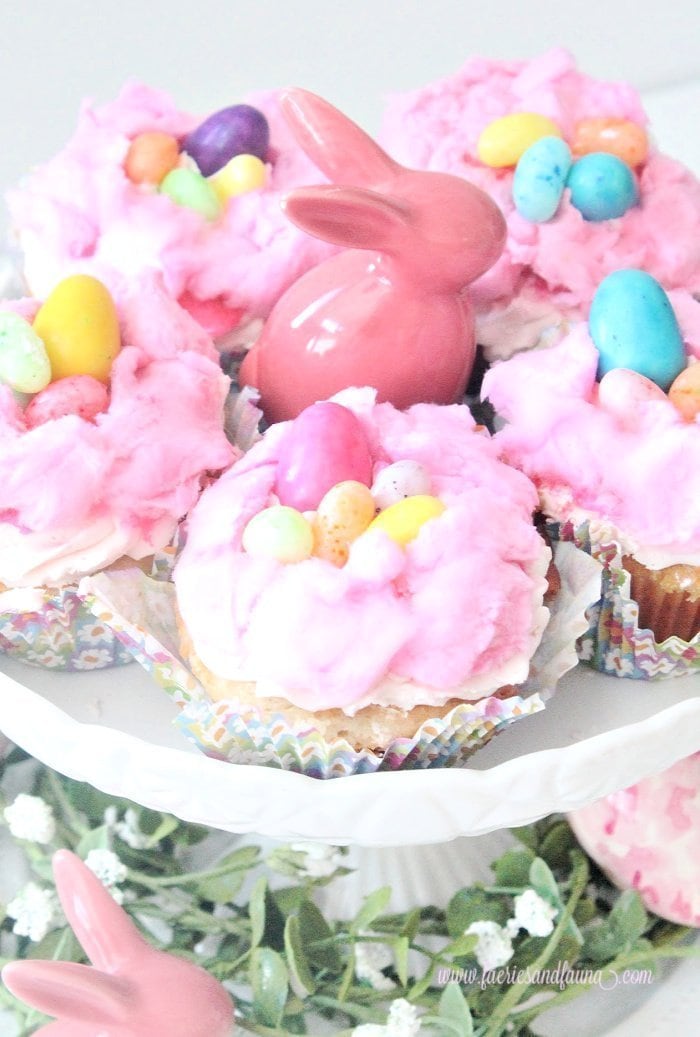 These cupcakes are dressed up with Cotton Candy nests that look like little clouds, with one large and two small candy eggs in bright Spring colours.
Making Strawberry Cupcakes
To make the cupcakes I have included a one bowl white cake recipe I have had forever, but you can absolutely switch it out for a cake mix. Children certainly won't mind.
The recipes for the cupcake batter, the fresh strawberry filling and the all natural strawberry buttercream icing are farther down in the post.
While the cupcakes bake, make the fresh strawberry filling.
While the cupcakes cool, make the icing.
Filling the Strawberry Cupcakes
To fill the Strawberry Cupcakes, cut out the center of each cupcake using a cupcake corer or a teaspoon. Remove a piece of cake from the center of each cupcake. Place a teaspoon of icing in the bottom of the cupcake and then fill the center with strawberries before replacing the cupcake top.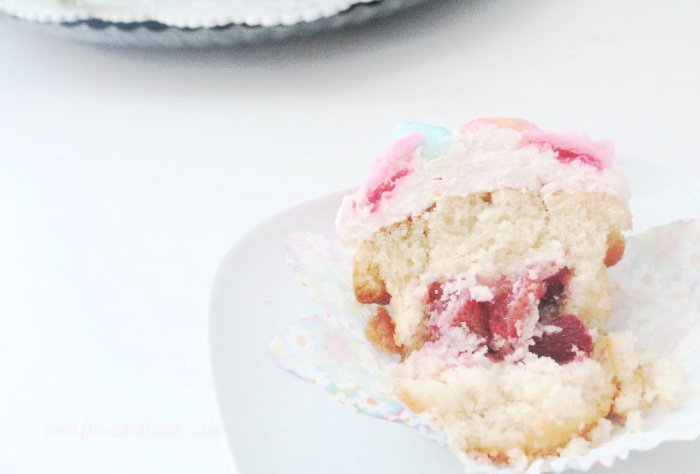 Icing the Cupcakes
If you have a pastry bag for icing cupcakes, fill your pastry bag and add any large cupcake tip you like. Make a swirl of icing on top of each cupcake. If you don't have a pastry bag, ice the cupcake with a know making sure there is a thick coating of icing on each cupcake.
I purchased my cotton candy at the dollar store so the texture is more like soft clouds of fluff than the long sugar whisps you see on a cotton candy on a stick. Using whatever type of cotton candy you have, place it around the outside perimeter of your cupcake.
Then add the eggs in the middle.

These cupcakes are bright, colorful, full of strawberry flavour and have candy topping.
You may have noticed the double layers of cupcake papers. As I wanted to use bright floral cupcake liners for these, I wanted to make sure the colouring in the paper did not transfer to the cupcakes because of my silly allergy. I was hoping it wouldn't show in the photos but unfortunately, it did, I could either take photos of the oh so plain white liners or use the colourful ones as well. What can I say, allergies are awful.
My Hubs finds cupcakes dry, so whenever I make them I put in some sort of filling to make him happy. Here is another filled cupcake recipe I hope you enjoy.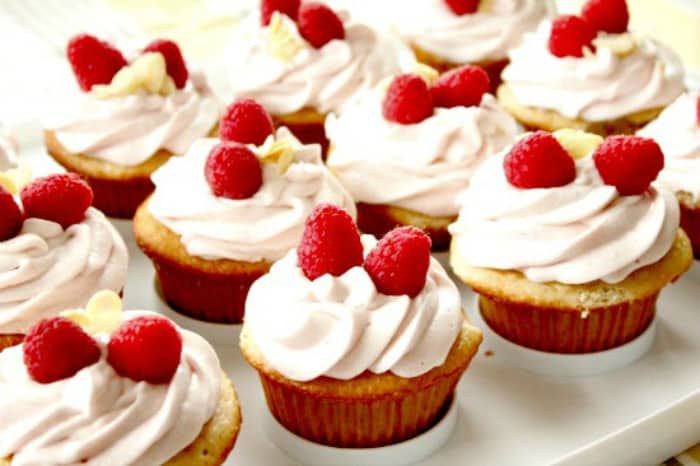 Vanilla Cupcakes with Apricot Centers and Raspberry Mascarpone Icing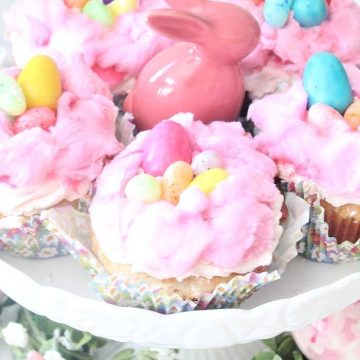 Easy One Bowl White Cake Recipe
This is a very easy to make one bowl white cake recipe. If you're wanting to make a filling or an elaborate icing it's nice to cut down on the dishes and make a simpler one bowl cake. Its a good alternative to a purchased cake mix and it uses basic on-hand ingredients.
Print Recipe
Ingredients
2

cups

flour

½

tsp

salt

3

tsp

baking powder

1

cup

sugar

½

cup

butter

softened

¾

cup

milk

2

eggs

1

tsp

vanilla
Strawberry Filling
1

lb

fresh strawberries

½

cup

white sugar
Strawberry Butter Cream Icing
1

cup

butter

4

cups

icing sugar

¼

cup

strawberry juice
Instructions
Preheat the oven to 350 F. Line 12 cupcake tins.

Take out a large bowl and add the dry ingredients, flour, salt, baking powder and sugar. Blend together very well to distribute the baking powder.

Make a well in the center of your dry ingredients. In the well add the softened butter, milk, and vanilla. Stir the wet ingredients together inside the well first, and then widen your beating strokes to incorporate the dry ingredients. Add your eggs one at a time and beat together well after each addition.

Once your cupcake batter is mixed, pour the batter evenly into the prepared cupcake cake pans. Bake at 350F for 20-30 minutes until golden. Remove from oven and let cool before using.

If making cupcakes, this recipe will make one dozen. Bake cupcakes at 350F for about 20 minutes until golden.
Fresh Strawberry Filling
Wash, hull, and then slice strawberries into a medium sized saucepan.

Measure the sugar into the saucepan and stir to coat the berries.

Place over low heat and cook until soft. Stirring the berries to prevent burning.

Once cooked, strain the juice from the berries into a bowl, and the strawberries into a second bowl.
Strawberry Buttercream Icing
Place the butter in the bowl of your electric mixer and beat on high until it becomes a light yellow colour. This will take a couple of minutes. Turn the mixer off.

Add the icing sugar, and blend on low speed until incorporated.

Pour 1/4 cup of the strawberry juice into the bowl. Turn the mixer onto high and beat for several minutes until the icing is fluffy. If your icing is too stiff add another tablespoon of strawberry juice and mix. Repeat is needed.