Wooden Heart Craft for Valentines
Easy Wood Valentines Craft
This DIY wooden heart craft is a really easy Valentine's craft idea. Its very easy to make and because its made from wood, it will last for several years. Its a beautiful yet easy to make Valentine decor or even a Valentine's gift idea. The wood heart only takes about ten minutes to create.   I purposely avoided using red so you could use the Valentine for a Spring decoration, or to decorate a child's bedroom.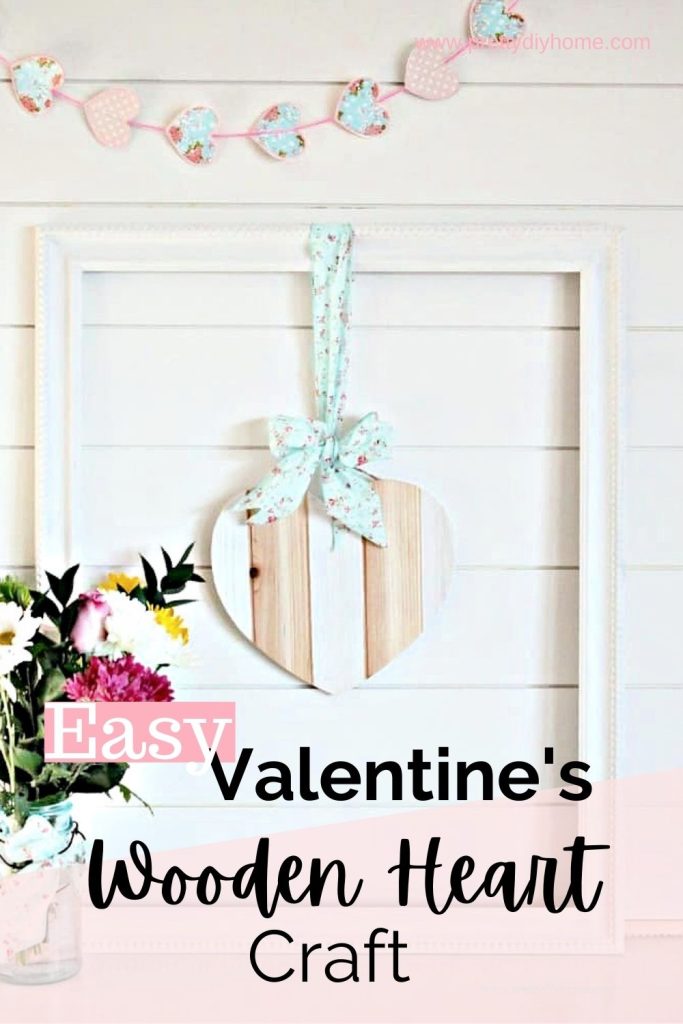 You will need a pre-cut heart that are available from Michaels or the dollar store.  This one is from Michael's  and I using a coupon it was $4.50 in Canada.  I did see something similar at the dollar store, but for the two dollars difference I wanted the added texture you can see in the wood.
Wooden Heart Craft Supplies
Wooden heart cut out
White chalk paint
Pretty 2″ wide wire ribbon
Large picture frame
Prepping the Wood Frame for Hanging
You don't have to hang your wooden heart craft from a frame, it will look pretty all on its own, but I recently purchased a very ugly frame from the junk auction and decided to give it a quick update.
Step One was to put on gloves to remove the icky smoke coated canvas.
Then get busy washing the frame and any hanging hardware the wood frame may have. Let the frame dry very well, and then apply three coats of white chalk paint.
d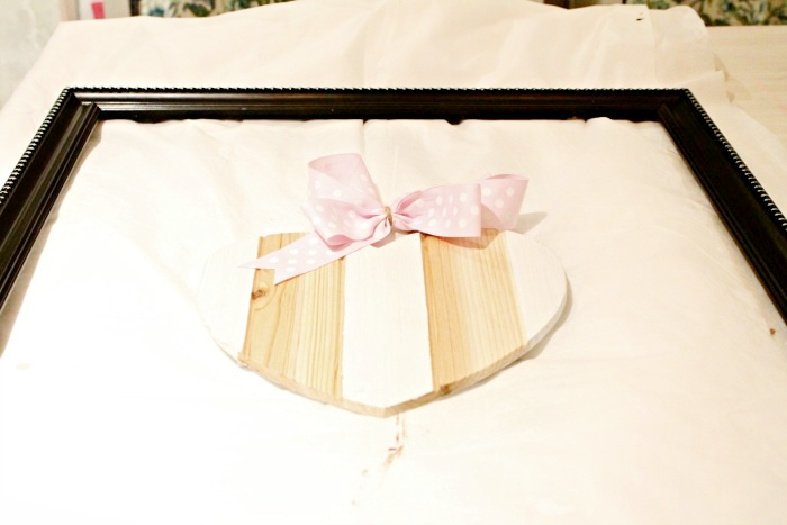 Painting the Wooden Heart Craft
The wood grain of this wood heart had almost panel like sections making it very easy to paint. Instead of taping off the stripes I was able to cut the edges with a small paint brush. I applied two coats of paint allowing it to dry between coats. The plain sections were left as is.
Once the paint is dry, apply two coats of wax to all the surfaces of the Valentine heart.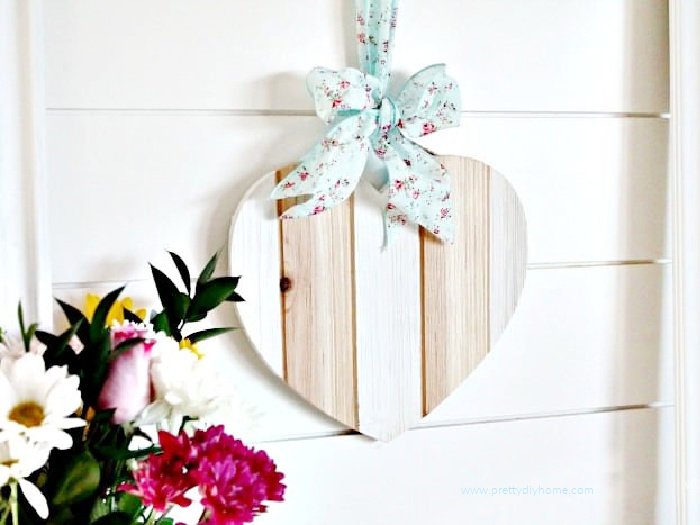 Lay the painted frame onto a flat surface.  My wood heart had a metal hanger on the top.  If your doesn't use a staple instead.  Leave a one foot tail, wrap the ribbon around the burlap on the heart and around the frame.  Then using the one foot tail and the second part of the ribbon, tie into a pretty bow.
I do really love the tradition pink blush colours of Valentines, if given my choice I would have pinks and plum decor year around, Hubs is not a fan. Its really fun to have an excuse to create all thing pretty and feminine for Valentines day, I hope you are able to find some time to enjoy it as well.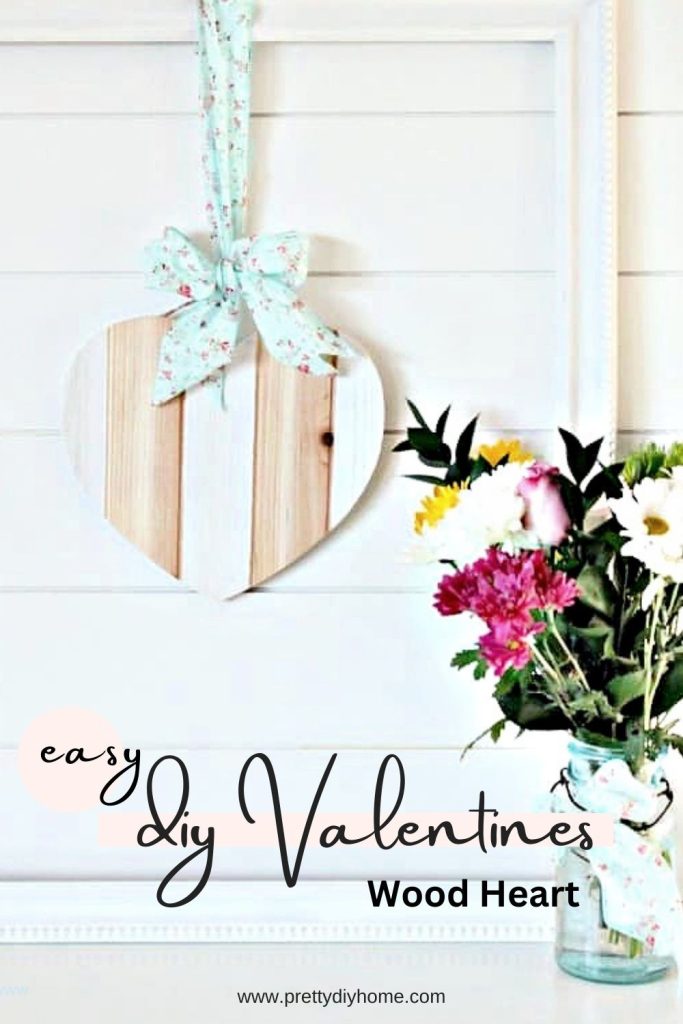 I have a Appetizers and Finger Foods board on Pinterest where I collect my favorite recipes for snacks and appys. If your looking for something delicious for appetizers or snack ideas check it out.
I would love to hear what your Valentine celebrations consist of.   Do you do anything really special?
Other Valentine's Day Crafts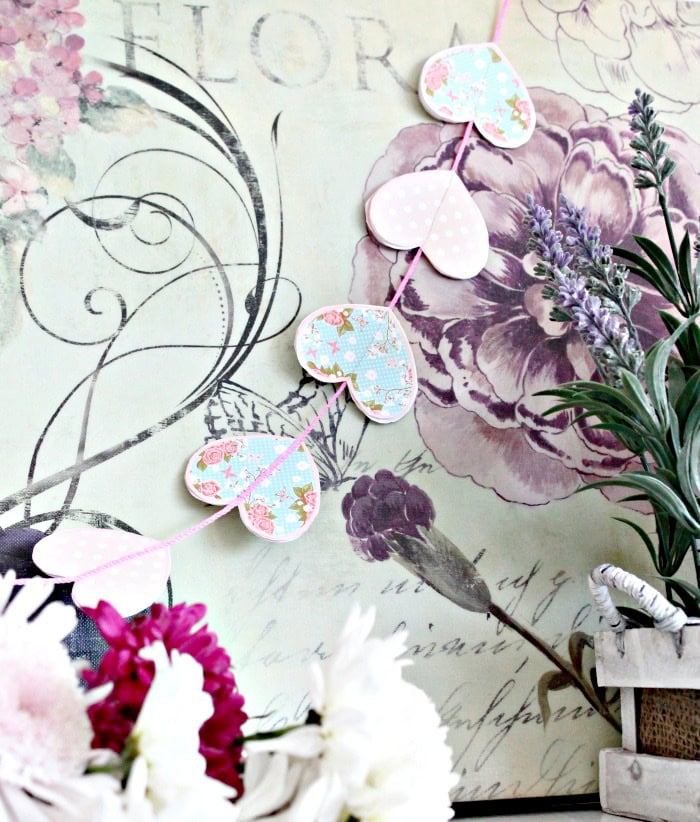 Free Valentine Printable Banner Craft
Here is the printable tutorial and templates for the little Valentine banner craft you see hanging over the wooden heart. The banner is printed on plain cardstock and cut out, no need to purchase patterned paper.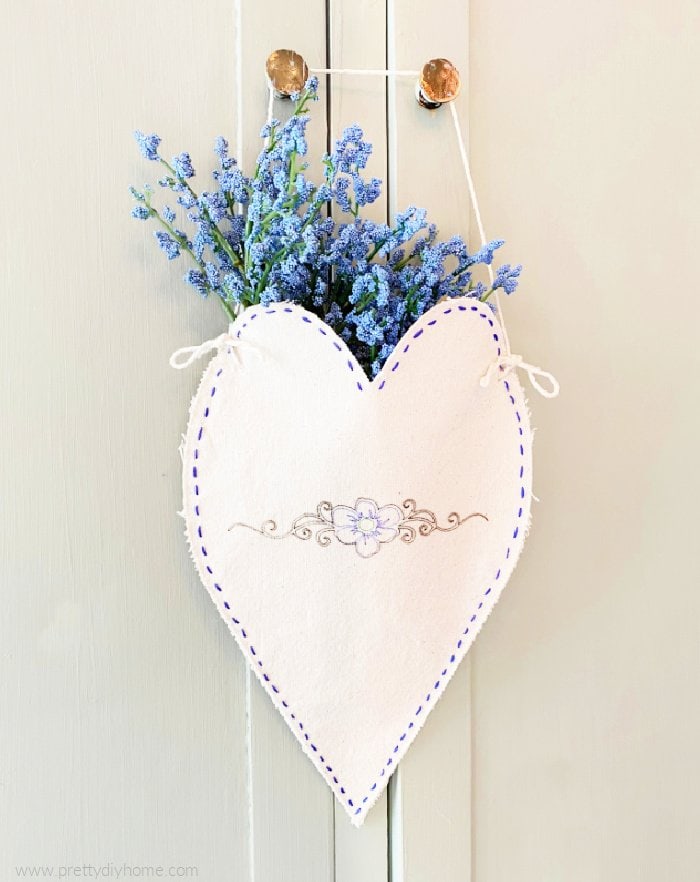 Home Valentine Decoration Craft
You can make this pretty Valentine craft with a Cricut or without. If you have a friend or loved one who enjoys farmhouse cottage style like I do, they will love this thoughtful DIY Valentine gif idea.
I hope your Valentine's week is a good one! Whether you celebrate it as a family as a happy single or a couple. I hope your week's fabulous for you!