A 10 Minute DIY Farmhouse Table Runner and Different Ways to Use Them
How to Sew a 10 Minute DIY Table Runner
DIY table runners are a very easy sew project and in today' post I am showing you the easiest and least expensive way I have ever found to make a fabric table runner. If your a decor enthusiast you likely have a mountain of trays stashed somewhere for vignettes. I have a few but not never as many as I wish, but table runners are a low price alternative especially if you make them yourself.
This ten minute craft is so simple that an actual step by step tutorial isn't necessity. The secret to making a 10 or even 5-minute table runner is purchasing cotton tea towel material from the fabric store.
Tea towel cotton fabric is either cotton or linen, often in farmhouse patterns like plaid or buffalo check or stripes.
You can purchase the fabric in any length you like.
Tea towel fabric comes in a perfect narrow width, about 18″ wide.
You can ask them to cut the tea towel fabric to a specific length.
And the best part, the two side seams come presewn and hemmed.
To finish the runner, you make two small seams, and then sew or glue them closed. Roll the fabric over at 1/4 inch press and then at 1/2 inch. Press the hem, and sew or glue with either stitch fix or hot glue and you're done.
In this picture, I used one of the DIY table runners to brighten up our dark couch that I love, the buffalo check runner adds contrast to my favorite Halloween cushion.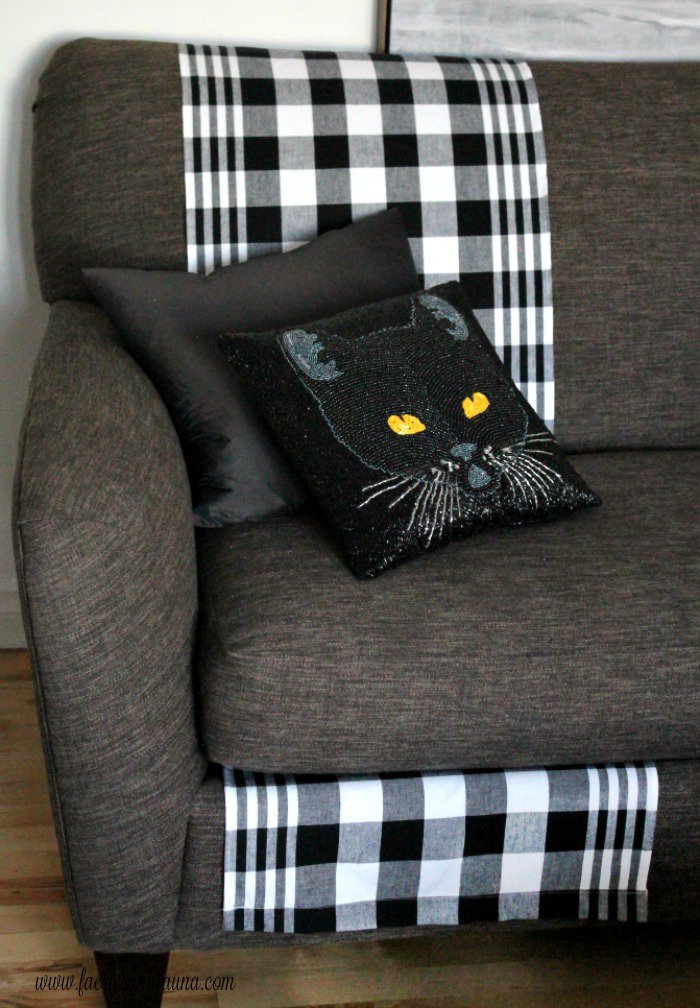 I did something similar to one of the other DIY table runners. This time its a farmhouse style runner with a thin red stripe.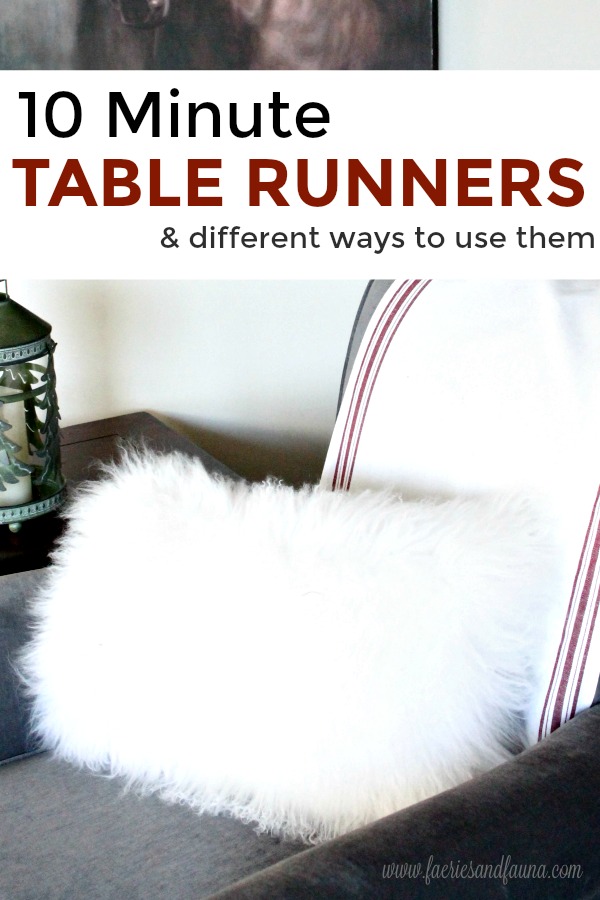 These cotton table runners are perfect for farmhouse decor, or Christmas decorating in a farmhouse style. The store was sold out of the fabric, but I hope to find more. When making your own, you could make a small one to use inside the tray as well.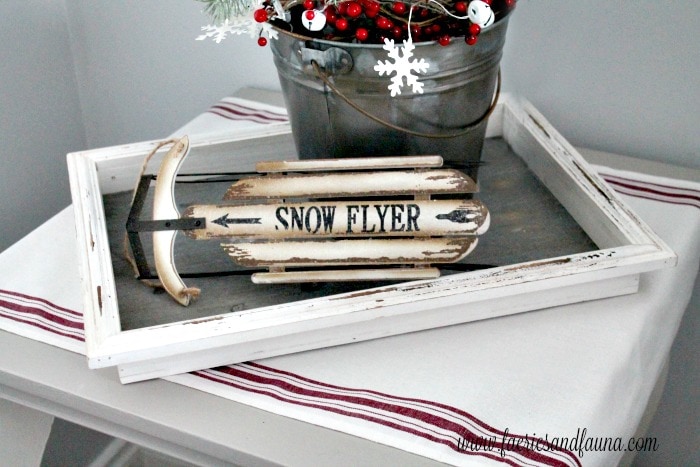 Different Uses for Table Runners
Here are some earlier examples of ways to use table runners. Table runners have been around for a long time and for good reason. Table runners are an easy way to cover scratched surfaces, protect wood furniture, add colour to a vignette, and are an easy inexpensive addition to holiday decor.
Use your table runners on their own, layer them with other linens, place them inside trays. Place them vertical, horizontal or on an angle.
Inexpensive Seasonal Home Decor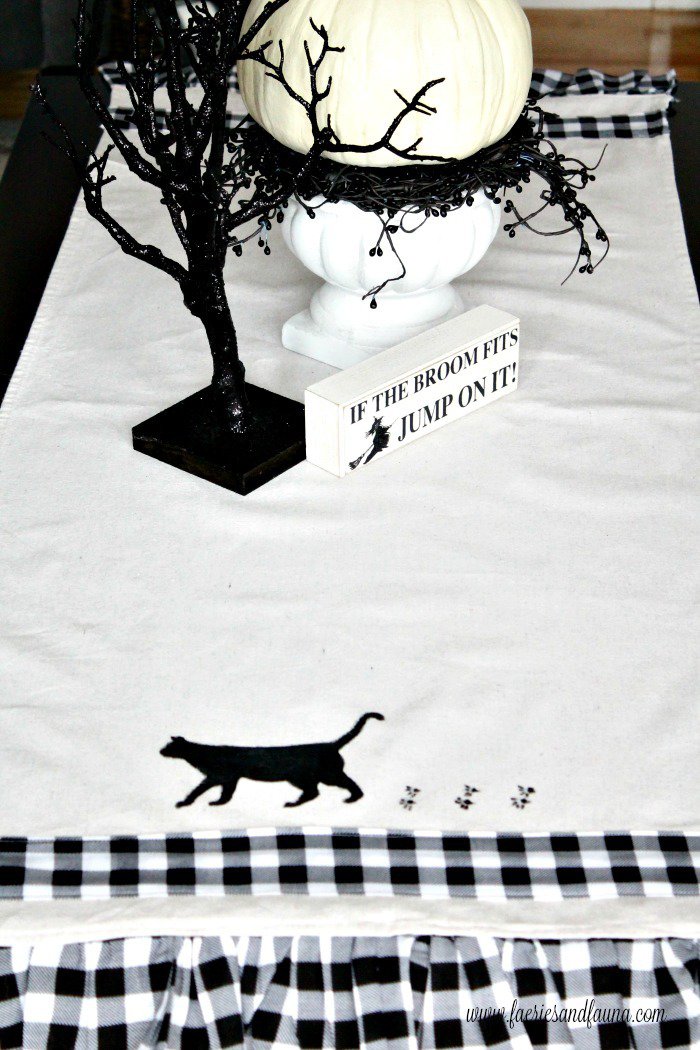 This black cat DIY table runner is sewn from drop cloth and dollar store towels, the little black cat crossing is painted.
Protecting a Wood Table from Heat
Placing table runners on your table looks so much nicer than heat pads to protect your tabletop when serving meals. This Christmas tablescape for the kitchen used three table runners.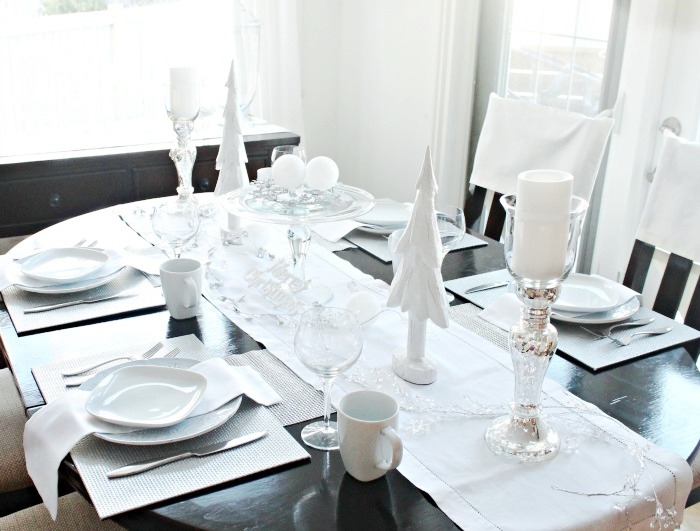 Place a Table Runner on the Bed for Colour
I admit the table runner in this pic isn't exactly coloured but gives you a recent example. You can add just a little strip of interest on your bed to coordinate bedding or give it a pop of colour. This bed has a buffalo check bed skirt, so the little bit of buffalo check is just enough and not overpowering I really like to replace the heavier throws with table runners in the summer when most people don't want the extra covers.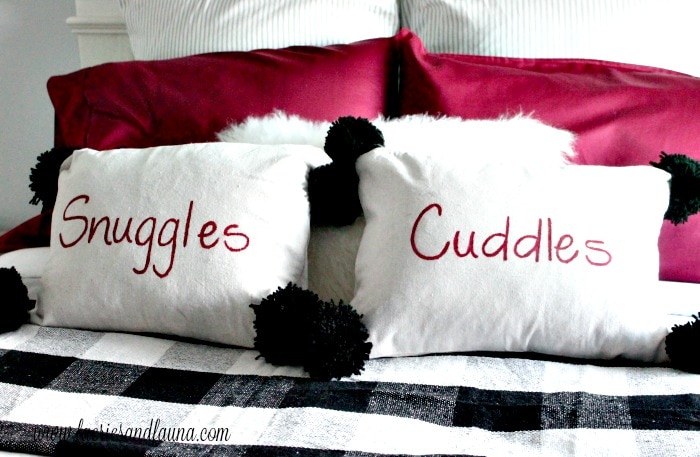 Preventing Scratches, or Covering Scratches
This front entry table is a very busy area in our home. It is the first surface you come to when we enter and spare keys, cell phones, packages, dog leashes all hit the surface on the way in the door. The table runner both protects the wood top and hides the scratches, and is a base for my seasonal front door decor.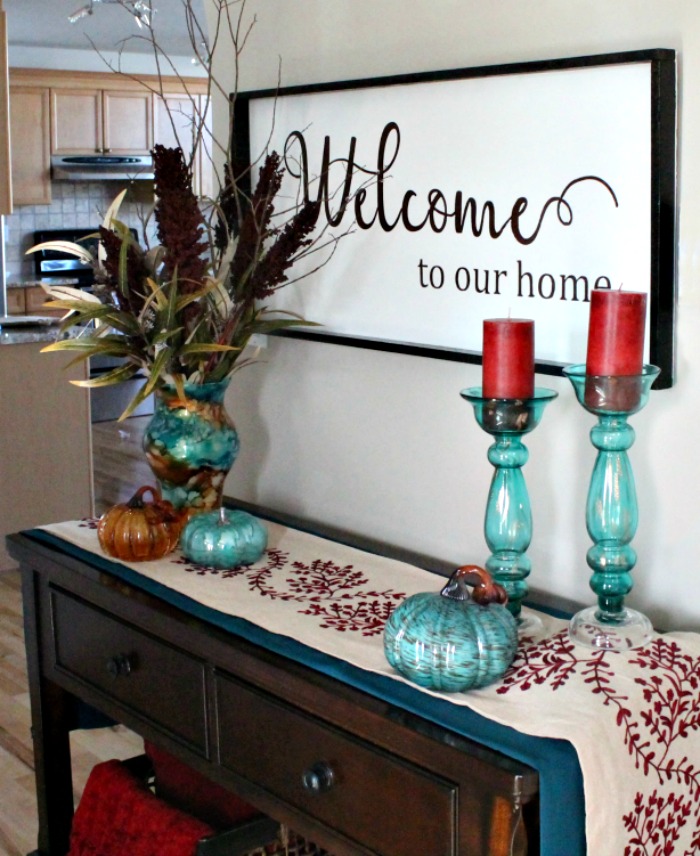 The teal DIY table runner is easy to make, but take longer than the 10 minute tea towel ones do.
Hopefully, you found the idea of using tea towels for table runners helpful. When I locate more fabric I will share other ideas I have. The fabric cost $28 for three metres of the tea towel fabric. It took me maybe 20 minutes to sew all four of them.