Easy DIY Fairy Garden
Once each month I join some of my favorite blogging friends in a blog hop. You will find the links to their posts at the end of my post. I am sure you will have a great time.
If you have joined me from one of the other Creative Maker blogs, thank you very much for stopping by.
This little fairy garden for Easter can be whipped up in ten minutes or less. It takes more time to gather the supplies than it actually does to put the fairy garden together. You don't need to get dirty and its super safe for children to do. There is not hot glue gun needed just some tape and toothpicks.
c
Fairies love the wide open air, so instead of placing this fairy garden inside a cloche, it contains a miniature teacup setting inside a birds nest.
In the interests of time and a more than average brown thumb, this fairy garden is made of faux everything. The inspiration for it was this little moss covered bunny I found in my stash. He reminded me of what a fairy Easter bunny would look like so I ran with the idea. I think he is just beyond adorable.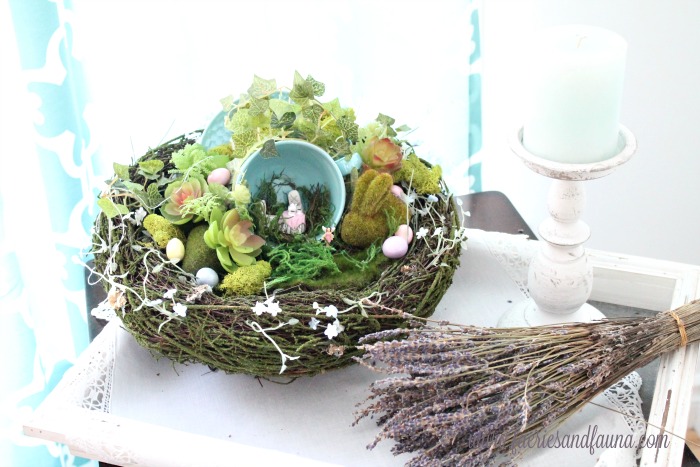 The next stop was to Michael's fairy and succulent section, where I found the moss rocks and some fairy miniatures.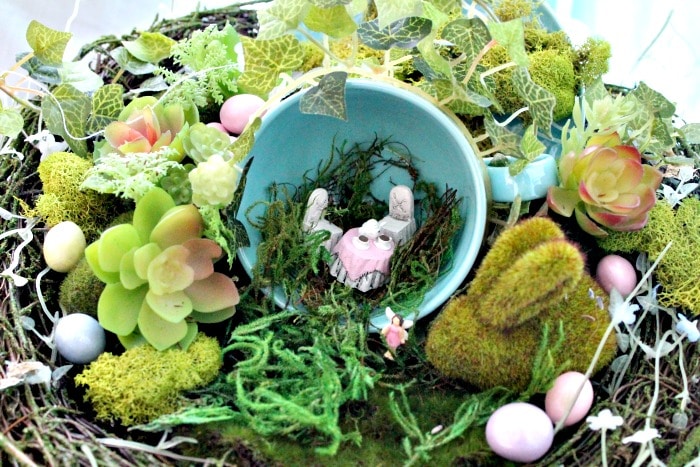 How to Make the Easter Fairy Garden
To make one of your own you will need.
Large nest
Pretty teacup
Tiny fairy and tiny fairy accessories
Moss covered Styrofoam rabbit
Moss covered Styrofoam stones (mine has succulents)
Pretty teacup
Various moss-covered stones
Faux ivy vines
Natural moss
Small Easter eggs
Tape and Toothpicks
DIY Fairy Garden Easter Arrangement Tutorial
Place a bed of moss in your nest.
Wrap ivy around the outside of the teacup and attach with tape at the bottom. Place your teacup and saucer in the basket.
Place a toothpick into the underside of your Styrofoam bunny to stabilize and then place him near the front of the teacup.k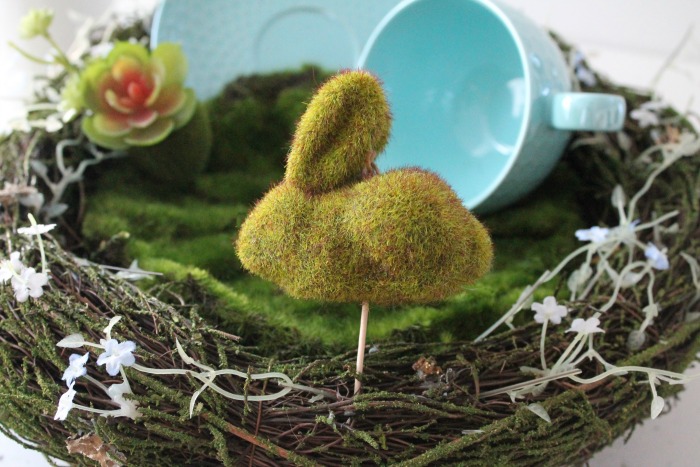 Add the Styrofoam rocks using toothpicks like you did the bunny.
Display some moss inside the teacup and add your fairy and her accessories. I love this tiny set because it even has a little tea service on top of the table. I love how it snuggles inside turning the teacup into a little covered patio.g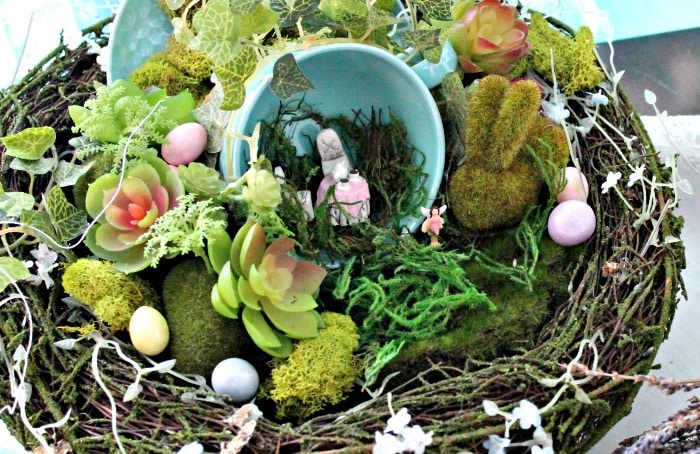 Finish your display by adding moss and greenery to camouflage any areas that don't look natural.
Finally add the Easter eggs, because it can't be an Easter bunny centerpiece without eggs, can it?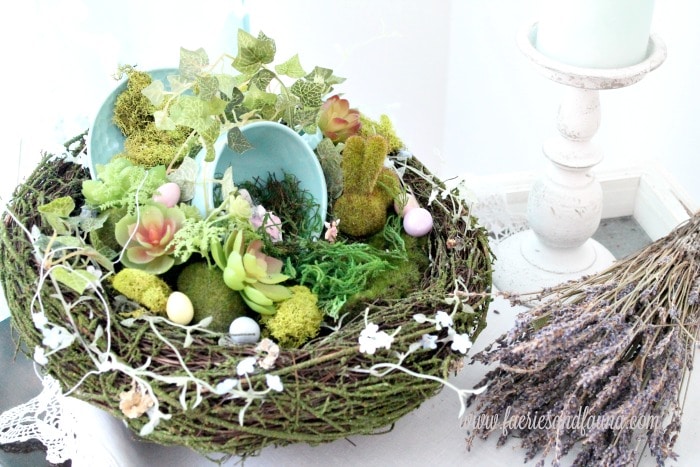 Some Other Ideas for Your Fairy Garden
This is a perfect little arrangement to bring some fun to the office setting, or to someone in the hospital. It causes no allergies, doesn't need sunlight and you don't need to remember to water it.
Or how about making this DIY fairy garden for a Grandmother for Easter. Purchase the items and her and her grandchildren can spend a few minutes designing the basket. It may not smell as nice as fresh flowers, but it will last much longer.
Make sure to check out these lovely blog posts from my talented blogging friends.
Creative Makers Blog Hop
Leanna | Faeries and Fauna
Katrin | Kreativ K
Janine | Happy Happy Nester
Michelle | Our Crafty Mom
Ashley | Modern Glam
Sarah | Creative Ramblings