DIY Felt Easter Flowers Centerpiece with Cloche
How to Make Felt Flowers for Easter Decorating
Blooms, blossoms, bunnies and all things Spring. That's what this little cloche Easter centerpiece says to me. You can create some gorgeous cloche ideas using flowers and long twigs but for today I am going to post an Easter centerpiece using a cloche, a bunny and some easy DIY felt flowers.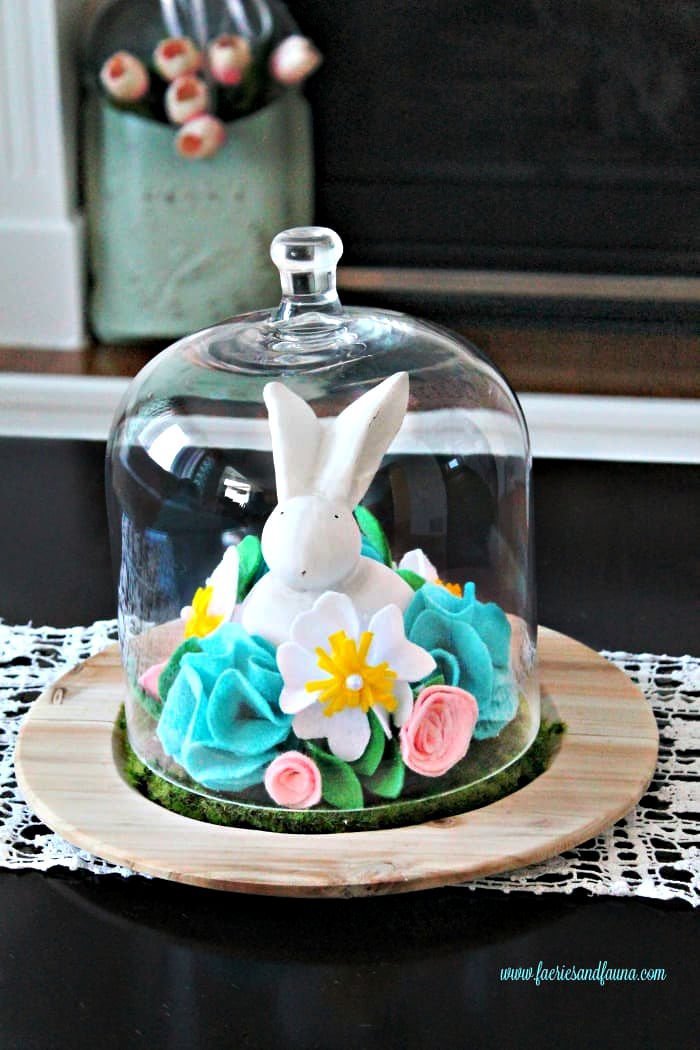 f
If you have a die cutter congrats I would love one. Using your die cutter make whatever flowers you enjoy. You will need a dozen felt flowers. Unfortunately, I recently had to purchase a new computer so there will be no new craft toys for Leanna anytime soon.
Instead of using a die cutter, I created a flower pattern for these flowers that you print and then cut out by hand. There are only a dozen flowers to make for this little centerpiece so it really wasn't hard to do and takes about an hour.
I like to have odd numbers for arrangements so I made three large rolled flowers, three small, three blue and three white flowers.
You will need four sheets of felt, blue, pink, white and yellow. Hot glue or a needle and thread. A rabbit, moss mat and a cloche lid (optional).
The Rolled Felt Flowers
To make these you cut them out using the hand drawn felt petals as a guide and then roll them starting at the inside.
Glue them with a little dab of hot glue as you roll and don't worry about making the rolls really tight. A loose flower turns out a little bigger.
The White Felt Flowers
Cut out six white blossoms, and one yellow center.
Starting with the white petals place a dab of hot glue in the bottom of the petal and pinch. (I placed the pinched end under a glass to hold it in place while it cooled.
Once the petals are shaped glue them to each other forming a flower.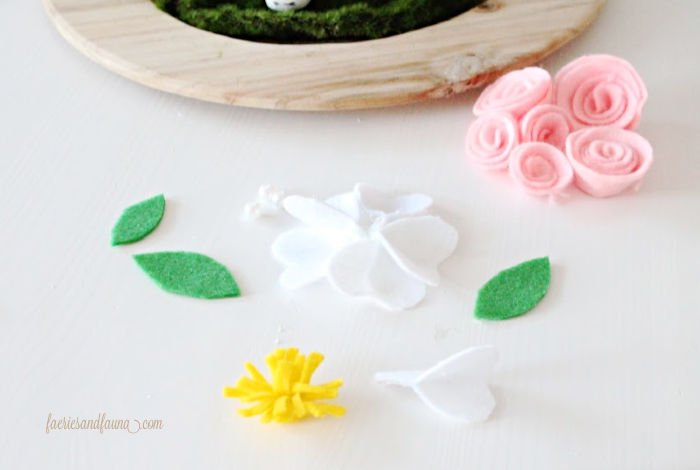 Take the long piece and run a thin line of glue along the bottom and roll up. Mess up the fringe and glue to the center of the white petals. Finally, make a centerpiece by gluing in some beads in the center.
The Blue Felt Flowers
Cut out five round pieces. Lay the first piece down, fold the circle into quarters, and place a dab of glue in the center point and let dry. Repeat with three more circles.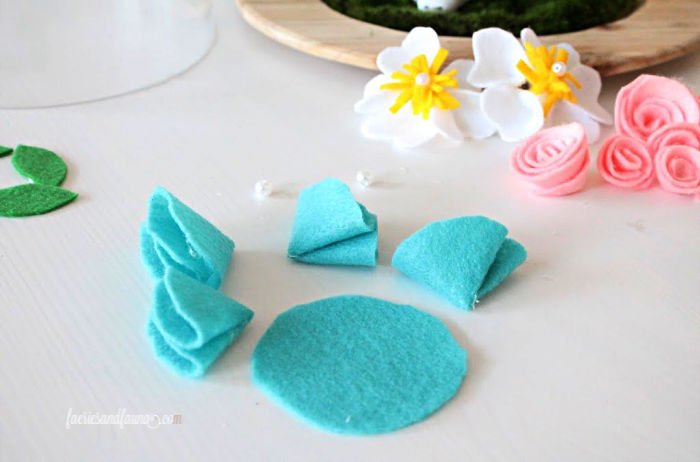 g
Finally, Lay one circle down on your work surface and place four folded circles in each quarter of the base circle. Once cool fluff the circles.
Once the felt if fluffed, add some beads to the center with hot glue.p

Felt Leaves
I did not provide a pattern for the leaves. To make, fold a piece of felt, cut a half circle shape out of the felt where the fold it. Place a dab of glue into the bottom of the leaf and hold in place. Place the pinched leaf under the glass while they dry.
Creating the Centerpiece
This part is really easy and I think children would enjoy participating in this part.
I started with a plate charger a moss mat. You can use a pretty plate, a log slice or a large nest, and fresh moss would work well.y
p
Place a rabbit in the center, starting with the largest flower place them in evenly on three sides.p
r
Next place the second largest flowers between the blue ones.y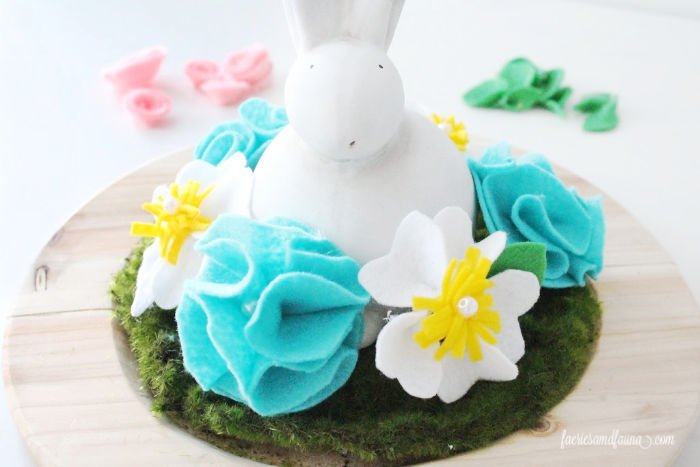 g
Work in the smaller rolled flowers and then the leaves where ever you see gaps.h
y
Take a look at your centerpiece carefully, if there are gaps showing through filling them in with the leaves. Once the gaps are full add the remaining felt leaves wherever you like.
Wrap your hands around the circumference of your floral display and squeeze to make the flower arrangement smaller.
f

Depending on the materials you have, your Easter centerpiece may be finished now. It's not necessary to have a cloche cover, but I am using one.
Cover with a Cloche
Starting at the back carefully place the back of the cloche down. As you lower the front of the cloche down, tuck in flowers.
u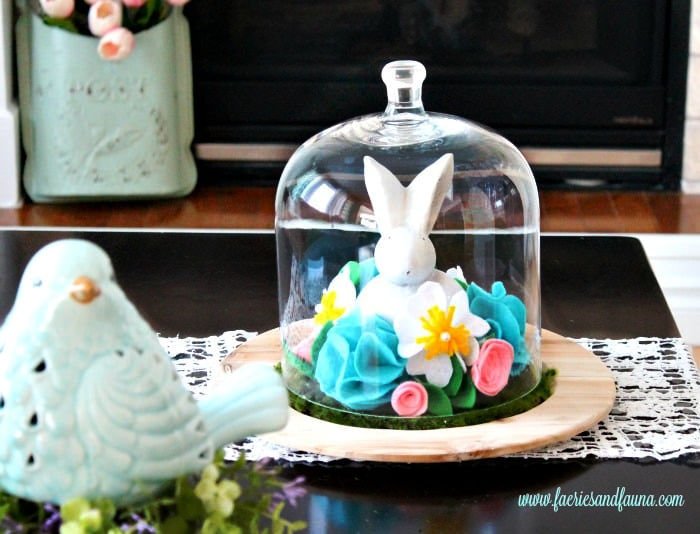 I really love how casual, bright and colourful this turned Easter centerpiece is.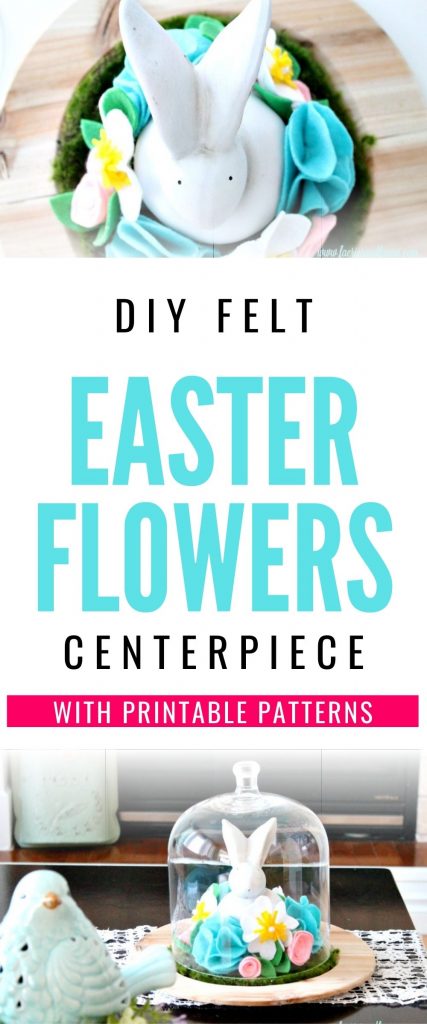 Easter is such a cheerful time of year, the soft colours and fresh flowers are so nice after a long Winter. Here are some other Easter decorating ideas I think you will enjoy.
An Easy Waterless Fairy Garden Easter Craft