How to Add Farmhouse Charm to Fall Decor
Farmhouse Fall Vignette
Welcome to our very first Farmhouse Hens Decorate Hop. As it is Sept 1st we chose to post about Farmhouse Fall Vignettes. The other Farmhouse Hen posts are located at the end of my post. I hope you are as excited to see them as I am.
Farmhouse Style
Farmhouse style is an incredibly hot trend and no wonder as it blends in with all kinds of other decor. Its totally acceptable to add little pieces of farmhouse decor for fun and it does not have to include a house renovation or a move to the country.
Adding a few well placed farmhouse style items in your home is all you need to bring the charm of farmhouse style to your living spaces.
a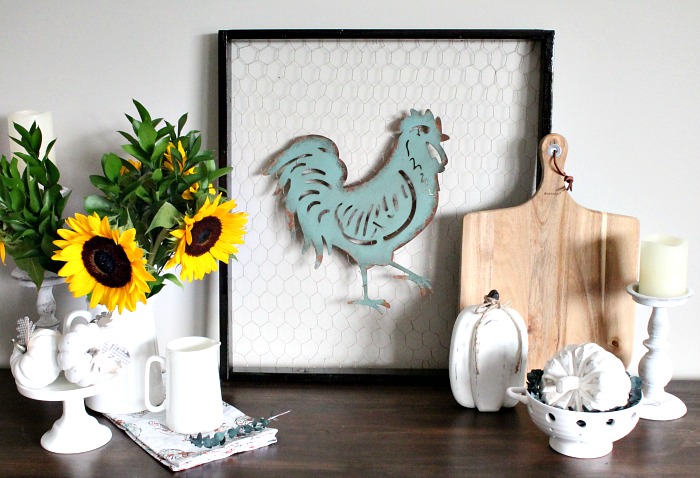 a
g
By its simplest definition, farmhouse decor is decorating with things you often see on a farm. Not only farm style animal decor, but solid wood furniture, diy furniture, hand made rugs, or curtains. Then there is enamelware , white ironstone, galvanized items, flour cloth cushions, home made art, fresh flowers from your yard and vintage items such as mason jars put into use again.
Farmhouse decor can also include larger items like farmhouse sinks, wood beams, white painted cupboards, planked walls, exposed wood shelves, hardwood floors and my favorite large front porches. Farmhouse decor does not need to have these large ticket items as small items mix very well with most other decor styles.
g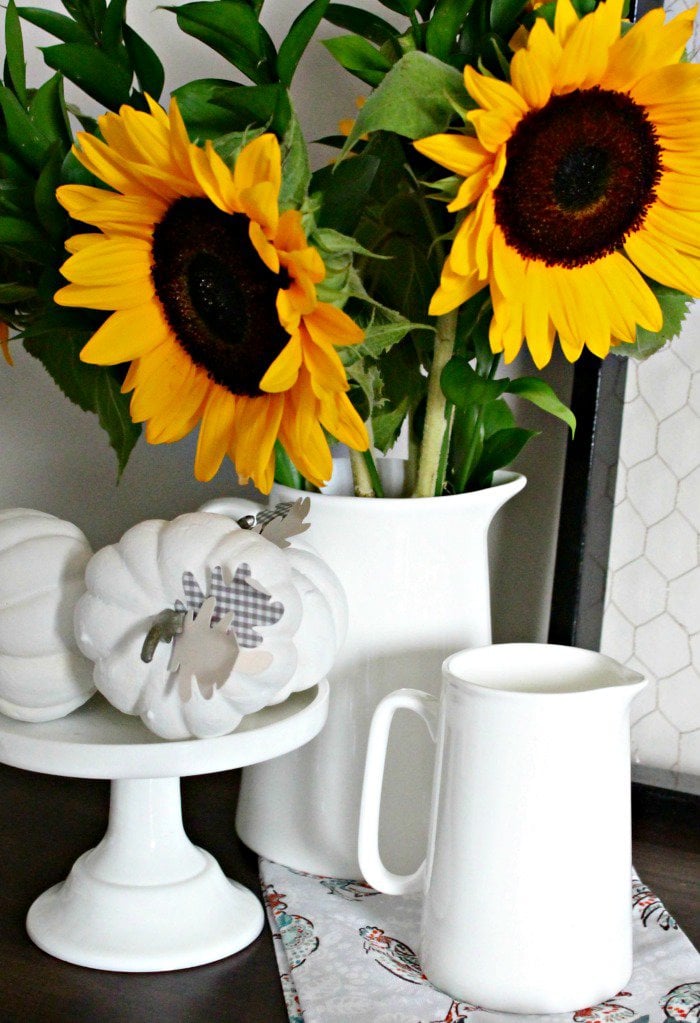 k
In the vignette I have taken a white ironstone pitcher (it says milk on the back) with my favorite fall flowers. The mini pumpkins are dollar store pumpkins chalk painted white with cut out paper leaves. They are left over place holders from last year.
z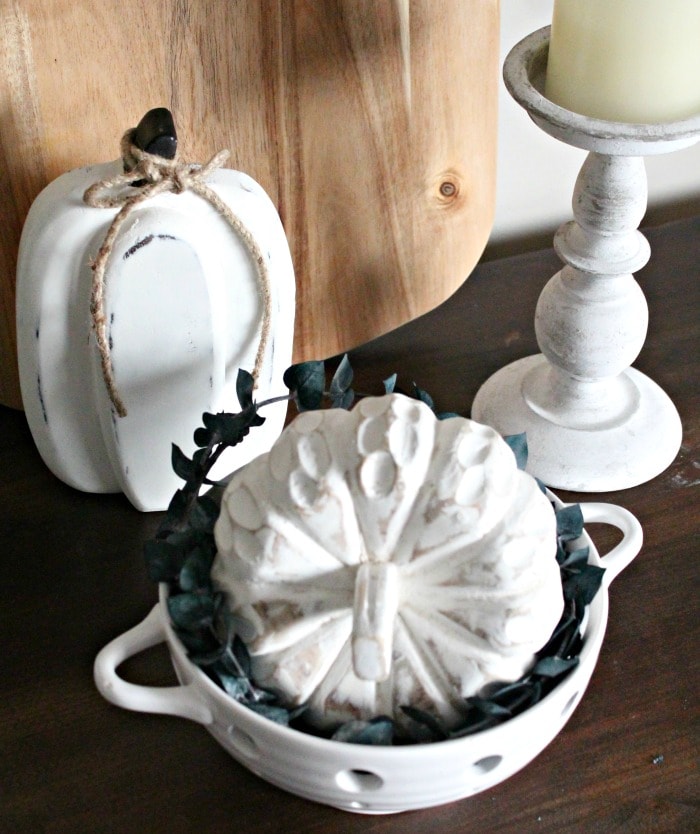 g
Where one side of the vignette is all about ironstone, the other side is all about wood. The wood pumpkin and apple are both Home Sense finds. I chose a berry bowl and filled it with a bedding of eucalyptus before snuggling the wood apple on top. The simple wood cutting board adds a little colour behind all the white.
The Chicken Wire Frame
I prefer to have a tall backdrop on vignettes placed against a wall. A large frame, or a piece of artwork works well for this. On my last trip south to the states I found the teal metal chicken at Hobby Lobby. I saw it and knew immediately what to make with it. The chicken was $4.50 in a half off sale and then 20% discount after that.
d
This little chicken wire backdrop is very easy to make and adds the height needed to group the vignette.
Tutorial
You will need:
1 – 8 ft length of 1 by 2
Chicken wire (dollar store)
Copper spray paint
Tiny bit of dark stain for frame
Metal centerpiece (chicken)
4 L metal angle brackets for frame
Nails, sandpaper, staple gun
Cut the 1 by 2 into two 21 inch pieces and two 23 inch pieces.
Form the pieces into a square and nail the corners together. Stain the frame.
Attach the corner braces to make the frame extra sturdy. You can skip this step if you prefer.
Spray paint the chicken wire as the plain silver wire does not look right for indoors. Make sure the wire is tight and staple around the edges as you work. The best method is to staple in the middle of all four sides then work outwards. Once you have the wire stretched and stapled, cut off the excess wire.
Wire the chicken motif in the middle. I actually used the cut off chicken wire for this. The motif was wired at the head, the tail feathers, and both feet.
a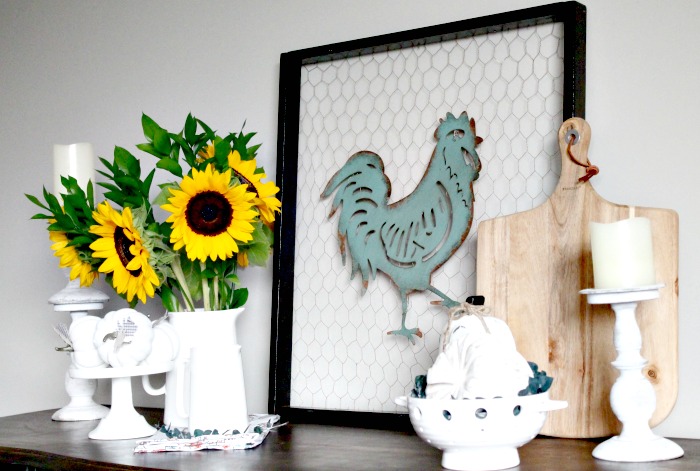 Let's see what the rest of the Farmhouse Hens have created.


Welcome to the very first Farmhouse Hens Decorate.
We are all very excited to introduce our shiny brand new blog hop. Only once every month I join five of my favorite bloggers to create our best farmhouse style decor. These fantastic bloggers inspire and challenge me with their blogs and we hope to challenge and inspire you as well. I highly recommend each one of them.
Farmhouse Fall Vignette – Tarah @ Grandma's House DIY
Create a Farmhouse Fall Vignette – Michelle @ Our Crafty Mom
Fall Farmhouse Decor Cloche – Megin @ VMG 206
Easy Farmhouse Decor Ideas for Fall – Kimm @ Reinvented K