Sweet and Adorable Easter Cupcake Recipes
Cute Easter Cupcake Recipes
Easter cupcake recipes have certainly evolved over the last few years. Instead of plain chocolate and vanilla recipes, we now have countless variations. Besides the different flavours, cupcakes can be filled or not, thinly iced or covered in a mountain of amazing icing. This collection is just so much fun, and writing it certainly has me in the mood for Spring.
Each of these Easter cupcakes is adorable and fun. Better yet, they are all relatively easy to do and don't require a high level of cake decorating ability.
Simple dollops of icing with mini eggs and a various soft pastel coloured paper cups. Often simple means elegant and these cupcakes are pretty enough to serve as Easter dessert.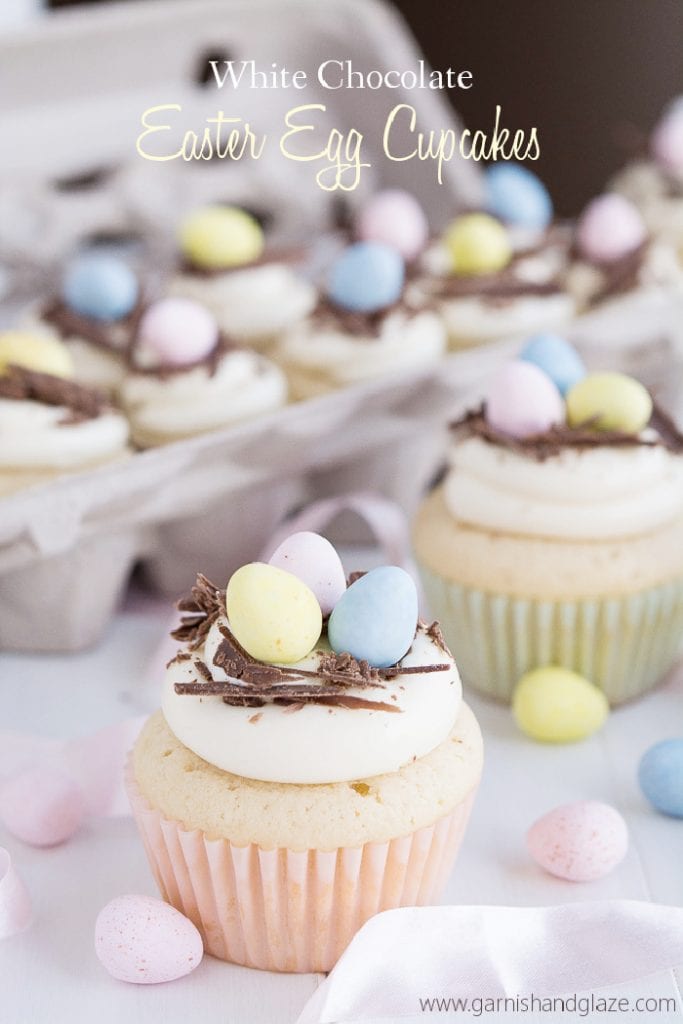 White Chocolate Easter Cupcakes | Garnish and Glaze
Make a cupcake in a little clay pot, add crushed Oreo cookies and a pretty free printable seed packet. How easy and cute is this? I love the idea of these garden cupcakes for Easter or Mother's Day.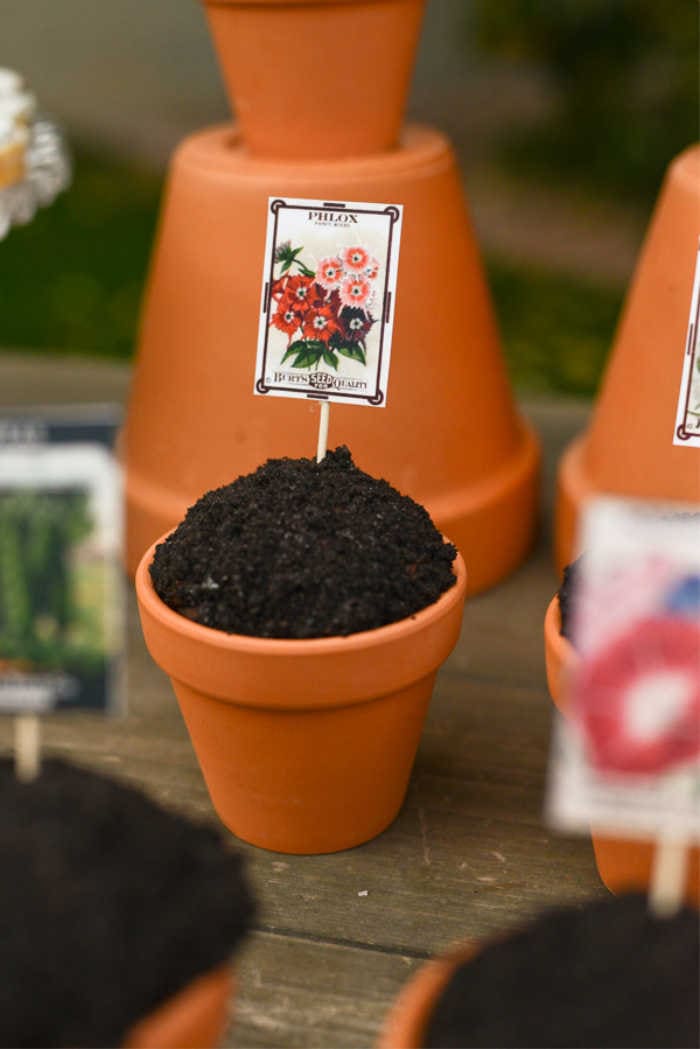 Easy Spring Garden Cupcake Tutorial | from Tikkido
I have no idea who first came up with the idea of bunny butts, I wish I could thank them. Just looking at these little cute cupcakes makes me smile. Such a sweet treat for the holidays.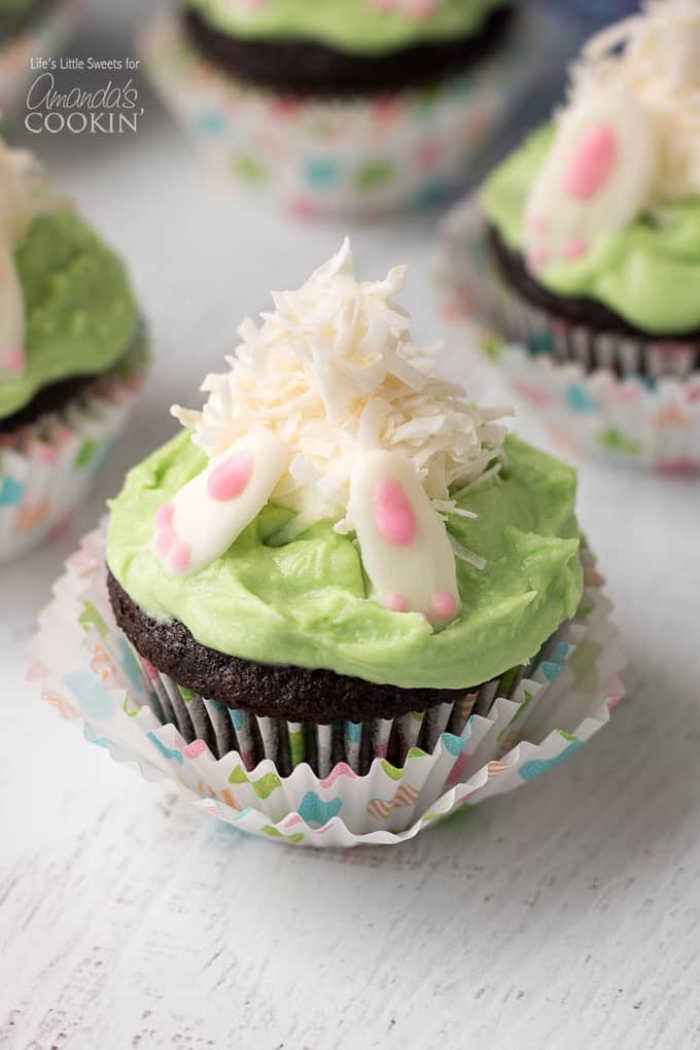 Bunny Butt Cupcakes | Amanda's Cookin
These Bunny ears Easter cupcakes are made of moist vanilla cake and a homemade buttercream frostingm thats topped with cut marshmallow ears and sugar sprinkles.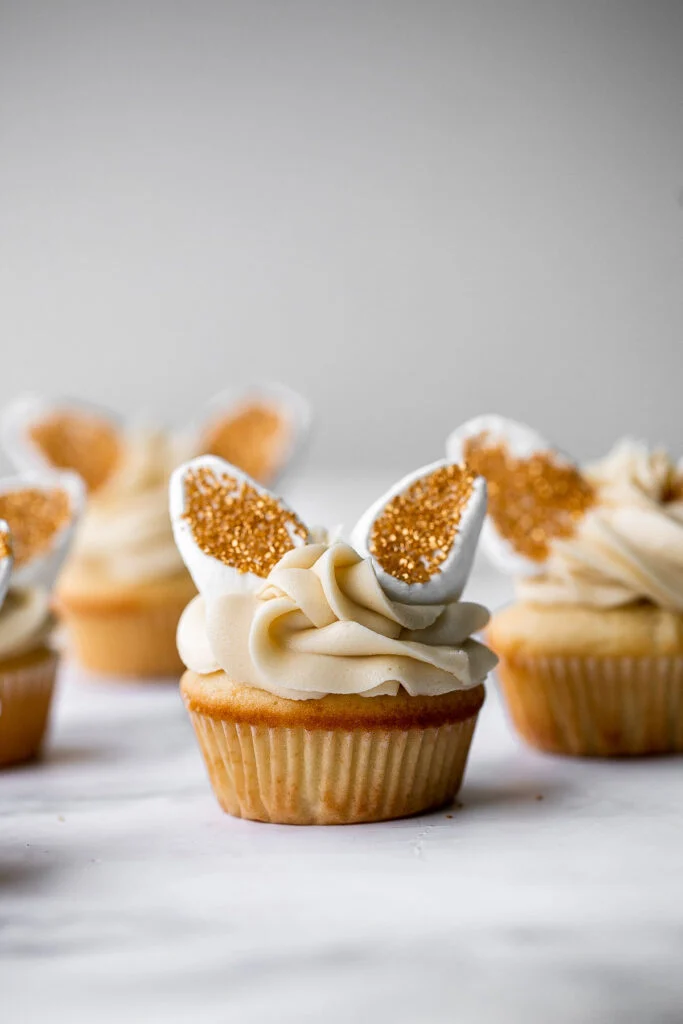 Bunny Ears Easter Cupcakes | Ahead of Thyme
These Easter egg chocolate cupcakes are beyond delightful because of those little green grass nests of frosting.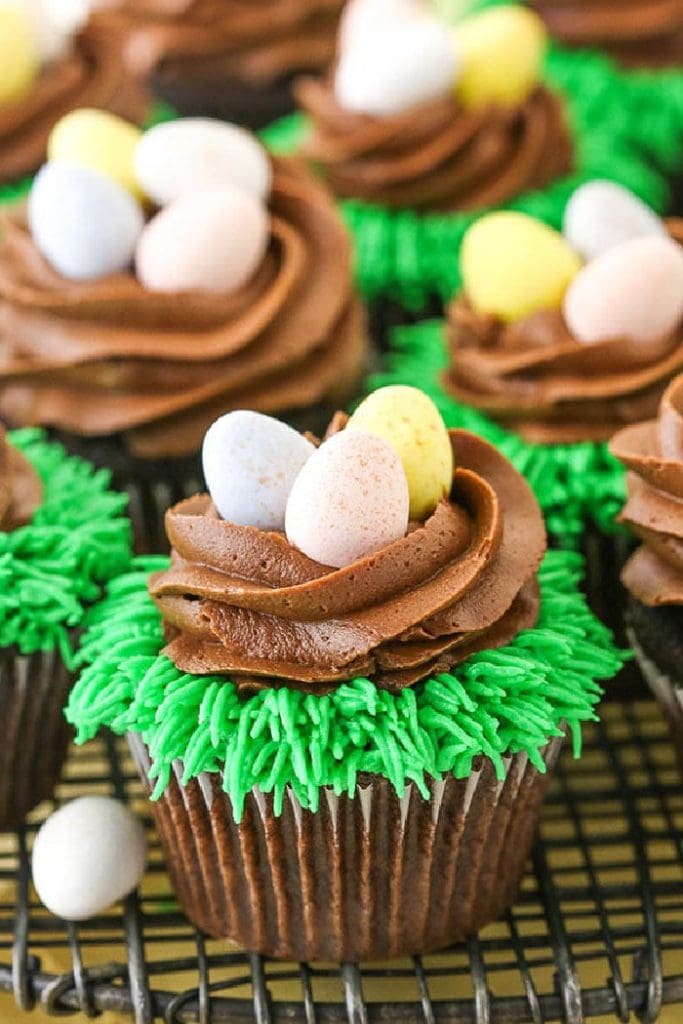 Easter Egg Chocolate Cupcakes | Live Love Sugar
A moist chocolate cupcake filled with Cadbury eggs and topped with a sweet and delicious caramel frosting.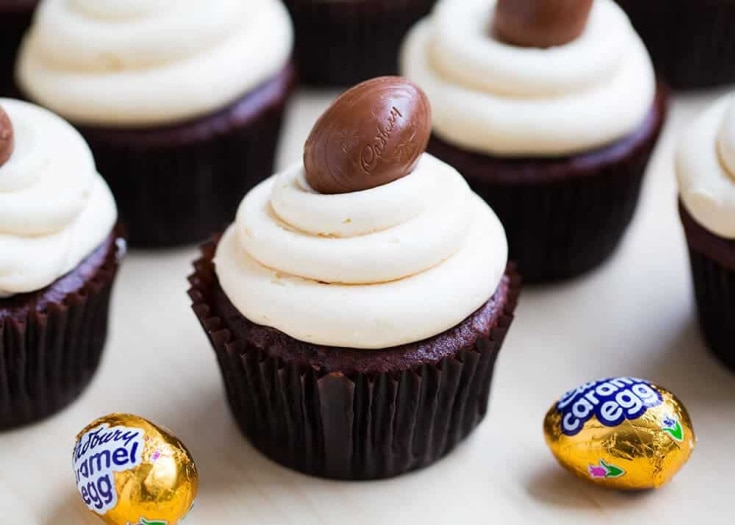 Cadbury Easter Egg Cupcakes | I Heart Naptime
Adorable Easter bunny cupcake that are easy to make an absolutely delicious. A cute cupcake idea for the holidays.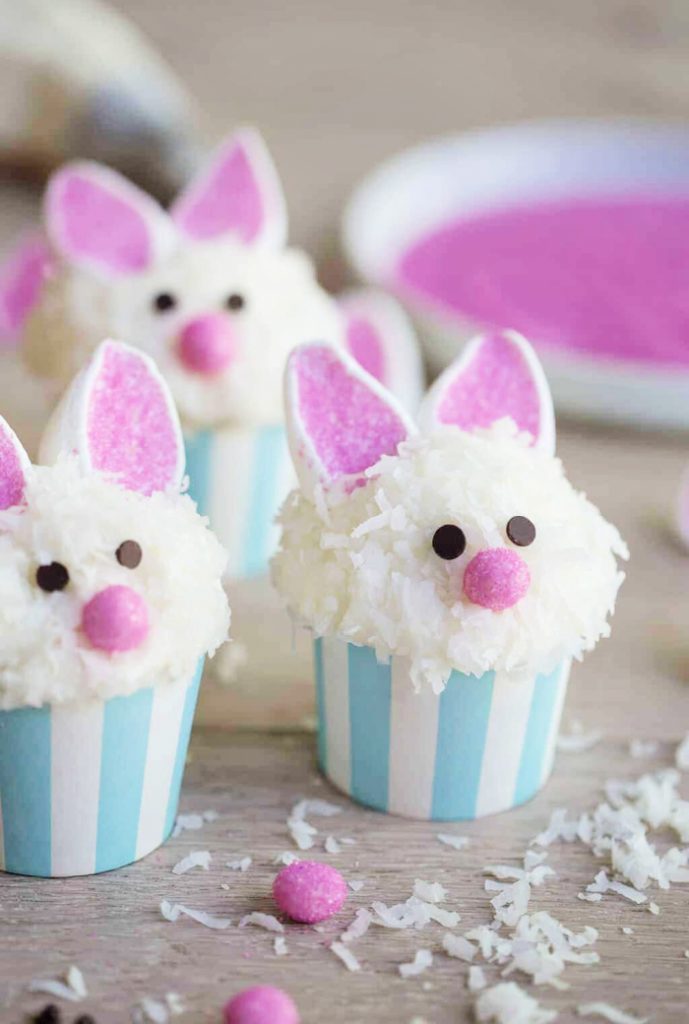 Bunny Ear Cupcakes | Preppy Kitchen
The men in my life will devour these, chocolate cupcakes and a Cadbury Easter Creme snuck inside.
Cadbury Creme Egg Cupcakes | My Gorgeous Recipes
These speckled Easter cupcakes are so full of pretty Spring pastel shades. So simple to make and so pretty. I love the speckled frosting.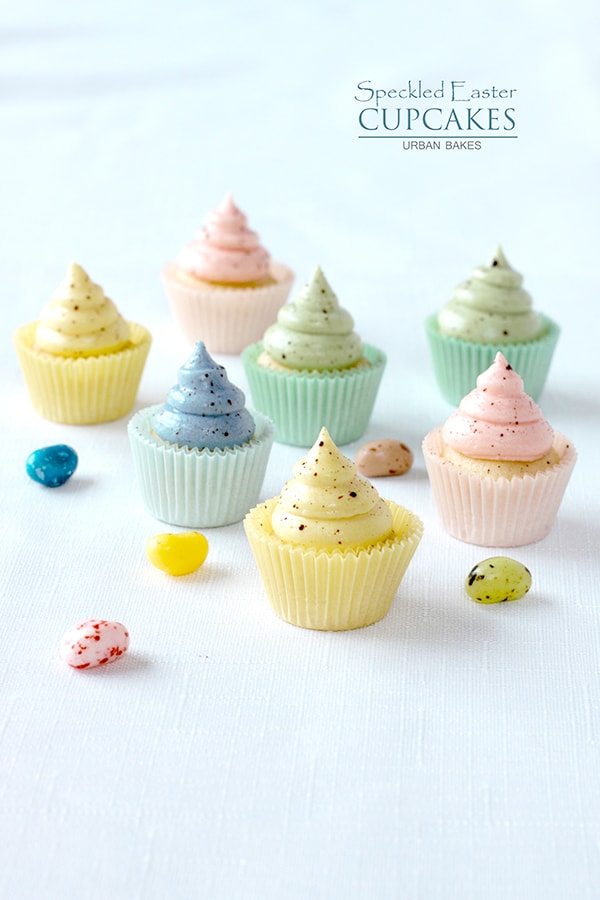 Speckled Easter Cupcakes | Urban Bakes
A cake mix, some marshmallows and candy whiskers. You wouldn't guess anything this cute and adorable could be easy to achieve.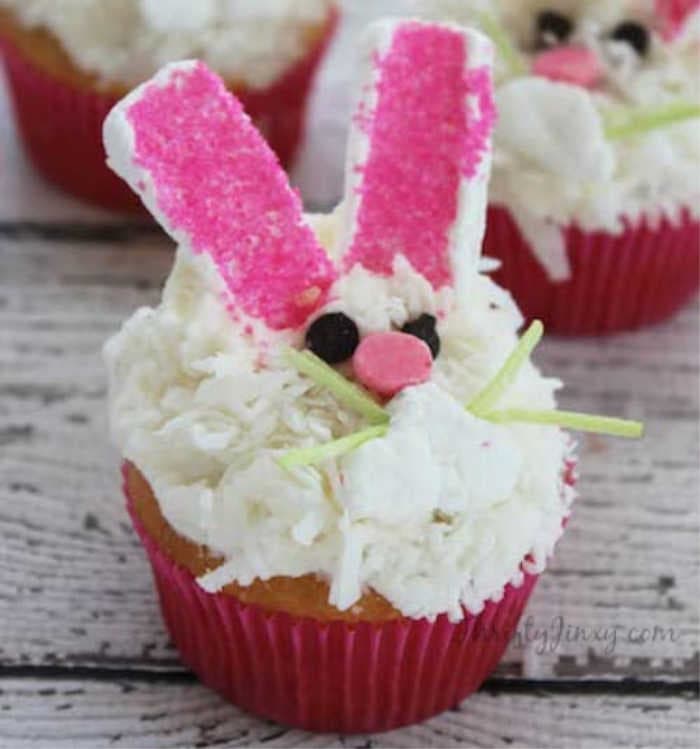 Easter Bunny Cupcakes | Thrifty Jinxy
Bird's Nest Cupcakes
Vanilla cupcakes with toasted coconut nests. Throw on some Easter eggs and you have a sweet little Easter dessert idea.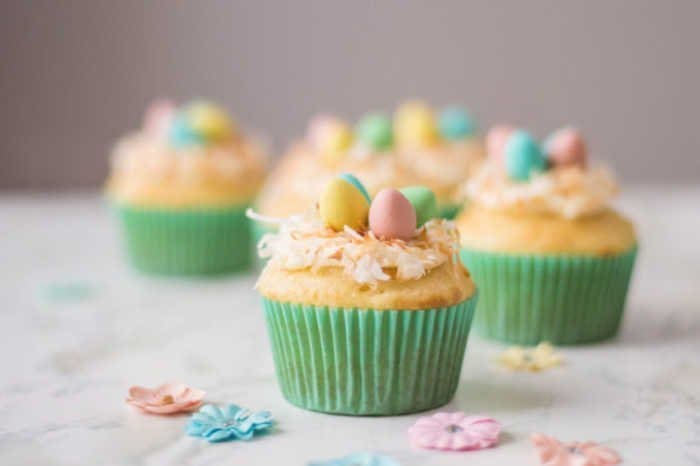 Bird's Nest Cupcakes | 5 Minutes for Mom
These adorable bunny butt cupcakes from Spend with Pennies are frosted and dipped into cookie crumbs before adding the coconut covered bunnies. So cute.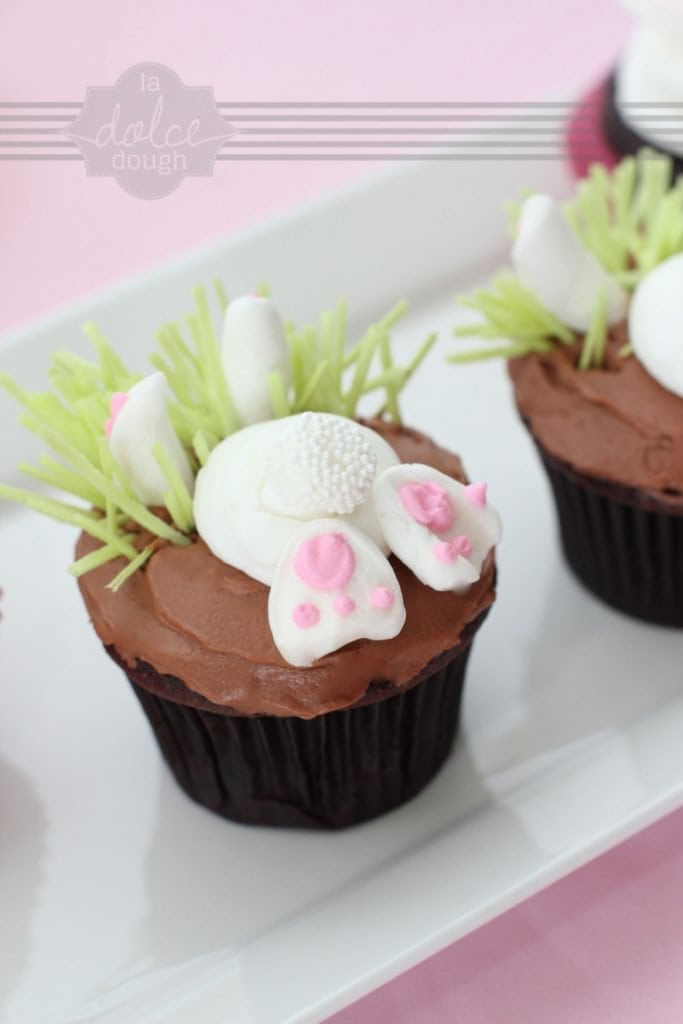 Bunny Butt Cupcakes | Spend With Pennies
These very pretty pink bunny cupcakes feature purchased sugar bunnies. Add some sweet soft pink frosting and chocolate egg and dessert is ready.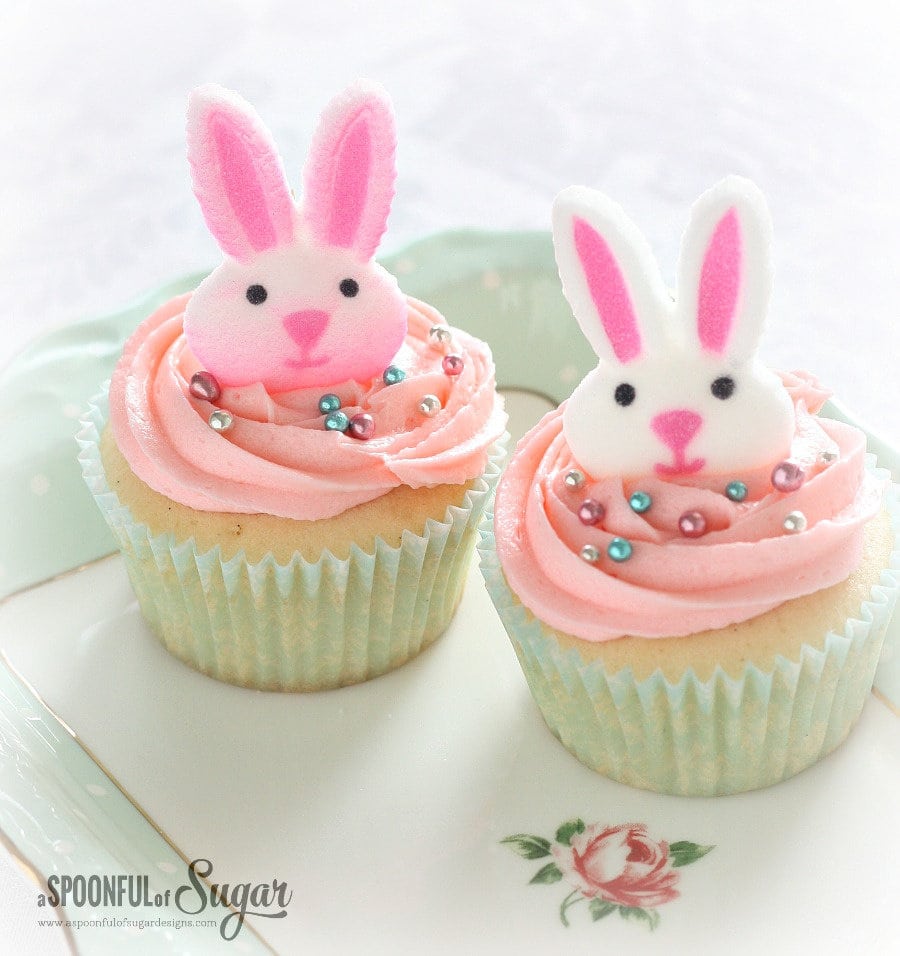 Sugar Bunny Easter Cupcakes | A Spoonful of Sugar
Cute little sheep cupcakes made so simple using a chocolate cake mix and marshmallows.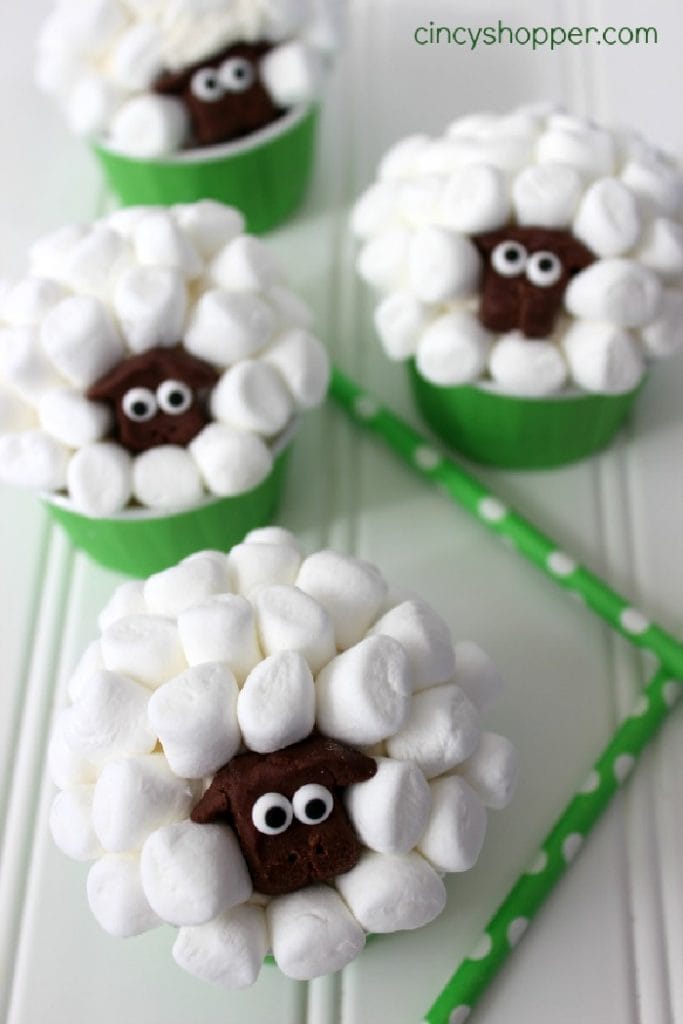 Sheep Easter Cupcakes | Cincyshopper
Orange cake covered with creamcheese frosting, candied Easter eggs and a fun chocolate handle.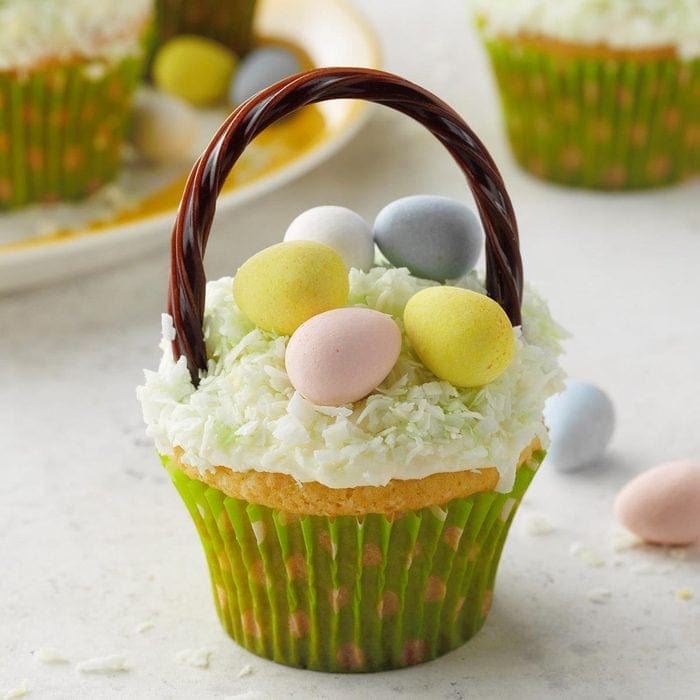 Cupcake Easter Baskets | Taste of Home
These oh too sweet little chick Easter cupakes are very easy to put together and take only a few minutes to decorate.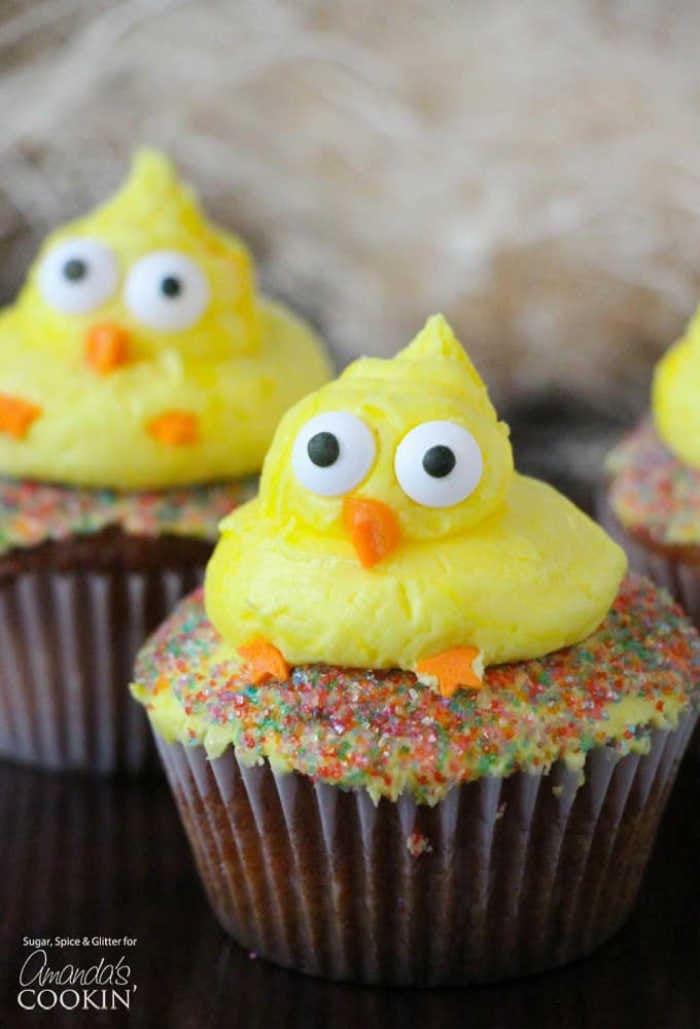 Easter Chick Cupcakes | Amanda's Cooking
The cute Easter bunny ears on these cupcakes are cookies, which are then decorated and added to you cupcake.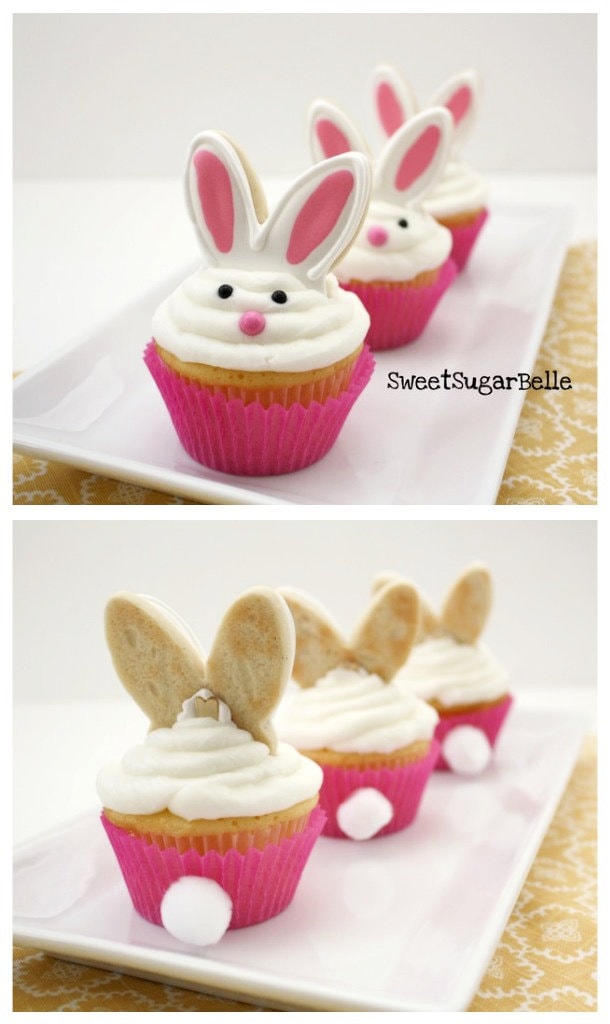 Bunny Ear Cupcake Toppers | Sweet Sugar Belle
These little chirpy Easter cupcakes are so cute. When I look at the picture I can almost here them chirping in their sweet coconut nests.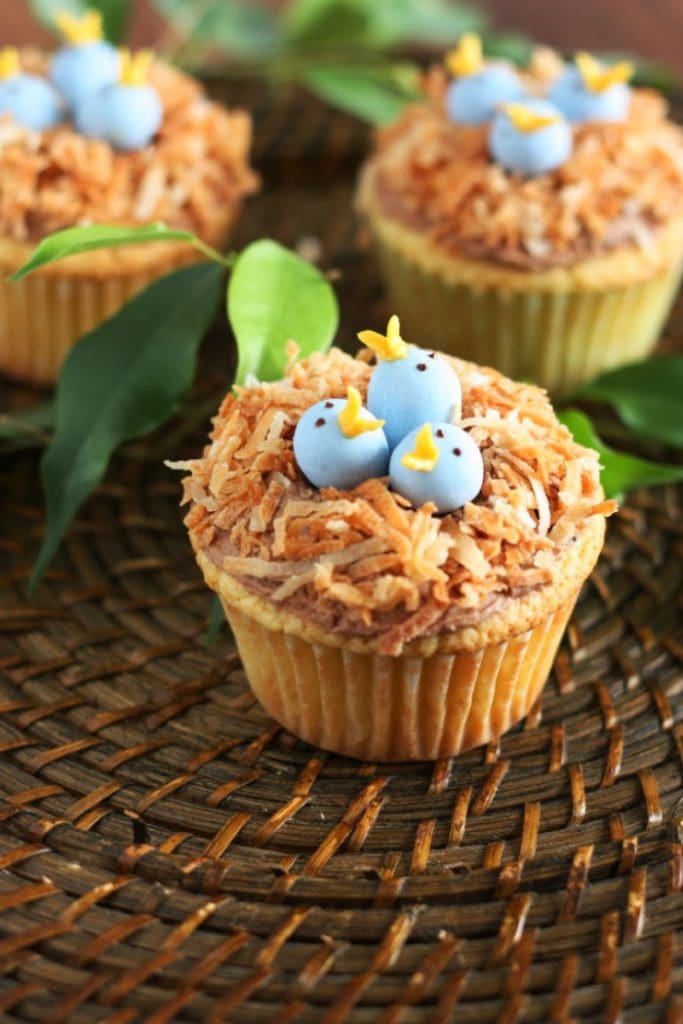 Bird's Nest Cupcakes | Cooking Classy
Who could resist this adorable face. These cute little chick cupcakes are sure to be a hit for Easter.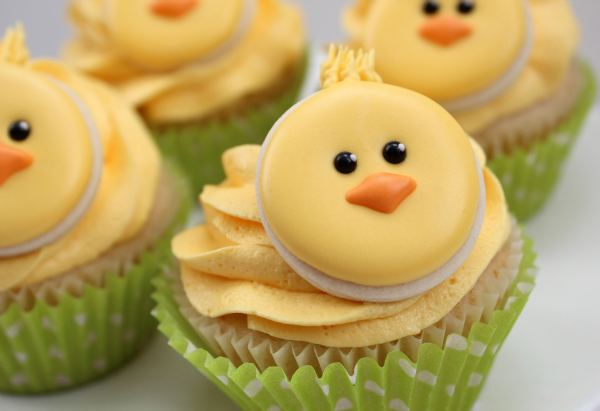 Cute Little Chick Cupcakes | Sweet Sugarbelle
A match made in heaven, bunny ears and carrot cake. A simply and delicious idea for Easter, carrot cake is so popular especially with delicious cream cheese icing.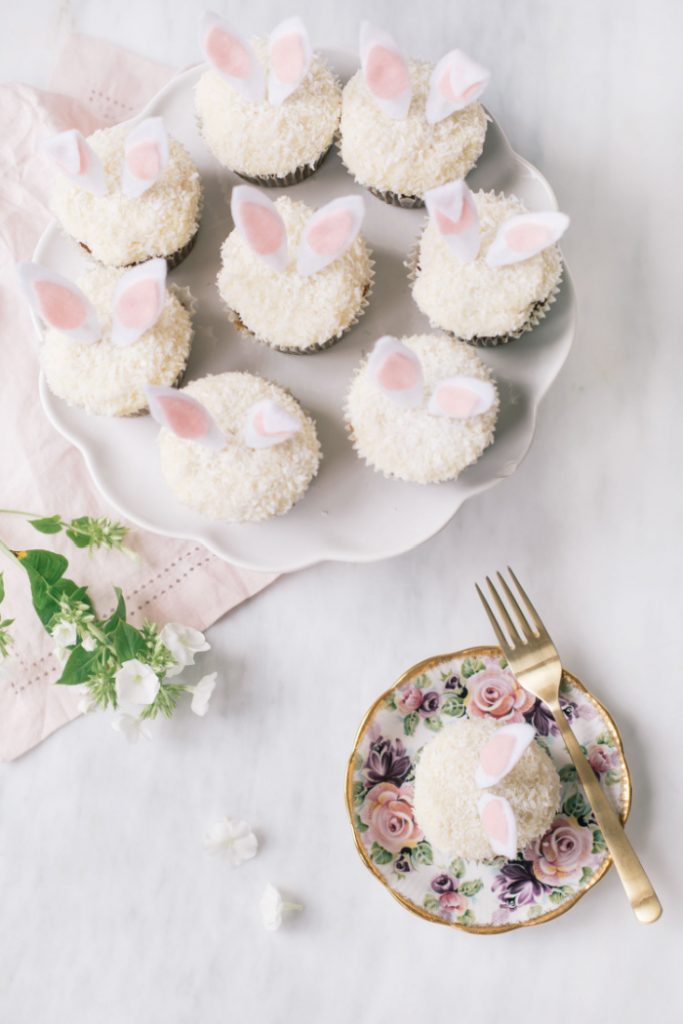 Carrot Cake Easter Cupcakes with Felt Bunny Ears | The Blondie Locks
These Easter cupcakes are quick to decorate, the secret is using Russian tips.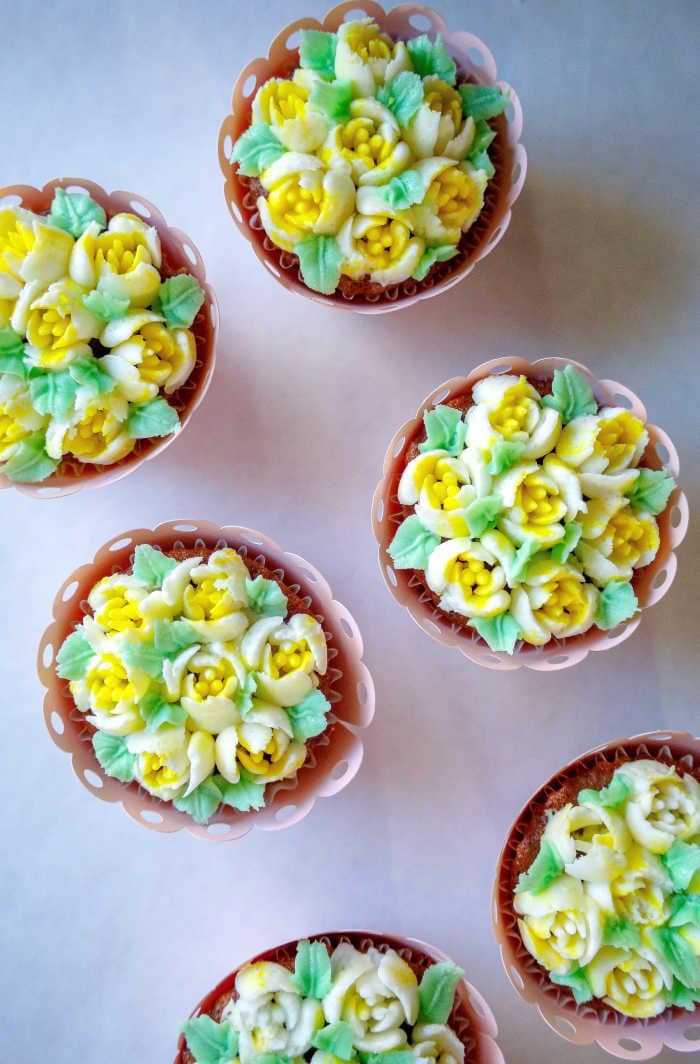 Easy Cupcake Bouquet with Russian Piping Tips Tutorial
Little chick peeps are a tradition in our home as my eldest was allergic to chocolate. These peeps look so fun nestled on the green frosting nests.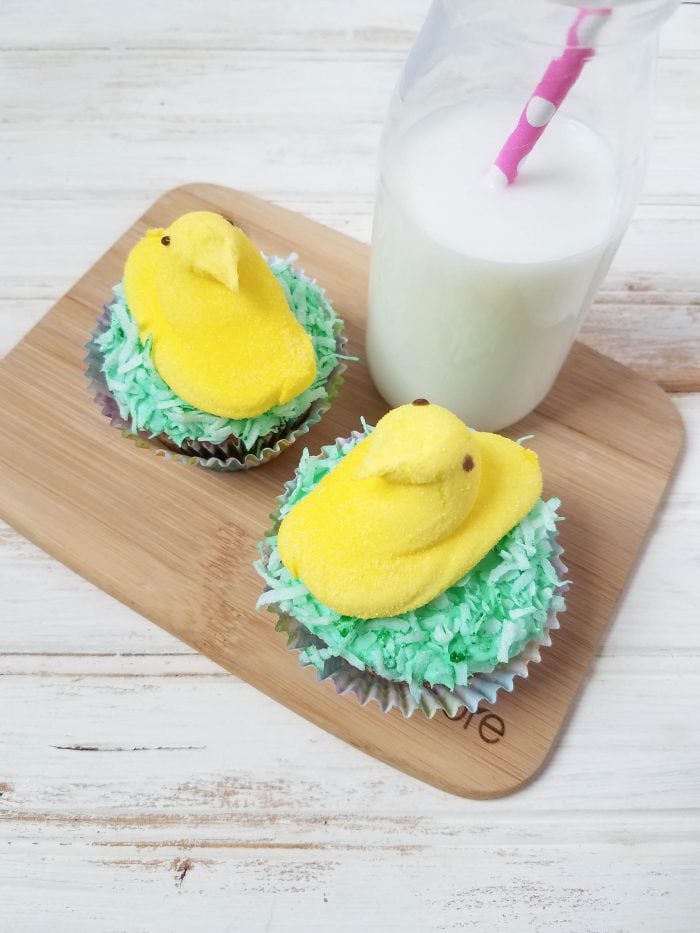 Easter Nest Cupcakes with Peeps | Outnumbered 3 to 1
Anything so sweet and adorable should be harder to make. The fun easy to decorate bunny cupcakes use black jelly beans, marshmallows, sprinkles and candy.
Easter Bunny Cupcakes| Press Print Party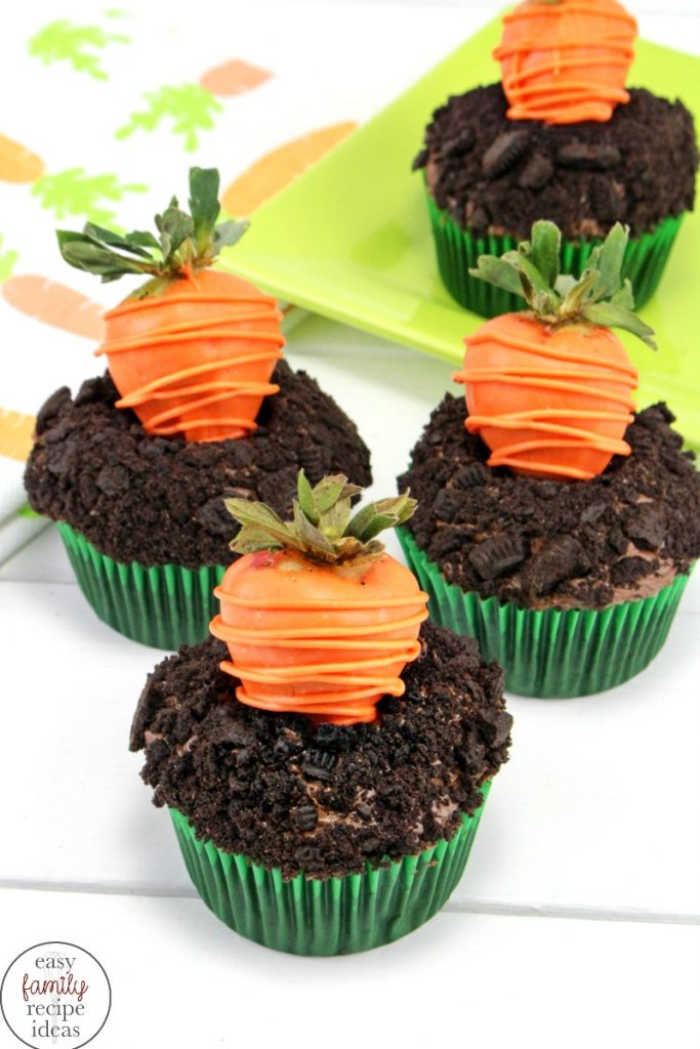 Carrot Patch Easter Chocolate Cupcakes| Easy Family Recipe Ideas
Simple swirls of perfectly piped pink icing make these bird's nest cupcake irresistable. So pretty,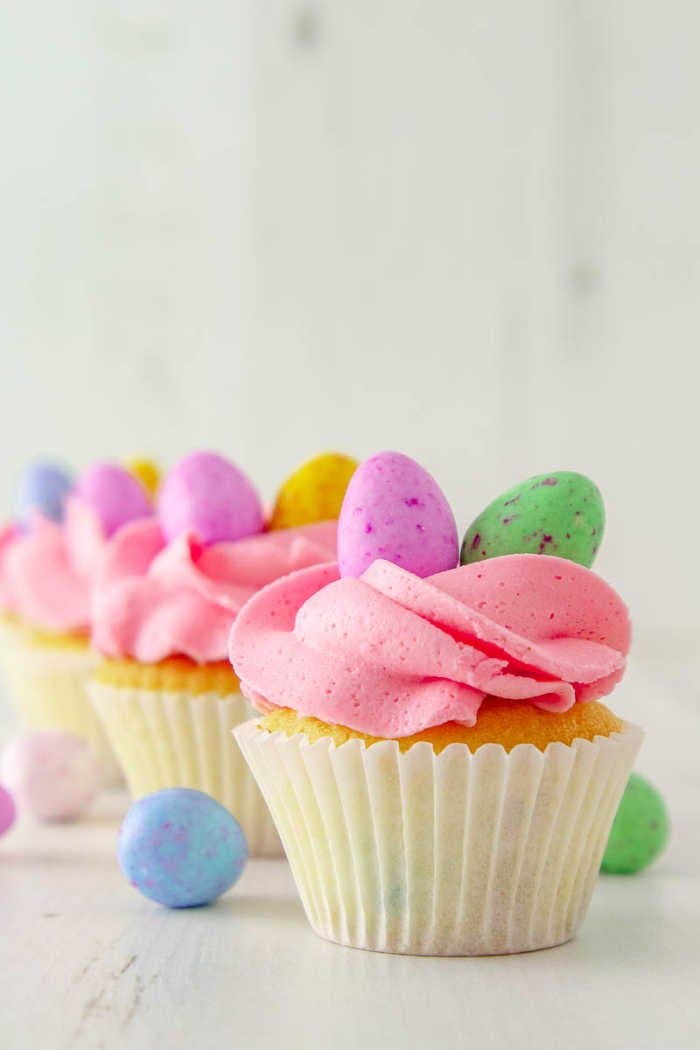 Mini Egg Cupcakes| Crumbs Corks Screws
No sure which cupcake you want to bake? Pin it to decide later.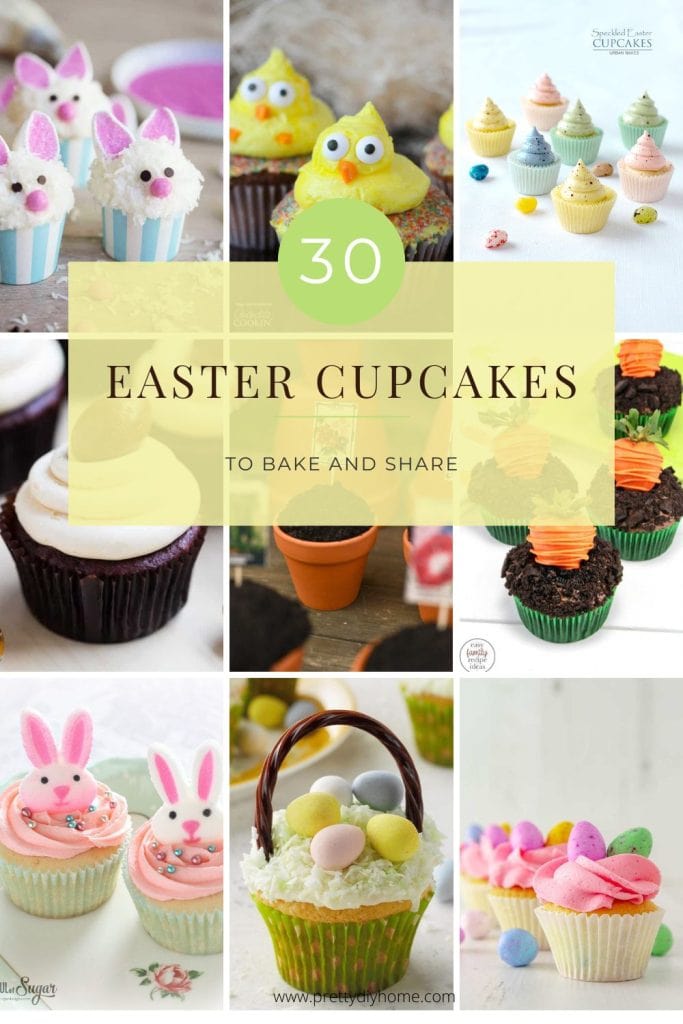 Cadbury flakes and Cadbury chocolae eggs arranged on top of moist chocolate cupcakes. Sure sound good, the texture of these cupcakes will be fantastic.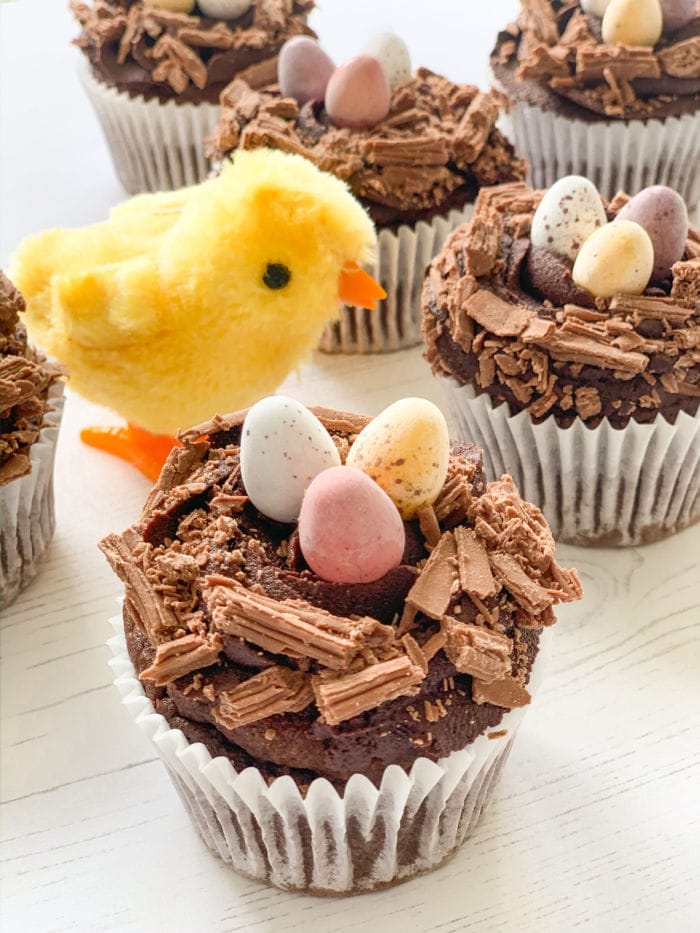 Easter Chocolate Cupcakes | Neys Kitchen Official
Sweet fun and adorable Easter basket cupcakes that you can frost and then let children decorate as an activity. Such a fun Easter dessert or school party idea.
Easy Easter Basket Cupcakes with Peeps | She Saved
Vegan organic cupcakes.
My Melody Vegan Cupcakes| Vegan Dollhouse
Easter egg nests made with cotton candy. The kids loved these.
Strawberry Cupcakes with Cotton Candy Nests | Pretty DIY Home
These Easter cupcake recipes are so sweet and adorable, but we will all happily see them disappear. I hope you make a couple of these recipes to enjoy.