Cheap Pantry Organization Idea
Large Movable Pantry Bins for Under $10
This cheap pantry organization idea is already very handy. The large movable bins already make cleaning the pantry floor so much easier, I love the wheels on the bottom, and I was able to create them for less than $10 each.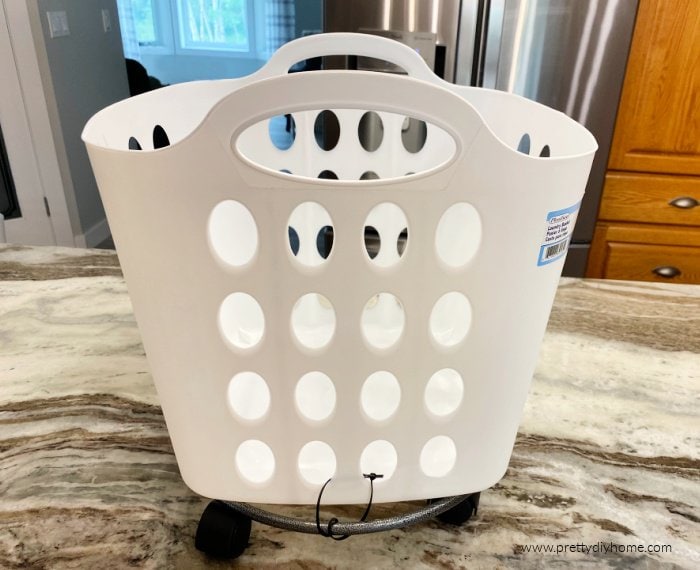 If your anything like me pantry organization is an ongoing process for a variety of reasons. And figuring out cheap pantry organization that still looks good can be a challenge. In our last home I had a small food pantry, and a very large second pantry I converted from another closet into a very large small kitchen appliance pantry, with loads of storage. And then we moved , this home has double the kitchen cupboards but only one small pantry and a shortage of general closet space.
These days we stock up on much more food, as the nearest supermarket is 45 kilometers (28 miles) away so we store extra staples in the pantry. I am sure you can relate.
You will find all my other pantry organization hacks from our previous home linked below the cheap movable bins tutorial, but let me show you how easy these marvelous movable pantry bins are to make.
Large Movable Pantry Bin Supplies
For each bin you will need:
1 dollar store plant coaster with wheels
1 large dollar store laundry basket
1 package of zip ties and a pair of scissors.
You don't even need a screw drive, much less a drill.
How to Make Cheap Pantry Organization Movable Bins
Putting these movable bins together is so easy.
Take out the plant coaster.
Place the basket on top and center it by eye.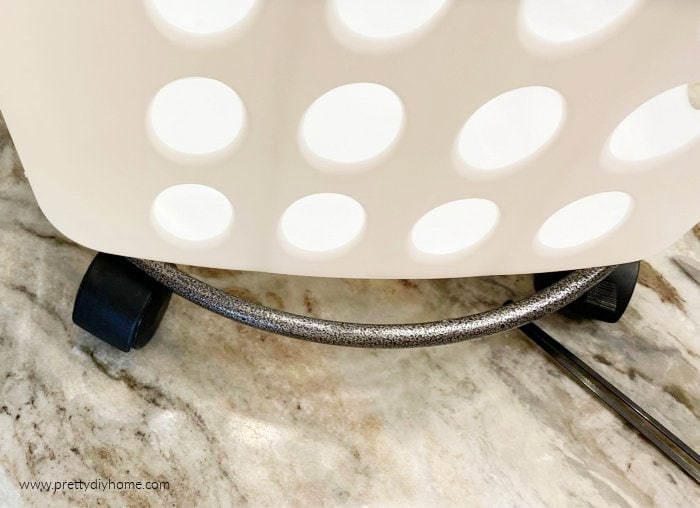 Place a zip tie on each side but don't tighten it yet.
Double check your basket placement and then tighten each zip tie making sure the end is on the inside.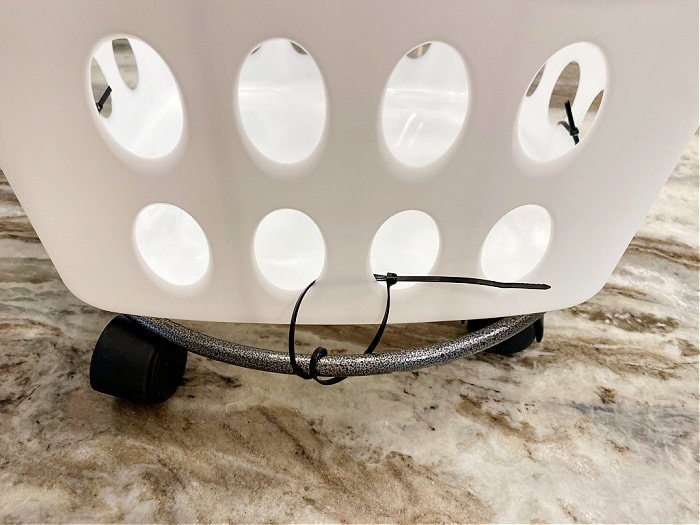 Cut off the long zip tie tail.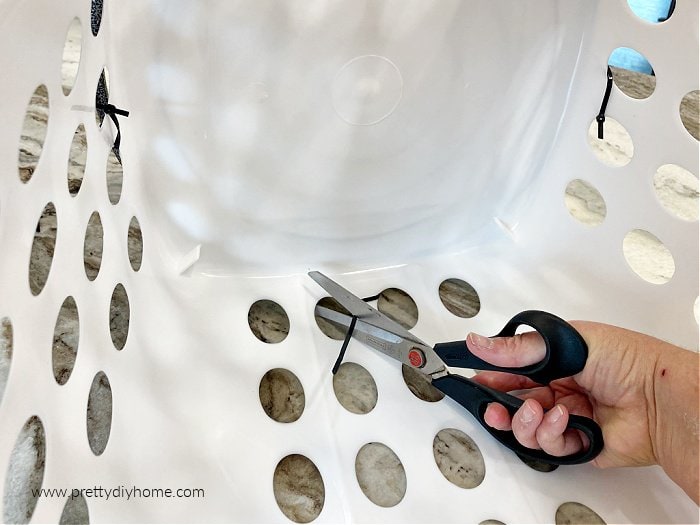 Pantry Organization Ideas for the Movable Bins
I am not sure about the weigh capacity of the plant coaster as it is a dollar store product. I have one bin filled with four large containers of oil and vinegar and so far its been great and the plant coaster rollers have been fine. Here are some bulky ideas you could use
Turkey roaster
Cake decorating turntable and supplies
Large baking pans pans like cinnamon bun pans,
Large bags of dog treats
Large metal bowls (Hubs bought me two for bread making lol)
Excess coffee supplies

Large bags of potato chips, or other large bagged snacks.
Six large bottles of pop (soda)
Large containers of oil, and vinegar.
Metal baking pans
Labels
I don't think these movable bins need labels. The items inside are large and as they are on the ground I wouldn't use them for small items that may need labels. If you have different idea, you can find links to the labels I used for my storage jars and for the white Ikea bins you see on the shelves in my pantry.
Making the Pantry Pretty
How I would love a huge pantry with gorgeous trimmed shelves, drawers, and loads of pretty matching containers for everything. Not happening on my budget, but I do have some affordable ideas for you if your just starting to arrange your pantry.
The Dollar Store and IKEA are my favorite two sources for cheap pantry organization ideas. Not only do they have less expensive items, they often have the same storage products for years. This allows us to grab one or two every time we wander through. My white IKEA bins and the storage jars are a few years old and I still find them (and buy them). For the Dollar Store, you can often find the same exact container but not always. But its cheaper than Ikea, so I grab as many as I think I need at once, and always pick products that are either clear or white. That way the colours will always match. I have dozens of matching spice bottle with white lids from the dollar store.
My pantry just has too much food in it to be pretty, the best I can hope for is organized where I can find what I need and know what I have on hand. I am not good at searching, nothing makes me more frustrated faster. It may not be pretty, but its very functional.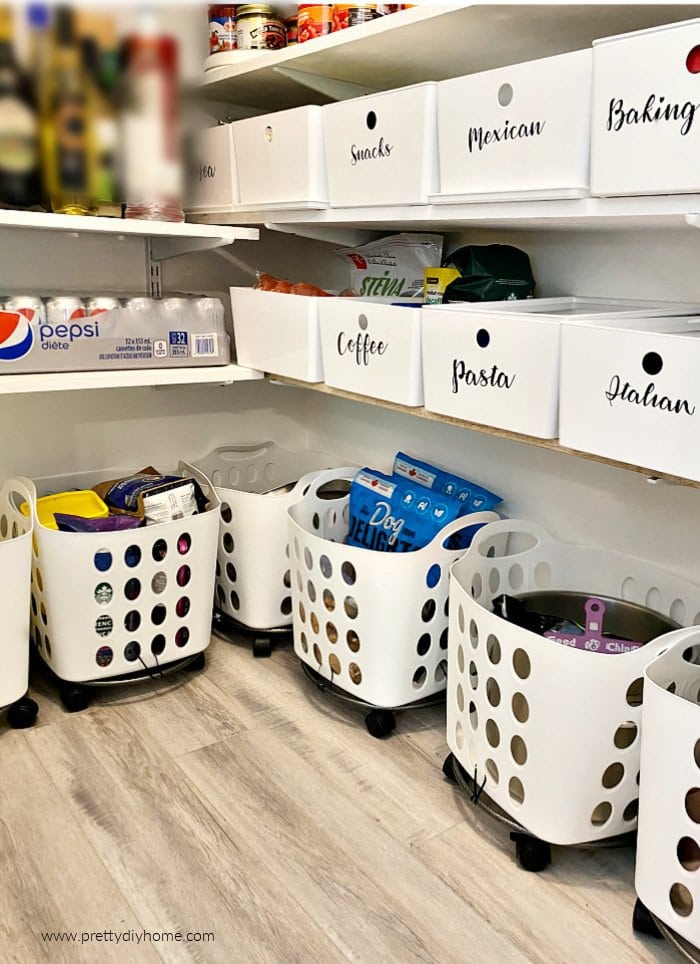 Pantry Farmhouse Curtains
The easiest way to reduce the look of necessary clutter is to hide it. This post became too long to include the Pantry Farmhouse Curtains you see in the next image. They are so easy to make, mine are sewn but you can use iron on stitch strips as well.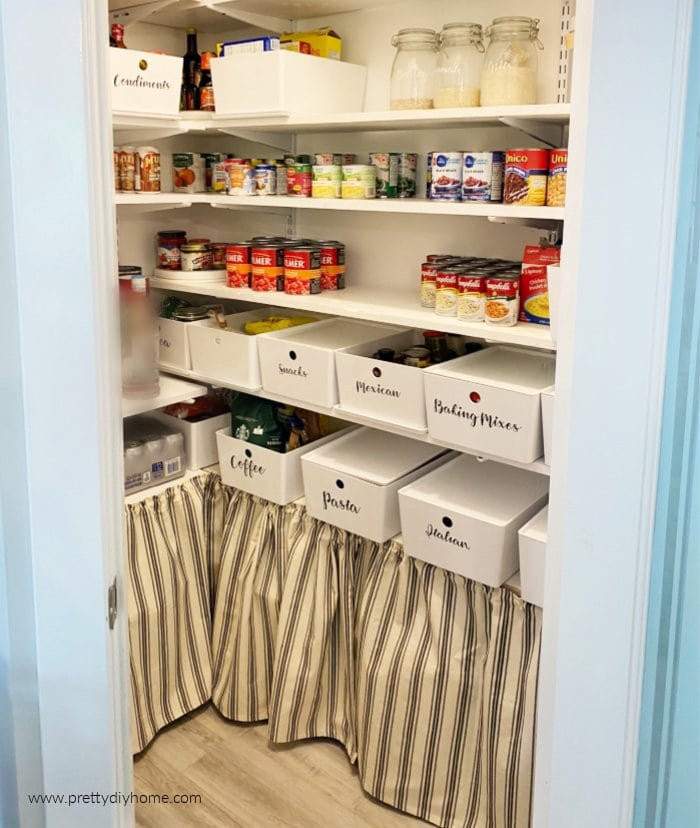 Other Cheap Pantry Organization Ideas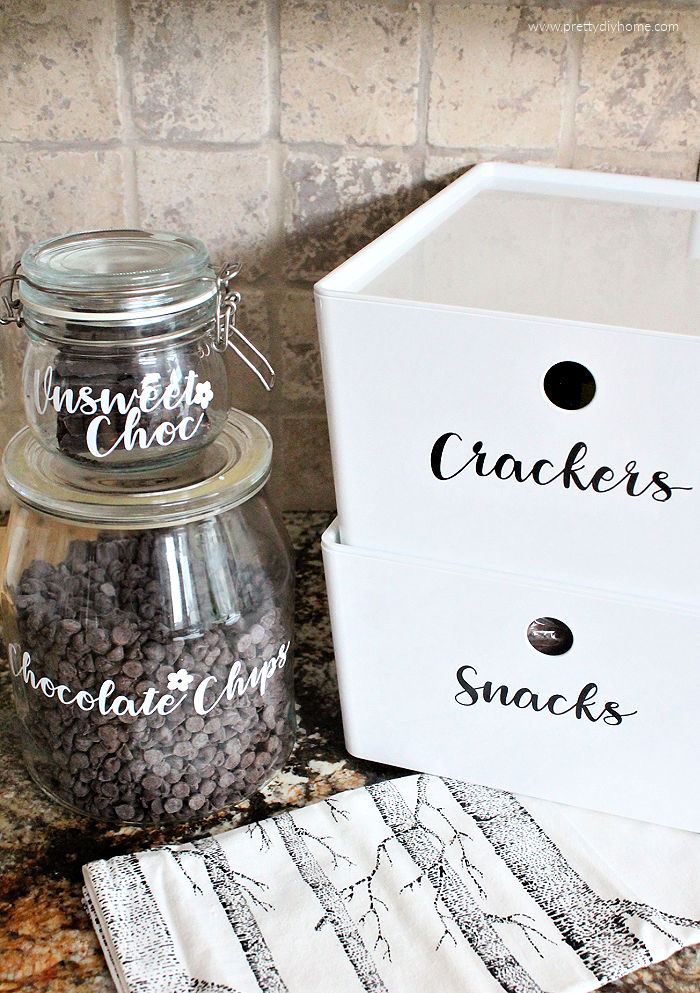 DIY Pantry Labels
Our previous home had an organized pantry divided with different containers and labels to identify food and cooking categories. Those bins moved into our new pantry. We added as many new shelves as we could for canned goods, purchased two turntables to fit in the corners for easy access to condiments.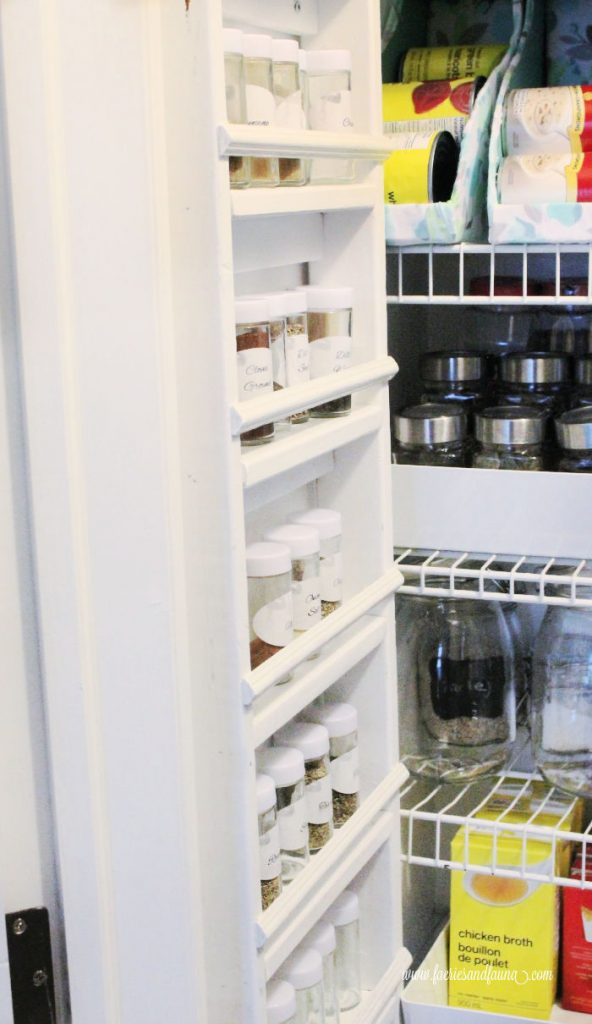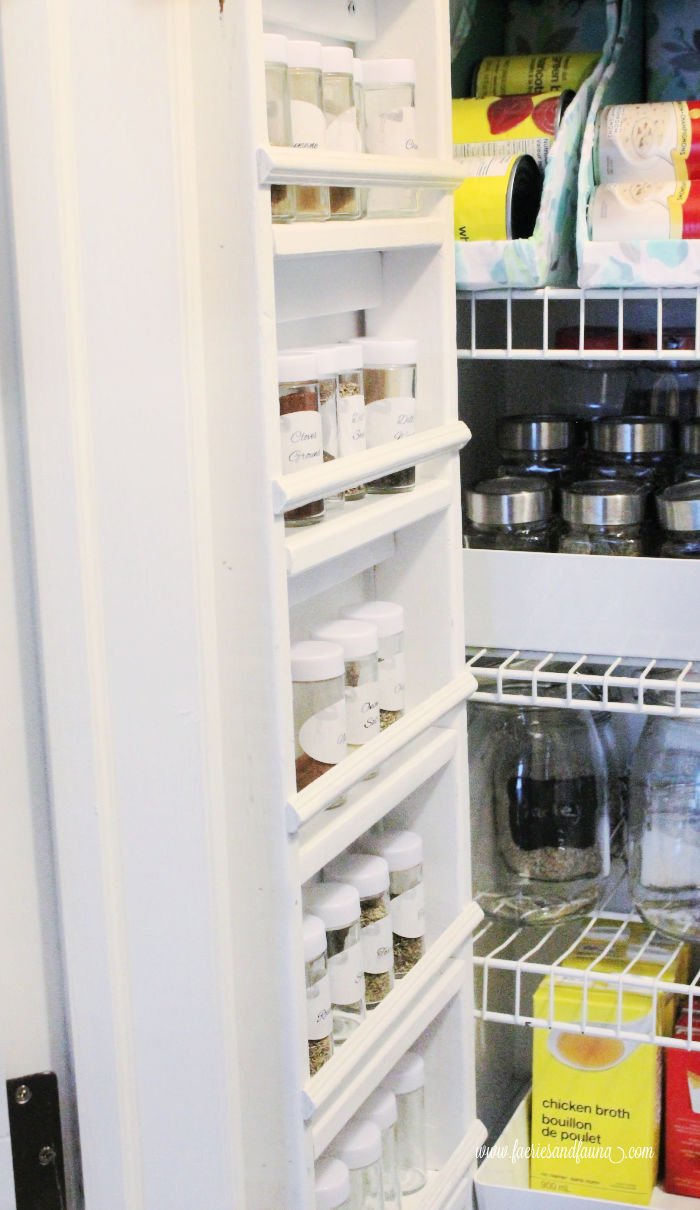 Floor to Ceiling Pantry Spice Rack
Our large spice rack unfortunately stayed with our previous home its still on my I need list.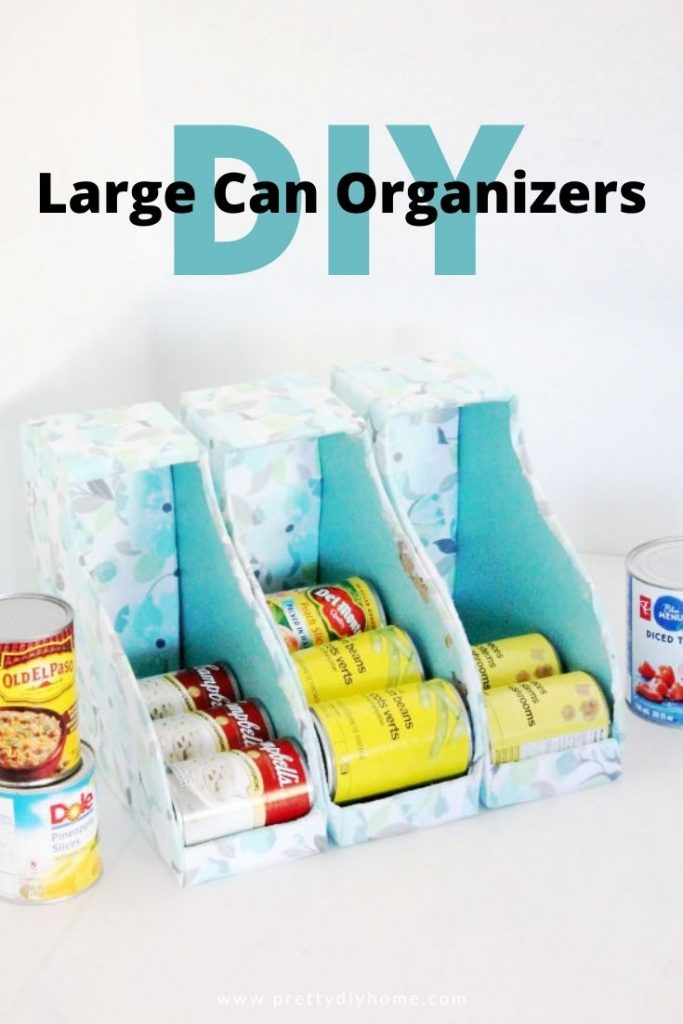 DIY Can Organizer for the Kitchen Pantry
I don't require the canning organizers as we were able to add four more shelves to this pantry to make room for the canned good where they are easily found. These canning organizers worked well in our other pantry and I loved that they held large cans like pumpkin and tomato cans.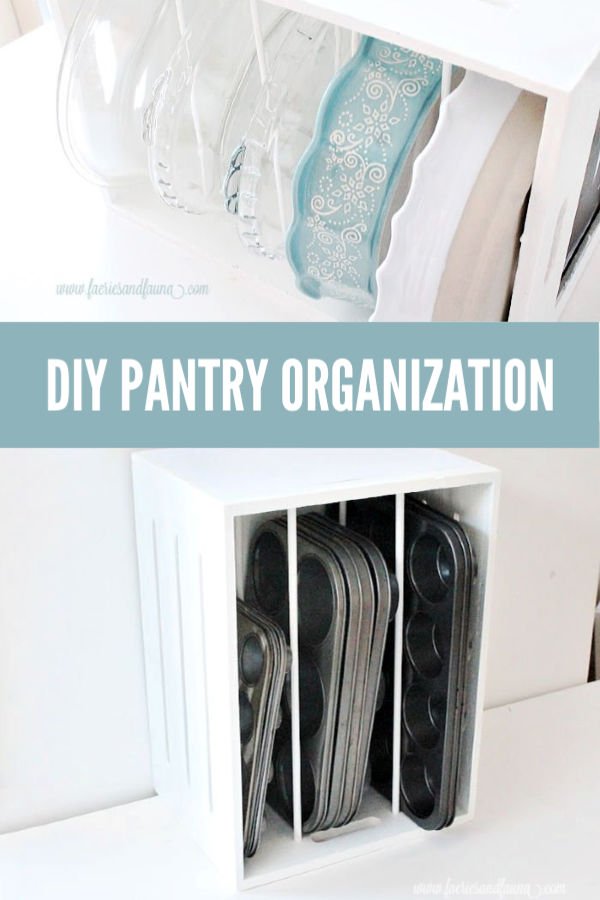 Vertical Pantry Organizers for Baking Pans
This is an older post for vertical baking pan pantry organizers. The dowels held up well for baking pans and were able to take the weight of the pans leaning on them. The images show the way I used them.