Craft Room Inspiration for a Budget DIY Makeover
Craft Room Ideas to Ponder
Right now I am designing a budget conscious craft room, so I am collecting a group of craft room ideas.  This post contains a collection of my favorite craft room ideas I want to incorporate into a swanky new craft room.   All of these ideas are budget conscious and would make any woman's craft room inspiring and creative.  Hopefully someday soon!
Here's the list of my needs.  Please comment if you think I am missing something.
Cost under $500 for materials ( in Canadian prices that's not much)
Include my office area
Be pretty enough to inspire me
Organized, clutter free
Storage area for projects waiting to be refurbished
Large work surface
Storage for all my supplies and more to come
Bulletin board of some sort
Once we moved into this new home I allowed myself to gather and store more craft items. Currently, I have a dresser and some shelves downstairs to hold all my stuff.  Before that my craft supplies were stored in a couple of large rubber made containers. Without having a designated place for craft supplies, I purchased materials for the project I was working on and threw away the leftovers.  Expensive way to do it, but it kept the clutter somewhat controlled.    Finally, I am ready to tackle this space and make it my personal work area.  Here are some stunning examples, I am sure you're going to enjoy.
Craft Table
This table is perfect, large with storage underneath.  I love the size of it.  Can you image wrapping gifts on this? Not sure I can afford all this wood material, but I will try to come up with something this size.
d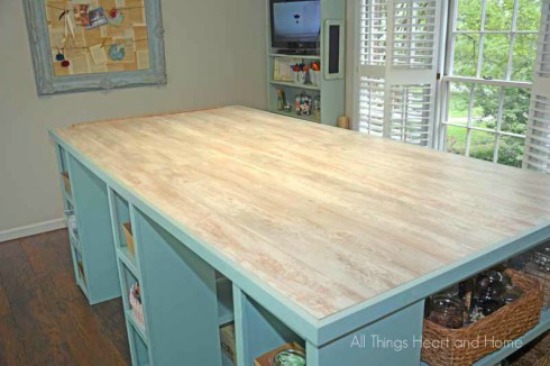 All Things Heart and Home – Craft Table
Storage Shelves
Currently, I have some espresso Ikea Hemnes shelves in need of a makeover.  I will paint them to match, but these shelves are nicer because of the differently sized cubicles.  Don't you just love how she stores her wool in here?  Well all her craft storage ideas are pretty.
a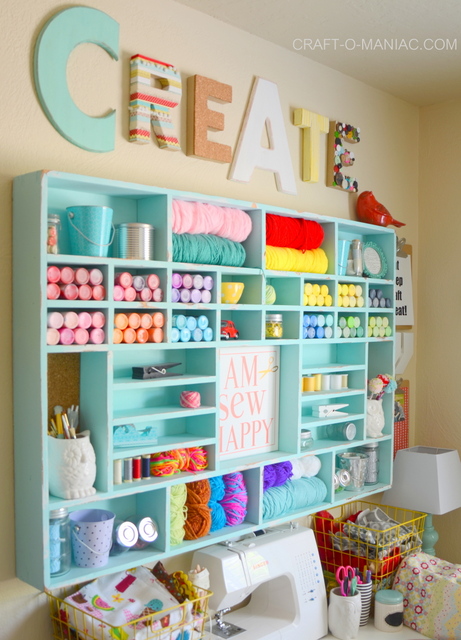 y
Craft-o-maniac – Full Craft Room Reveal
The long working counter in this room and the shelves for paper and various sizes of the storage units.  Everything is so pretty and organized, her scrapbook paper organization is what first caught my eye.
g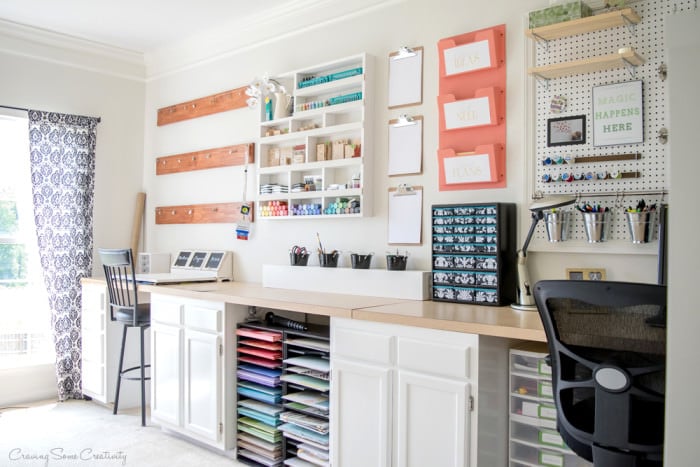 Cravingsomecreativity – DIY Craft Supply Wall
A Peg Board
I want a pegboard to put half completed projects on, or maybe pin up some ideas.  I love this one because framed and pretty in the soft lilac.  My concern about a peg board is clutter.  I don't want it to look cluttery.  Do you guys like the pegboard idea?
In our garage, I talked Hubs into putting pegboard down one entire wall and its wonderful for rakes, wrenches, hoses, you can find everything, but it isn't pretty.  I am thinking stencil or vinyl designs on the pegboard and a frame if the budget allows.  I haven't quite decided if I will install one.
yo
Just a Girl and Her Blog – Trash to Treasure Pegboard
Craft Room Art
I love motivational art, large letters saying Create, or Sew maybe.  That's not enough though,    I think motivational cheerful art and something very feminine will be wonderful.  Love both these ideas, you could use them to define different areas,  a sewing room,  the home office or a craft area.a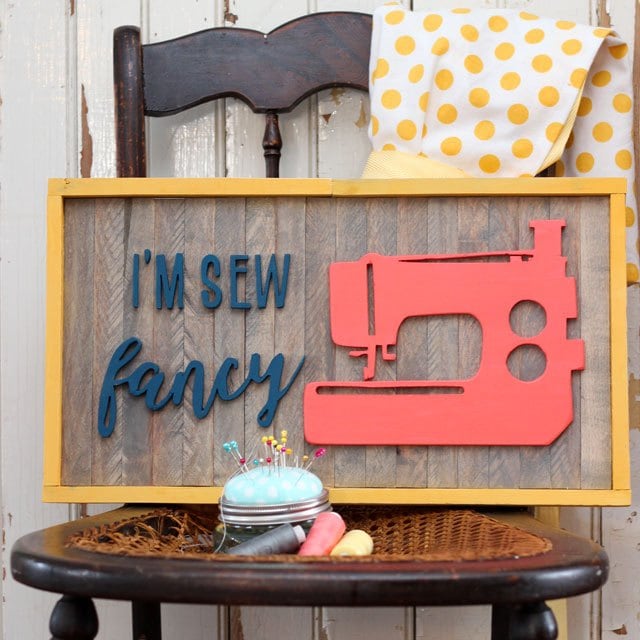 s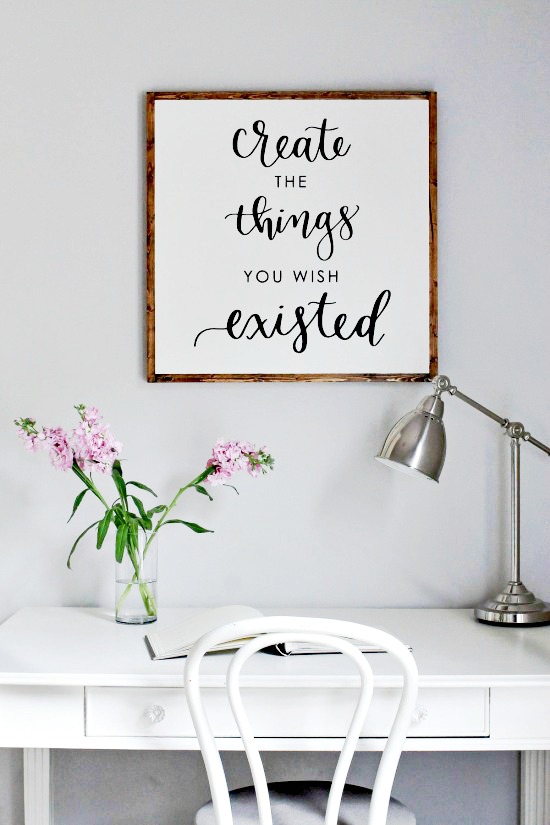 Angelamariemade – Create The Things Printable
Container Organizers
The beautiful shelves pictured above have such pretty craft room organization ideas.  Perfect for small DIY craft projects   Some pretty jars to hold some of the supplies will be a nice addition, and mason jars are so available and trendy.
a
Lolly Jane – Distressed Mason Jar Container
d
These pretty crystal drawer pulls are $9.99 each at Lowes, I just treated myself to four to use on this DIY ironing board.   Guess I will have to have to be on the lookout for some old ones at estate sales, or maybe the next time I go to the United States because these are really nice.
t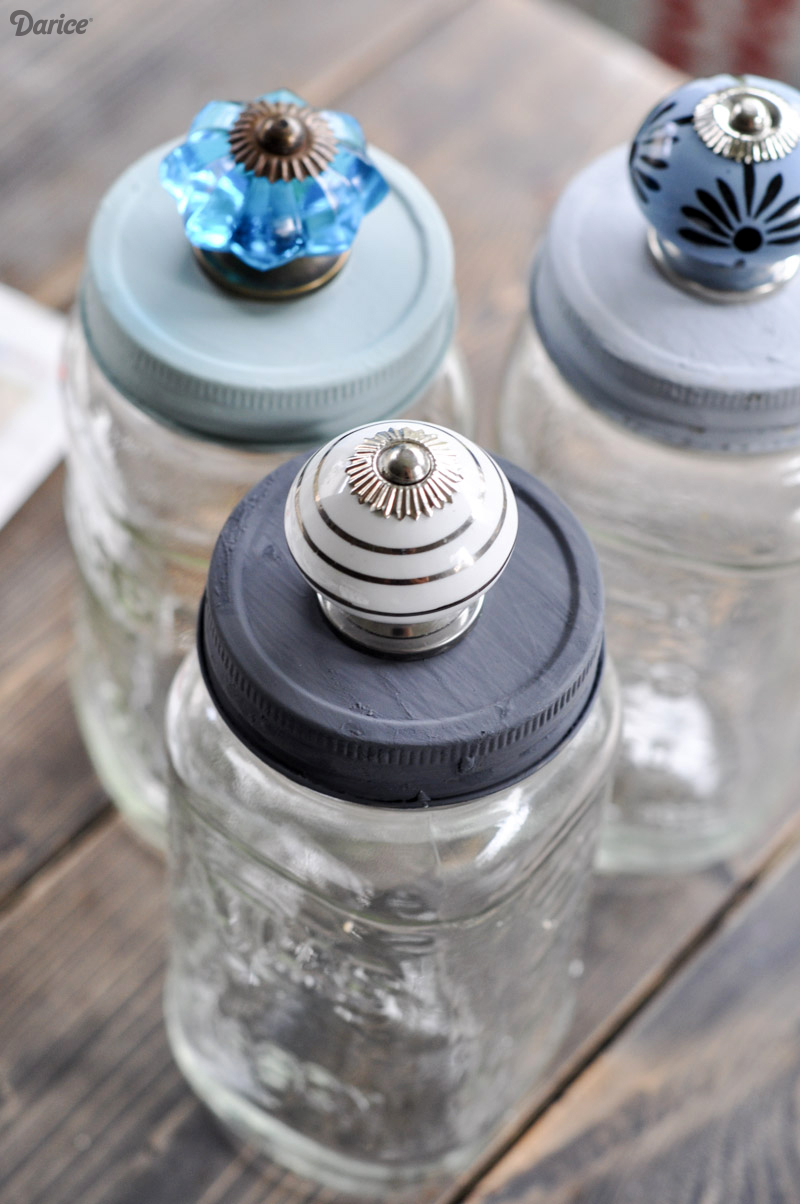 Blog Darice – Upcycled DIY Jars
Planning Calendar
This picture includes the calendar, desk, and chair I have finished for the home office and craft room.
d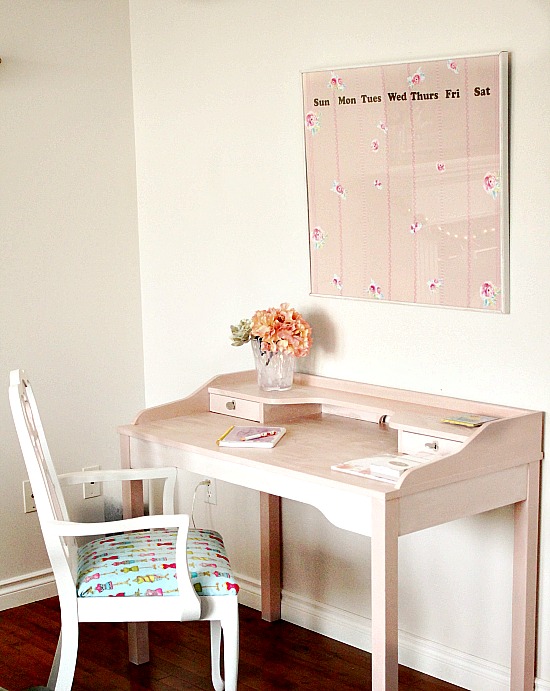 Faeries and Fauna – Desk, Chair, Calendar
Ironing
We may not enjoy it, but if you work with fabric your ironing, a lot.  Worse yet you're ruining your ironing board with adhesives, interfacing and pin holes.  On the blog, I have already made this DIY Ironing board to alleviate the problem, and it gives me a wider surface to work on.   I think you would love to have one in your craft space.
Faeries and Fauna -DIY Ironing Board Cover
Craft Room Inspirations
Oh for magic wands to exist, this room is as close to what I envision as possible given the items I have and my budget.  She has done a beautiful job.  That flounce table curtain is swoon-worthy, as is the pretty yellow chandelier.
g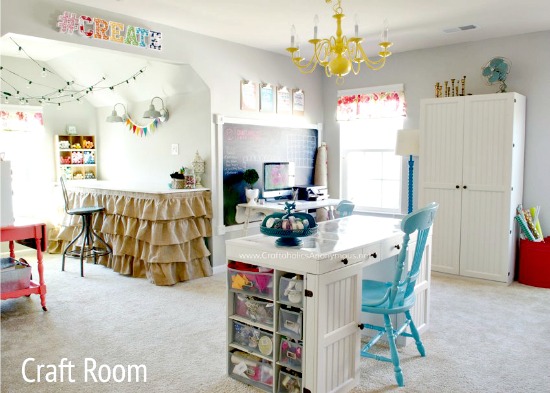 Craftaholics Anonymous – Craft Room Tour
f
No craft room makeover would be complete without inspiration from Claire and Heartmade UK.   Her style is breathtaking to me.   Love the vintage pink dress, vintage suitcases for storage, it's such a beautiful hobby room area.    Everything about this room says this is a woman's workspace.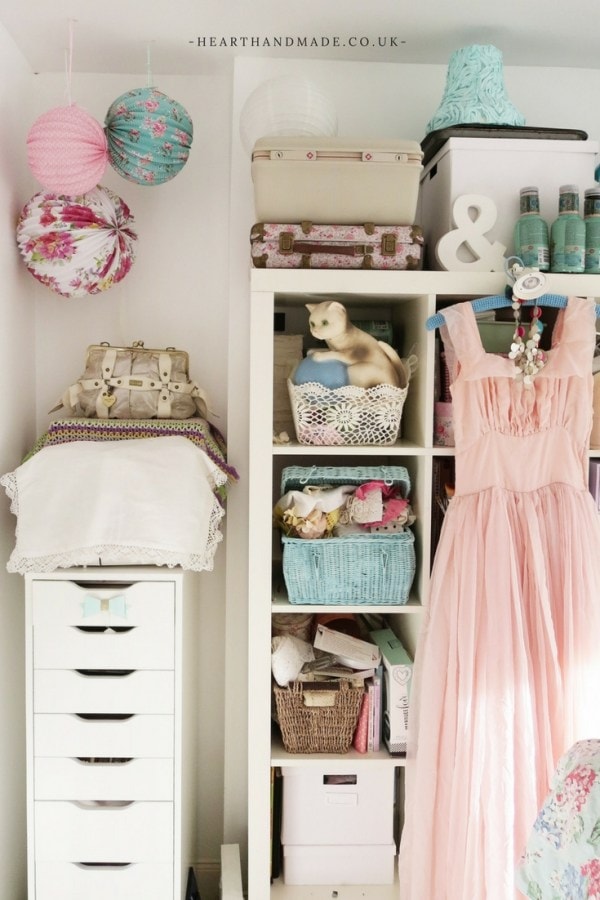 Hearthandmade.co.uk – Craft Room
We're going to finish a large table this week and hopefully a storage area for the unfinished projects, I have some dining room chairs, a lantern with broken glass, a broken antique shelf unit and some other projects that need hiding until they receive their makeovers.  Hopefully, I can get the shelves painted soon, which means taking off dozens of dollar store containers.
Please comment if you think there is anything else I should consider.  Would love feedback.
Wish me luck!