DIY Dry Brush Flower Pot Painting
Easy Flower Pot Makeover with Dry Brushing
I love flower pots, you can place them where ever you want some colour, they rarely need weeding and if you have a plant that is suffering in one spot of the yard you can easily move it. They are especially handy in tiny urban yards like ours.
I have had these particular clay pots for a long time, they needed yet another makeover.
These pots have been so many different colours, last year I updated them with Plant Care Hints. Unfortunately, the paint I used chipped off with the cold Winter and by Spring this is what they looked like.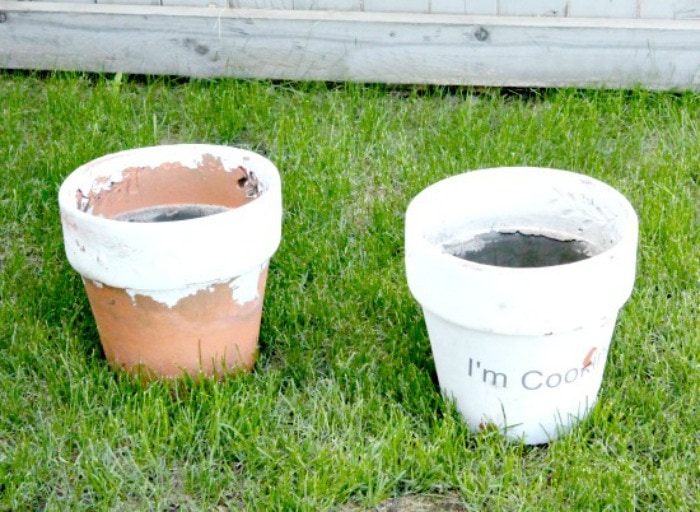 a
My original plan was to repaint the pots and add some pretty pansies around the top using my cutting machine. It took forever to strip all the layers of paint off as there was a manufactured baked green coating on them. (I didn't get it all off)
This size of terracotta pots are expensive and I was determined to keep using them. Sadly they are heavy and one slipped out of my hand and broke on the grass. Weird eh? I never thought they would break on the lawn.
It took a full day with a paint stripper to get the paint off and a significant amount of sanding to remove all the coatings. I didn't want to spend that much time on them and the pansies were really wilting in their little plastic tray. I changed plans decided to just whitewash them. The whitewashing took 15 minutes including searching for leftover paint.
This project is now super easy to do and the natural terracotta peaking through brings a warm feeling to the rather stark patio.
a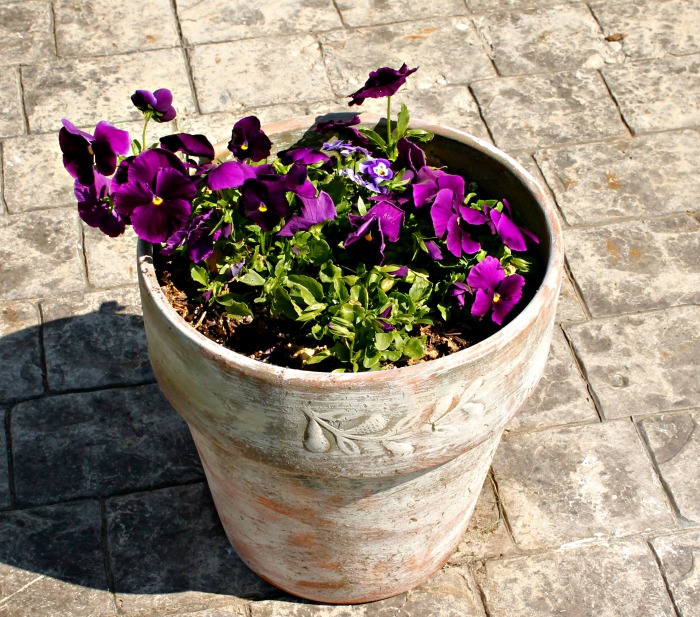 Tutorial
You will need:
Terracotta flower pots (if second-hand paint stripper and sandpaper to remove paint)
White exterior paint, a sample size is more than enough if you need to purchase.
Paint rags for removing excess paint.
Once the pot is cleaned the rest is super simple.
Lightly dip a wide brush into the paint so just the end of the bristles have paint on them.
Dab the excess paint off onto a rag and very lightly paint the pot. Make sure to use feather light strokes. Try it on the inside of the pot first to see if your strokes light enough. Once your confident paint the outside. Repeat until the pot looks how you want it.
a
a
This post is part of decorating our patio. Our yard is small and I wouldn't have chosen to have a patio and a deck. As it turns out this is my favorite place to have morning coffee, its lower than the deck and snuggled in against two fences. Because of that, the chairs face towards the yard, and it ended up being a really nice private little spot.
a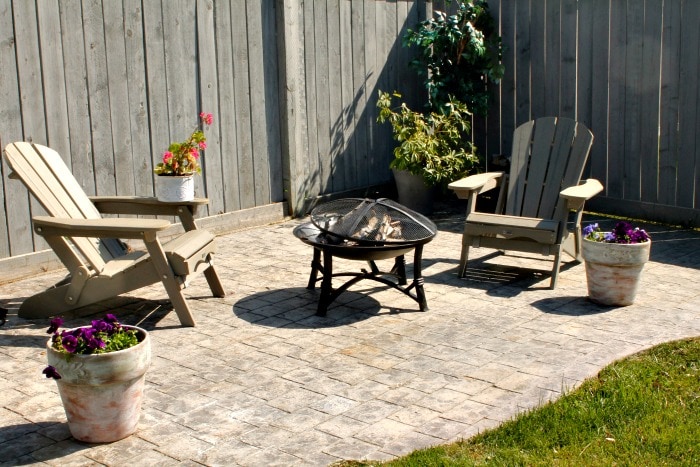 a
As it turns out this is my favorite place to have morning coffee, its lower than the deck and snuggled in against two fences giving some privacy. Because of the fences, the chairs face towards the yard and it is turning out to be a nice little private spot.
Unfortunately with the two fences and the concrete patio its a rather stark little corner. These flower pots add some much needed colour. I have some work to do on it, but the flower pots have made a difference and were free except for the pansies.