DIY Fabric Peony Arrangement
Make your Own DIY Fabric Peony
Real fresh flowers are always the nicest, whether they are from a garden or purchased.  I treat myself to real flower bouquets a few times a year, but cannot afford them year around.  My outdoor garden is not mature and worse our yard is tiny, so the blossoms we have outdoors, I leave to enjoy outside.
The high quality fabric flowers are up to $19 a blossom and the peonies ones aren't nearly as pretty as these DIY ones are.   These ones were made following the DIY Mommy blog instructions.  You can watch her video  here.
a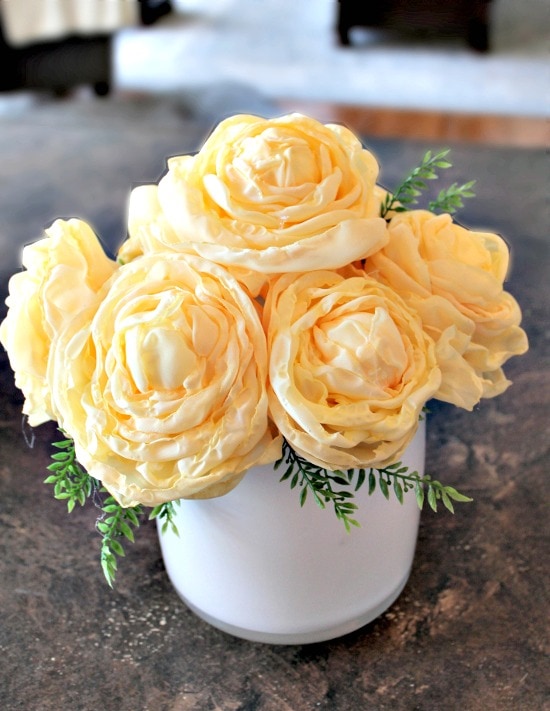 a
To make 7 large peonies, you will need:
[wc_row][wc_column size="one-half" position="first"]
3/4 yard acetate (polyester, nylon)
3/4 yard chiffon (polyester, nylon)
[/wc_column][wc_column size="one-half" position="last"]
floral wire stems
glue gun, and 10 + glue sticks
[/wc_column][/wc_row]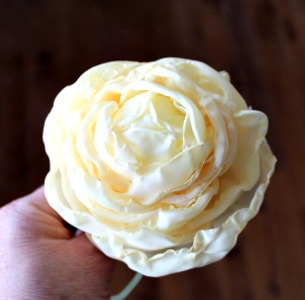 Although beautiful and easy to make, these flowers are time consuming  I would suggest breaking it down into three evenings.
a
Cut your petals one night.
Melt the petals with a candle the next night, and sort them by size into labelled bags.
Once the blossoms are prepared you can assemble the flowers in one night.aaaaaaaaaaaaaaaaaaaaaaaaaaaaaaaaaaaaaaaaaa
Arranging the Flowers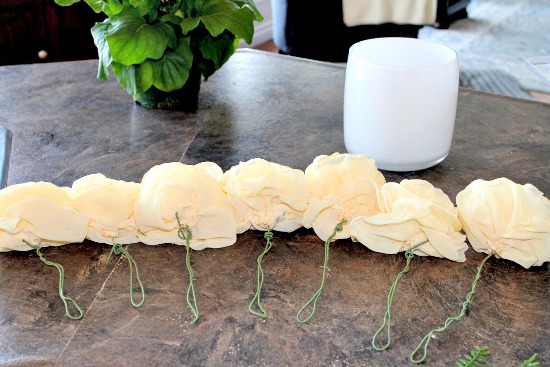 a
Coordinating stem lengths.  These flowers are heavy, to keep them standing straight, fold the wires over and twist at the base of the flower.  Make 1 flower stem longer to place in the center of the arrangement, 4 a bit shorter to fill in the four sides, and finally 2 short stems for fill ins as needed.
To arrange the flowers you can use a block of floral foam.  I much prefer using  a glass flower frog.
A glass flower frog provides 12 evenly spaced holes. They automatically arrange your flowers evenly when you insert your stems.  Flower frogs are reusable and inexpensive.  You can find flower frogs at antique stores or online.  They should cost less than $10, unless they come with paired with their original flower bowl.
aaaaaaaaaaaaaa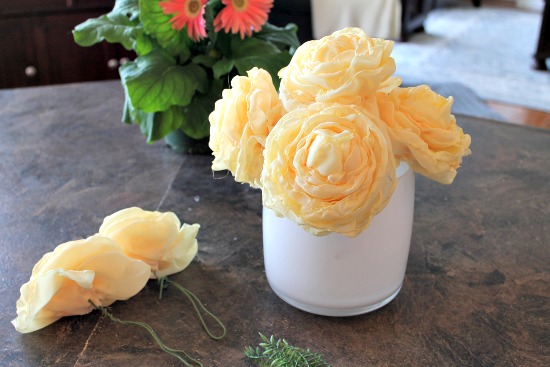 a
Place the longest flower in the center of the arrangement, the four medium sized stems in the four corners, add the last two blossoms anywhere you have space to fill.
Finish off the arrangement with bits of greenery.
This peony bouquet is part of our guestroom refresh, along with the welcome signs and tray.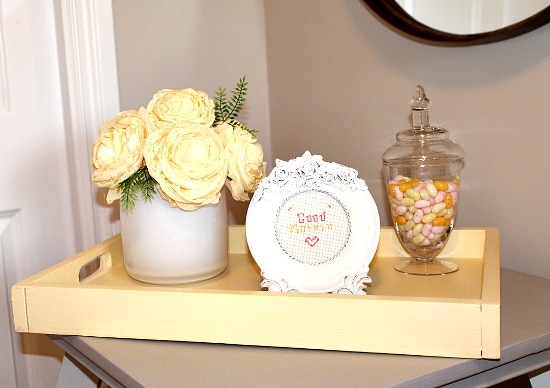 a
I hope you and my guests enjoy these blossoms.