DIY Farmhouse Corbels for Cheap
DIY Corbels for Decorating or Shelf Brackets
Where I live in Edmonton architectural salvage is rare, and like anything rare, when you do find something it's ridiculously expensive. These DIY corbels used part of a 1 by six piece of lumber, and unlike corbels, the lumber store has a mountain of them for cheap.
Each month I am so happy to collaborate with some of my favorite bloggers from around the globe. This month's IBC challenge is wood, and I have been waiting to create these DIY farmhouse corbels out of scrap wood. Before I share how I made these DIY corbels let me share a little bit about the IBC (Int'l Bloggers Club) Each month a group of bloggers from around the globe collaborate to create something on a common theme. Each month I am fascinated to see how my talented blogging friends interpret the monthly topic. Last month was all about linen, and my oh so girlie contribution was a pretty pin cushion. Make sure to check out my friend's Wood themed projects at the end of my post.
Supplies for Two DIY Farmhouse Corbels
To make two of the corbels you will need
One piece of 1 by 6 lumber about five feet long
Carbon paper
The corbel template or graph paper and your own template
Wood glue and clamps
120 and 150 grit sandpaper
Polyurethane or wax finish
Making the Corbel Pattern
Corbels can be very plain or really elaborate. For these corbels, I tried to make them as elaborate as possible without having to purchase special tools. The first step is to design a fun pattern for the sides. H here is a copy of my template, but I recommend grabbing a piece of graph paper and have some fun scribbling out your own pattern. The only thing to remember is keeping your sketch less than six inches wide so it fits on a 1 by 6.
Once you have your sketch, transfer the pattern onto your lumber using carbon paper.
The pattern for the sides of the corbel haves an extra cut out than the centerpiece does to make the sides more intricate.
You will need one central piece and two side cutouts for each corbel.
Hubs spent a morning cutting out the corbel patterns on the scroll saw while I did some much-needed housework and baked him a rhubarb crisp as a thank you.
Layer the wood pieces together. Start with one outer piece, cover with wood glue, then add the middle section. Add more glue, and then the final piece. Line everything up and apply some weight ( I used canned goods). Let dry several hours, I left mine overnight, you want the pieces to be very well attached.
Once all your pieces are glued together, place the flat back of the corbel the leftover 1 by 6 lumber. Mark the four corners of your corbel and cut a rectangle. Glue the rectangle to the back of your corbel and hold in place with clamps.
Finishing the DIY Corbel
Begin by sanding all your wood as smooth as possible and removing any glops of glue you may have.
For the curved side wrap some 120 grit sandpaper around a small piece of wood. The smaller shape makes it easier to get in all those pretty curves. For the outside flat sides, I used a sander.
Once the corbel is well sanded paint the corbel with one coat of grey paint. I had grey chalk paint so I used that. Let dry and sand with 150 grit sandpaper until smooth.
Repeat with a coat of white paint, I used white milk paint. Let dry then very lightly sand until smooth with the 150 grit sandpaper.
Apply a second coat of white milk paint and then distress it very softly using 150 grit paper. Milk paint comes off really easily so use a soft touch. I liked the final finish with the three coats as I felt confident about not getting bare wood in my finish.
Finally, add a coat of clear polyurethane to protect the finish.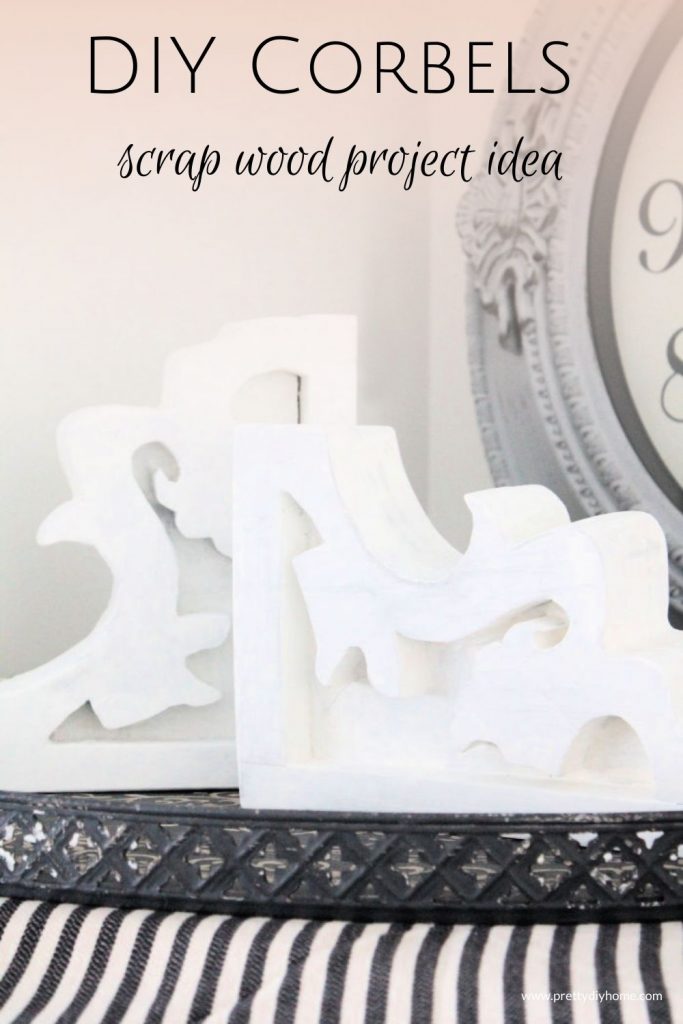 Here are my Int'l Bloggers friends posts. Enjoy.
International Bloggers
Driftwood Fairy Scape by A Crafty Mix
Super Simple Decorative Wooden Tray by Northern Feeling
Old Door Idea Coat Rack by My Sweet Things
Farmhouse Stamped Wooden Placemats by Raggedy Bits
DIY Farmhouse Corbels For Cheap by That's Me