DIY Farmhouse Sign for a Child's Bedroom
DIY Lettered Sign Perfect for a Child's Room
The little space above a headboard can be challenging.  It took some brainstorming to find the perfect welcoming phrase for this little DIY kid's wall art I wanted to add to my granddaughter's guest room.   I pondered nursery rhymes, favorite poets,  favorite song lyrics, and nothing seemed to fit.
f
h
Eventually, I recalled the old songs from my very early childhood, which meant old country songs.  If you're old enough you may recall such pearls as   "How much is that Little Doggie in the Window", "Boob-i-lak", and a "Bushel and a Peck".   Finally, I chose some lyrics from Bushel and a Peck and changed the singular " I " to the plural "We" so that Hubs was included.  I am not about to sing the song to my little ones, but it was fun to remember riding a foot horse and having those songs sung to me.
Tutorial for a DIY Kid's Wallart
I have stencil paper and vinyl, but a four-foot length of vinyl would be costly.  I decided to use freezer paper to make a stencil for wood.  I saw quite a few tutorials on using freezer paper as a stencil on fabric, but none for making a large stencil on wood.
Supplies
[one-half-first]
4-foot length of 1 by 4 lumber
White stain
[/one-half-first]
[one-half]
Silhouette or Cricut Cutting Machine
Gold and Black Sharpee Pens
[/one-half]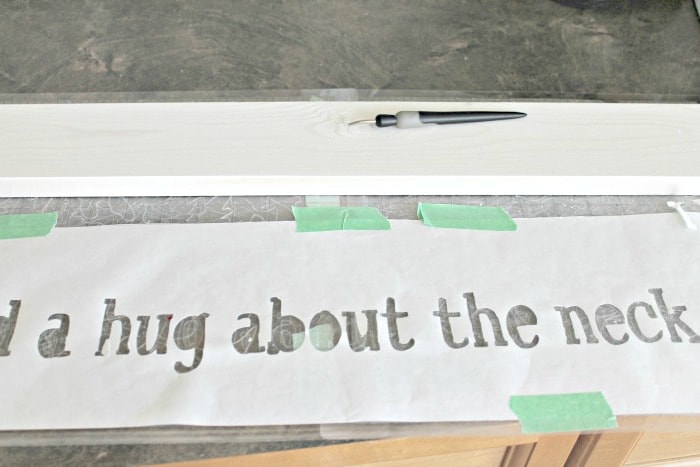 The solution is to tape the cutting mats together as they flow through the cutting machine.  You cannot simply run it through the machine without a cutting mat like you do vinyl because the freezer paper is thin.
Set the cutting machine settings to blade 1, speed 3, and thickness 2.
Run the freezer paper through the cutting machine using the add media setting.  Pause the cutting when the first mat has processed through the cutting machine.  Push the pause button, remove the first mat, and reattach it to the second mat with tape.  Continue this until your stencil is cut.
It worked perfectly.  I sanded and stained the wood, carefully placed the stencil, taped it securely and then coloured in the letters with gold and jiffy markers.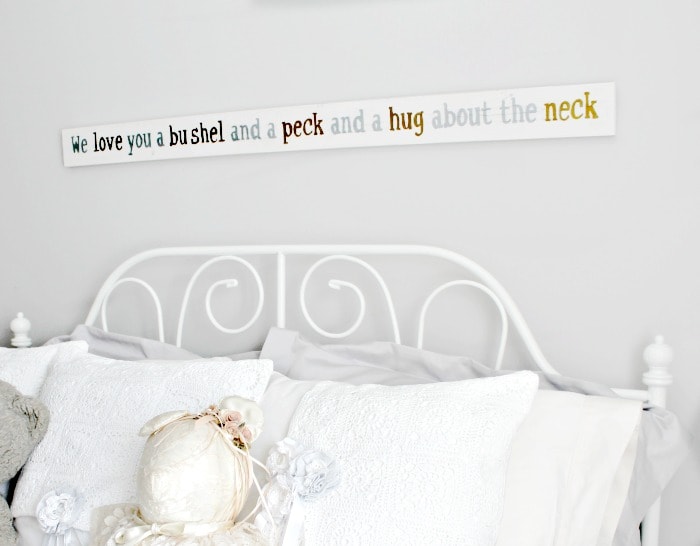 The picture outlines how I used gold to emphasis the subject matter words for emphasis.
Hanging the Farmhouse Sign
At first, I tried to hang the four foot wide wall art in the middle.  It didn't work the artwork wouldn't stay level.  I ended up putting two little screw eyes at each end of the sign.  Then I measured the distance from the roof and marked the wall.  Then I marked the distance between the two hooks,  placed two little nails to match the markings and then hung the sign.
m

The child's guest room in our home is updated regularly.  My granddaughters look forward to their special Christmas room every Christmas Eve, here are some other related ideas I have done in this room.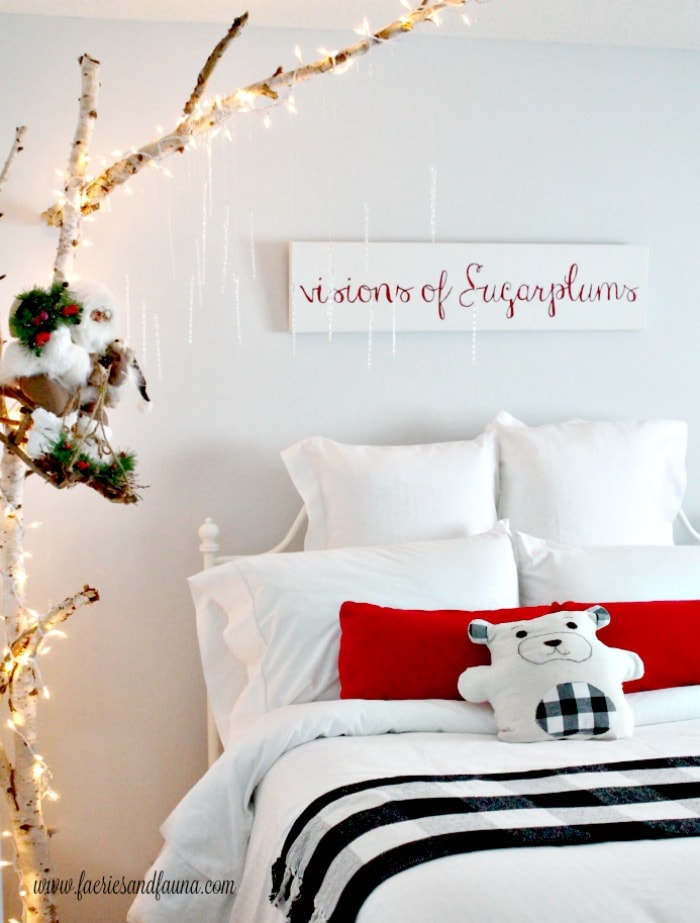 Visions of Sugarplums DIY Farmhouse Christmas Sign
This DIY shutter and vintage toy makeover now sit to the right of the girl's guest bed.
Vintage toy Makeover to Farmhouse Decor